Planning an Easter Brunch at home? These delicious Easter brunch ideas are perfect for those who work up an appetite after that Easter egg hunt on Easter morning!
Compose your Easter brunch menu with sweet and savory options that everyone will love! These easy recipes are perfect for Sunday morning!
Eggs and Breakfast casseroles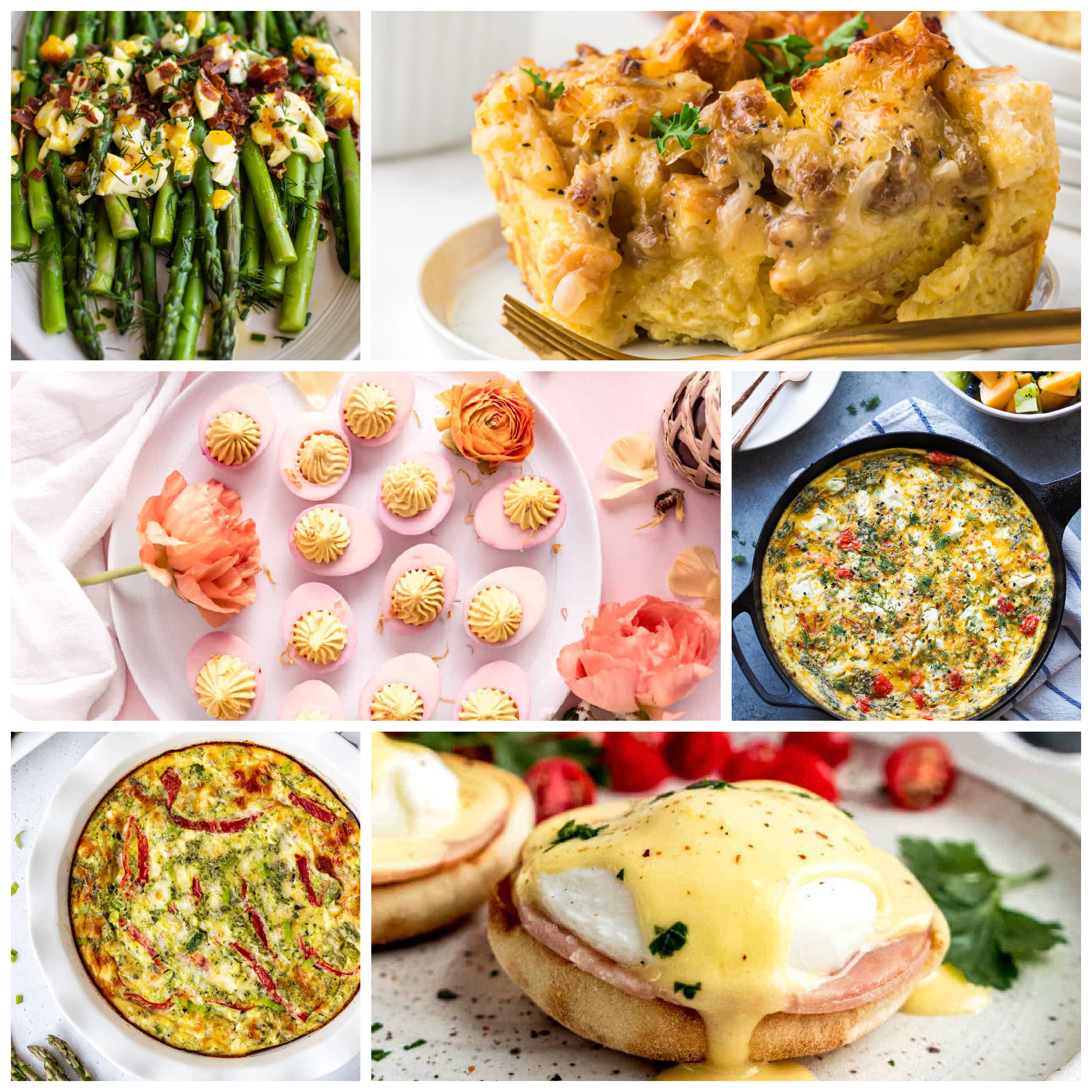 Breakfast Casserole – this easy breakfast casserole is made with eggs, ground sausage, shredded cheese, and day-old bread. Comforting and so flavorful, it's the perfect make-ahead breakfast or holiday brunch.
Easter Pink Deviled Eggs – Everyone loves hard-boiled eggs! these deviled eggs are naturally dyed and are exactly what your Easter table needs!
Veggie Breakfast Egg Casserole – Every bite of this breakfast egg casserole is loaded with wholesome veggies such as spinach, broccoli, and hearty potatoes!
Smoked Salmon Goat Cheese Frittata – Filled with smoked salmon, creamy goat cheese, tomatoes and red onion, with capers, dill and everything bagel seasoning, this is perfect for an Easter brunch!
Rosti Eggs Benny – this recipe is absolutely mouthwatering and perfect for a special brunch. It is a delicious alternative to a classic eggs Benedict.
Side Dishes
Roasted Asparagus with Lemon – fresh asparagus spears turn out crisp-tender baked in the oven. It's perfect for Easter brunch!
Asparagus Mimosa with crispy proscuitto – a classic French dish of asparagus, hard boiled egg and a vinaigrette.
Crustless Asparagus Quiche – fluffy eggs, pesto, feta, and veggies makes for one delicious low carb quiche, perfect quick and easy make-ahead option for breakfast or brunch!
Greek Yogurt Parfait – an easy and healthy side for any brunch! Piled high with crunchy granola and fresh blueberries, it's the perfect way to start the day!
Shaved Asparagus Salad – Peppery arugula, creamy goat cheese and raw asparagus are tossed in a fresh lemony vinaigrette to make a delicious side dish sure to impress!
Breads and Rolls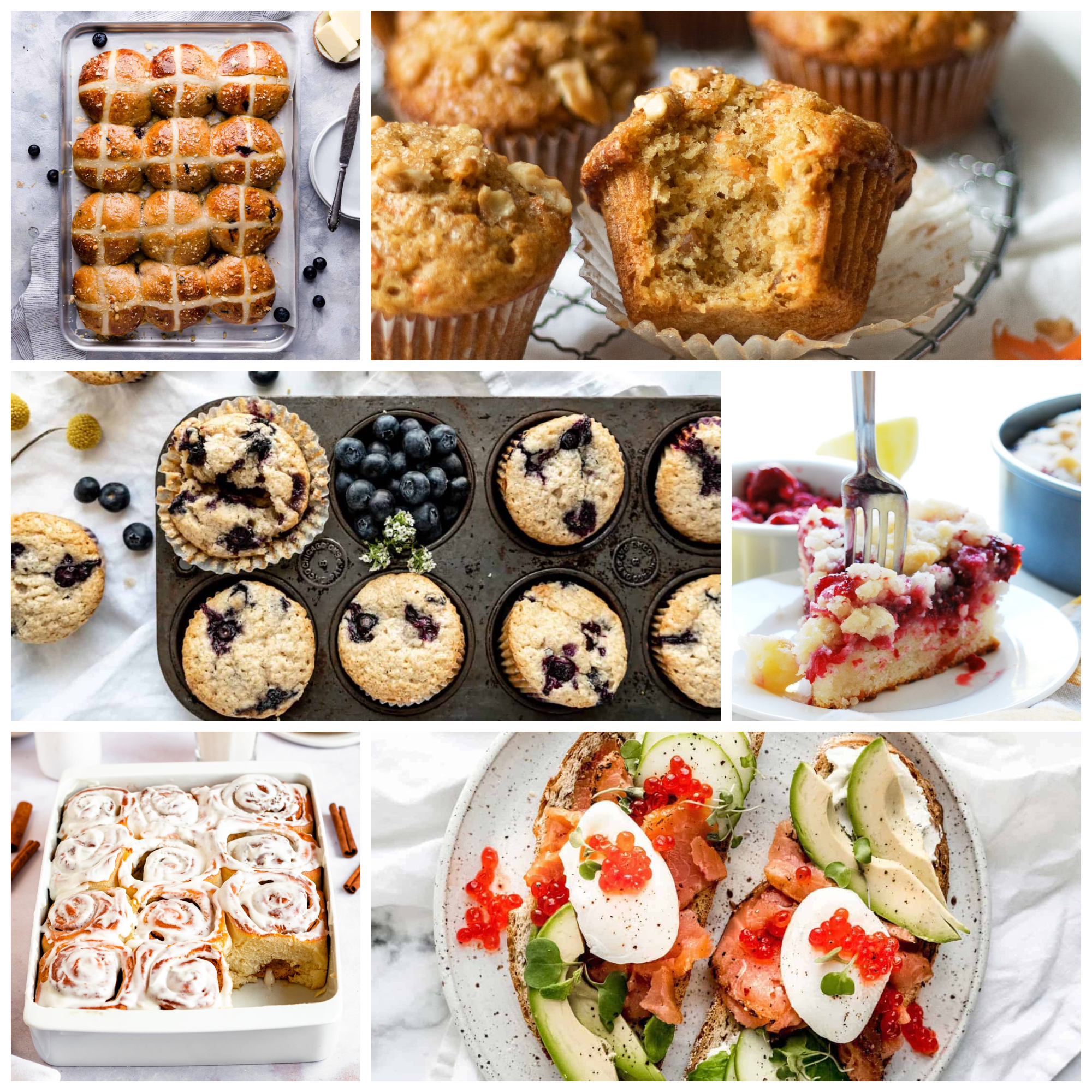 Blueberry Hot Crossed Buns – These soft and fluffy blueberry hot cross buns are full of aromatic spices, sweet and juicy blueberries and candied fruit peel.
Bakery Style Blueberry Muffins – Topped with sugar for a blueberry muffin that tastes like they're fresh from the bakery!
Lemon Raspberry Streusel Cake – a dense lemon cake topped with sweet raspberries and mountains of streusel is perfect as dessert, or even a breakfast cake.
Smoked Salmon Avocado Toast – A perfectly poached egg, smoked salmon and sliced avocado makes this avocado toast one anyone would love!
Homemade Cinnamon Rolls – soft, gooey, incredibly light, and fluffy. These cinnamon rolls are filled with a cinnamon filling and are topped with cream cheese glaze.
Banana Carrot Muffins – Packed with lots of carrots walnuts, and mashed bananas, these banana carrot muffins are guaranteed to be a hit!
Waffles, Pancakes and French Toast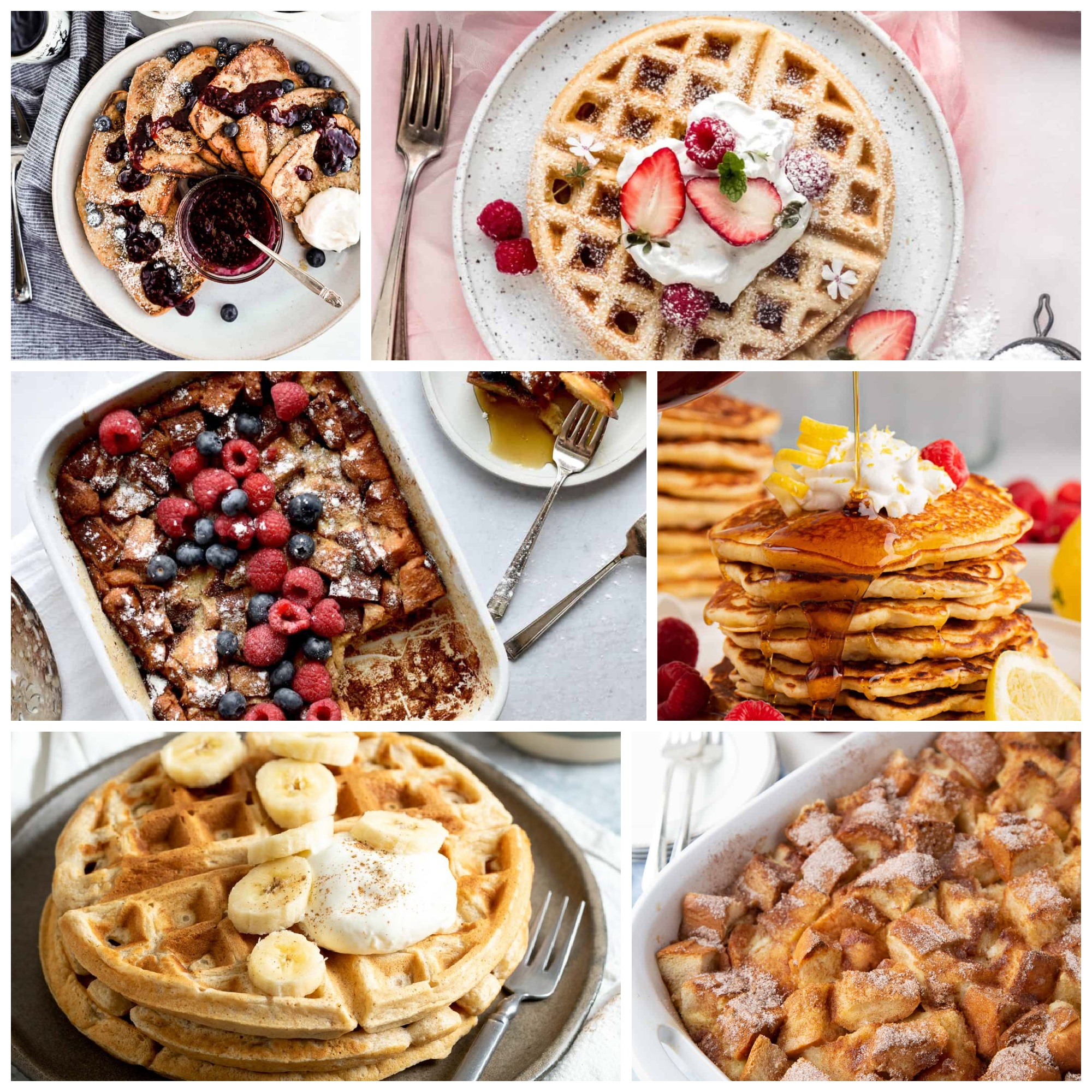 Fluffy French Toast with Lemon Mascarpone – a spoonful of tangy lemon mascarpone and a drizzle of homemade berry syrup will take your fluffy french toast to the next level. Perfect for a traditional Easter brunch!
Light and Fluffy Yeast Waffles – perfectly fluffy on the inside and crispy on the outside! Enjoy for breakfast or a fabulous brunch with friends!
Orange Crepes – Delicate french crepes filled with orange curd topped with sweetened mascarpone cream come together for the perfect dessert
Lemon Pancakes – thin and delicate, yet bursting with fresh lemon flavor!
Banana Waffles – Serve with yogurt and fruit for a healthy breakfast or sprinkle with a dusting of icing sugar.
Overnight French Toast Casserole – this easy overnight french toast casserole is the perfect brunch dish for a crowd! Top with maple syrup for a decadent Easter breakfast!
Apple Cinnamon Crepes – French style crepes topped with chopped sauteed apples, cinnamon and brown sugar
Mixed Berry Dutch Baby Pancake – Similar to German Pancakes, this mixed berry dutch baby pancake is super simple and can be topped with powdered sugar for a nutritious breakfast!
Monkey Bread French Toast – a nostalgic childhood goodie turned into a decadent breakfast classic!
Brioche French Toast Casserole – Easy enough for lazy Sunday mornings, but pretty enough for special occasions! Top with fresh berries for a recipe your whole family will love.
Dessert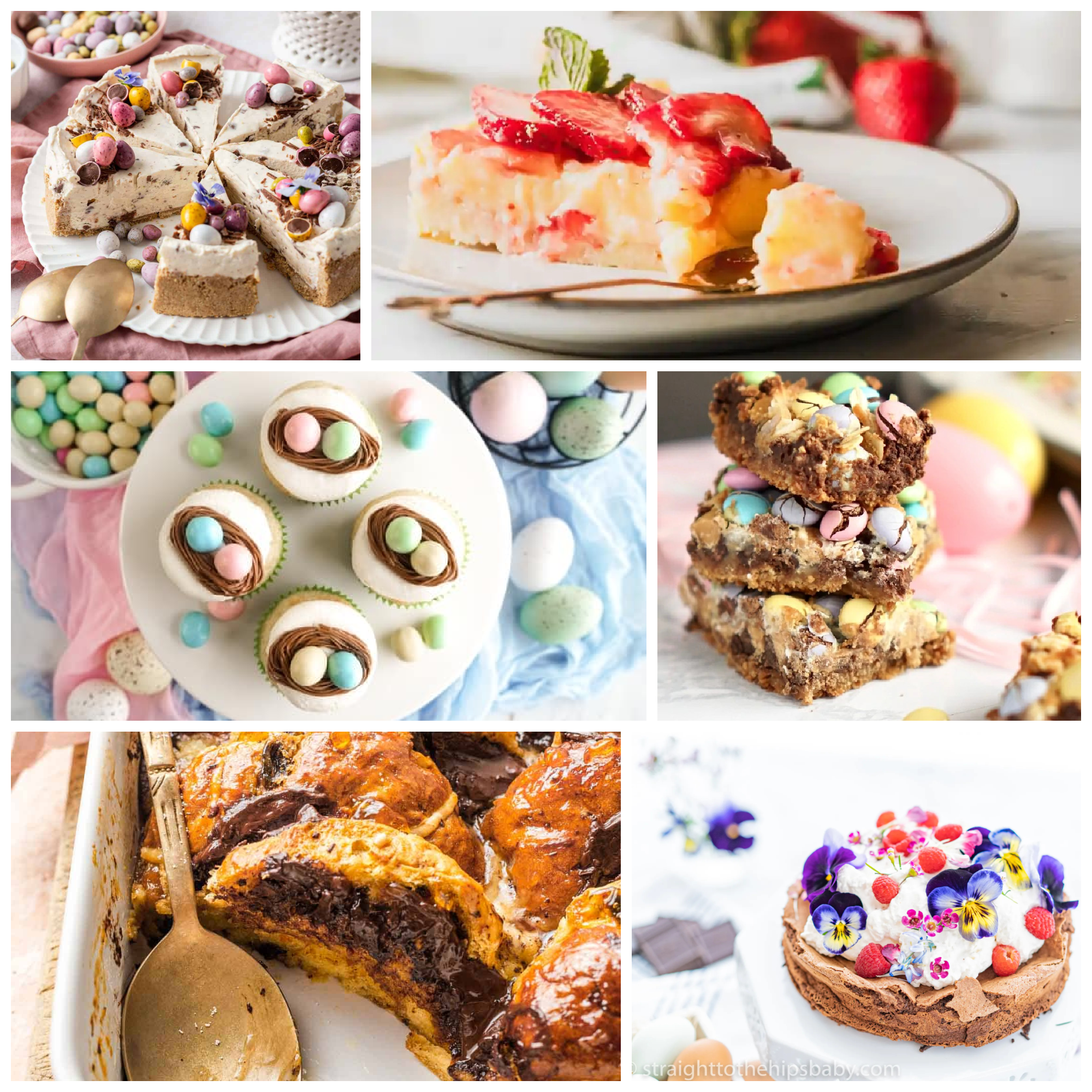 Sweet treats are a must at every Easter Sunday brunch! Here are some delicious options for Easter desserts!
Banana bread bread pudding – this mouthwatering dessert takes stale banana bread and turns it into a decadent dessert! This banana bread bread pudding perfect way to satisfy your sweet tooth!
Espresso Flourless Chocolate Cake – this flourless Chocolate Cake has a luscious, velvety texture that is perfect for any occasion!
Easter Egg Cake – delicious carrot cake topped with fluffy vanilla buttercream and decorated with mini Cadbury eggs makes this Easter egg cake the perfect centerpiece for your Easter celebration!
Poppyseed Fruit Salad – Poppy Seed Fruit Salad is made with fresh fruit topped with a delicious poppy seed dressing.
Easter Magic Cookie Bars – these cookie bars are easy to make and filled with all sorts of sweet delights young and old will love!
Easter No-Bake Mini Egg Cheesecake – This delicious Mini Egg Cheesecake makes the perfect No-Bake Easter Dessert.
Easter Egg Cupcakes – Vanilla Bean Easter Egg Cupcakes are the perfect festive treat for your Easter celebration!
Peanut Butter Eggs – these homemade peanut butter eggs are a copycat recipe that tastes even better than the Reese's eggs you buy at the store!
Hot Crossed Bun Bread and Butter Pudding – Baked in delicious vanilla custard, the lightly spiced hot cross buns are filled with sweet orange marmalade and oozing puddles of melted dark chocolate for brunch or dessert this Easter.
Cocktails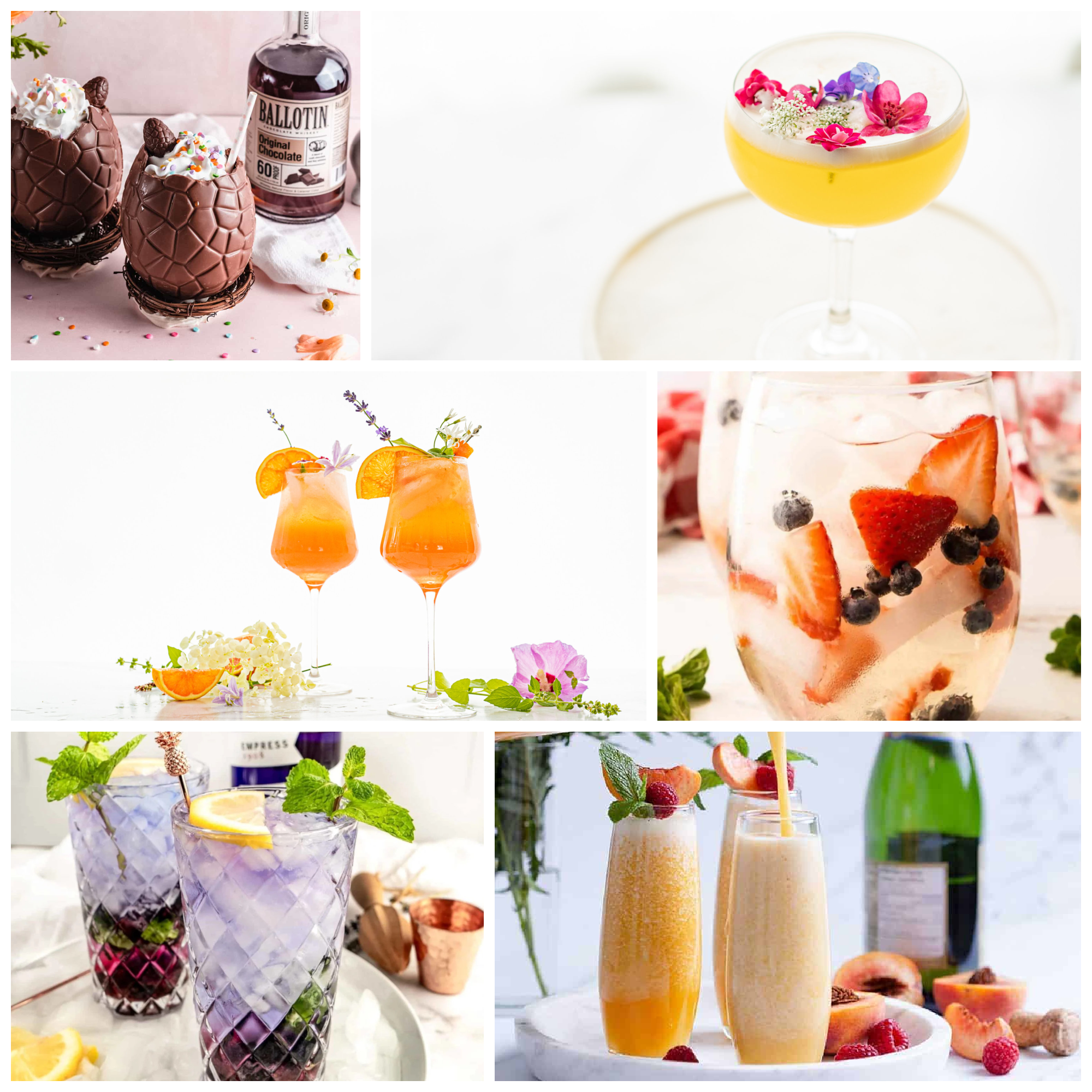 Top off your brunch with an Easter cocktail! These options are perfect for this time of year!
The Lemon Flora (Gin sour) – This riff on a classic Gin Sour, is like Persephone walking. Light, citrusy, and with a dreamy floaty froth of egg white on top, this pastel yellow cocktail is the perfect Spring cocktail.
Chocolate Easter Egg Coffee Cocktail – A chocolate Easter egg filled to the top with chocolate whiskey, cold brew and sweet cream, all topped with whipped cream!
Prosecco Sangria – combine your favorite sparkling wine with fresh fruit and sugar for a deliciously refreshing cocktail!
Peach Bellini Mocktail – enjoy a tasty, fresh peach bellini without the alcohol!
Grapefruit Aperol Spritz– This is the Best Fresh Grapefruit Aperol Spritz if you enjoy bubbly cocktails!
Blueberry Gin Mojito – Made with juicy blueberries, tangy lemon juice, fresh mint, and Empress Gin, this is the ultimate warm weather drink!