I spent the weekend up at my in-law's lake house in northern Michigan last week and my mother-in-law had made the most amazing lemon blueberry cake for breakfast.  It inspired me to get in the kitchen and bake for fun (something I rarely get to do these days).  Since summer is coming to an end I wanted to incorporate some fresh fruit, so what better than a blueberry mint parfait??  It had been years since I made a pound cake, and I recently partnered with Brummel & Brown who has a new organic buttery spread made with yogurt, and thought that the tangy yogurt flavor would work perfectly in this recipe!  I was right! This cake turned out so moist and flavorful, and the tanginess of the yogurt paired perfectly with the sweetness of the blueberries in this gorgeous dessert (or breakfast… no one is judging!)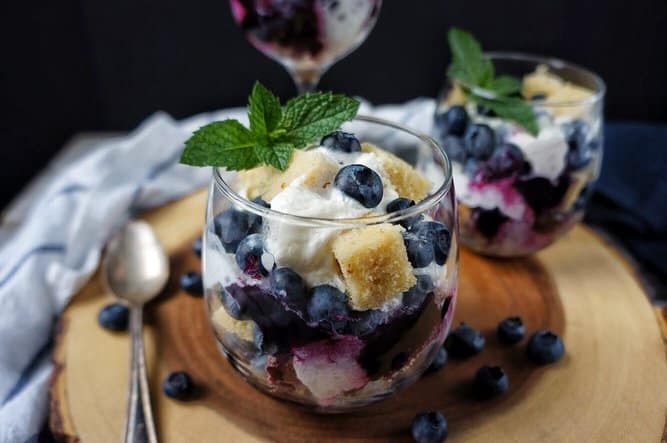 Print
---
For the pound cake:
16 oz Brummel & Brown organic buttery spread with yogurt
3 cups sugar
6 eggs
2 tsp vanilla
¼ tsp baking soda
2 tsp lemon zest
1 cup buttermilk
½ tsp salt
1 tsp lemon juice
3 cups flour
For the Blueberry sauce
3 cups blueberries
¾ cup water
½ cup sugar
2 tbl fresh lemon juice
1 tbl cornstarch dissolved in 2 tbl water
To assemble the parfait:
1 cup Whipped cream
Mint for garnish
---
Instructions
For the pound cake:
Preheat oven to 325.
In a large mixing bowl, combine Brummel & Brown organic buttery spread and sugar and beat to combine. Add one egg at a time, mixing well to completely incorporate after each one.
Stir in the lemon juice and vanilla. Combine the flour, salt and baking soda in a bowl. Alternate mixing the flour and buttermilk to the Brummel & Brown organic buttery spread and eggs and gently mix to combine. Pour into a prepared pan and bake for 70 minutes. When you stick a tooth pick in, it should come out clean.
Turn onto a wire rack to cool completely.
For the Blueberry Sauce:
Combine 2 cups blueberries and the remaining ingredients in a saucepan and let simmer until blueberries start to break apart. Add dissolved cornstarch and turn heat down, let simmer for 3 minutes or until sauce begins to thicken. If it gets too thick, add water to thin out. Remove from heat and let cool
To assemble:
Once the cake is cooled, cut into cubes and assemble the parfaits. Layer cubes of pound cake, blueberry sauce, fresh blueberries, and whipped cream in individual glasses. Top with additional whipped cream and garnish with mint leaves.
---