Dutch Baby Pancakes are a super simple, fun, and delicious breakfast that the whole family will love. Similar to German Pancakes, this mixed berry dutch baby is super simple and can be topped with powdered sugar for a nutritious breakfast!
Dutch baby Sundays have become my favorite day.  Typically my weekends are jam packed Friday through Saturday night.  My meals consist of whatever I can quickly shove in my mouth between cake deliveries and frosting tiers.  I'm actually embarrassed to admit that I actually eat a lot of meals in my car while on the road.
But when Sunday rolls around, I get to sleep in, make a big breakfast and some french pressed coffee (my FAVORITE), and lounge the rest of the day.   The perfect Sunday for me consists of is sleeping in, and rolling out of bed around 10 am, then having a scrumptious meal with some french press coffee on our patio.  I've expressed my new found love for dutch baby before, and this recipe takes the crown.
What's a dutch baby?
Dutch babies were  made famous in the United States, but they're similar to a baked german pancake. Dutch babies were introduced in the first half of the 1900s at Manca's Cafe, a family-run restaurant in Seattle owned by Victor Manca. While these pancakes are derived from the German pancake dish, it is said that the name Dutch baby was coined by one of Victor Manca's daughters.
If you've never had a dutch baby, you MUST.  Just imagine if a pancake and crepe had a child (how cute is that, right?) There's no flipping involved, so you don't have to deal with pancake batter splattered everywhere.  A dutch baby is kind of like a baked pancake.  By using a cast iron skillet, you'll create a beautiful browned crust on the bottom and fluffy top that will only need a dusting of powdered sugar to enjoy!
Can I make a dutch baby if I don't have a cast iron pan?
Traditionally, dutch baby pancakes are made in a cast iron pan.  The cast iron gives the dutch baby a nice crust on the bottom and they're easy to transport from the stove to the oven.  Even if you don't have a cast iron pan, you can still make a dutch baby!  Make sure you use a skillet that is oven proof!
What kinds of berries should I use?
This mixed berry one in particular is so bright, so colorful and SO delicious.  I used a mixture of berries with antioxidants for an extra added bonus.  I chose blueberries and raspberries for this one.  Not only do blueberries have a ton of antioxidants, they serve as a great source of vitamin K.  Raspberries are a great source a fiber, too!
With just a few ingredients and a little effort, you'll be sure to impress your guests with this gorgeous dish! I'll have your friends convinced you're a closet gourmet chef in NO time! I made these for friends once when we went out of town and they tried to convince me I could go on Top Chef when I was finished.  Now, I think that's being a little too kind, but I'll take it!
I mean, how can you go wrong with ingredients that look like this.  Am I right?
Dutch babies make two pretty large servings, so all you need to do is pair this with a beverage, and you're set!
Want to pin this for later? Click the picture below!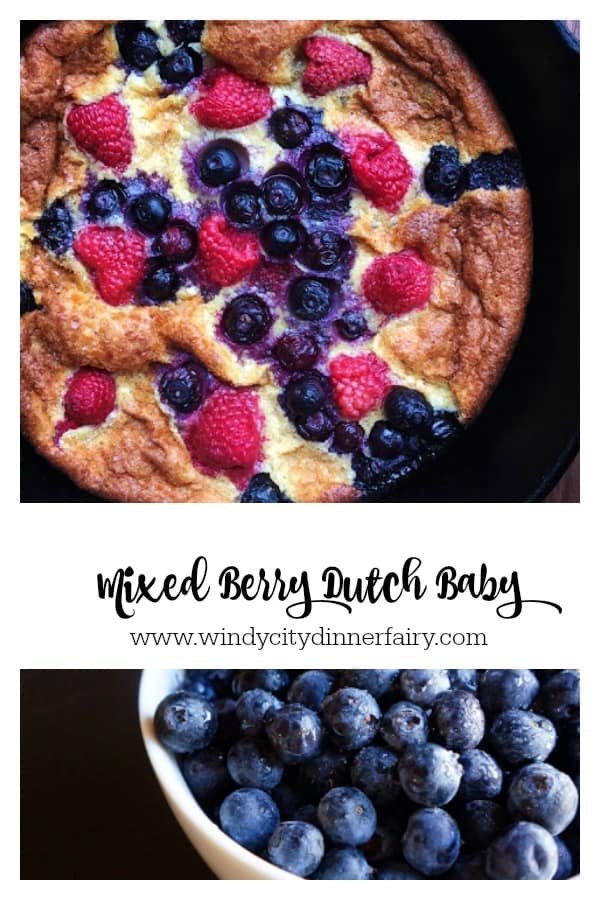 If you love this recipe, check out my apple cinnamon crepes or my light and fluffy yeast waffles!
Print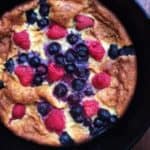 Mixed Berry Dutch Baby
Author:

Nicole Triebe

Prep Time:

5 minutes

Cook Time:

20

Total Time:

25

Yield:

2 servings
---
3 tbl butter
3 eggs
3/4 cup all purpose flour
3/4 cup milk
1 tbl sugar
2 tsp vanilla extract
1/2 tsp cinnamon
pinch salt
1 1/2 cups fresh mixed berries (I chose raspberries and blueberries for this one)
Powdered sugar for dusting
---
Instructions
Preheat the oven to 400 degrees.  Once the oven is preheated, stick your cast iron pan with 3 tbl butter in the oven to pre-heat as well.
In a large bowl, combine eggs and milk and whisk these ingredients vigorously the mixture is light yellow.  Add flour,and 1 tbl sugar, vanilla extract, cinnamon, salt and continue to whisk until there are no lumps left.
Carefully remove your cast iron pan from the oven and pour most of the melted butter in your batter.  Put the pan on the stove top over medium heat.  There should be a little butter left in the pan.  Make sure you swirl the pan around so that the butter coats the entire bottom of the cast iron.   Whisk to blend the butter in the batter, then pour it into the hot pan on the stove.  Top with fresh berries.  Let it cook for about a minute on the stove top before putting it back in the oven to bake.  Cook in the oven for about 15-20 minutes or until the dutch baby puffs up in the center, and the edges are golden brown.
Once the dutch baby is done, remove from the oven.  Using a spatula, remove the whole dutch baby from the pan and onto a cooling rack for a few minutes before serving.  Serve cut in wedges topped with a dusting of powered sugar and more fresh berries, if you'd like.
---