A spoonful of tangy lemon mascarpone and a drizzle of homemade berry syrup will take your brioche french toast to the next level! Your family will be begging for this Brioche French Toast with Whipped Lemon Mascarpone every weekend!
Nothing says weekend like an epic brunch spread. At the top of any epic brunch menu is fluffy french toast. I'm taking your basic french toast recipe today a step further by adding homemade berry syrup and some creamy whipped lemon mascarpone cheese!
I find myself wanting to add mascarpone to every recipe. I love the rich and tangy flavor it brings to a dish and the creamy texture. It was the perfect addition to this fluffy brioche french toast! Follow my tips for the most delicious breakfast dish: Brioche French Toast with Whipped lemon Mascarpone.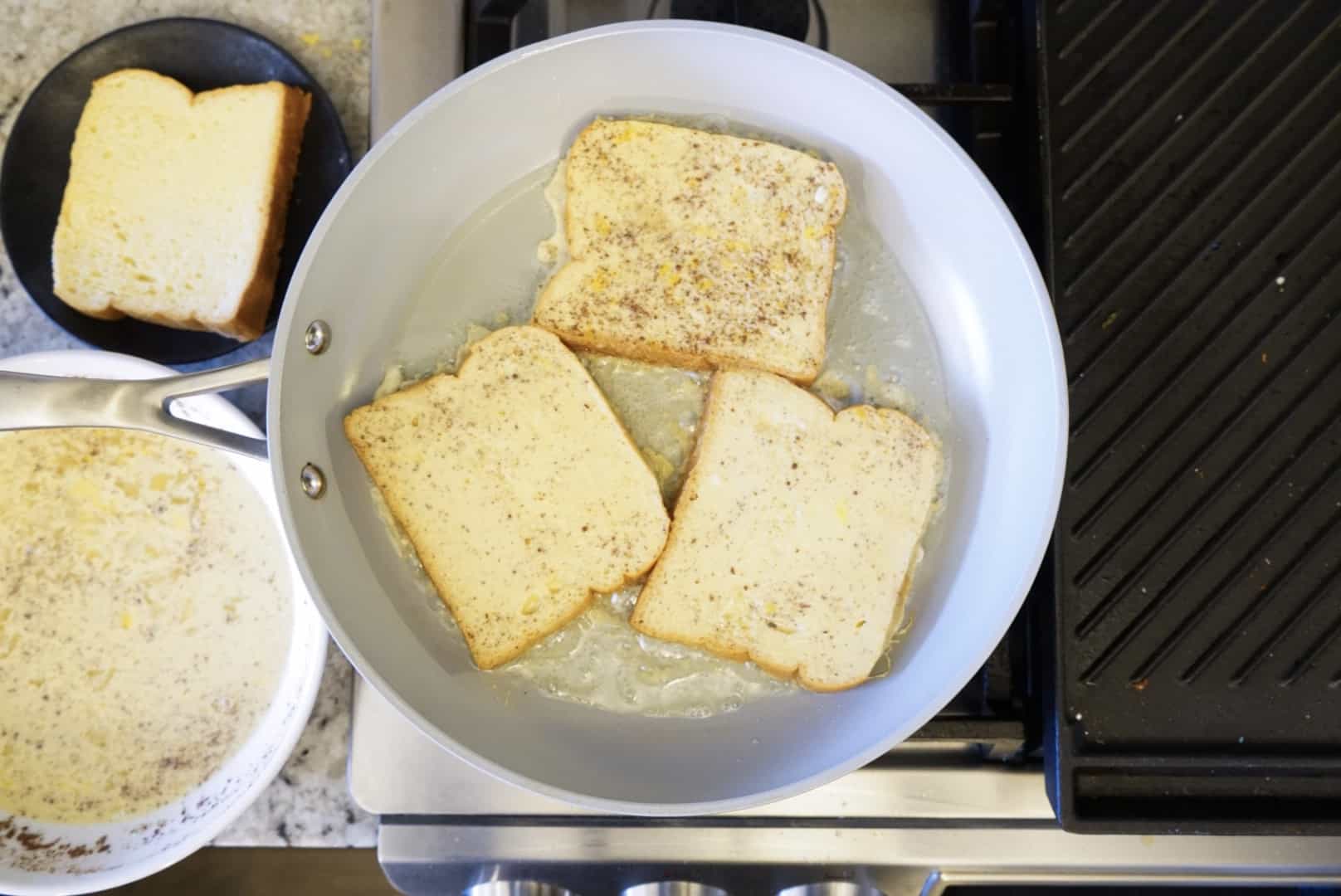 How do I keep my french toast from getting soggy?
There are a couple reasons why french toast ends up soggy. First mistake is adding too much dairy and sugar to the custard. If you add too much milk or cream, the egg in the mixture won't cook. This translates to wet, soggy, bread.
Secondly, you want the French toast to be dry on the surface with slightly crisp edges. Because most french toast dishes are doused with maple syrup (or berry in this case), honey, or powdered sugar upon serving, you don't want the custard to be too sweet either.
What kind of bread is best for french toast?
French toast soaks up the custard for a creamy texture on the inside and a slightly crunchy texture on the outside. If the bread you choose is too thin, it will be too flimsy to hold together when dipped in the custard. If it's too thick, it will never cook to the center. The ideal thickness for a slice of French toast is 3/4″ to 1″ thick. Brioche is perfect because it's both spongy and sturdy enough not to fall apart during cooking. Challah is also a perfect option for a fluffy french toast.
Why should I add flour to my french toast batter?
Adding flour to the custard makes it more of a batter than just a dipping liquid. This ensures a fluffier french toast. Don't worry about small lumps of flour in the batter, either. They'll disappear when you cook it, but if you'd like you can put the custard in a blender to get those lumps out.
How do I make whipped lemon mascarpone?
Combing the following in the bowl of a stand mixer:
8 oz mascarpone cheese
2 tbl powdered sugar
2 tbl cream
2 tsp lemon zest
With a whisk attachment, beat, starting on low speed and gradually increasing speed, until mixture is light and fluffy, about 1 minute. Refrigerate in an airtight container until ready to use, up to 3 days.
Once all your french toast slices are cooked, arrange on a beautiful serving platter like this one from Sagaform, put a small bowl of homemade berry syrup, and a dusting a powdered sugar. Enjoy!
If you loved this recipe, be sure to check out my poached pear dutch baby!
Print
Brioche French Toast with Whipped Mascarpone
Author: Nicole Triebe
Prep Time:

10 minutes

Cook Time:

20 minutes

Total Time:

30 minutes

Yield:

6

servings

1

x
1/4 cup all purpose flour
1 cup milk
3 eggs
1 tsp cinnamon
1 tsp vanilla
1 tbl white sugar
12 slices thick brioche
Whipped Mascarpone
8 oz mascarpone
2 tbl powdered sugar
2 tbl heavy cream
1 tsp lemon zest
Instructions
Make whipped mascarpone by combining all ingredients in a stand mixer. Beat, starting on low speed and gradually increasing speed, until mixture is light and fluffy, about 1 minute. Set aside.

Measure flour in a large bowl. Whisk in milk, eggs, cinnamon, vanilla and sugar until smooth.
In a large non-stick skillet, heat 1 tbl oil over medium heat.
Soak bread slices in custard until saturated. Cook bread on each side until golden brown.
Serve with homemade blueberry syrup and a spoonful of whipped mascarpone
Want to pin this for later? Click on the image below!