This epic Bagel Bagel Breakfast Board is packed with the ultimate bagel toppings!  Complete with a variety of spreads, vegetables, smoked salmon, and a few other unique toppings make this bagel board a total showstopper!
Summer is the perfect season for entertaining.  The warm weather is ideal for outdoor dining and creating the ultimate culinary spreads.  I'm a big fan of creating big boards that your guests can pick and choose from.  These boards are always sure to be a show stopper and can truly become works of art. This bagel breakfast board is no exception! Treat your overnight guests to one and they'll be begging to stay over every time they're in town! 
What should I include in my bagel breakfast board?
Let's start with the essentials:
The bagels: I am a huge Costco shopper, and love their bakery products! They sell a sleeve of 6 bagels and usually my store has a deal on a dozen at the check out line.  I absolutely LOVE everything bagels, so I included those on my bagel breakfast board, and then added some plain for the kids.  Feel free to throw in some cinnamon raisin, blueberry or your flavor of choice.
Spreads: It's a great idea to include a couple yummy spreads on any bagel breakfast board.  A classic plain cream cheese is a great choice for a bagel schmear, and a homemade jam is a great compliment to that.  If you want to get really creative, you could include some homemade apple butter, or Nutella for your guests with a sweet tooth.
Meats and cheeses: Smoked salmon is a classic bagel topping and a must have for any breakfast menu.  Costco has a nice package of sliced smoked salmon with different seasonings that is perfect for this bagel breakfast board! Some other popular options are eggs (scrambled or hard boiled), crispy bacon, prosciutto di parma slices. or cold cuts (for those who wake up a little later and want lunch).
Veggies: Round out your board with some crisp fresh veggies and greens.  Sliced cucumber is a great addition to any bagel.  I also included some romaine lettuce, thinly sliced red onion, and those gorgeous heirloom tomatoes that are in season.
Other optional add-ons: microgreens, spinach, capers, flavored cream cheeses, cinnamon and sugar, or honey!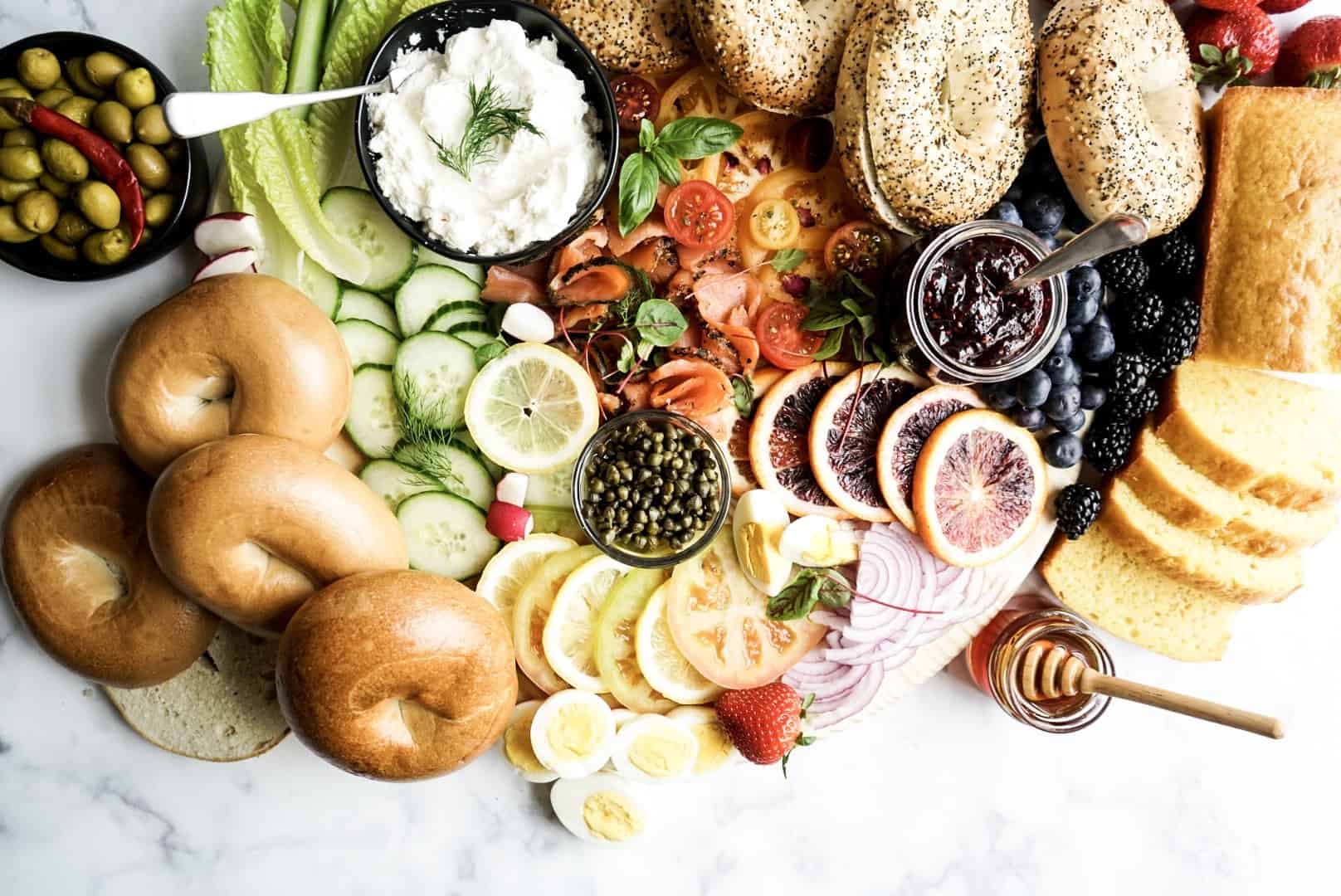 How should I display my toppings?
I love to lay down all my toppings in a circular fanned pattern.  Especially if you're using a round board like this one, it's pleasing to the eye and really makes all the ingredients shine.  I used different sizes of heirloom tomatoes and put some smaller slices on top of the bigger ones.
Start with your big main components and then fill in with the smaller stuff.  I started by piling the smoked salmon in the middle, placing the bowl of cream cheese and jam, then fanning out the rest of my veggies and fruits around those main components.  I filled in the empty spaces at the end with mixed berries and sliced hard boiled eggs.  Garnish everything with some dill sprigs or a couple basil leaves and you'll be set!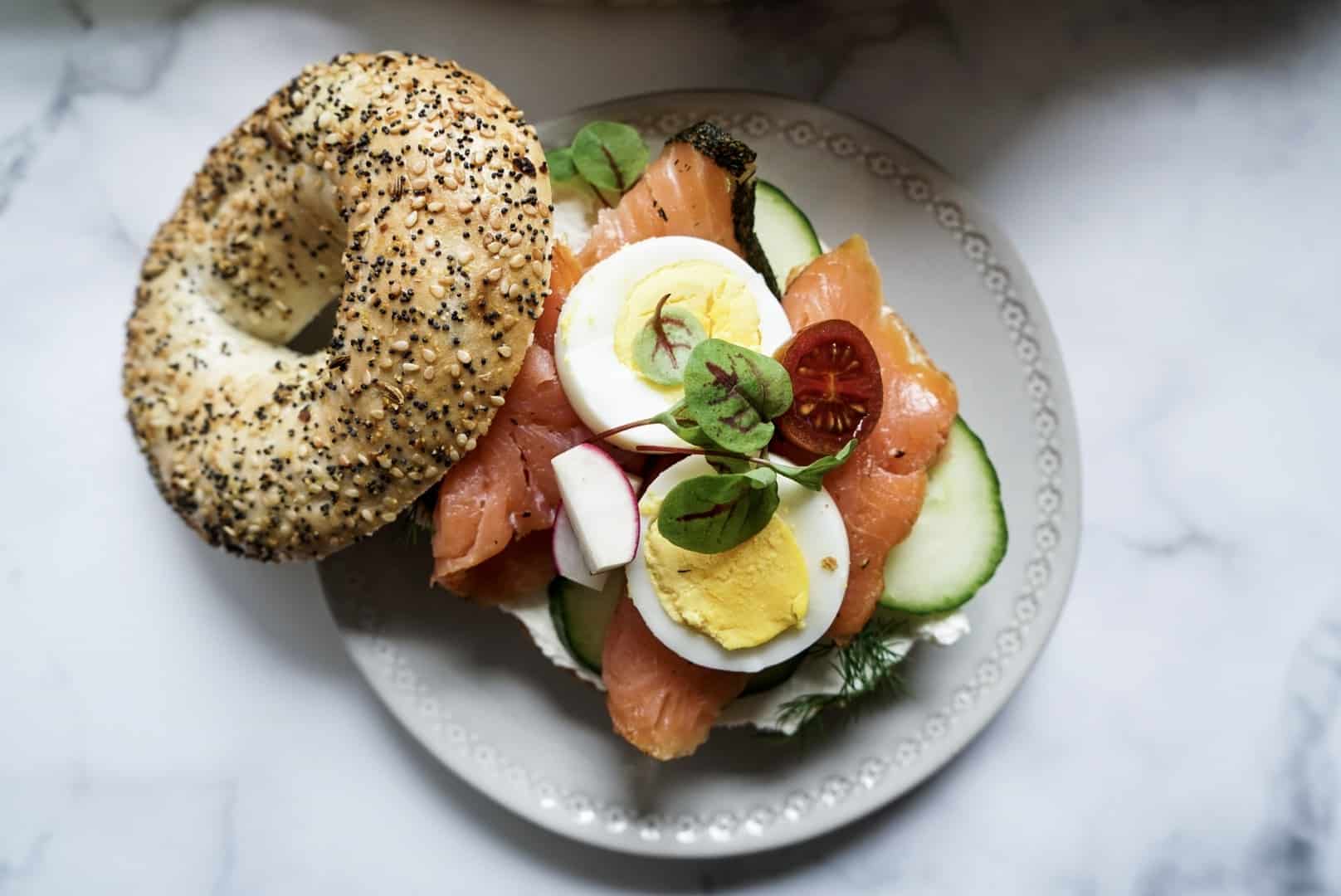 Once the board is constructed, let your guests do the rest of the work! They can create the bagel sandwich of their dreams with this bagel breakfast board!
Bon appetit! If you liked this post, be sure to check out my heirloom tomato toast with a poached egg!
Loving this background?  Head over to Best Ever Backdrops to snag your own!  Use my code WINDYC10 for 10% off your order!
Want to pin this for later? Click on the image below!