This is the best roasted artichokes recipe ever!  Artichokes are so easy to make, full of fresh flavors, and always a crowd pleaser!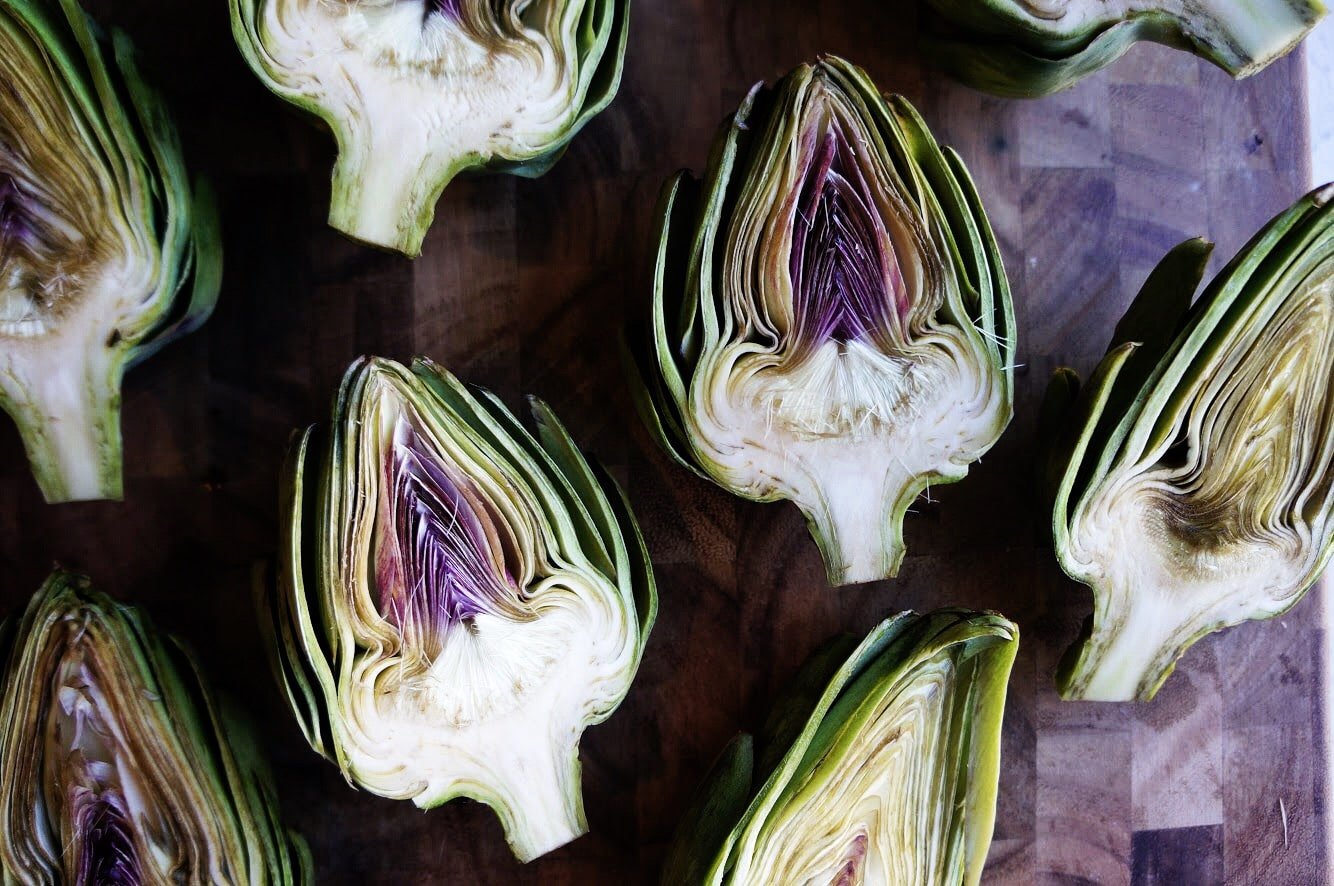 If you've been following along, you know that I went to culinary school back in 2003.  Right after before graduating and a couple years after, I worked at a small Italian restaurant in the suburbs of Chicago.  On the weekends, we made the most incredible stuffed roasted artichokes.  They started out as a snack for the cooks and eventually ended up on the menu because they were just that good.
It had been years since I had roasted artichokes and when I saw these at my local Trader Joes, I quickly put the package in my cart and couldn't wait to get home to make them.
How do I cook the artichoke?
There are a few different ways you can prepare these green beauties.  In this recipe, we're going to boil and then roasting them, but there are a couple other ways to prepare them.  We're boiling to ensure that you get a tender artichoke heart.  I find that if you just roast them, the heart gets dried out easily.  This is the fastest way to cook them and they come out perfect every time!
In 5-quart Dutch oven, combine water, sliced onion, add a bit of sliced onion, a clove of garlic, lemon juice, and 1/4 teaspoon salt; set aside. Trim the artichokes by snapping off and discarding tough outer green leaves, stopping when the leaves are half green and half yellow. Cut each stem even with base.

Lay artichokes on their sides and cut 1/2 inch off each top. Cut artichokes in half lengthwise. Place artichoke halves in water mixture and heat to boiling over high heat; cook 15 minutes. Drain artichokes and pat dry with paper towels.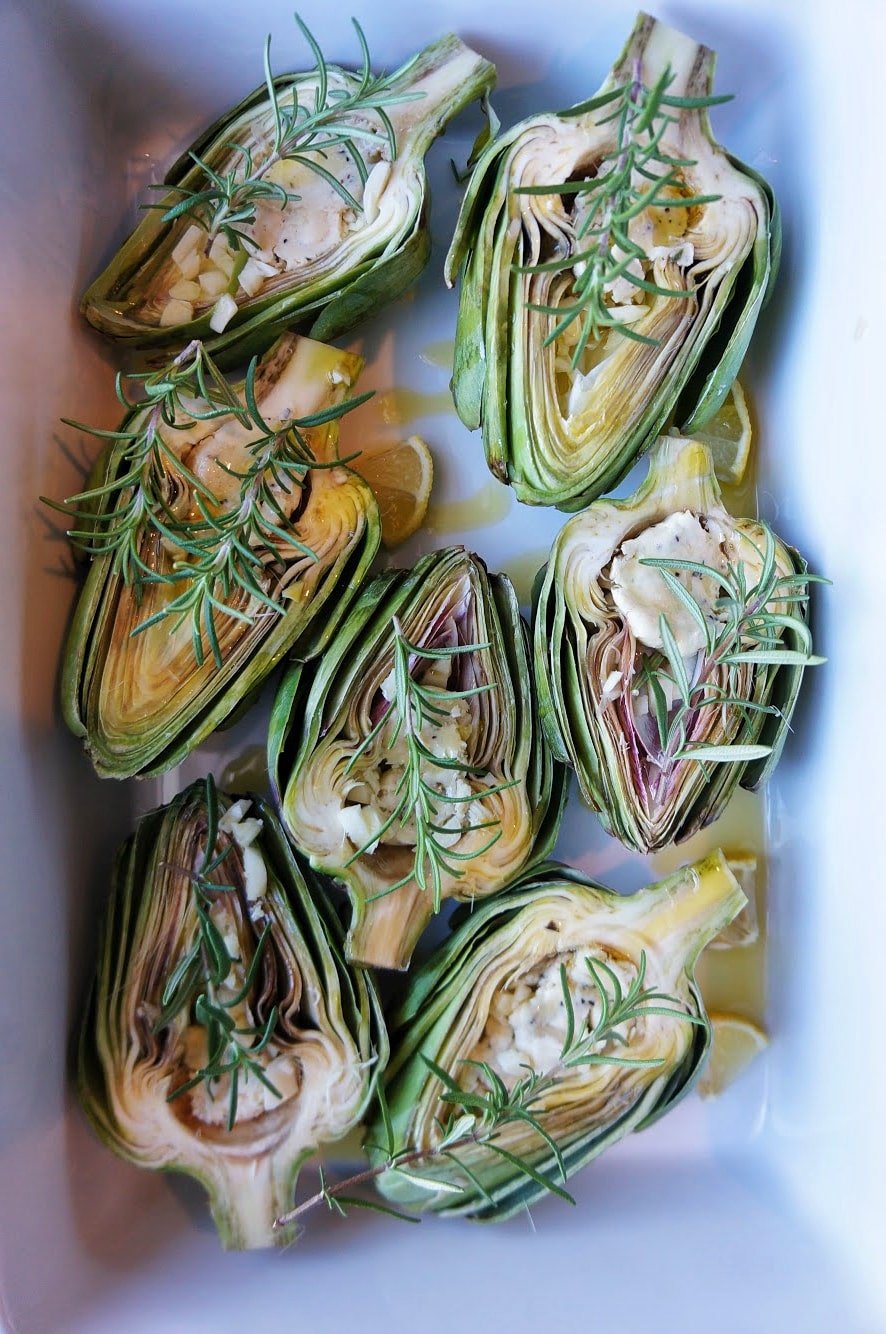 Heat oven to 450 degrees F. Stuff artichoke cavity with garlic, rosemary, thyme, butter and in a 13- by 9-inch baking pan, place artichokes cut side down.  Brush with oil and season with salt and pepper.  Roast for 15 minutes.  Using a spatula, turn artichokes and roast 5 to 10 minutes longer or until roasted artichokes are lightly browned. Transfer mixture to serving plate, drizzle with vinegar, and serve with dipping sauce.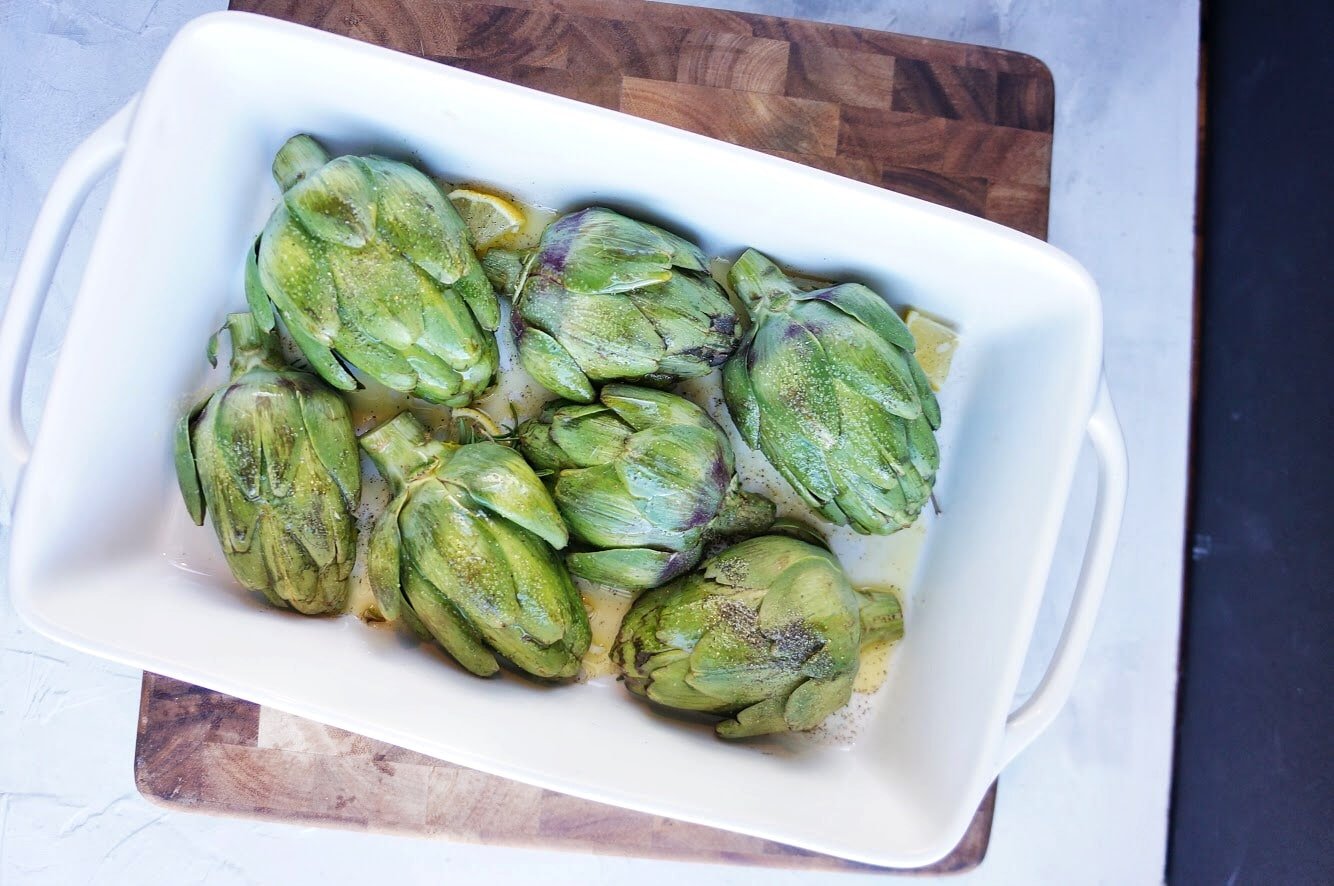 How do I eat the roasted artichokes?
If you're curious how to eat the roasted artichokes, you pull off one leaf at a time, dip it in a delicious aioli, and scrape off the tender "meat" of it with your teeth. I could eat these all day!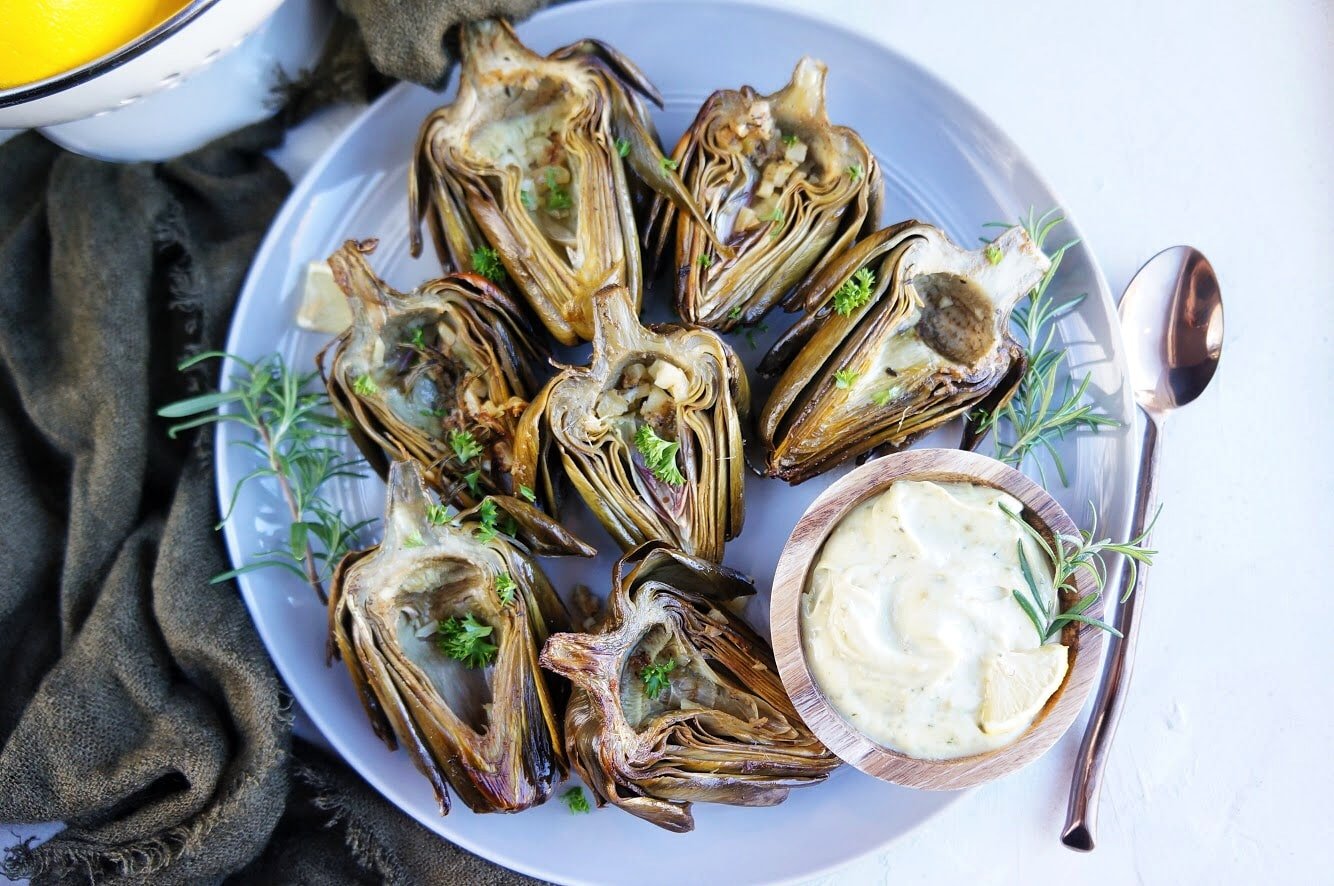 If you loved this recipe, be sure to check out my parmesan white bean and artichoke dip!
Print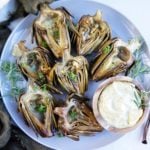 Roasted Artichokes with Pesto Aioli
---
1/2 cup mayonnaise
2 tablespoons prepared pesto
1 tablespoons chopped fresh basil
1/2 teaspoon fresh lemon juice
Salt and freshly ground pepper, to taste
---
Instructions
Combine all ingredients in a small bowl. Stir well. Store in the refrigerator.
---
Want to pin this for later? Click on the image below!