The best holiday appetizers don't have to break the bank! Here are some classic appetizers that are on budget and every bit as delicious!
Make Ahead Appetizers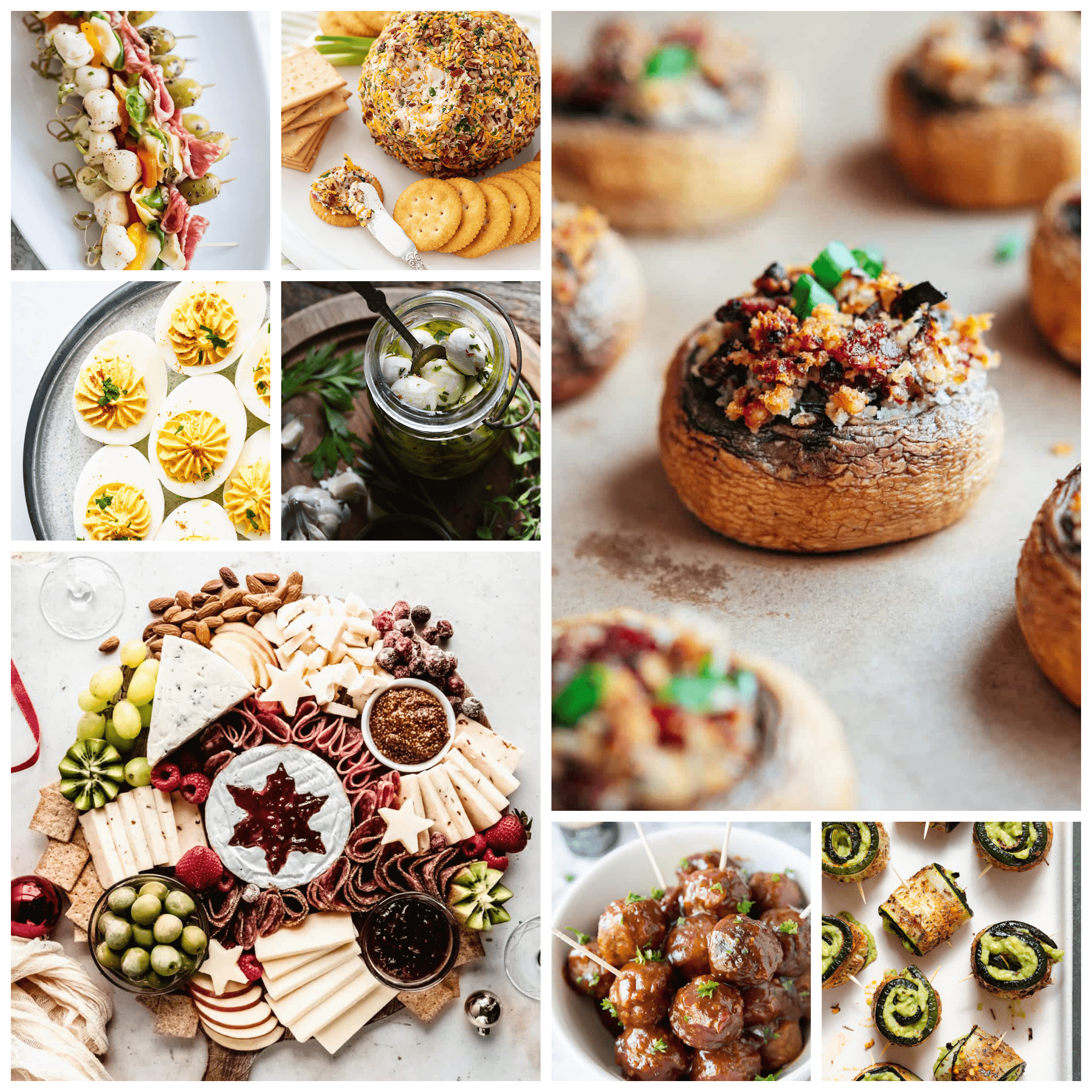 The very best Christmas appetizer is also easy to prepare! These make ahead appetizers are just what your party needs!
Roasted Zucchini Rolls – rolled with guacamole, these are a great light appetizer!
Cucumber Hummus Bites – a healthy gluten-free appetizer that is sure to satisfy your cravings for something yummy and crunchy.
The Best Ranch Cheeseball – cheese balls are a huge hit for any party! This make-ahead appetizer is loaded with ranch flavor, bacon, cheddar cheese, bacon and more!
Marinated Mozzarella Balls – This easy 10-minute appetizer is as elegant as it is delicious.
Caprese Tortellini Skewers – This no-bake appetizer can easily be made in 25 minutes!
Christmas Charcuterie Board – this cheese board is the perfect centerpiece for the Christmas season and perfect for snacking while you put up Christmas decorations! It also puts such a festive touch on any holiday party!
Antipasto Skewers – these crowd pleasing antipasto skewers make an easy party appetizer or a fun addition to a charcuterie board.
Crockpot Cocktail Meatballs – these easy meatballs simmer away in a sweet and tangy sauce in your slow cooker and are ready to serve when your guests arrive.
Christmas Tree Themed Cheese Ball – This savory Christmas tree themed holiday cheese ball is not only festive and fun, but is also delicious.
Delicious Dips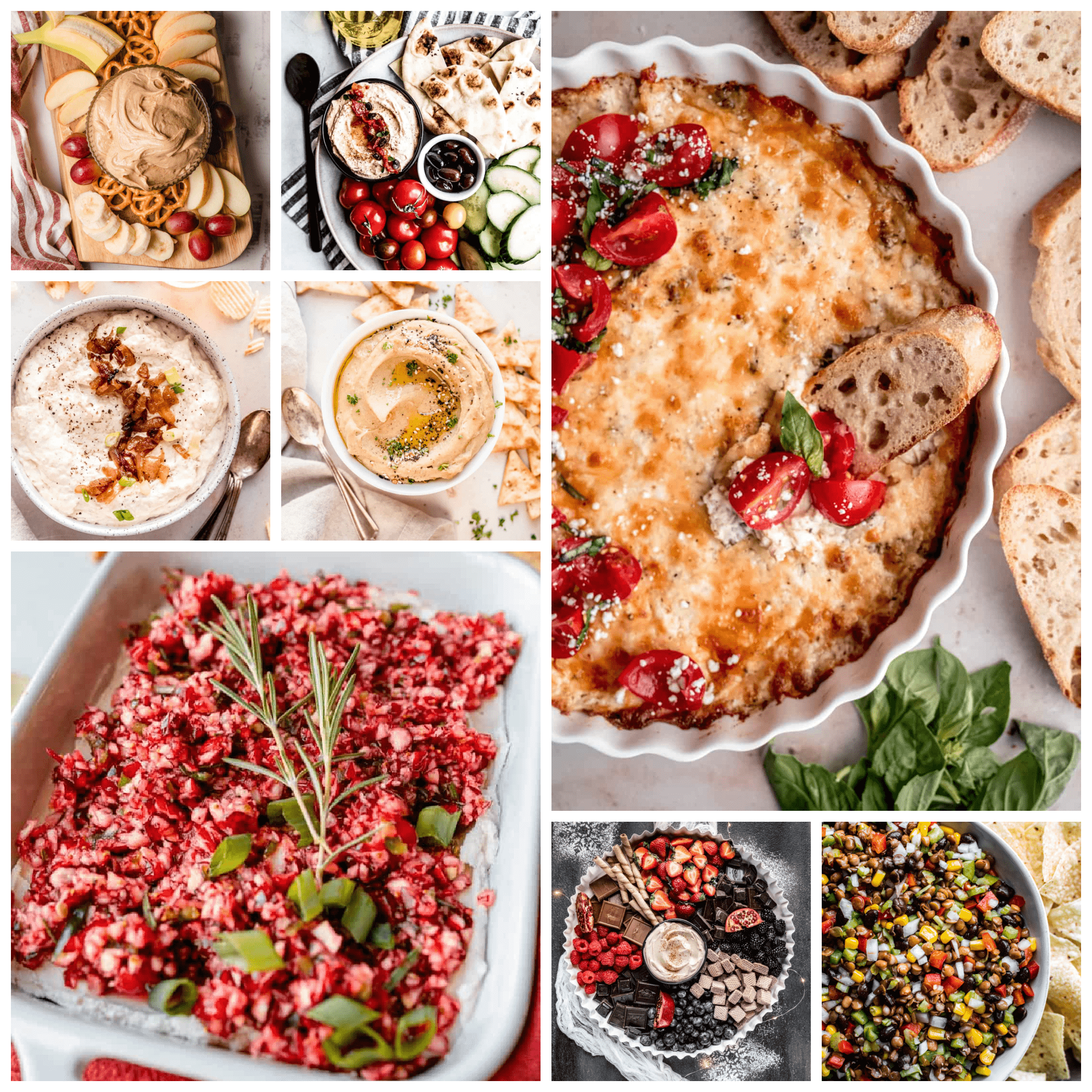 Everyone loves a yummy dip! These dip recipes are such easy holiday appetizers for a Christmas dinner!
Amish Peanut Butter Spread – Whether you're slathering it on homemade Amish White Bread, spreading it on a graham cracker, or dunking sliced apples into it, this spread will become an instant favorite.
Whipped Feta Dip with Sun dried tomato – this creamy dip is made with feta cheese and perfect for dipping fresh veggies or pita chips
Baked Goat Cheese Dip – super simple, delicious appetizer recipe that's easy to throw together at the last minute with just 3 ingredients!
Creamy Spinach Artichoke Dip – rich, gooey and full of incredible flavor! It makes an impossible to resist appetizer!
Chicken Alfredo Dip – Four cheeses, juicy chicken and alfredo sauce come together to make a delicious appetizer for any occasion!
Cookie Butter Dip – This easy three-ingredient cookie butter dip is perfect for a fruit charcuterie board, and is ready within minutes!
Texas Caviar Dip – tangy and refreshing dip packed with wholesome veggies, beans, and lentils. Perfect to scoop up with your tortilla chips!
Cranberry Jalapeno Dip – If you love cranberry sauce you'll love this twist! This dip made with cream cheese, Cranberry and Jalapeno is a delicious combination of savory, tart, sweet, and just a tad bit heat is perfect for dipping crackers, crusty bread or veggies!
Sweet Potato Hummus – A spicy, flavor-packed snack that's healthy and vegan-friendly, too!
Bite-sized snack appetizers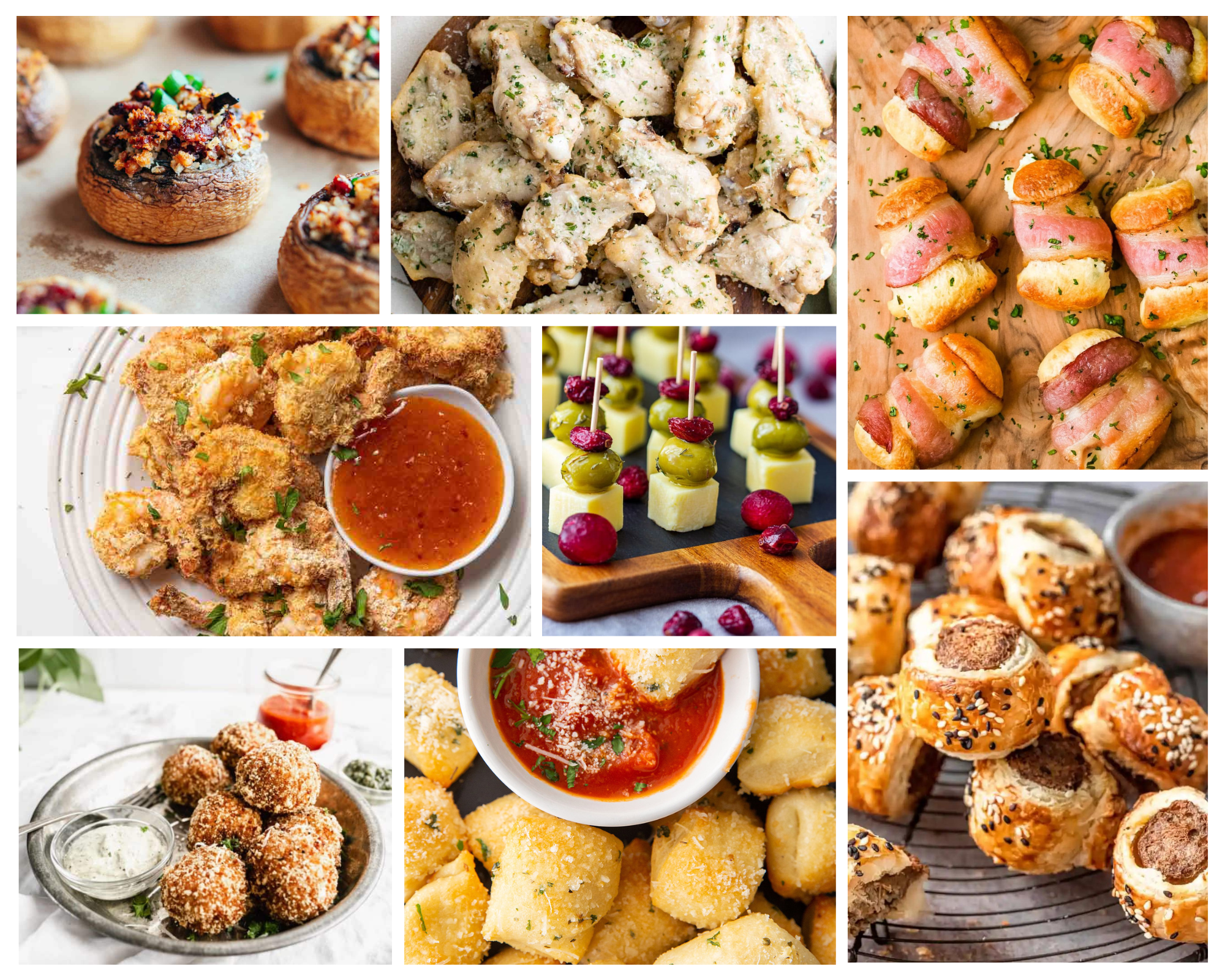 Finger foods are a huge hit at all holiday parties! Try these classic appetizers while sitting around the christmas tree at your next gathering!
Parmesan Bread Bites – this easy appetizer uses store-bought pizza dough to create little cheesy bites everyone will love!
Puff pastry sausage rolls – Are you a fan of savory snacks? These super simple puff pastry sausage rolls are made with store-bought puff pastry and just 4 ingredients and are always crowd-pleasing appetizers
Sweet Corn Arancini – Cheese stuffed Italian rice balls rolled in breadcrumbs and fried to golden brown perfection!
Bacon Stuffed Mushrooms – The blend of crispy bacon, salty parmesan cheese, buttery breadcrumbs and savory aromatics make these juicy baked mushrooms impossible to resist, perfect for the holiday season!
Air Fryer Pizza Rolls – an ooey-gooey, cheesy, and downright addicting snack!
Garlic Parmesan Wings – crispy on the outside, juicy on the inside, these are perfect for your guests who can't handle the spice of buffalo wings!
Bacon Cream Cheese Crescent Rolls – Pillsbury Crescent Roll Sheets, Philadelphia Chive Cream Cheese and BACON make this hot appetizers are perfect for any gathering!
Cranberry Olive Cheese Skewers – These easy party appetizers are ready in minutes and only need a few ingredients. They are perfect for any occasion!
Crostini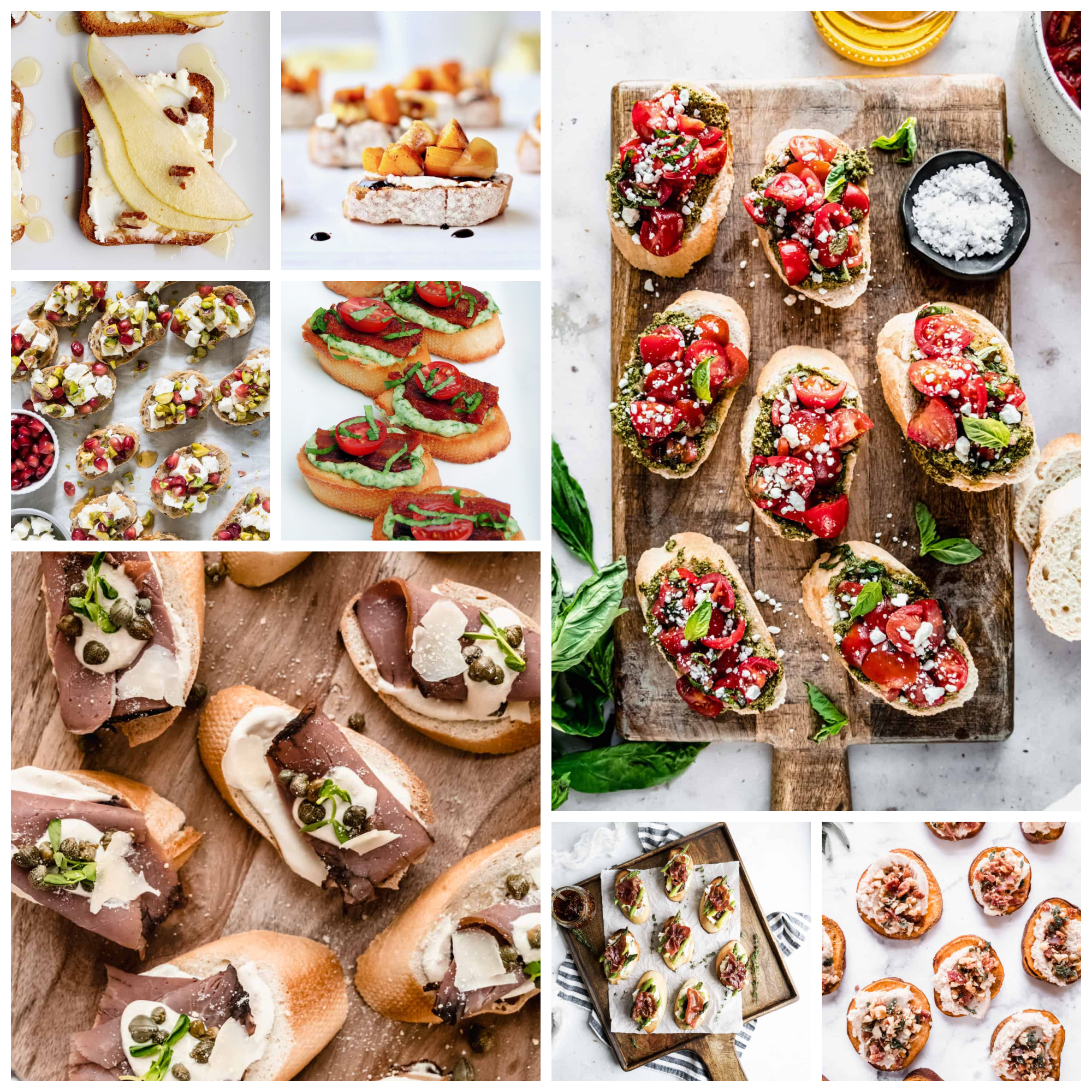 A loaf of French bread costs right around $2, and one loaf makes about 25 crostini! Crostini with toppings is one of the most budget-friendly appetizers out there! They're such easy christmas appetizers for your next holiday party!
Bartlett Pear, Goat Cheese and Honey Crostini – A delicious flavor combo, perfect for sipping on some holiday cocktails!
Tomato Basil Bruschetta – Classic Tomato Basil Bruschetta with Homemade Pesto is a seriously delicious simple appetizer with fresh flavor
Butternut Squash Bruschetta – Butternut squash and apples get tossed in delicious spices, roasted, and layered on ricotta cheese with a balsamic glaze drizzle.
Ham and Cheese Crostini – Toasted baguette slices topped with a mustard spread, ham and melted cheese are a perfect appetizer.
Avocado Toast Bruschetta – The hottest breakfast trend made into a delicious party appetizer!
Roast Beef Crostini with Horseradish Sauce– Thin slices of roast beef, a tangy horseradish dijon sauce and capers all piled high on little toasts!
BLT Crostini – All the flavors of a BLT, with a delicious basil mayonnaise, in an easy to make appetizer that is guaranteed to please your partygoers!
Ricotta and Red Pepper Crostini– Crisp bread rubbed with garlic and topped with lemony ricotta and peppers are the perfect holiday appetizer!
Pistachio, Feta and Pomegranate Crostini – these delicious toasts are a great way to bring some Christmas color and taste to your table.
Sweet Potato Crostini with Walnut Bacon Crumble – the perfect combination of sweet and savory for a appetizer this time of year!
Asparagus Goat Cheese Crostini – creamy goat cheese and fresh asparagus with a salty crunch of proscuitto
Hope you loved all these Christmas appetizer recipes! Happy Holidays!