This whipped feta dip with sun dried tomato is a creamy savory spread, perfect for pairing with toasted pita wedges, or spreading on sandwiches! It's a guaranteed crowd-pleaser!
I could make an entire meal out of a yummy spread and some crispy veggies or a nice crusty bread. After honeymooning in Greece, I have fallen in love with all the flavors of the Mediterranean! This whipped feta dip with sun dried tomato is one of the best dips ever, and brings me right back to the islands!
Why we love this whipped feta dip
This creamy dip has the perfect amount of tang and pairs so well with a veggie platter, spread on warm pita bread, or a toasty chicken sandwich. Not to mention, it takes about 5 minutes to make, so it's the perfect appetizer for last minute guests that come over!
What do you need to make this dip?
8 oz room temperature cream cheese
1/2 cup Greek yogurt
Lemon juice
Lemon zest

1/4 cup

Amore brand

sun dried tomato paste

2 garlic cloves, minced
12 oz crumbled feta cheese
1 teaspoon black pepper
Chopped sun dried tomato in oil for garnish
Is feta cheese good for you?
Compared to other cheeses, feta cheese is low in fat and calories! It also contains a good amount of B vitamins, phosphorus and calcium, which benefits bone health. Additionally, feta contains beneficial bacteria and fatty acids.

What is in Whipped Feta Dip with Sun Dried Tomato?
This spread is made with tons of tangy feta cheese, a little cream cheese, some greek yogurt, a couple cloves of garlic, olive oil and Amore Sun Dried Tomato Paste.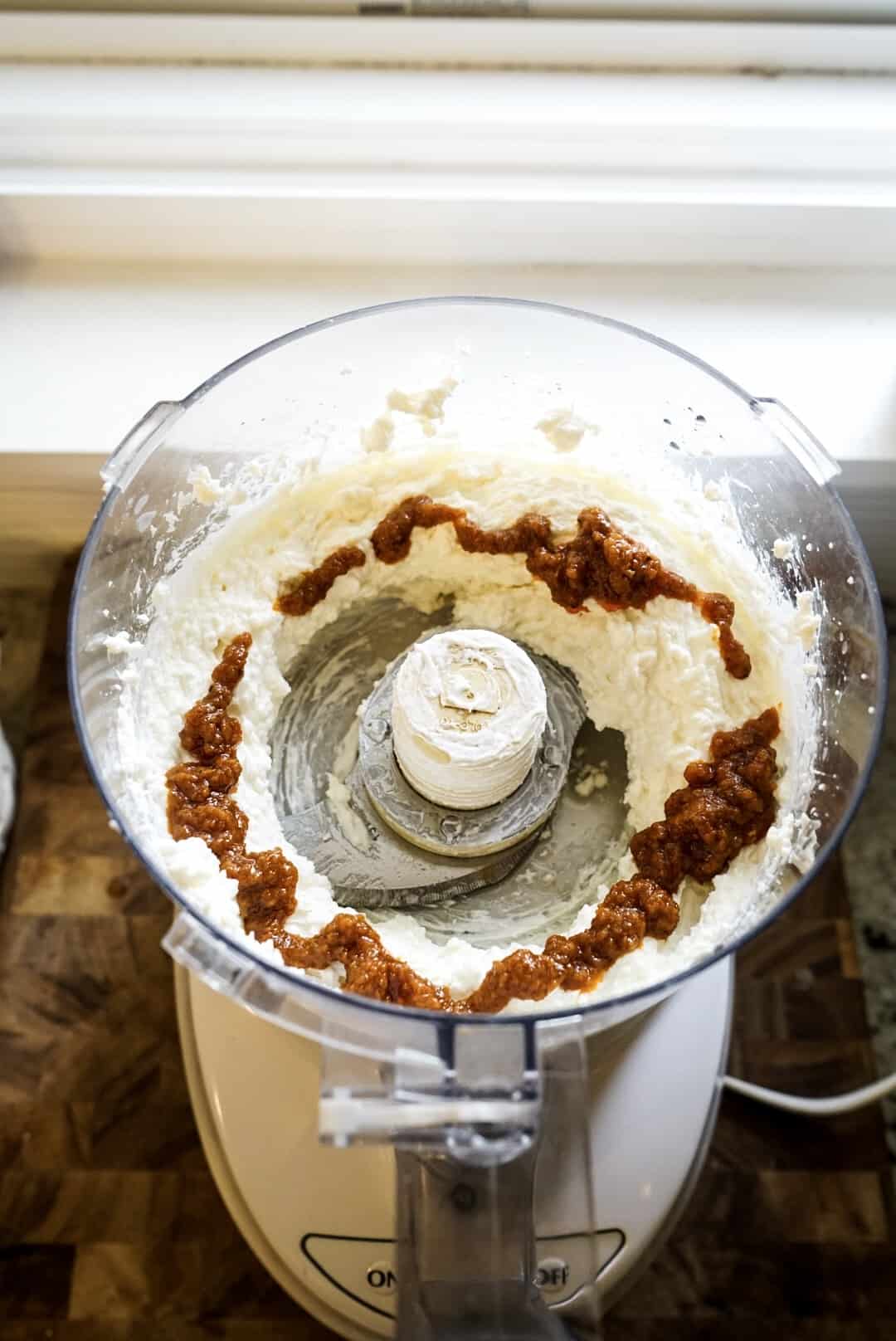 How do you make Whipped Feta Dip with Sun dried Tomato?
To make this creamy whipped feta dip,, you'll need to have a hand mixer, a food processor, or something high-powered that can whip that feta cheese until it's smooth and creamy. The Feta is whipped together with cream cheese, Greek yogurt, lemon juice, olive oil and sun dried tomato paste. The olive oil helps to lighten everything and make a fluffy dip. It takes several minutes to get a smooth dip, but it's all worth it in the end! Scrape down the sides of the bowl a couple of times between pulses.
Once the Feta Cheese is whipped to a consistency you like, add a little salt and some crushed red pepper flakes to season, then add fresh dill. Feta is a pretty salty cheese, so you'll want to be cautious adding salt.
To finish it off, place in a shallow serving bowl and top this Greek Feta Dip with some diced cucumbers and tomatoes for texture and crunch, and a drizzle of extra virgin olive oil. I like to dice up a whole cucumber or two and stir it right into the dip for added texture as well. Make sure to have plenty of pita chips or plain crackers on hand for serving.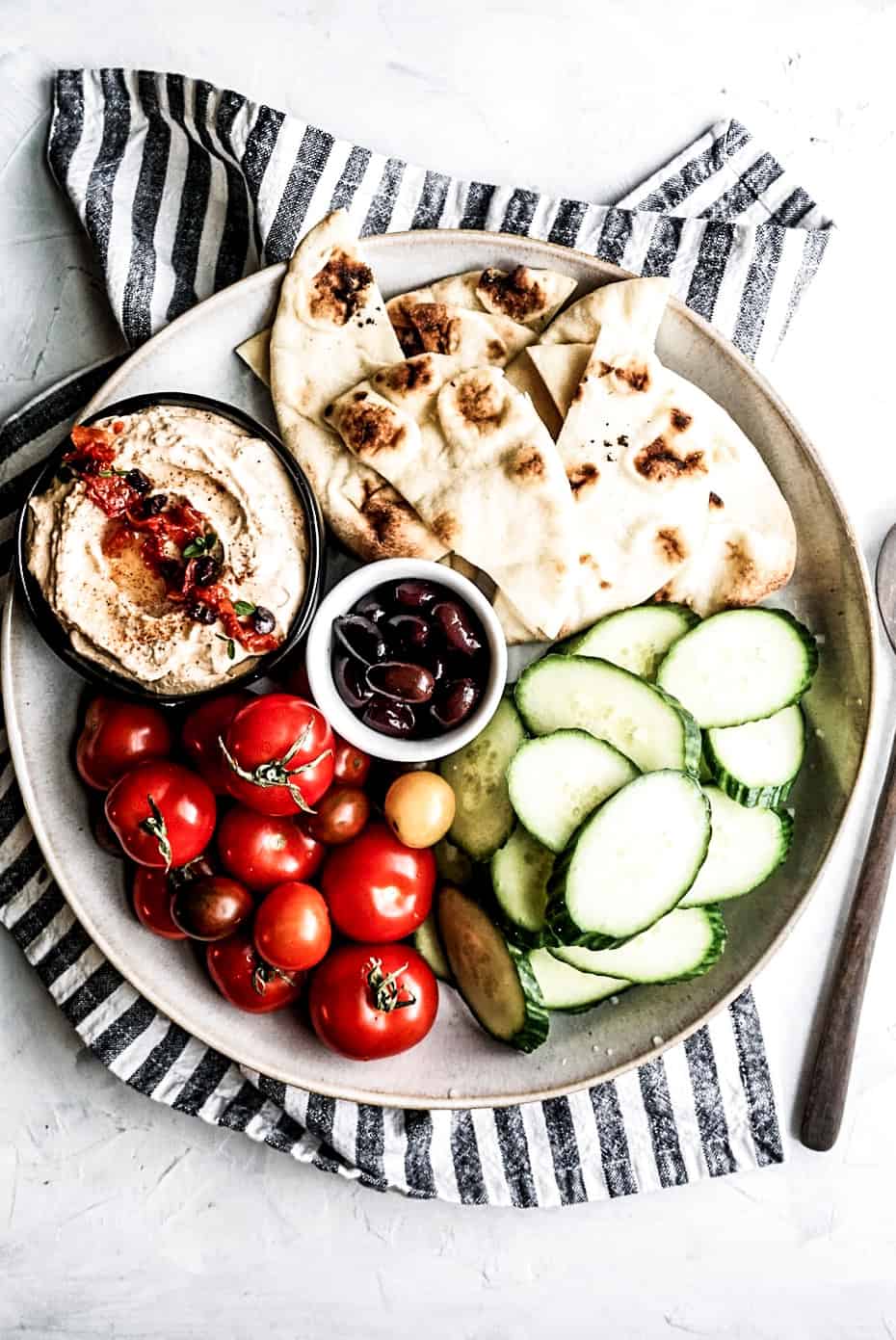 What do I serve with Whipped Feta Dip with Sun Dried Tomato?
This tangy spread is perfect on some warmed naan or pita bread, or paired with some crisp fresh veggies. It's a great addition to a charcuterie board, or you can also spread it on some grilled chicken make a meal out of it!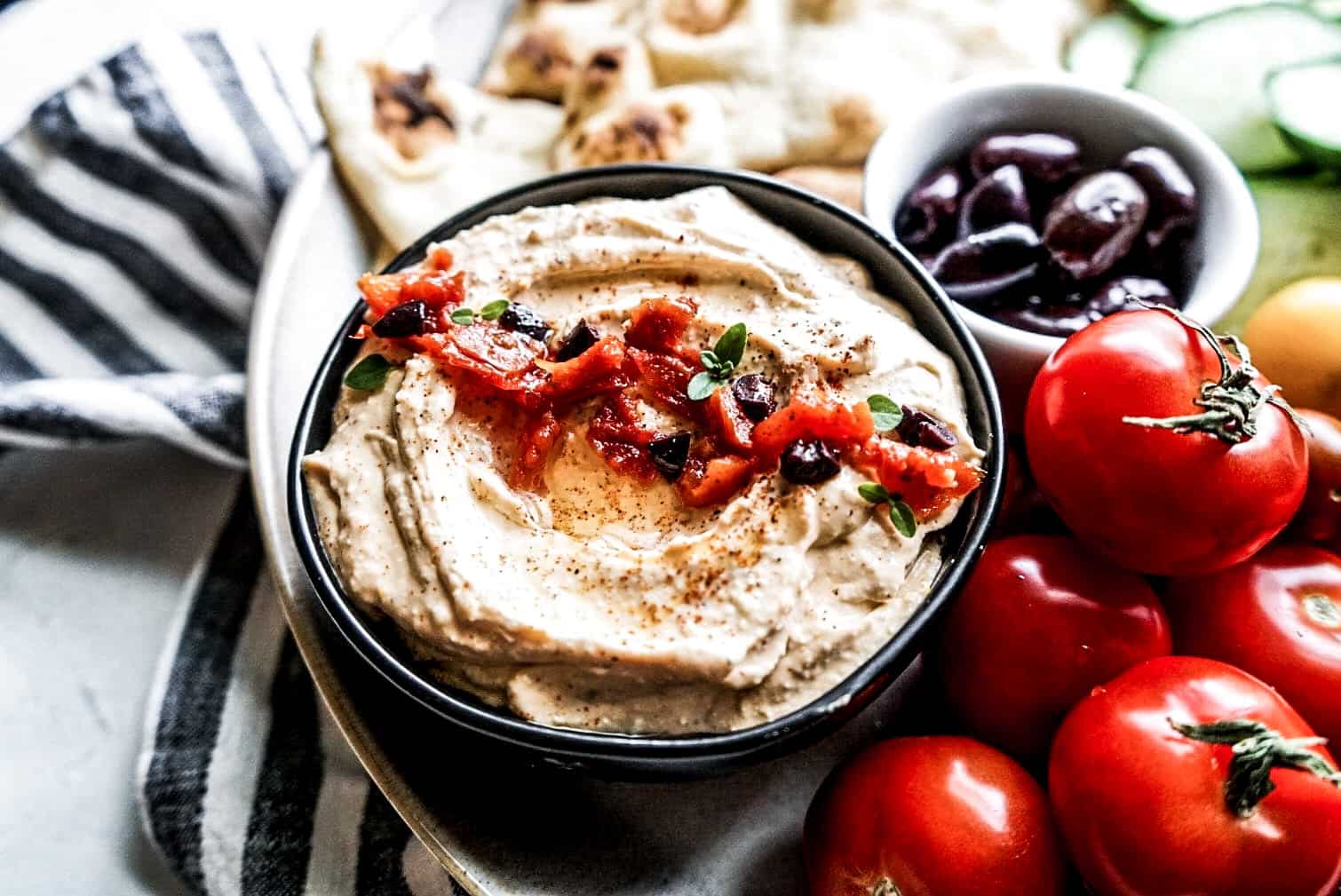 Best Way to Store Leftovers
If you have leftovers, store them in an airtight container in the fridge for up to three days.
If you loved this recipe, be sure to check out my souvlaki with herb quinoa and roasted veggies!
Print
Whipped Feta Dip with Sun Dried Tomato
---
8 oz

cream cheese, softened

1/2 cup

Greek yogurt

1

lemon, zested and juiced

1/4 cup

Amore brand sun dried tomato paste

2

garlic cloves, minced

12 oz

crumbled feta cheese
Chopped sun dried tomato in oil for garnish
---
Instructions
Combine first 6 ingredients in a food processor and pulse until smooth. Serve and garnish with chopped sun dried tomato
---
Want to pin this for later? Click on the image below!