Savor the flavors of the Mediterranean with this creamy whipped feta dip with sun dried tomato. A quick and simple spread for your next gathering! 
I consider myself a huge dip girl.  I could make an entire meal out of a yummy spread and some crispy veggies or a nice crusty bread.  After honeymooning in Greece, I have fallen in love with all the flavors of the Mediterranean!  This whipped feta dip with sun dried tomato really hits the spot and brings me right back to the islands!  It has the perfect amount of tang and pairs so well with some sliced cucumbers or warm pita. Not to mention, it takes about 5 minutes to make, so it's great for last minute guests that come over!
What is Feta Cheese?
Feta cheese is a rich and creamy soft cheese of Greece. It is traditionally made of whole sheep's milk, although many varieties are now made with goat's milk or a mixture of the two. It has been around for centuries, and most Greek meals contain feta in some way or another.
Feta cheese is a soft cheese made from 45 to 60 percent fat whole sheep's or goat's milk. The more flavorful fetas are aged four to six weeks, cured in a salty brine. Also known as a pickled cheese, the flavors of feta becomes sharper and saltier with age. It has a beautiful crumbly texture.
Is feta cheese good for you?
Compared to other cheeses, feta cheese is low in fat and calories! It also contains a good amount of B vitamins, phosphorus and calcium, which benefits bone health.  Additionally, feta contains beneficial bacteria and fatty acids. 

What is in Whipped Feta Dip with Sun Dried Tomato?
This spread is made with tons of tangy feta cheese, a little cream cheese, some greek yogurt, a couple cloves of garlic, olive oil and Amore Sun Dried Tomato Paste.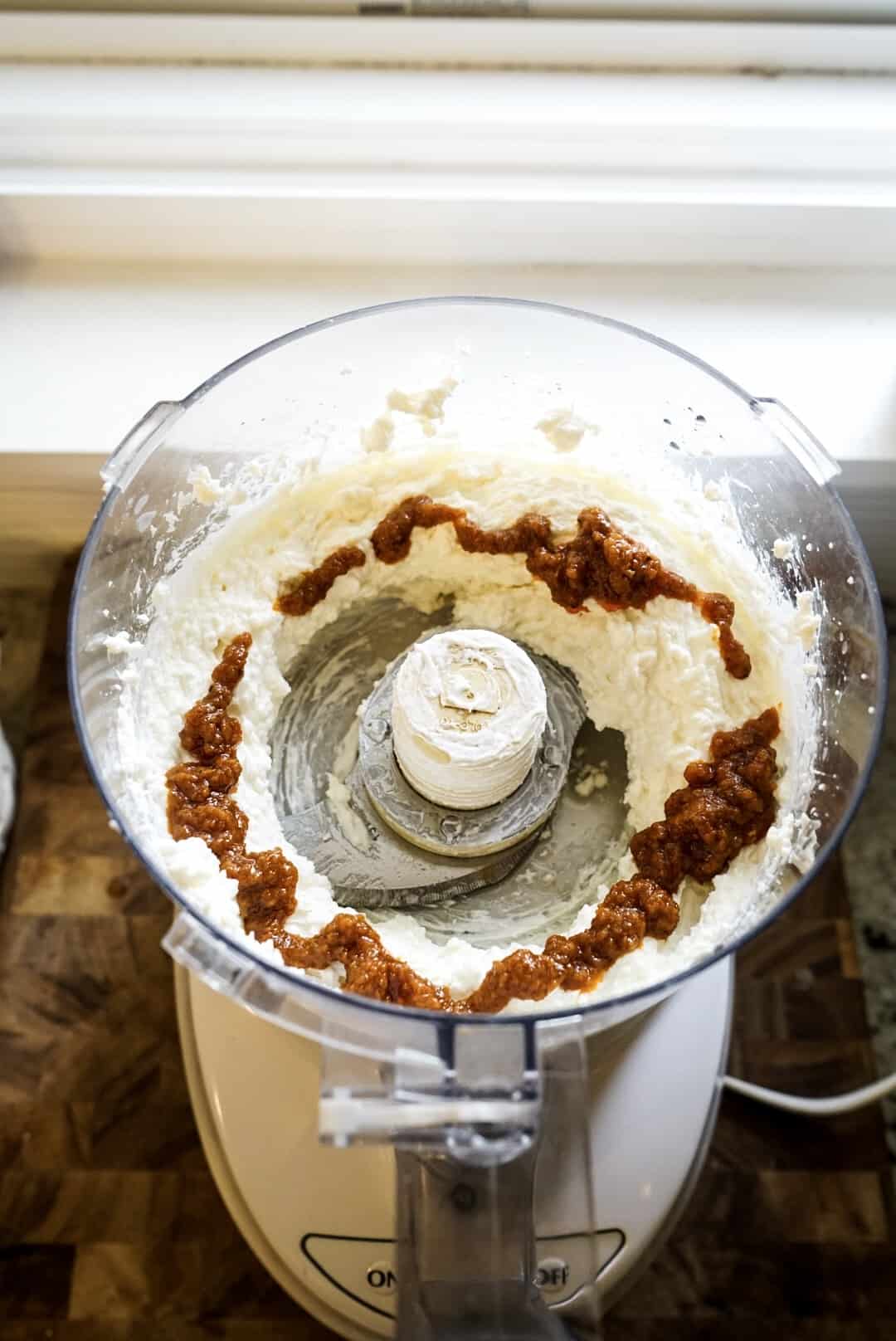 How do you make Whipped Feta Dip with Sun dried Tomato?
To make this easy whipped feta dip with sun dried tomato, you'll need to have a hand mixer, a food processor, or something high-powered that can whip that feta cheese until it's smooth and creamy. The Feta is whipped together with cream cheese, Greek yogurt, lemon juice, olive oil and sun dried tomato paste. The olive oil helps to lighten the dip up and make it fluffy. It takes several minutes to get this mixture smooth, but it's all worth it in the end!
Once the Feta Cheese is whipped to a consistency you like, add a little salt and some crushed red pepper flakes to season, then add fresh dill. Feta is a pretty salty cheese, so you'll want to be cautious adding salt.
To finish it off, top this Greek Feta Dip with some diced cucumbers and tomatoes for texture and crunch. I like to dice up a whole cucumber or two and stir it right into the dip for added texture as well. Make sure to have plenty of pita chips or plain crackers on hand for serving.

What do I serve with Whipped Feta Dip with Sun Dried Tomato?
This tangy spread is perfect on some warmed naan or pita bread, or paired with some crisp fresh veggies.  You can also spread it on some grilled chicken make a meal out of it!
If you loved this recipe, be sure to check out my souvlaki with herb quinoa and roasted veggies! 
Print
Whipped Feta Dip with Sun Dried Tomato
---
8 oz

cream cheese, softened

1/2 cup

Greek yogurt

1

lemon, zested and juiced

1/4 cup

Amore brand sun dried tomato paste

2

garlic cloves, minced

12 oz

crumbled feta cheese
Chopped sun dried tomato in oil for garnish
---
Instructions
Combine first 6 ingredients in a food processor and pulse until smooth. Serve and garnish with chopped sun dried tomato
---
Want to pin this for later? Click on the image below!