This fun and festive Christmas Charcuterie Board is the perfect centerpiece for any Christmas party! It's a guaranteed hit at any gathering!
Holiday parties are in full swing and I have just what every party needs: a great charcuterie board! This grazing platter is perfect for Christmas eve, Christmas dinner or a gathering with friends! As a former personal chef and caterer, charcuterie boards were my most requested item!
Why we love this cheese board
This Christmas Charcuterie Board is so much fun to make because there are no rules! You can get as creative as you want. Choose your favorite meats, cheeses and seasonal produce! A beautiful board is the ultimate no-cook appetizer for your holiday gatherings that will please the whole crowd! This takes the first place prize for holiday appetizers!
Ingredients for a Christmas Charcuterie Board
To keep with the color scheme of this time of year, it's best to choose white cheeses with pops of red and green to keep this Christmas Charcuterie board festive and fun.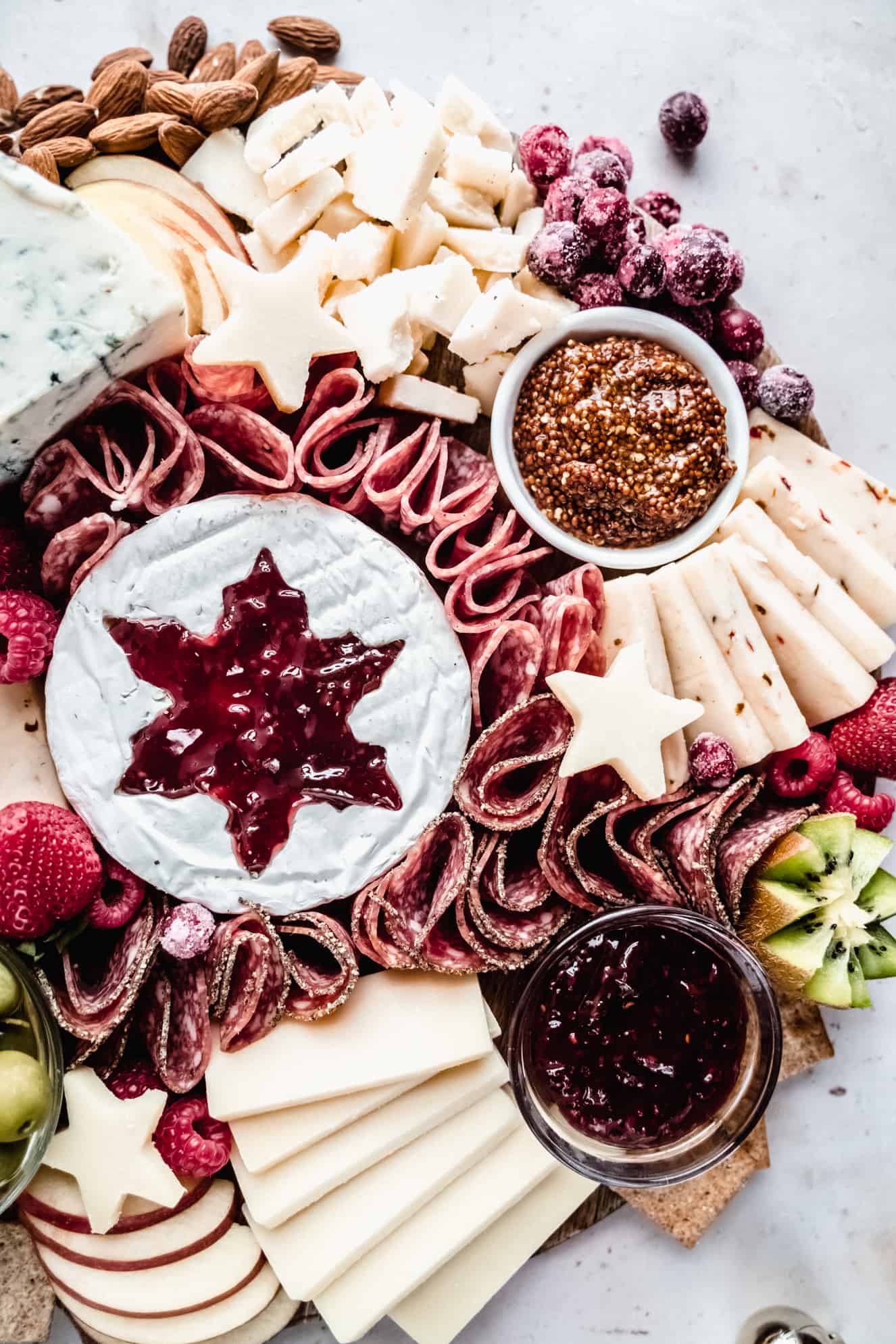 Choose a variety of hard and soft cheeses
There are so many delicious cheeses to choose from, it's hard to know where to start. Here are my tips: In the center of the board, I placed a wheel of brie cheese with a snowflake cut out. To accomplish this design, I took a snowflake shaped cookie cutter, placed it in the middle of the wheel and pressed down until it cut through the rind. Remove about 1/4″ below the rind inside of the snowflake cut out. Fill it with your favorite red jam. I chose raspberry jam. Other soft cheese ideas are Gorgonzola or blue cheese, a cranberry goat cheese log or fresh mozzarella balls.
For hard cheeses on the board, I picked a spicy pepper jack and gruyere. Other white hard cheese options are comte, manchego, and white cheddar. Slice them in 1/4″ slices along with the width of the block of cheese.
Choosing the best meats for a charcuterie board
Pick an assortment of mild, medium and bold flavors when it comes to meats. For meats, I always include a hard salami, some salty prosciutto, and soppressata to spice things up a bit.
Choosing Fresh Fruit
For those pops of red color we talked about earlier, fresh strawberries, fresh raspberries and sugared cranberries were included on this festive board. I included pops of green by using green grapes and kiwi. Adding fresh fruit cuts through the richness of the meats on this Christmas charcuterie board. Other red fruits you could add include dried cranberries or pomegranate arils for a pop of color!
Choosing dips
Include 1 or 2 jams or preserves for some added flavor and sweetness to balance out the dry and salty meat and cheese. Fig jam goes so well with many kinds of cheese and meats, so I always like to include it. I like to put them into white ramekins or small bowls for a more cohesive look, however the vessels you choose can add a big statement to any board! So get creative! I love these beautiful olive wood bowls for a fun option on a marble platter! Want to add a sweet spread for fruit? Check out my cookie butter dip!
How to arrange a Christmas Charcuterie Board
With every traditional charcuterie board, start by placing the largest items or cheeses on the board or cheeses you'll keep whole or just crumble a few pieces off. Cheese should have prime real estate on every charcuterie board. Once the large cheeses are placed, place any bowls for jams, spreads or green olives next.
Next, place the sliced cheeses fanned around the bowls. This makes for a beautiful presentation, and it's practical for picking up individual slices!
Then around the large wheel of brie in the middle, place the thin slices of salami by folding each round in half, and half again, placing the open side face up. They'll fall as you place them, but once the space is filled, each piece should stand up nicely.
Next, fill in any gaps at this point with fanned apples or pears next.
In the small spaces left, place spiced nuts, almonds or raspberries.
Finally, take this Christmas Charcuterie board to the next level by cutting out stars with remaining bits of cheese and place them on top of the board in a few different places. I love the festive touch it brings to this grazing platter. Add an additional pop of green by adding sprigs of fresh rosemary as a garnish in spaces on the board.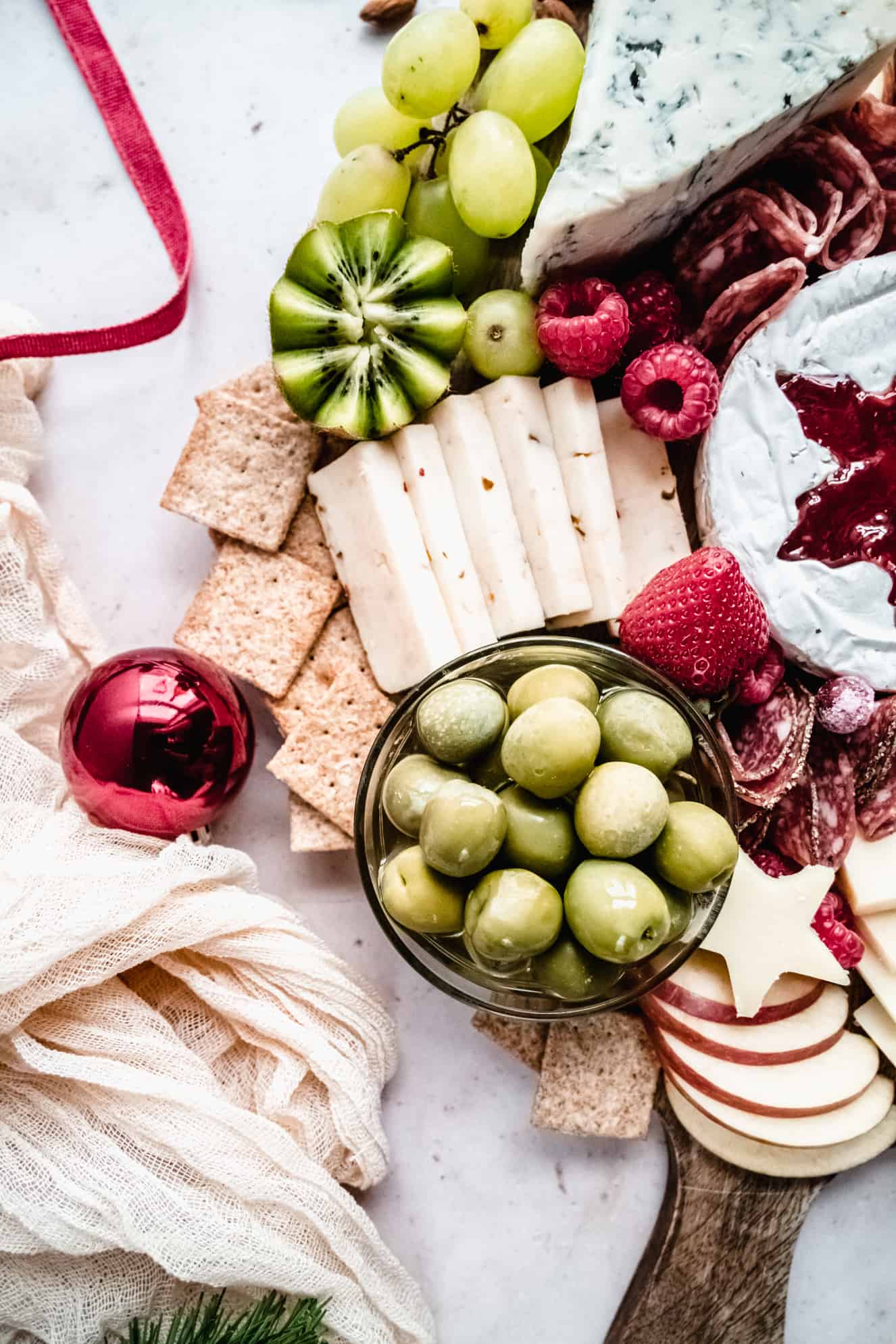 What kind of platter should I use?
If you're entertaining a crowd, a large round platter is the best option for this gorgeous charcuterie board. I used a round platter from Crate and Barrel which is sold out, but you can find similar ones here, here and here. Another popular pick is this large wood cutting board. If you're making a small cheeseboard for date night, a small square or rectangular board is a great option. This also works if you have other appetizers you're serving at a party, and a smaller charcuterie board.
Make sure to include some cheese knives so that your guests can cut the larger chunks as they choose. Use the wide knife to divide soft cheeses such as brie, the narrow plane knife to portion wedges of semi-hard cheeses such as Gouda, and the pronged knife to easily pierce hard cheeses such as parmesan. You can also include chalkboard cheese labels to mark each kind of cheese so there's no guesswork!
This charcuterie board would be a great addition to any holiday party! If you loved this post, check out how to make a dessert board for New Year's Eve!
You can also FOLLOW ME on INSTAGRAM, PINTEREST, and FACEBOOK for more great recipes!