Your coffee equipment is lined up, and you're ready to show off your barista skills. These easy coffee drinks are all you need for entertaining this holiday season!
An after-dinner coffee will relax your guests and keep the conversation going. Luckily, there's a wide range of alcoholic and non-alcoholic drinks.
I've been trying out recipes for interesting coffee drinks for several months, so here's my selection of the best coffee drinks that'll wow your guests and show off your hard-earned barista skills.
7 Best Coffee Drinks for Entertaining
1. Affogato with Chocolate Whipped Cream
An affogato is one of the classic espresso drinks and a perfect after-dinner treat. It's a coffee and a dessert all in one. Plus, you can get away with serving affogato if you didn't have time to prepare a real dessert.
Here's how to make affogato with chocolate whipped cream:
Combine half a cup of heavy cream, a quarter cup of powdered sugar, one tablespoon of cocoa, and a quarter teaspoon of vanilla extract in a bowl. Beat with an electric mixer until there are stiff peaks.
Take out two small dessert cups and put one to two scoops of vanilla ice cream in each cup.
Pour a shot of espresso over the ice cream. You can pull the shot straight into the glass to see the ice cream melt before your eyes.
Top with the chocolate whipped cream.
Note: You can also make a boozy version of affogato by adding several tablespoons of coffee liqueur.
2. Spiced Rum Chai Latte
If you've never paired rum and coffee, you're missing out. Rum is one of the best liquors to pair with coffee because its sweet flavor goes well with more bitter coffee. Plus, rum has less alcohol than other liquors, which makes it appropriate for an early night.
Here's how to make a spiced rum chai latte:
Combine one cup of chai concentrate and one cup of milk.
Stir together and let the mix simmer on low heat.
Once the mix steams, turn off the heat and add spiced rum.
Pour the drink into a mug.
Garnish with whipped cream if desired.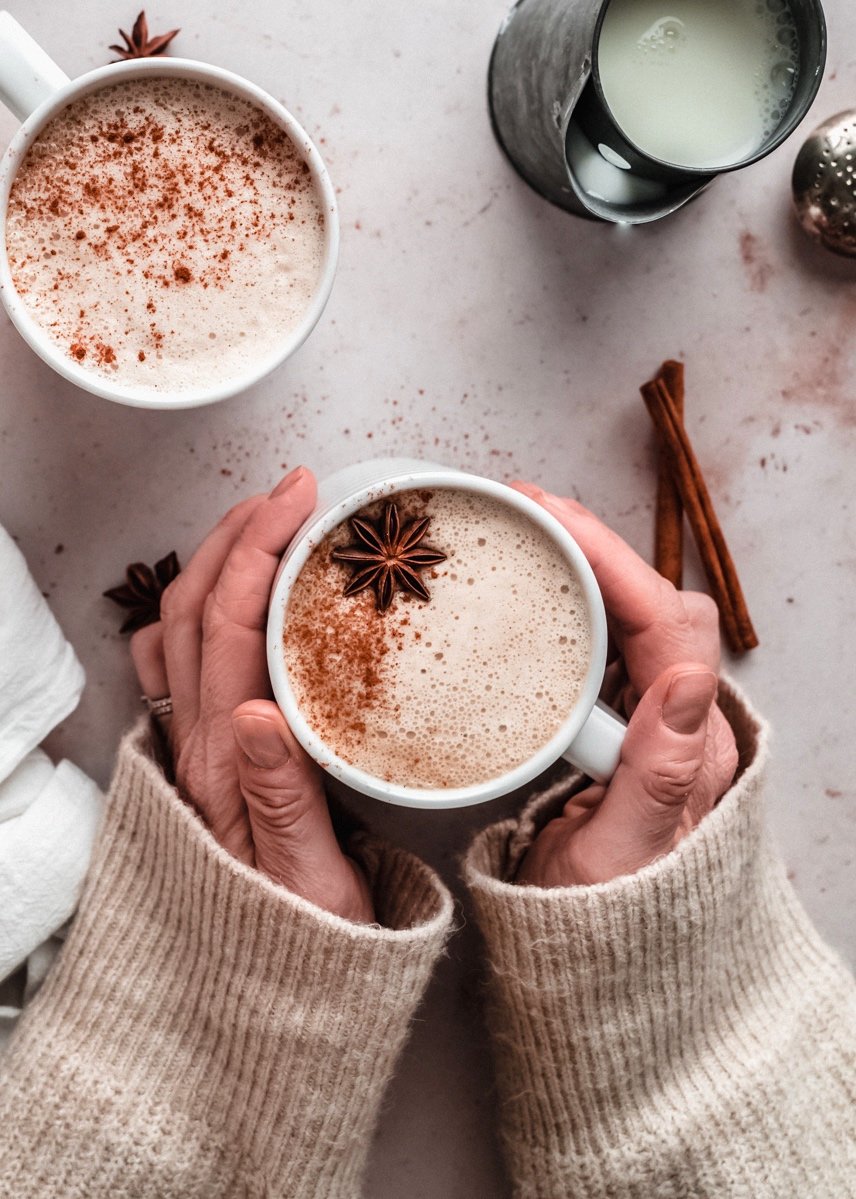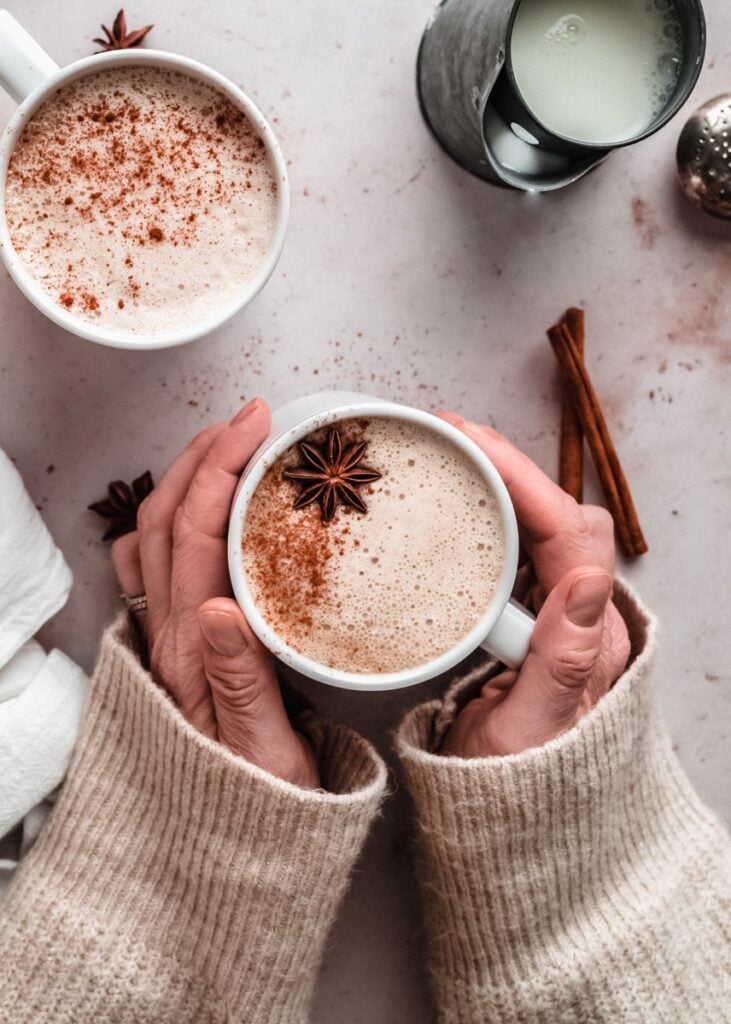 3. Irish Coffee
As the story goes, Irish coffee was created by an airport chef. He came up with Irish coffee on a cold winter night to warm up passengers whose plane got turned around during a storm.
This is one of my favorite holiday coffee treats, and I guarantee your guests will love it on a cold wintery evening.
Here's how to make Irish coffee:
Brew the coffee — It's best to use strong coffee with a dark roast flavor, so it holds up against the whiskey and cream.
Pour the coffee into mugs — Make sure to use large mugs or cups, so there's room for whiskey and cream. Irish coffee is traditionally served in tall glass cups.
Add 1.5 oz of whiskey to coffee — Use Irish whiskey for best results and authentic Irish coffee.
Top with cream — You can use Baileys for an extra alcohol kick or go with ready-made whipped cream.
If you're a chocolate lover, try my recipe for a mocha irish coffee!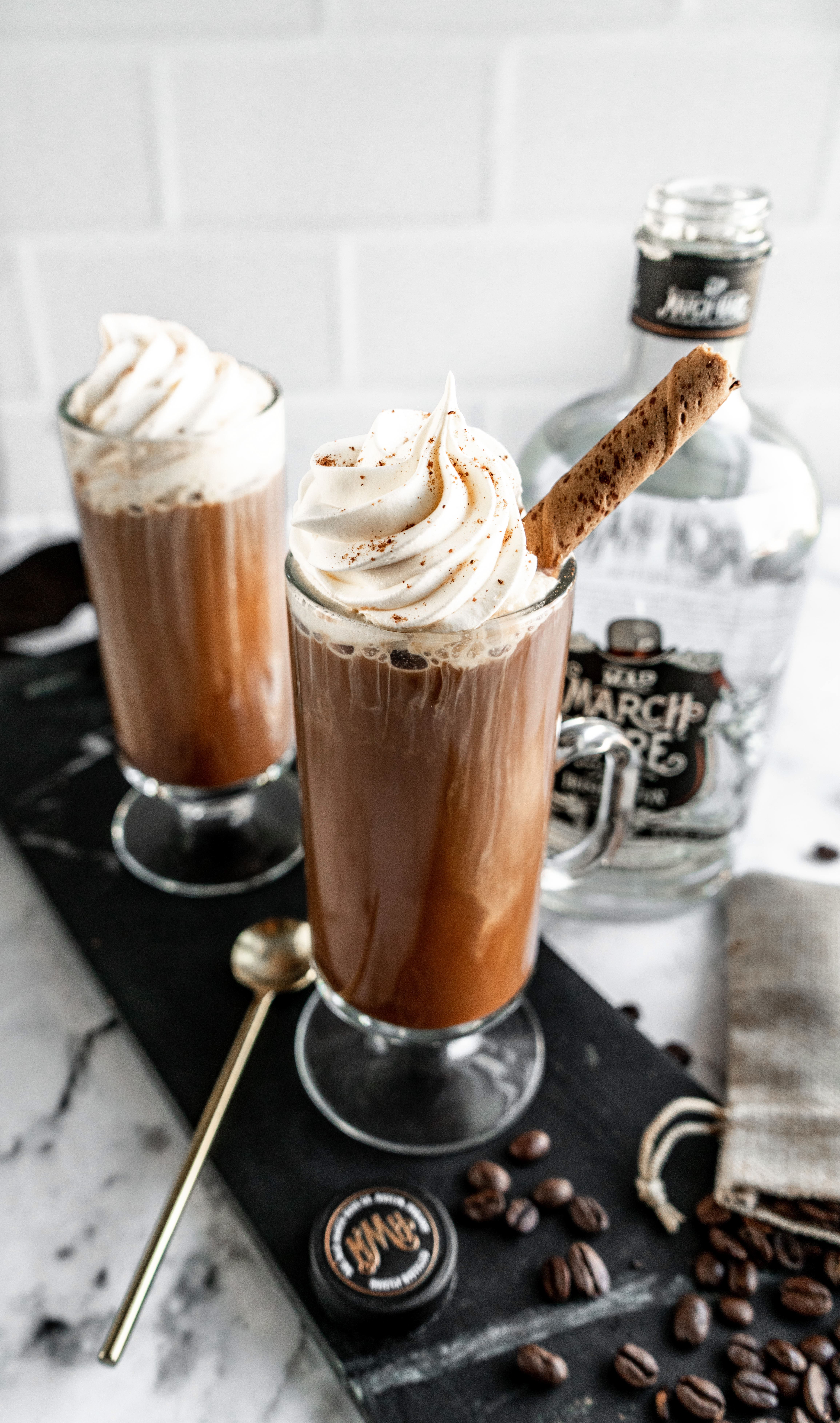 Peppermint Mocha
Not everyone wants alcohol added to their coffee, and that's alright. This Peppermint Mocha is a great alternative. It's a delicious combo of strong coffee, peppermint syrup, and chocolate milk.
Here's how to make it:
Heat 3/4 cup milk, one tablespoon cocoa powder, and one teaspoon sugar on medium heat. Stir to prevent burning.
When the sugar dissolves completely, add mint and vanilla extract, according to preference.
Pull a shot of espresso into a tall glass.
Pour the chocolate mint mixture on top of the espresso.
Top with whipped cream.
Optional: If you're in a holiday spirit, top with candy canes or chocolate shavings.
Raspberry Chocolate Espresso Martini
This espresso drink is one of the easiest coffee drinks for entertaining. All you need is vodka, espresso, and raspberry and chocolate syrups.
Here's how to make a raspberry chocolate espresso martini:
Fill a cocktail shaker with ice.
Combine 1/2 oz vodka, 1 oz espresso, 1/2 oz coffee liqueur, and 1/2 oz syrup in a cocktail shaker. Shake for at least 10 seconds. The more you shake, the frothier the drink.
Strain the espresso martini into a martini glass.
Garnish the drink with a little cocoa or cinnamon.
Pro tip: You can cool the espresso in the fridge before mixing it with other ingredients so it doesn't melt the ice, and you're left with a watery drink.
Pro tip 2: You can vary how much syrup you add. Start light, or increase to suit your guests' palate.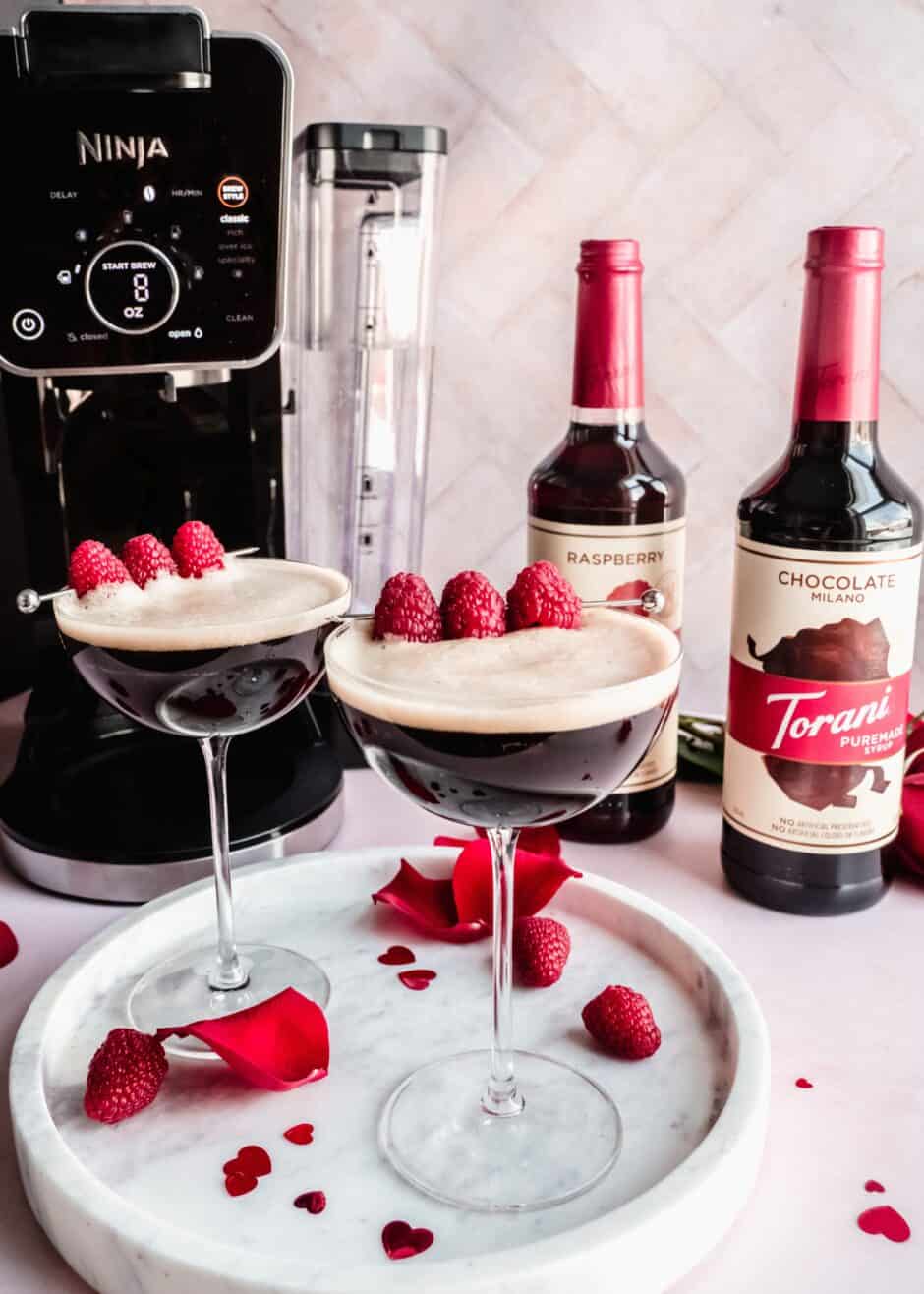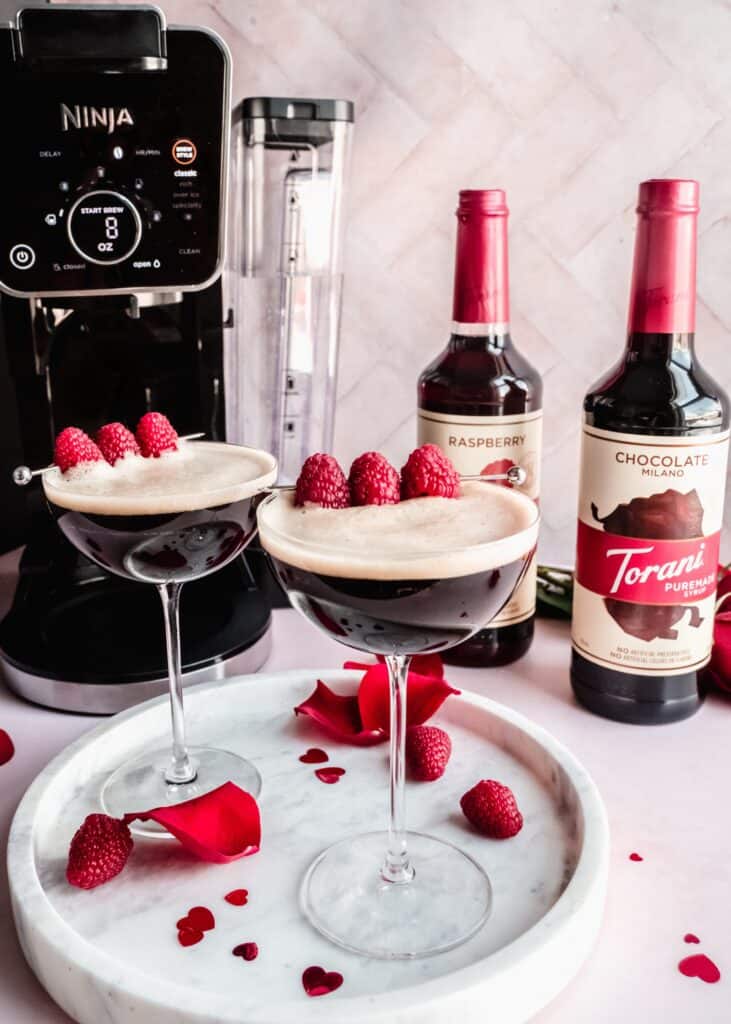 Red Velvet Latte
The trick to making a luscious red velvet latte is using beetroot juice. It's much healthier than food coloring, and it'll make your latte stand out.
Here's how to make a red velvet latte:
Whisk one tablespoon of cocoa powder, 1/4 teaspoon of vanilla extract, and one tablespoon of beet juice in a coffee mug.
Brew one cup of coffee.
Pour the coffee into the mixture and stir to combine.
Heat milk to steaming hot, either with a steam wand, milk frother, or just plain over the stove/microwave.
Pour milk on top of the coffee.
Top with whipped cream or red sugar sprinkles.
Long Island Iced Coffee
Long Island Iced Coffee is a boozy coffee cocktail that's perfect for hot summer nights.
Here's how to make it:
Put one cup of ice into a cocktail shaker.
Combine 1/2 oz Baileys, 1/2 oz Kahlua, 1/2 oz vodka, 1/2 oz rum, 1/2 oz tequila, and 2 oz cold iced coffee in a cocktail shaker and shake vigorously.
Add ice into a glass.
Strain the drink to the glass.
Optional: Garnish the drink with three coffee beans.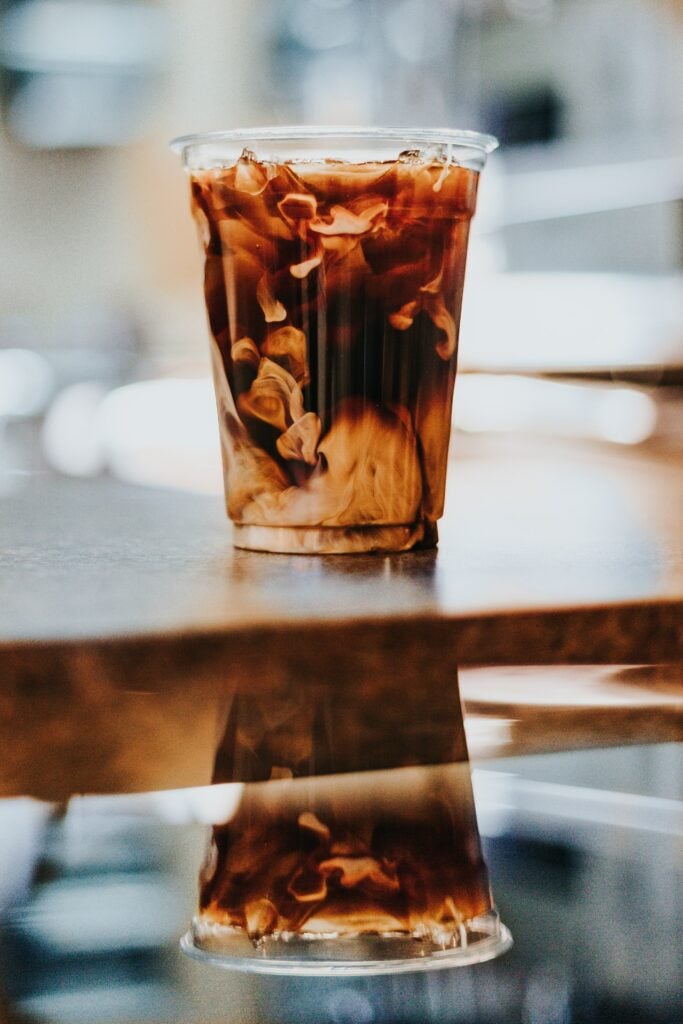 Note: You can use iced coffee or cold brew coffee. You can make the cold brew coffee yourself or use store-bought.
Want to pin this for later? Click on the image below!