These Sweet Corn Arancini are simply irresistible! Cheese stuffed Italian rice balls rolled in breadcrumbs and fried to golden brown perfection!
I'm still drooling over my sweet corn risotto from last night, and there's no better way to use up leftover risotto than arancini! These cheesy bites are a great appetizer for entertaining and will disappear in minutes!
What is arancini?
Arancini are plump, deep-fried rice balls stuffed with cheese. They're a popular street food in Italy, and they're enjoyed as appetizers here in the United States!
The word arancini translates to "little oranges" because they look like small oranges after they're out of the fryer!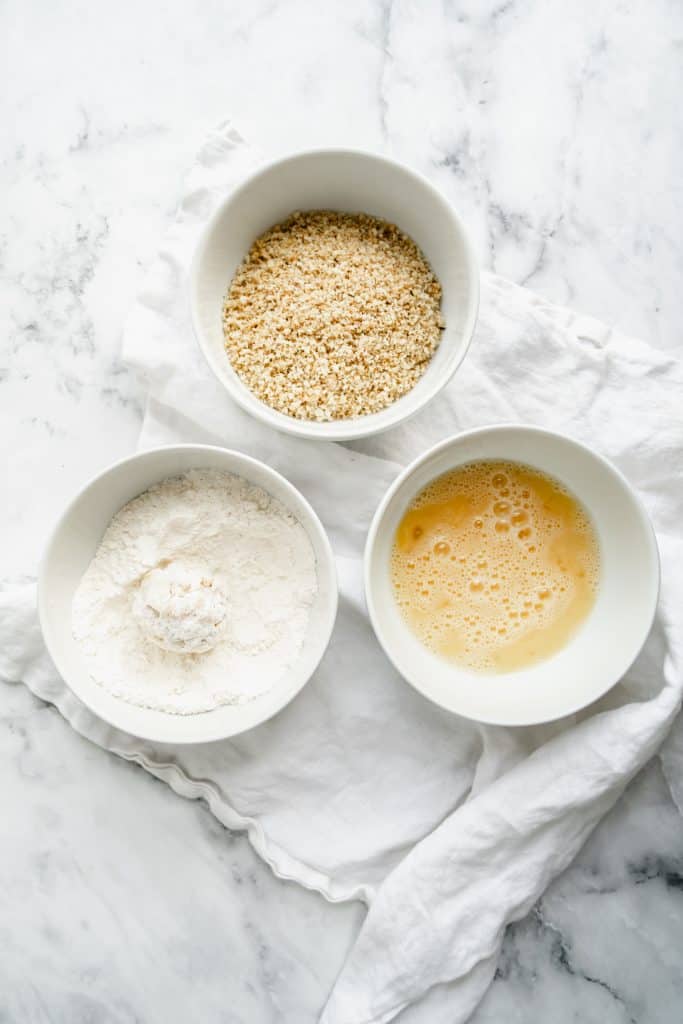 What can I do to keep my arancini from falling apart?
Assembling the arancini may be a little tricky if you don't do it right.
Here are some tips for making the perfect sweet corn arancini
Make sure your risotto is cooked properly. If the risotto is too soft, the arancini won't keep their shape and might fall apart when frying.
Let the risotto cool completely before making arancini. Leave it in an airtight container in the fridge overnight and it should stick together well.
Wet your hands. Use a medium cookie dough scoop with release and scoop the cooled risotto. Push a small piece of low moisture mozzarella into the middle, then close over the hole with risotto so that the cheese stays in the middle.
Freeze the arancini balls for 10 minutes before breading them.
Using three plates or bowls: One with all-purpose flour. The second with a beaten egg. The third with Italian seasoned Panko breadcrumbs.
Roll your arancini ball in the flour until covered. Shake off excess. Roll in the egg until coated. Then roll in breadcrumbs until covered, gently pressing on the breadcrumbs so that they adhere to the arancini.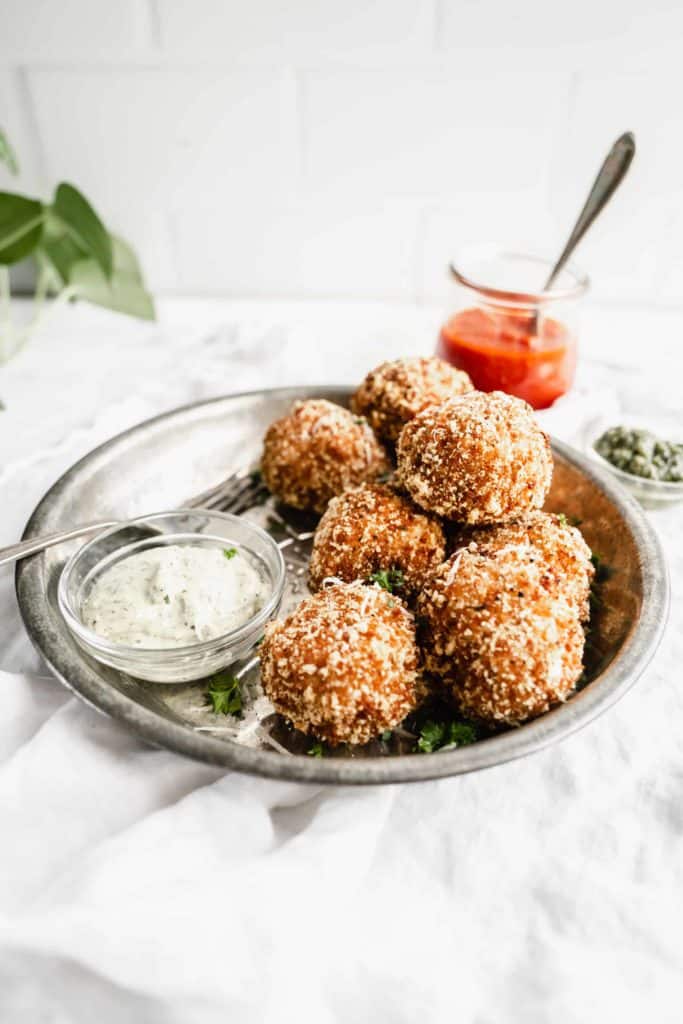 How do you fry arancini?
Fill a Dutch oven with cooking oil measuring about 2 inches deep.
Heat the oil to 350 degrees F. (use an instant read thermometer for accuracy)
Use a large slotted spoon or wire skimmer to gently lower the balls into the hot oil. Fry just a couple of balls at a time.
Fry the balls for about 2 minutes or until golden brown and crispy all over.
Use a wire skimmer or slotted spoon to gently remove them from the hot oil and place them on a baking sheet lined with paper towels to absorb any excess oil.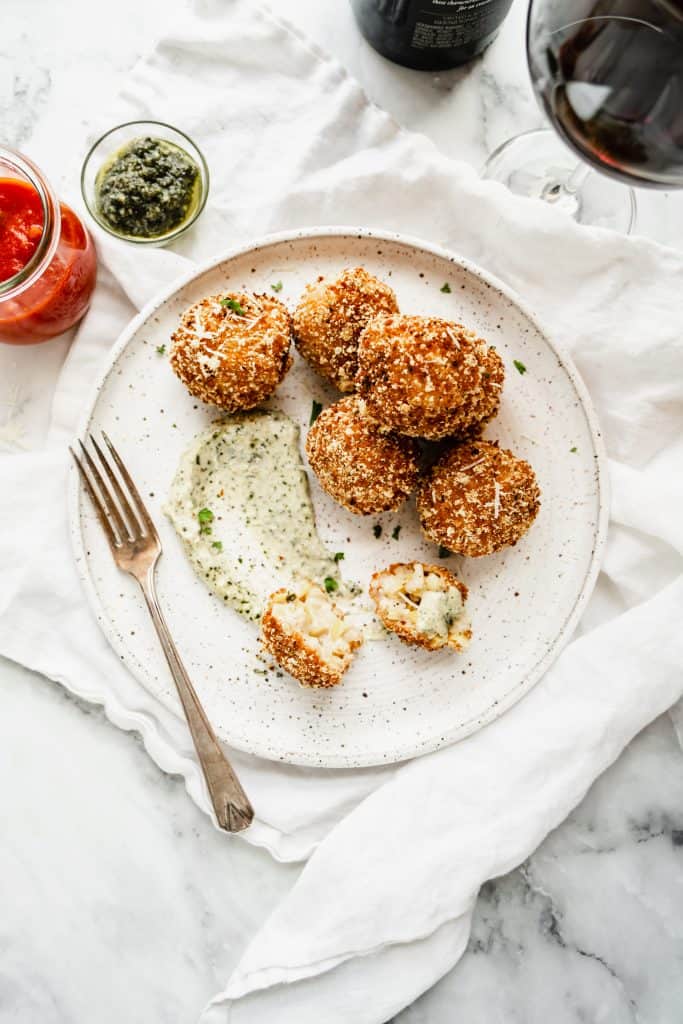 What should I serve with arancini?
Panzanella salad is a great pairing!
Serve it alongside Asparagus salad with tomato and basil for a light lunch!
Feeding a crowd? Make this easy pesto pasta salad!
Print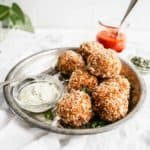 Sweet Corn Arancini
Author:

Nicole Triebe

Prep Time:

10 minutes

Cook Time:

5 minutes

Total Time:

15 minutes

Yield:

6

–

8

side servings

1

x

Category:

Appetizer

Method:

Deep Fry

Cuisine:

Italian
---
Leftover sweet corn risotto
1/2 cup low moisture mozzarella cheese, cut into small cubes
Breading:
1 cup all-purpose flour
2 large eggs, beaten with a fork
2 cups Italian seasoned panko bread crumbs, crushed
Vegetable oil for deep frying
Pesto aioli:
1 cup store-bought mayonnaise*
3 tablespoons prepared pesto (or homemade), plus more to taste
1 tablespoon fresh lemon juice
1 garlic clove, finely grated
Kosher salt
---
Instructions
Make sweet corn risotto and let cool overnight.
Pulse Italian seasoned panko breadcrumbs in a food processor or place in a ziptop plastic bag and crush with a rolling pin to form finer crumbs.
Transfer breadcrumbs to a shallow bowl. Place flour in another shallow bowl. Lightly beat eggs in a third shallow bowl to blend. Working one at a time, dredge balls in flour, shaking off excess. Transfer to bowl with egg and turn to coat, letting excess drip back into bowl.
Coat with panko, pressing gently to adhere. Transfer to a parchment-lined rimmed baking sheet. Chill balls while you heat the oil.
---
Keywords: arancini; appetizers; rice;