Looking for a hassle-free holiday dessert idea? This easy three-ingredient cookie butter dip is perfect for a fruit charcuterie board, and is ready within minutes!
The holidays may look a little different that year, but that doesn't mean they need to taste different! I've got a fabulous menu planned for just the three of us, and dessert is always on the table! This mouthwatering cookie butter dip would be great at a picnic, or serve it as an hors d'oeuvres at a brunch or bridal shower! It's sure to become a go-to recipe for a quick dip in a hurry.
This dip also serves as a delicious center to the gorgeous holiday fruit charcuterie board!
What is cookie butter?
Cookie butter is a spread made from cookies called speculoos. They're ground up to make a delicious spread that has a wonderful caramelized flavor with hints of gingerbread. Its consistency is similar to peanut butter, wonderfully creamy. Speculoos cookies originated in Belgium, and like our gingerbread, everyone has their own special recipe, varying the spices, shape, and size.
How do I make Cookie Butter Dip?
This mouthwatering Dip is made up of just three ingredients and can be made with a whisk! Simply combine:
1 cup Chobani® Plain Greek Yogurt
1/4 cup cookie butter
1/4 tsp cinnamon
Whisk until smooth!
What should I serve with Cookie Butter Dip?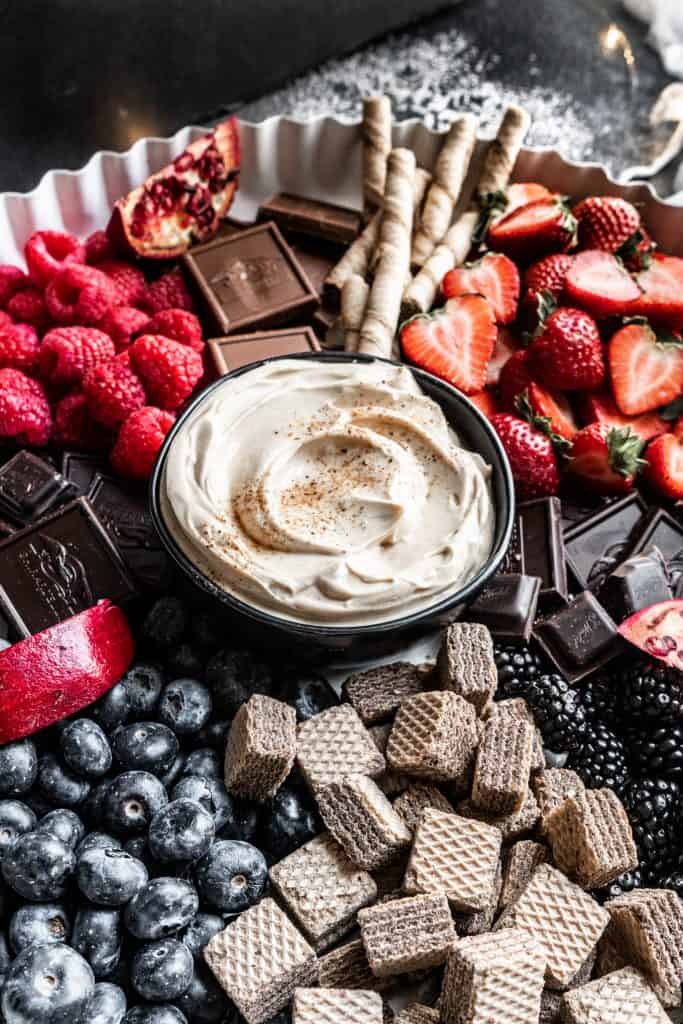 Here are a few ideas of what to include on your fruit charcuterie board:
Fruit: raspberries, strawberries, blueberries, blackberries,
Cookies: Chocolate wafer cookies, Hazelnut Pirouettes, Shortbread cookies, Nilla Wafers
Crackers: Graham crackers, animal crackers, pretzels
Can I make this dip ahead of time?
This dip is great for making ahead of time! Store it in the fridge covered and whip it up for 30 seconds before serving to your guests.
How long will it last?
This dip will keep at least a week in the fridge and should be stored in a covered, air-tight container. Before serving again, whisk it for 30 seconds to a minute to allow it to firm up again.
Still hungry? Check out my Whiskey brownies with peanut butter frosting!
Print
---
1 cup Chobani® Plain Greek Yogurt
1/4 cup cookie butter
1/4 tsp cinnamon
---
Instructions
Combine all ingredients in a bowl and whisk until smooth!
---
Want to pin this for later? Click on the image below!