Using jarred marinated artichoke hearts for ease and convenience, this lemon and artichoke vegetarian pasta cooks up in just 20 minutes! It's terrifically easy pasta dinner that made from start to finish in one pot. Recipe uses linguine noodles, but spaghetti and cavatappi wok wonderfully in this pasta dish too!
As a busy mom and entrepreneur, I love a dinner I can get on the table in 30 minutes or less! If you're also a fan this lemon artichoke pasta is perfect for you! It uses ingredients you probably already have in your pantry, and tastes like it came straight from the Mediterranean! Pasta dishes are also ones that are great for feeding a crowd while entertaining! Click here for more easy pasta dinner ideas.
What do you need to make this one pot dish?
Here's what you need to make this quick and delicious dinner recipe:
Artichoke hearts
You may use fresh, frozen or marinated. I like the flavor that the marinated hearts brought to this super simple dish.
Dry white wine
Choose a dry chardonnay or pinot grigio for this dish. When you use wine you regularly drink, it will always taste better because the quality of wine is much higher! I find the white wine adds so much flavor to this lemon artichoke pasta!
Garlic
A must in any dish from the mediterranean! Measure it with your heart.
Broth
I used chicken broth for this recipe but if you want to keep it vegetarian, use vegetable broth.
Pasta
Really any noodle would work, but linguine, spaghetti or even cavatappi are my pasta of choice for this best for this artichoke pasta recipe!
Lemon Juice
You can use fresh lemon juice or from the bottle.
Capers
Capers come from a prickly bush called capparis spinosa that grows wild across the Mediterranean. They add a little brininess to the dish! I love them in any lemon sauce!
Additional ingredients
You may garnish this artichoke pasta recipe with any of the following:
Black pepper
Parmesan cheese
Red pepper flakes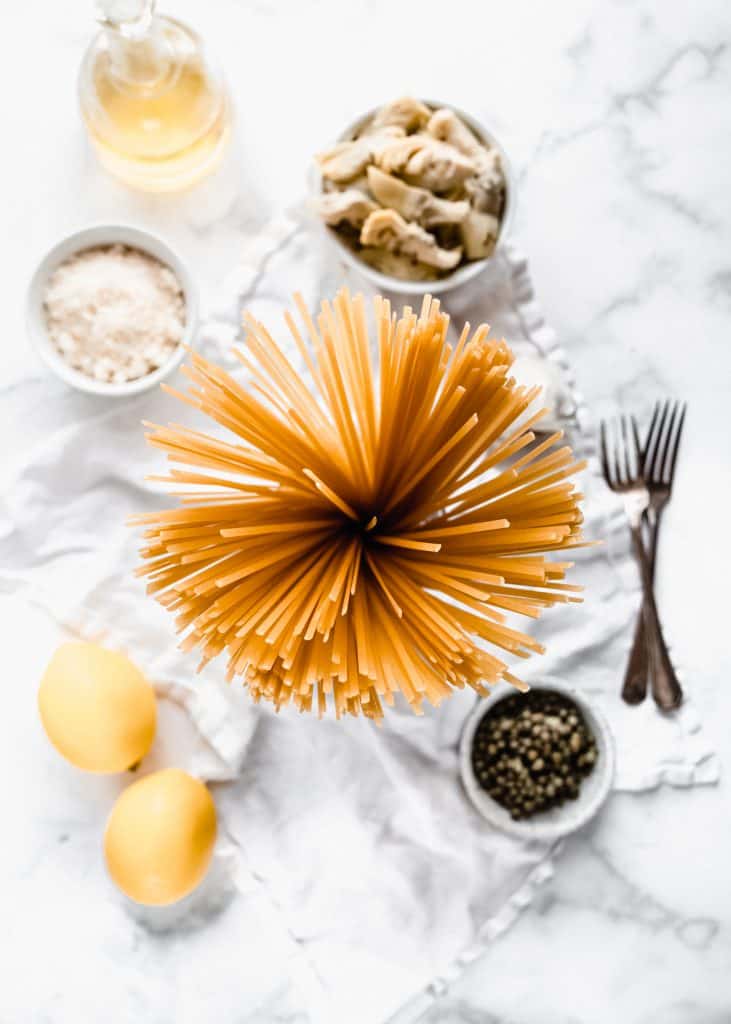 How do you make this dish?
Lemon artichoke pasta is a simple dish that takes just 15 minutes to make, perfect for busy weeknights!
Start by boiling a large pot of water on the stove to cook the pasta. Start by boiling a stock pot salted water on the stove to cook the pasta. Cook the pasta according to the package directions. The noodles should be al dente before reserving 1/2 cup of the pasta water and draining the noodles.
In a large skillet or saute pan over medium heat, saute shallot in a little olive oil and butter.
Then add the artichoke hearts to the pan and saute for a minute or two. If you're using frozen, heat until they're warmed through . Add the garlic and cook about a minute. Add the flour and mix well with the fat, adding more oil if needed. The flour helps to thicken the lemon sauce a bit. Cook for one minute before deglazing the pan with white wine.
Next add the stock and let simmer for 5 minutes, before adding the lemon juice and capers.
Before draining the pasta after cooking, reserve a 1/2 cup of the pasta water. Toss the pasta in the sauce, adding a little of the reserved pasta water. This will not only add flavor, but the starch from the pasta water will help glue the pasta and sauce together.
Finally, toss in some fresh parsley and parmesan if desired!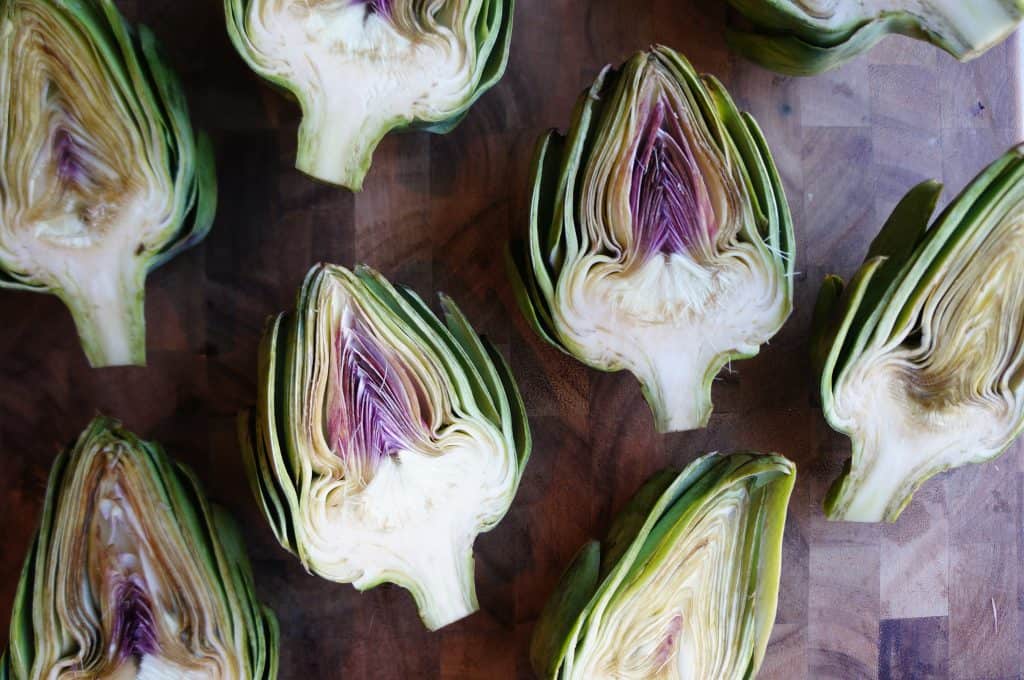 Additional Recipes to Try
Hope you loved this easy dinner recipe! Here are some other recipes you might love
Kale and pear salad – This Kale and Pear Salad with Bacon vinaigrette is so easy to make, packed with flavor, and so delicious! It makes the perfect light lunch or appetizer!
Tomato bruschetta with homemade pesto– classic bruschetta with fresh tomatoes and homemade pesto is a seriously delicious simple appetizer with fresh flavor!
Asparagus salad with tomatoes and basil – a light and bright dish you need for spring! Perfect for a light lunch or fresh appetizer!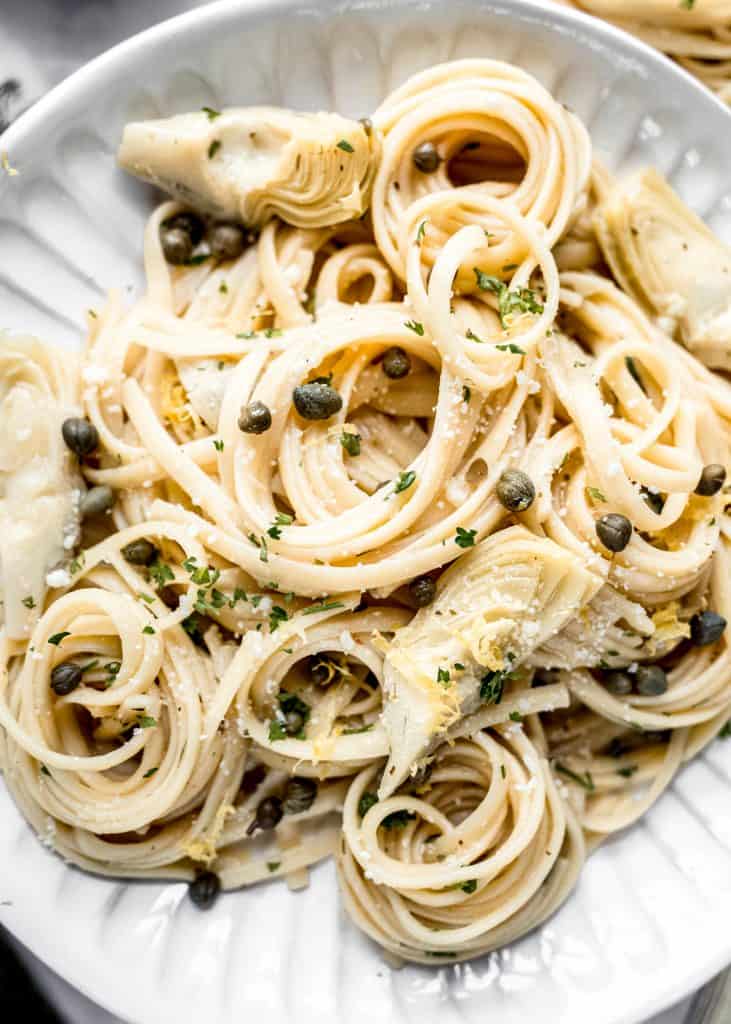 How should I store pasta?
If you refrigerate this lemon artichoke pasta within 2 hours of cooking, this pasta dish should last 3 to 5 days in the fridge. To maximize the shelf life of cooked pasta for safety and quality, refrigerate the pasta in a shallow airtight container or resealable plastic bags.
To reheat, add a tablespoon or two of water or stock and reheat in a saute pan or microwave until warmed through.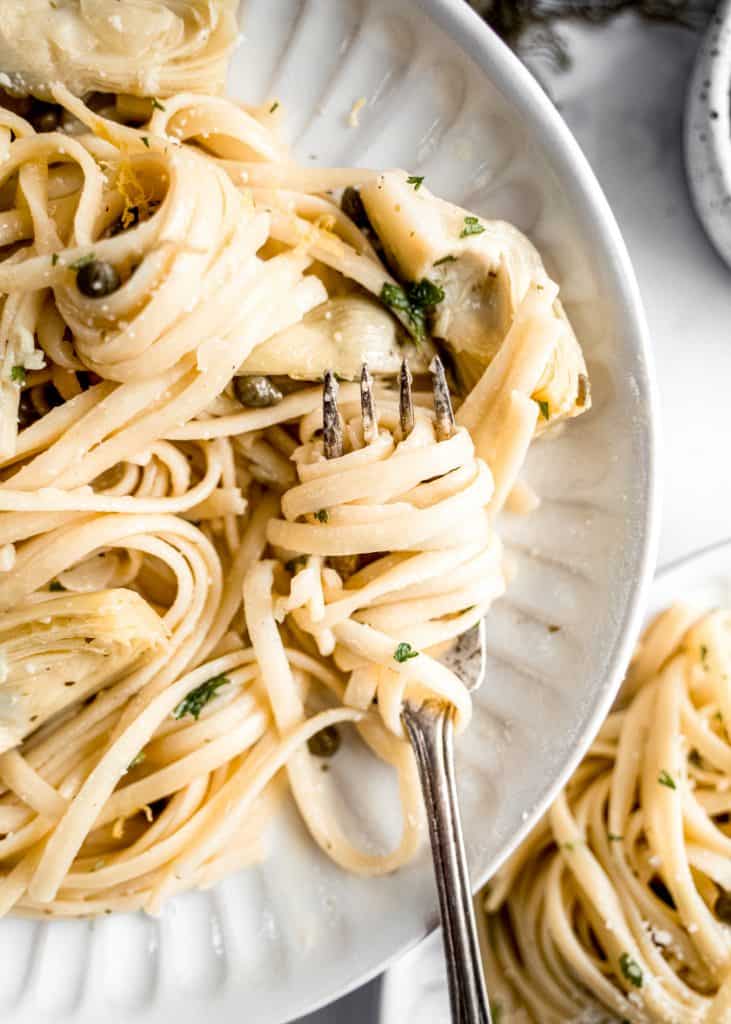 Tried this recipe? Please leave a ⭐️⭐️⭐️⭐️⭐️ star rating below and/or a review in the comments section further down the page. You can also stay in touch with us through social media by following us on Instagram, Pinterest, and Facebook!
Print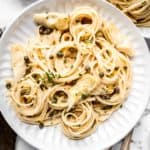 Lemon Artichoke Pasta
Author:

Nicole Triebe

Prep Time:

5 minutes

Cook Time:

10 minutes

Total Time:

15 minutes

Yield:

4

Category:

Dinner

Method:

One pot meal

Cuisine:

Italian
---
1 cup chicken or vegetable broth
1/4-1/2 cup reserved pasta water
1/4 cup white wine
1 tbl flour
1 small shallot, minced
2 cloves garlic, minced
salt and pepper
3 tbl capers
The juice of one lemon
12 oz marinated artichoke hearts, drained
8 oz linguine
olive oil
Fresh parsley, chopped for garnish
---
Instructions
Bring a large stock pot of water to a boil and cook linguine until al dente, about 8 minutes. Before draining, reserve 1/2 cup of pasta water.

While the pasta is cooking, melt 2 tablespoons butter and 1 tablespoons olive oil in a large sauté pan.  Add the shallots and cook until almost translucent. Add the garlic and cook about a minute, making sure not to burn.  Add the artichokes and flour and mix well with the fat, adding more if needed.  Cook for one minute.

Deglaze the pan with white wine, using a whisk if necessary to incorporate the liquid into the flour mix until there are no lumps.  Add broth and cook for 5 minutes. 

Add the lemon juice and capers and continue to simmer.  Season as needed with salt and pepper

Toss the linguine with sauce, adding pasta water as you're tossing over heat until sauce thickens a bit.  Garnish with freshly chopped parsley.
Keywords: pasta; artichokes; vegetarian; dinner