This creamy Spinach Artichoke Dip recipe is rich, gooey, and full of incredible flavor! It makes an impossible to resist appetizer!
Thank you Castello Cheese for sponsoring this post. Enjoy this delicious recipe with your favorite Castello Cheese products today!
Spinach Artichoke Dip is one of those delicious dip recipes that people seem to gravitate to at parties. It's easy to prepare and can be made ahead, so it makes for the perfect appetizer for a busy home entertainer! Today, I'm using Castello Creamy Havarti to make this creamy spinach and artichoke dip extra creamy and delicious!
Who is Castello Cheese?
Castello® Cheese has been making unique crafted cheeses since 1893. They produce a variety of cheeses, always made with natural ingredients. They all have their own distinct flavor and texture, so there's something for everyone! Castello has truly brought a balance of innovation and tradition to the art of cheese making.
This creamy Spinach Artichoke Dip recipe is rich, gooey and full of incredible flavor! It makes an impossible to resist appetizer!
Whether enjoyed on its own on a beautiful charcuterie board, or part of this creamy spinach and artichoke dip, Castello Cheese delivers unforgettable taste! Their Creamy Havarti is a mild, sliceable cheese with a just hint of tanginess. Their cheeses can be found in the specialty cheese aisle at your local grocery!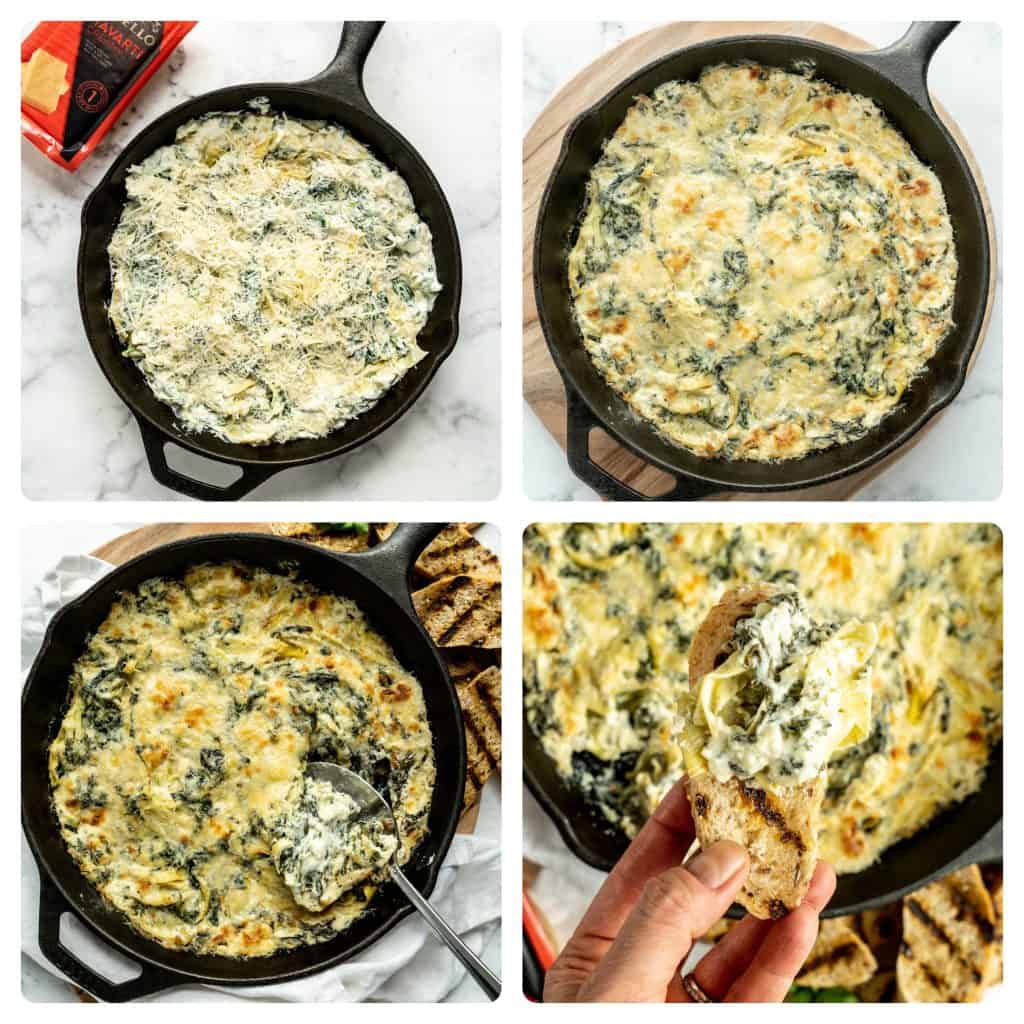 How do you make creamy spinach and artichoke dip?
This spinach and artichoke dip couldn't be easier to put together, which is what makes it the perfect party dip! Here are some tips to make it the best spinach and artichoke dip you'll ever eat:

Start with room temperature ingredients. This dip includes cream cheese, which, when mixed in at room temperature, is so much easier to work with!
Drain your spinach and artichokes completely before incorporating them into the recipe, especially if you're using frozen spinach. To thaw frozen spinach, remove frozen spinach from bag and place in a microwave-safe bowl. Microwave until soft, 2-3 minutes. Add spinach to a fine-mesh sieve and press out all the moisture with the back of a spatula. No one likes a runny spinach and artichoke dip!

Grate the cheese by hand. Pre-grated cheese contains preservatives like potato starch and natamycin, which are included to keep the shreds from clumping together in the bag. This also means they don't melt together as well when baking. Freshly grated cheese lacks those additives so your spinach and artichoke dip will turn out much smoother.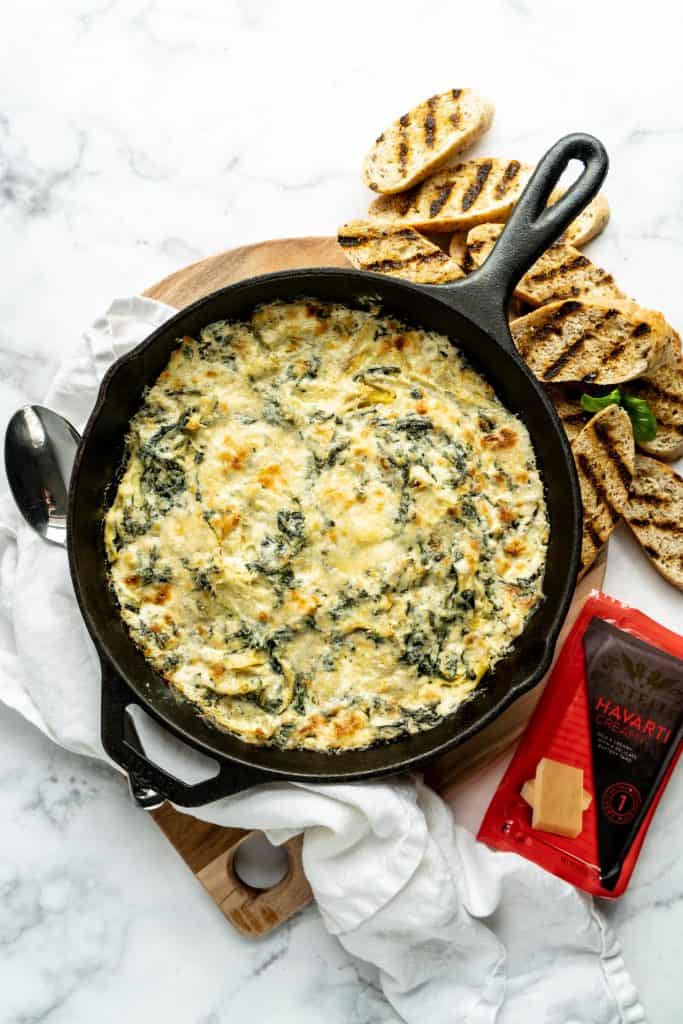 Simply mix all the ingredients together, and bake! It's that easy!
What should I serve with spinach and artichoke dip?
Although this dip could be eaten with a spoon (no judgment here!) sometimes you need a vessel to scoop this gooey goodness from the skillet. Here are some ideas for what you could serve alongside your creamy dip:
Tortilla chips – a classic pairing for this creamy dip
Pita chips – a little sturdier vessel for those big scoops!
Toasted baguette slices – I like to slice up a baguette on a bias and toast them in the oven at 350 until they're golden brown. Remove from the oven and drizzle with olive oil and rub a garlic clove cut in half (sliced side against the baguette) over the top. It adds an extra hint of garlic for those garlic lovers
Veggies – carrots cut into sticks, broccoli, cauliflower, bell peppers or celery sliced into sticks are a great option for those guests who are trying to watch their carb intake.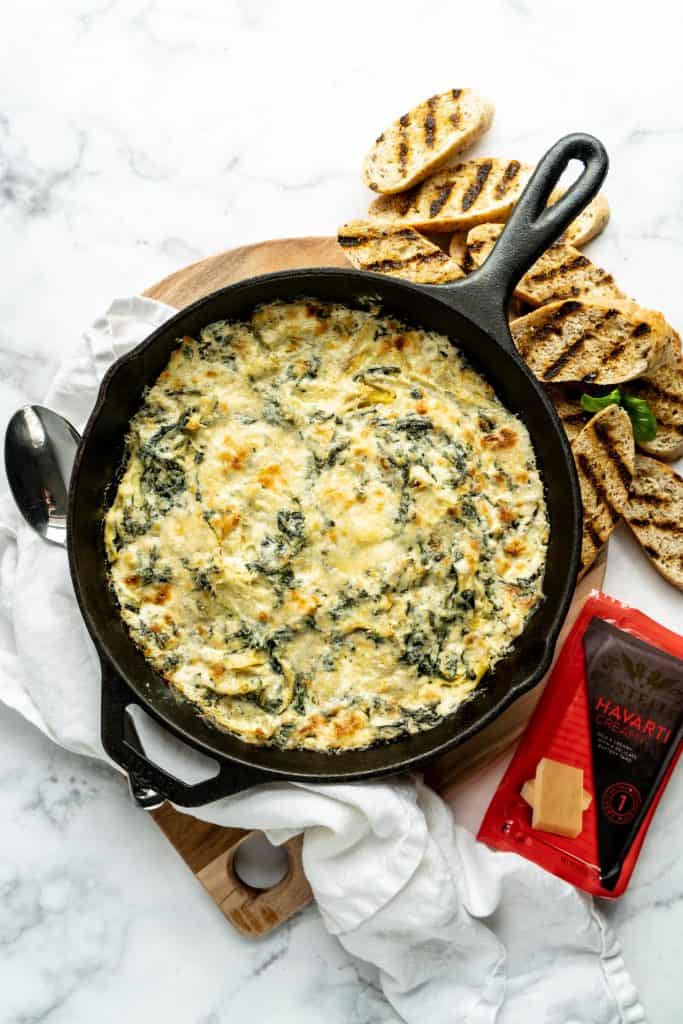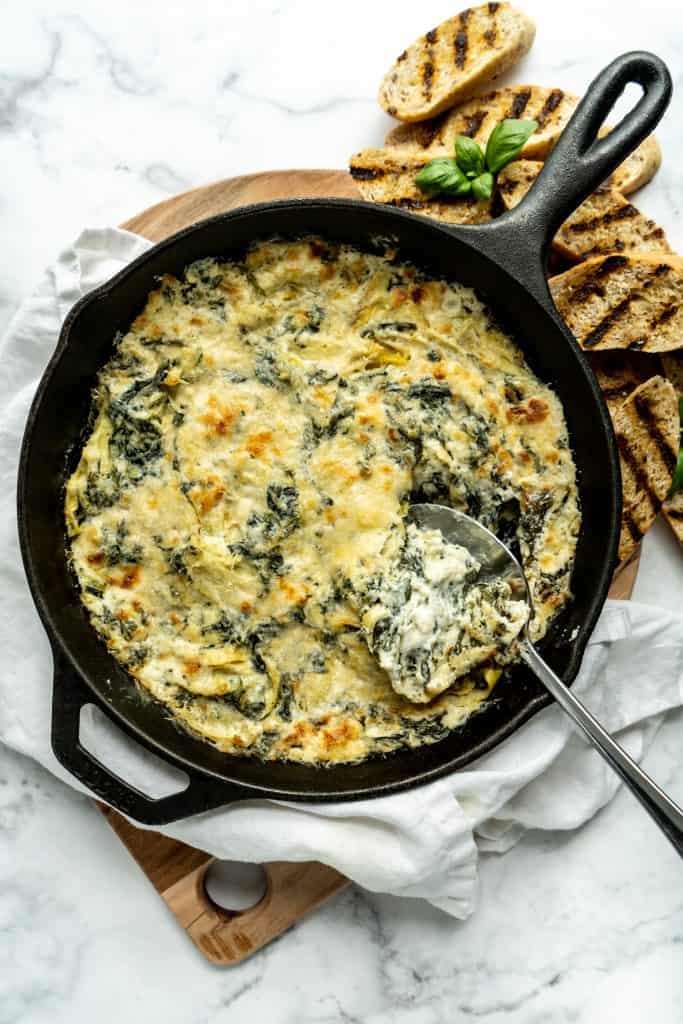 Print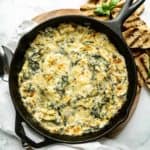 Creamy Spinach and Artichoke Dip
---
8 oz cream cheese, softened
1/4 cup sour cream
1/4 cup mayonnaise
3 garlic cloves, minced
1 cup parmesan cheese, shredded
1 cup Castello Creamy Havarti, shredded
14 oz quartered artichoke hearts, drained
6 oz cooked spinach, drained (thawed if frozen)
---
Instructions
In a large bowl, combine softened cream cheese, spinach, sour cream, garlic and mayonnaise. Mix together until well combined.
Fold in cheese and artichoke hearts.  Stir until combined.
Spoon mixture into cast iron skillet.
Bake at 400 degrees Fahrenheit for 20 to 25 minutes or until golden brown and bubbling.
Serve with chips, toasted baguette slices or veggies
Want to pin this for later? Click on the image below!