Delicious roasted brussels sprouts with goat cheese and drizzled with a balsamic reduction! This is a side dish you'll be asking for every week!
Brussels sprouts: the vegetable you loved to hate as a kid. This little green veggie has now become one of my favorites to make and eat! They're perfect as a side dish or shredded up to make a delicious salad!
Are brussels sprouts good for you?
Not only are brussels sprouts delicious, but they're also packed with nutrients! Brussels sprouts are rich in antioxidants, vitamin K, and fiber! Some research has actually shown that brussels sprouts could protect against carcinogens or cancer-causing agents! If that's not a reason to eat these every week, I don't know what is!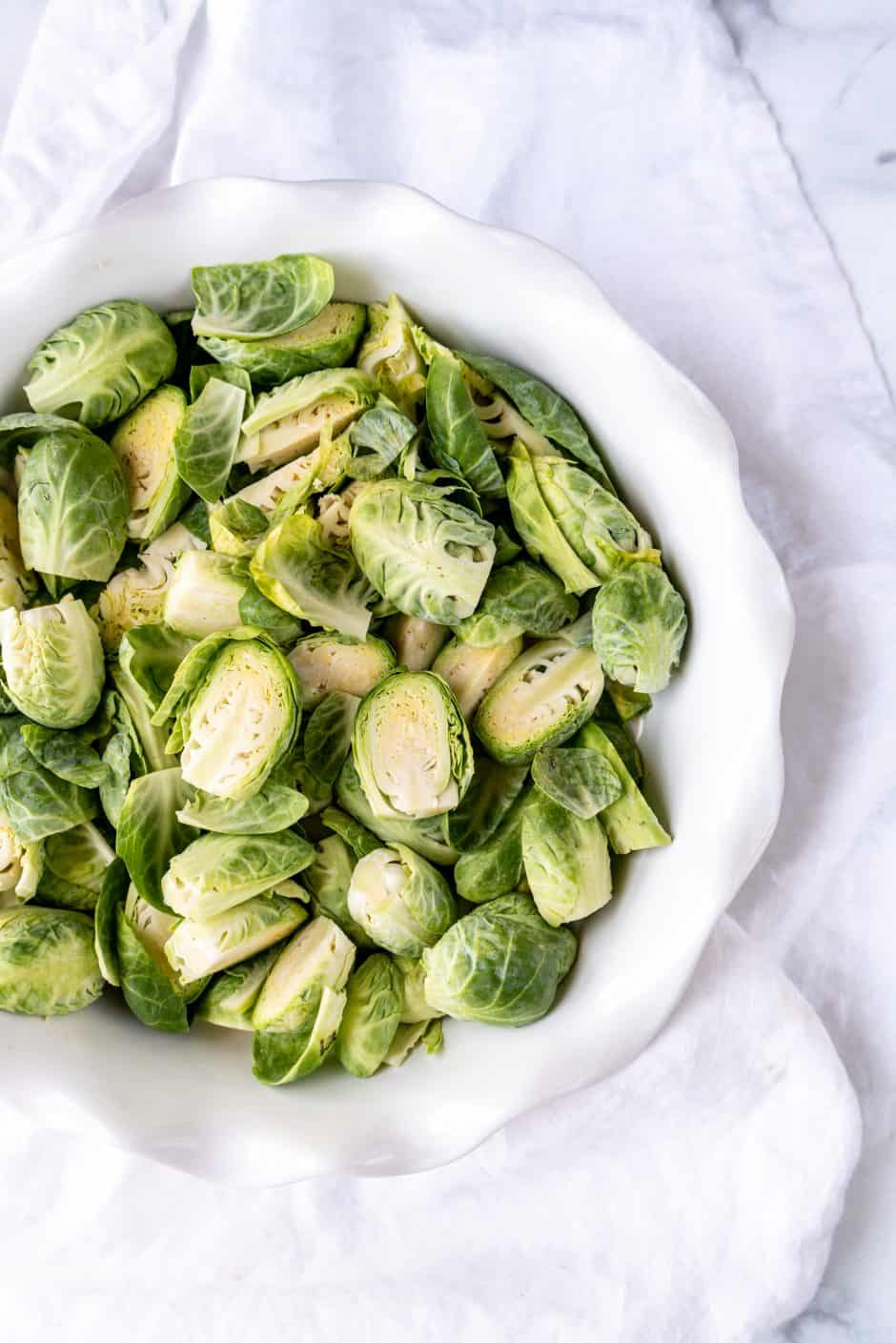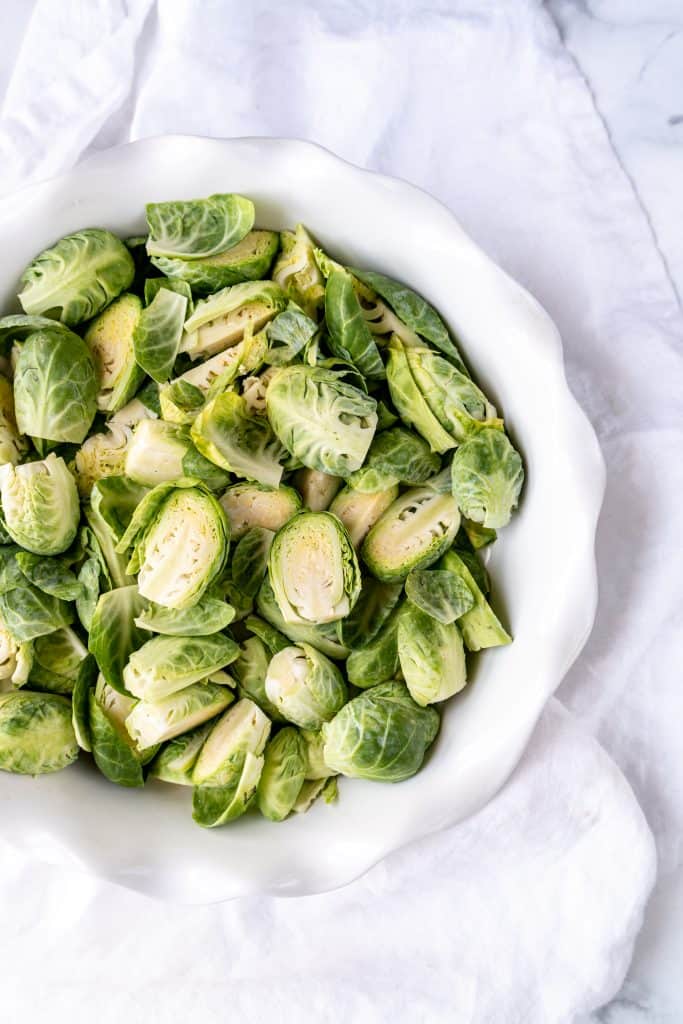 Does roasting brussels sprouts destroy the nutritional value?
When you look at the big picture, all forms of cooking can destroy some of the nutrients, like vitamin C and B vitamins, in vegetables, but that doesn't mean you need to cut out cooking altogether. Some nutrients are actually enhanced when vegetables are cooked! Cooking helps release the nutrients from the cell walls of the plant, so roast away!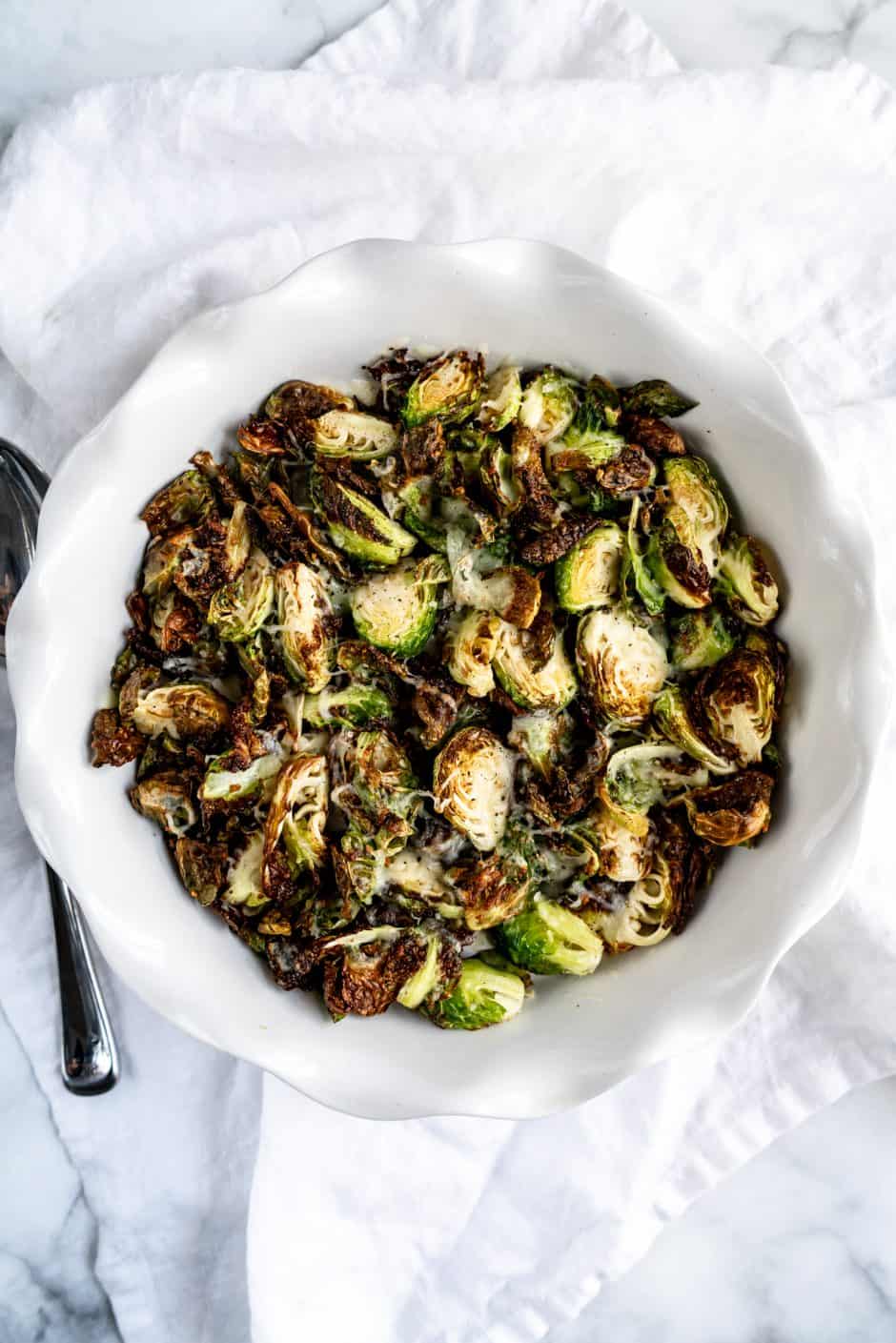 What's the Best Way to Cook Brussels Sprouts?
Because I love them so much, I've tried cooking brussels sprouts ALL the ways. Crockpot, pan-searing, air fryer, and of course oven roasting. Cooking Brussels in the oven is by far the best, crispiest, and most tender result. Cooking them in the pan takes a lot of work and there's a chance they won't be as tender. A crockpot will tenderize but you'll miss those crispy leaves that everyone loves. The air fryer is a close second, but air frying is intended to be a healthier way of cooking. And when I cook Brussels, I like to load up on the oil so that the leaves get extra crispy, so the oven wins!
Can you roast frozen brussels sprouts?
Yes, you can! Start by either thaw them first OR bake them frozen following the recipe as is. Just take note, you have to add extra time in the oven for the brussels to cook through and crisp up if making them from frozen.
How do I make balsamic reduction?
I'm taking these roasted brussels sprouts to the next level by drizzling them with a delicious balsamic reduction and adding my favorite: crumbled goat cheese! Adding a balsamic reduction is such a simple touch that can completely elevate your dish, and it's so easy to make at home!
To make it, simply heat balsamic vinegar in a saucepan over medium heat until it's bubbling. Reduce heat to low and continue to simmer until reduced by about half and coats the back of a spoon. Stir it occasionally but keep it at a low simmer. Drizzle that magic over the brussels after they come out of the oven, and you'll thank me later. You can keep the balsamic reduction in a jar in your fridge for up to three months!
Still hungry? Check out these other delicious brussels sprout recipes:
Fall Harvest Salad with Brussels Sprouts
Brussels Sprout and Bacon Crustless Quiche
Asian Brussels Sprout Slaw with Carrots and Almonds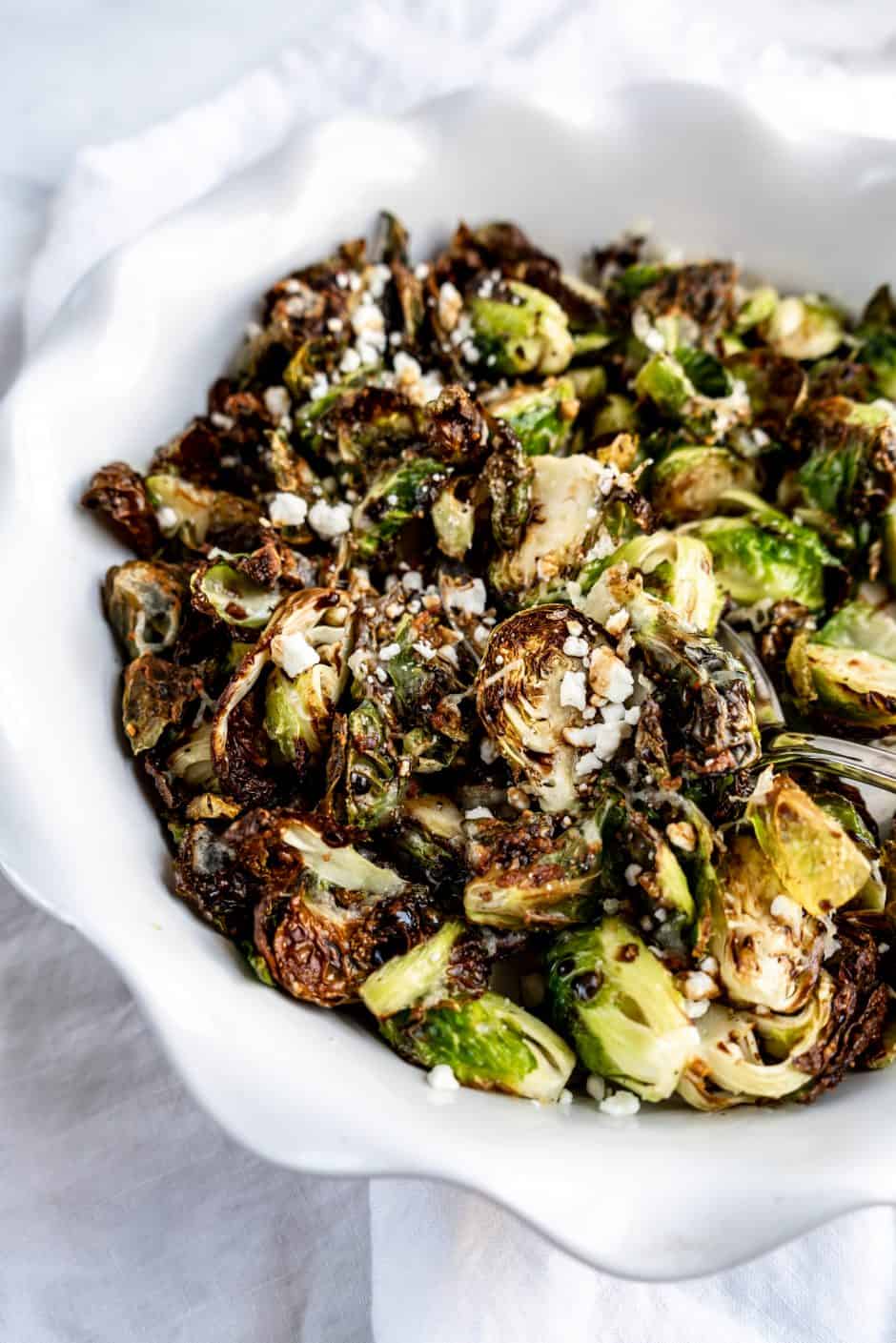 Print Roasted Brussels Sprouts with Goat Cheese
Author:

Nicole Triebe

Prep Time:

5 minutes

Cook Time:

20-25 minutes

Total Time:

30 minutes

Yield:

4

1

x
---
1 1/2 pounds Brussels sprouts — trimmed and halved
3 cloves garlic — roughly chopped
1 ½ tablespoons extra-virgin olive oil
1/2 teaspoon kosher salt
1/4 teaspoon black pepper
2 tablespoons grated parmesan
2 cups balsamic vinegar
1/4 cup crumbled goat cheese
---
Instructions
Preheat oven to 400° F.
Trim the brussels sprout stems and remove any yellow leaves, cut lengthwise into halves or quarters depending on the size.  Try to maintain the same brussels sprouts size for even cooking.
Place brussels sprouts in a mixing bowl. Toss with olive oil, garlic, salt, pepper, and parmesan until evenly coated.
Place brussels sprouts in a baking dish and bake for 20-25 minutes or until golden and tender.
While the brussels are roasting, add 2 cups balsamic vinegar to a saucepan.  Cook over medium heat until it's bubbling. Reduce heat to low and continue to simmer until reduced by about half and coats the back of a spoon. Stir it occasionally but keep it at a low simmer.
Just before serving, sprinkle brussels sprouts with goat cheese and drizzle with balsamic reduction.
---
Want to pin this for later? Click on the image below!