Whether you need a light lunch or are looking for a salad to impress a crowd, this strawberry spinach salad is just what you're looking for this summer!
The sun is shining and we just celebrated our first Mother's Day last weekend! Although we are social distancing, I wanted to celebrate my mom in all the most delicious ways. My mom loves a beautiful fresh salad. Growing up, she always had a yummy salad for lunch every day, always made with a delicious homemade salad dressing.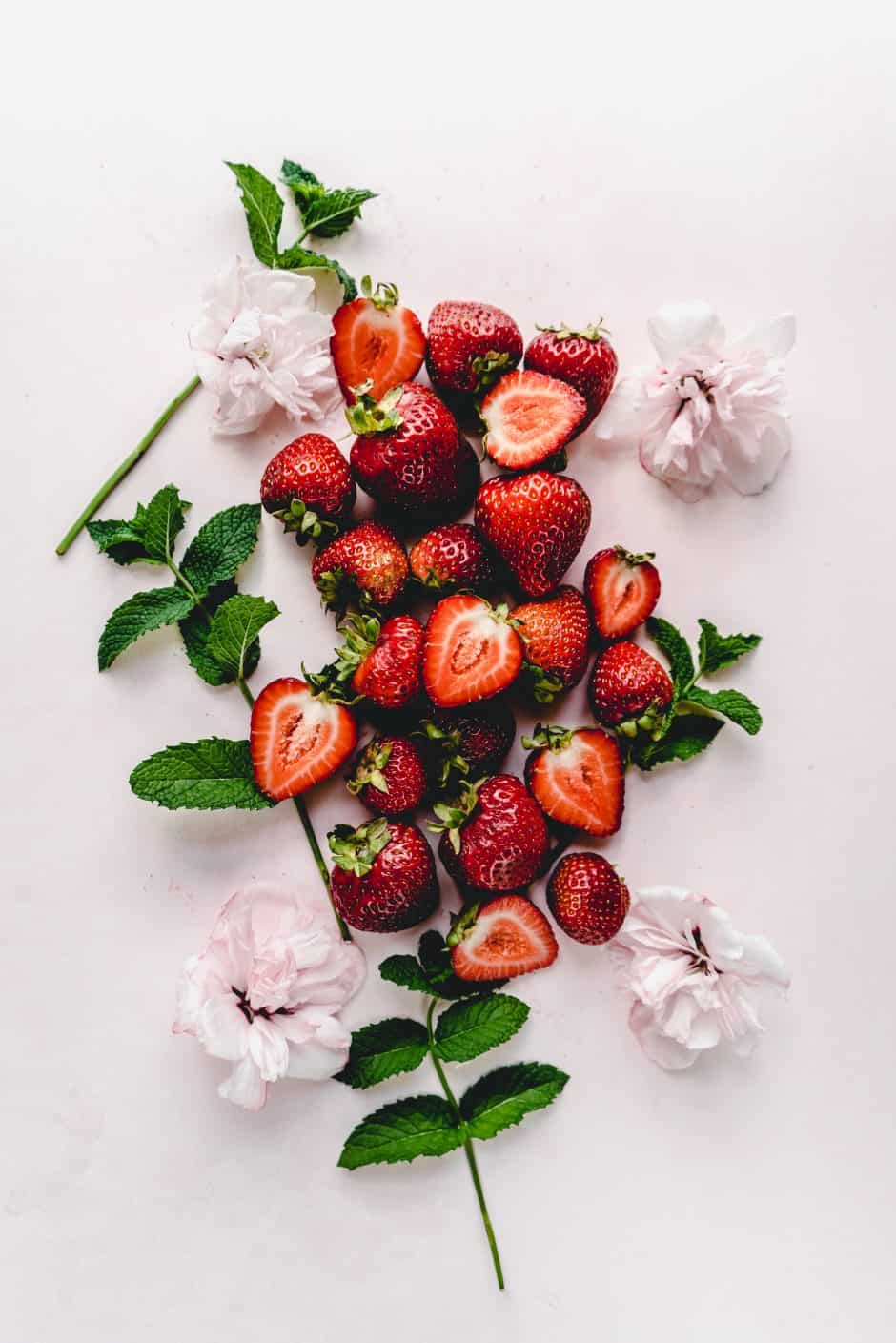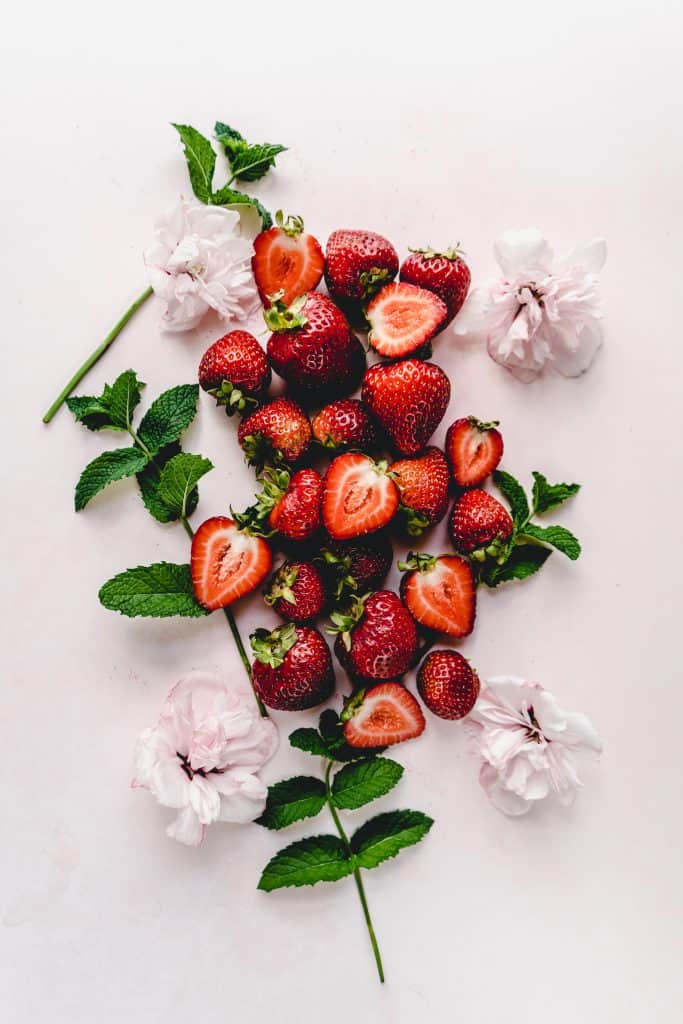 How do you make homemade salad dressing?
Once you go homemade, you'll never go back to store-bought salad dressing! And when you realize how easy they are to make, that's a guarantee!
When it comes to making vinaigrettes, it's all about ratios! The standard ratio for this classic salad dressing is 3-to-1: 3 parts oil, 1 part vinegar. If you're like me and prefer a very acidic vinaigrette, reduce the oil to two parts.
I love using a good quality extra virgin olive oil in all my homemade salad dressings. If you prefer, you could use a more neutral oil, like grapeseed, canola, or vegetable. These more mild tasting oils are bland on their own, but they let other ingredients shine through. It's all a matter of what flavors you want in your salad.
Add all of the dressing ingredients to a blender and blend until combined. It's as easy as that!!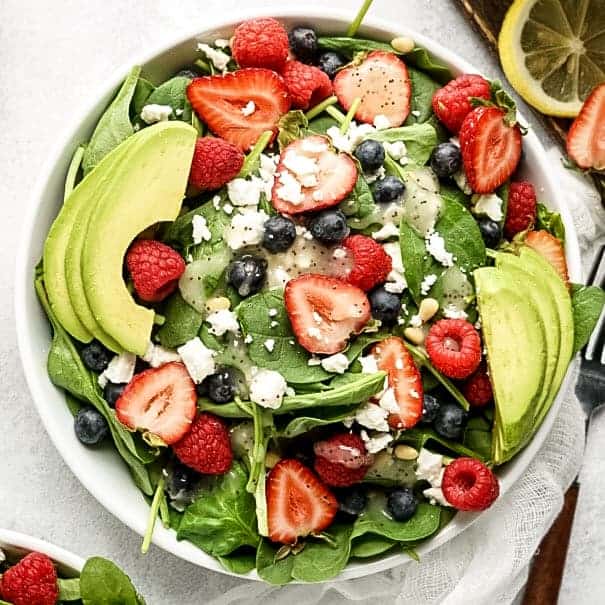 What should I put in a strawberry spinach salad?
This salad is packed with the best natural ingredients. This recipe for this strawberry and spinach salad just in time for strawberry season! Strawberry season in Illinois starts in early June. Of course, you can get strawberries at any other time of year, but the color and flavor won't be the same as during peak season. So don't forget to stop by your local farmers market for the best juicy red strawberries!
So we're starting with a spinach base, and adding the following:
Strawberries – check out when peak strawberry season is where you live here
Other fresh berries: I added blueberries and raspberries to this strawberry spinach salad because I love the sweet/tart flavor combo of the three! It's like a fruit parfait in a salad!
Avocado – when you add a healthy fat like avocado to this salad, it's creaminess tends to "mellow out" the tart acid from the citrus and adds its own flavor to the salad. The perfect balance makes this the perfect salad!: when you add a healthy fat like avocado to this salad, it's creaminess tends to "mellow out" the tart acid from the berries and adds its own flavor to the salad.
Goat cheese: similar to the avocado, I added my favorite cheese to this strawberry spinach salad. I love the tanginess it brings to the bowl!
Pine nuts: I'm a huge fan of adding nuts to my salads. I love the texture and crunch that nuts add to any salad. I had pine nuts on hand, but pecans would be great, too!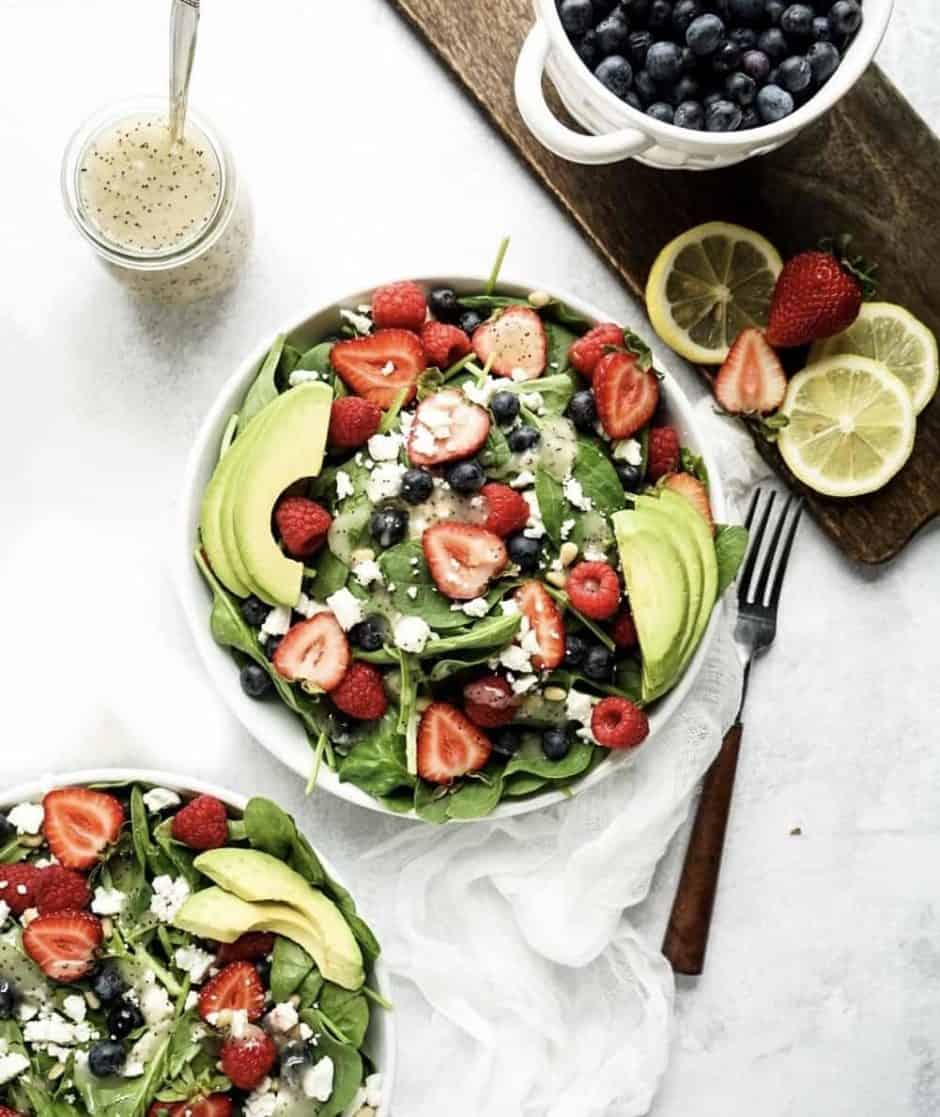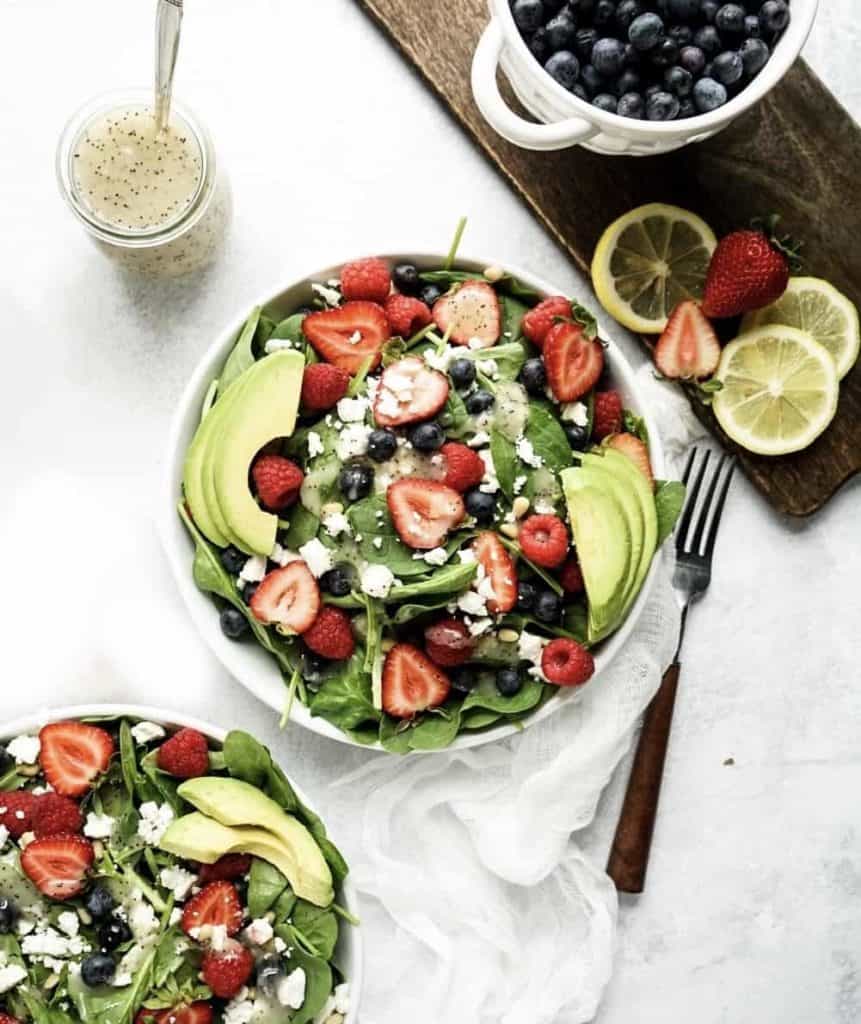 Still hungry? Check out my linguine with asparagus and lemon cream sauce
Print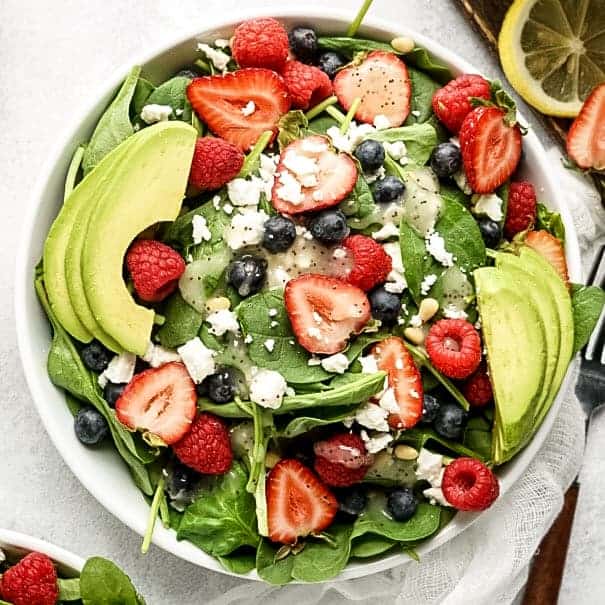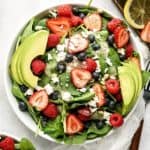 Strawberry and Spinach Salad with Goat Cheese
---
For the salad:
16 ounces Fresh Baby Spinach 
16 ounces Fresh Strawberries – stems removed, sliced
1/2 Cup Crumbled Cheese goat cheese
1/4 Cup pine nuts or pecans
1 avocado, sliced
For the dressing:
1/3 – 1/2 cup white vinegar, depending on preference
1 teaspoon salt
1 teaspoon ground dry mustard
1 teaspoon minced shallot
1 cup vegetable oil
1 tablespoon poppy seeds
---
Instructions
Assemble the salad.
To make the dressing, combine all dressing ingredients in a blender and blend until combined.  Drizzle over salad.
---
Want to pin this for later? Click on the image below!