This bright and tangy spring pasta recipe is quick and easy to make! Linguine with Asparagus and Lemon Cream Sauce can be on your dinner table in minutes!
It's been a very strange spring. Our city is on lockdown due to the Corona Virus which essentially means we have to stay in our homes unless absolutely necessary until the peak season of the virus has passed. That means another 3 weeks indoors. From outside our window, I can see that the sun has finally come out and the snow has melted, but we have to enjoy it from the inside.
So I'm trying my best to make lemonade out of lemons, and I'm doing so through food! Quite literally today, with this linguine with asparagus and lemon cream sauce. I am getting some fresh fruits and veggies every week through a grocery delivery service called
Imperfect Foods
and my last box had just what I needed to make this simply delicious dish!
How do I make a lemon cream sauce?
I start most of my sauces with the same ingredients. For this Linguine with Asparagus and Lemon Cream Sauce, start with a large sauté pan over medium heat. Add a little olive oil and a small pat of butter. Next, I add a shallot or a couple of tablespoons of sweet onion. Once the onions have become translucent, I add a couple of cloves of minced garlic and cook that before adding flour to create a roux or a mixture of fat and flour.
To that, I deglaze the pan with white wine, scraping any bits of cooked onion off the bottom of the pan with a wooden spoon. I like adding white wine to my sauces because it brings a little acidity to the dish, and in turn, brings out lots of other flavors!
Once the wine has simmered for a minute or so, add the cream and let that simmer and thicken. Add the reserved lemon juice and zest last, so that it doesn't reduce and become too strong in flavor. Pro tip: Always remember to taste the sauce and adjust it to your preference! Before draining your pasta, reserve about a cup of pasta water to add to your sauce at the end. Add the pasta directly to the pan!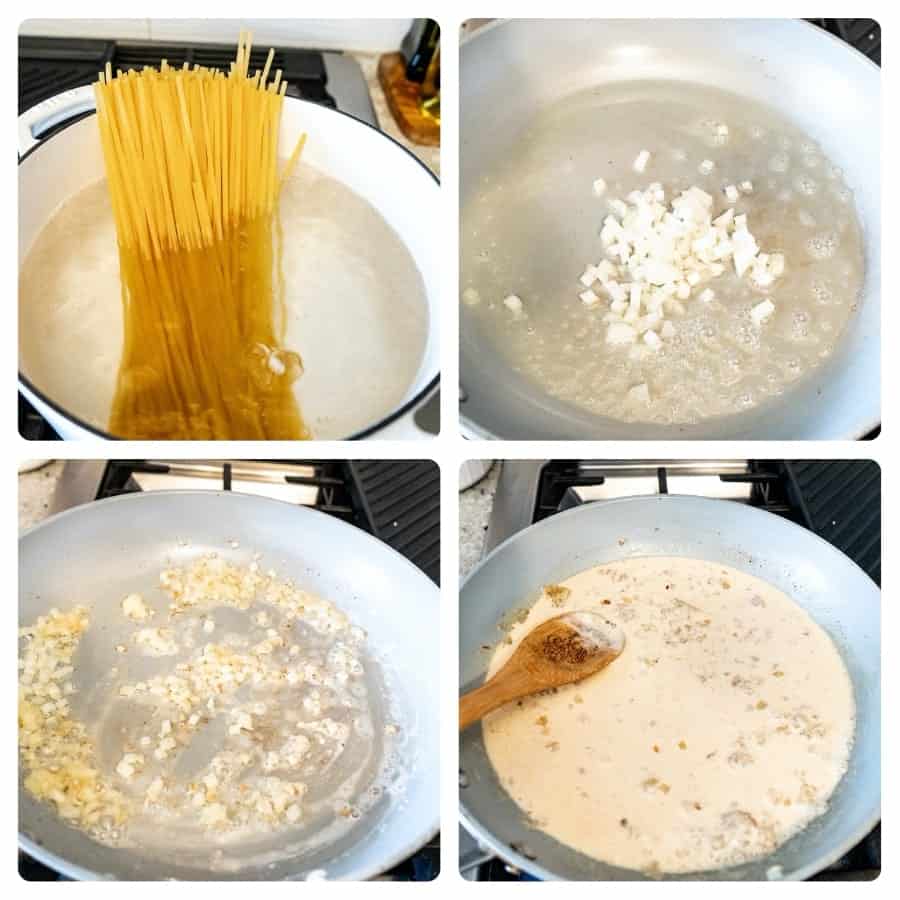 What does pasta water do to the lemon cream sauce?
Pasta water is a great addition to any sauce, especially this lemon cream sauce! When the pasta cooks, the salty water becomes starchy. When you add a 1/4-1/2 cup to your sauce, it will add flavor AND help the sauce adhere to the pasta! I like to add my pasta directly to the saucepan and toss it to combine. If it seems like the sauce is too thick, I add some pasta water and continue to toss until it's the consistency I like!
Lastly, sprinkle some fresh herbs on that pasta! Since this lemon cream sauce is a lighter sauce with a fresh lemon twist, a mild herb like parsley is a perfect addition. But get as creative as you'd like! Throw some basil in there, or dill if you're feeling saucy!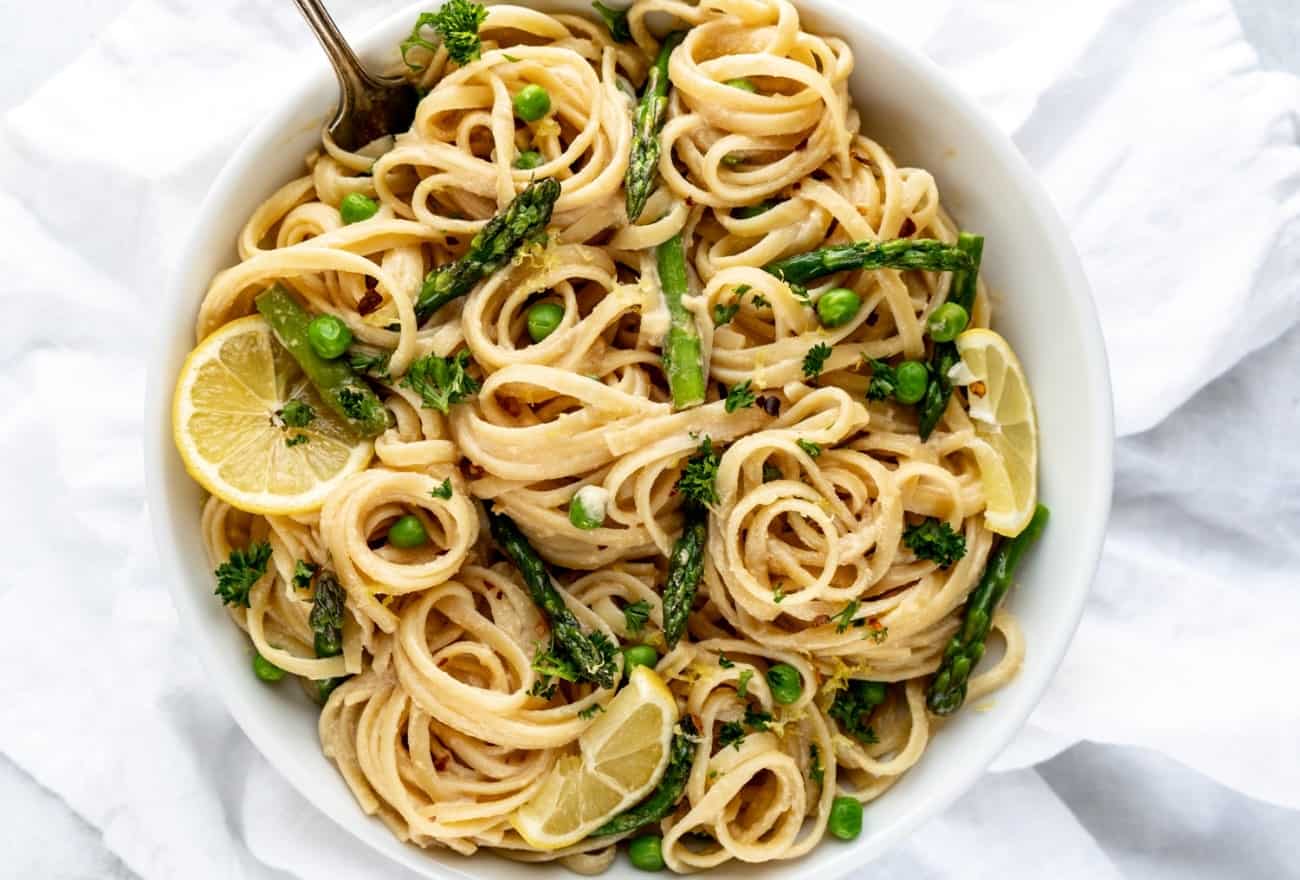 Quarantine shelf-stable substitutions:
If you're unable to get to the store at this time, but still want to make this dish, don't worry! Here are a couple of shelf-stable substitutions that you can make:
Don't have cream? Substitute evaporated milk! Evaporated milk can be substituted for heavy cream. A cup of heavy cream can be replaced with a cup of evaporated milk, or three-quarters of a cup of milk plus one-third of a cup of butter.
Don't have fresh lemons? I always have a bottle of chicken piccata!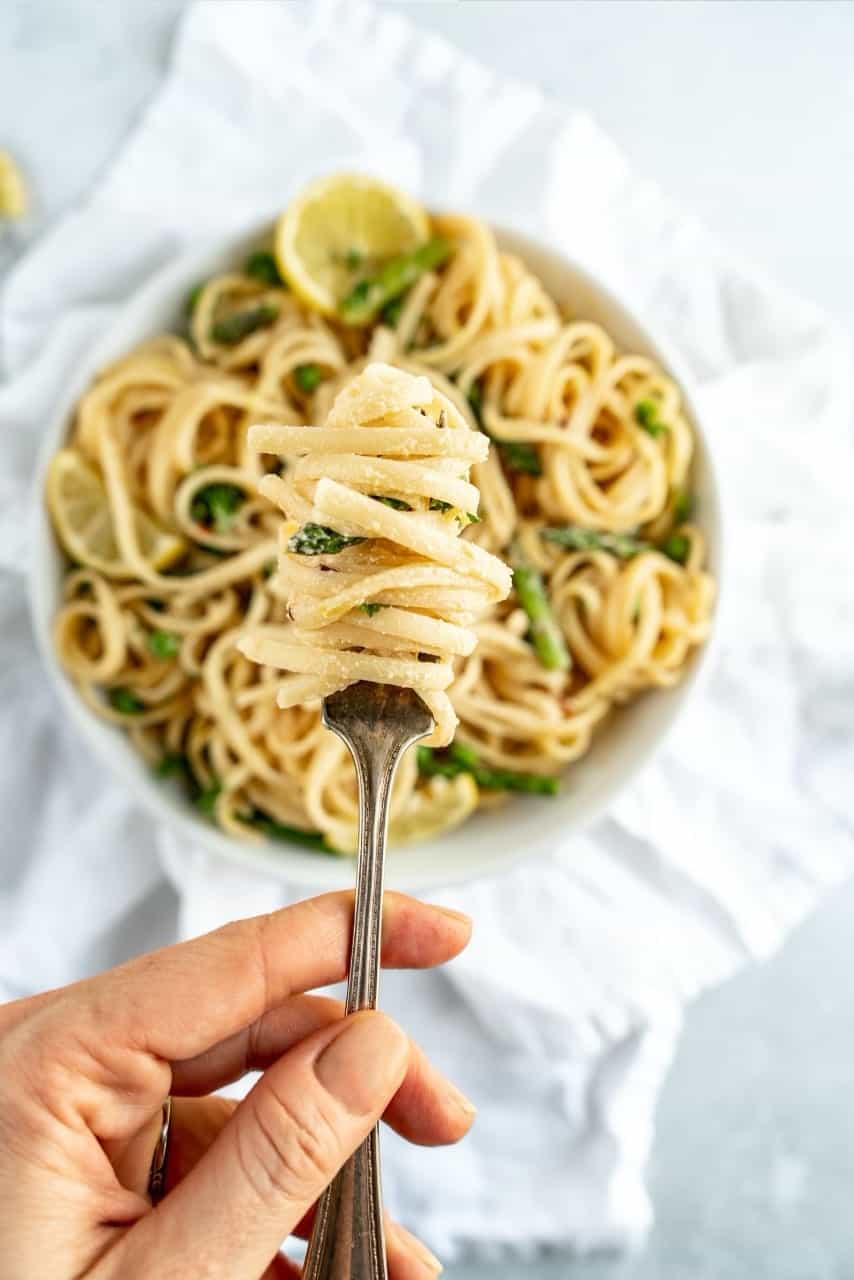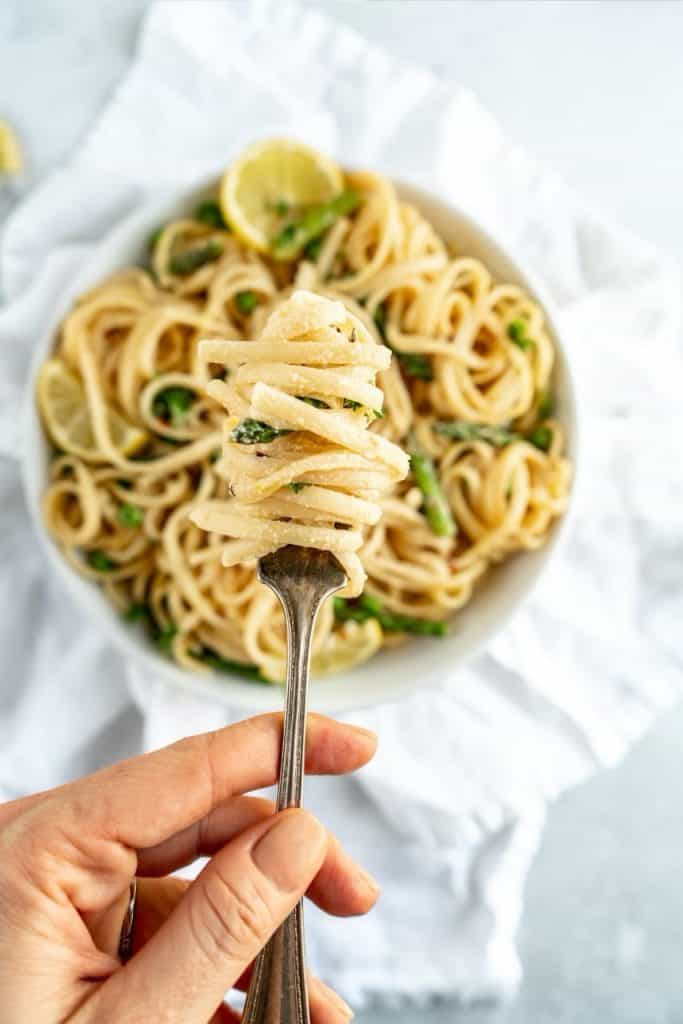 Print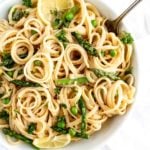 Linguine with and Asparagus Lemon Cream Sauce
Author:

Nicole Triebe

Prep Time:

5 minutes

Cook Time:

15 minutes

Total Time:

20 minutes

Yield:

6-8 servings
---
1/2 cup white wine
3/4 cup heavy cream
1/2 cup lemon juice
zest of one lemon
1/2 cup reserved pasta water
1 tbl flour
1 small shallot, diced
2 cloves garlic, minced
salt and pepper
8 oz linguine, cooked
1 cup asparagus, cut into 1 inch pieces
1/2 cup frozen peas
olive oil
Chopped parsley
---
Instructions
In a large skillet over medium high heat, melt 2 tablespoons butter and 2 tablespoons olive oil. To the pan, add the shallots and cook until almost translucent. Add the garlic and cook about a minute, making sure not to burn. Add the flour and mix well with the fat, adding more fat if needed. Cook for one minute.
Deglaze the pan with white wine, using a whisk, incorporate the liquid into the flour mix until there are no lumps. Add cream and asparagus and let simmer and thicken, about 4 minutes. Add lemon juice and zest and let simmer for 2 minutes.
Reserve pasta water and drain pasta. Add to sauce pan and add peas. Toss to combine. Add pasta water as needed until the consistency desired is reached. Toss with parsley. Serve!
---
Want to pin this for later? Click on the image below!