This super moist dark chocolate naked cake with fresh berries is everything a chocolate lover wants in a cake: decadent and intensely chocolate! With layers of fluffy chocolate espresso buttercream and fresh berries to make the perfect dessert for any special occasion!
This dark chocolate naked cake with fresh berries is the perfect dessert for Valentine's Day! Your sweetheart will be blown away by the rich flavor and fresh berries in this gorgeous naked cake.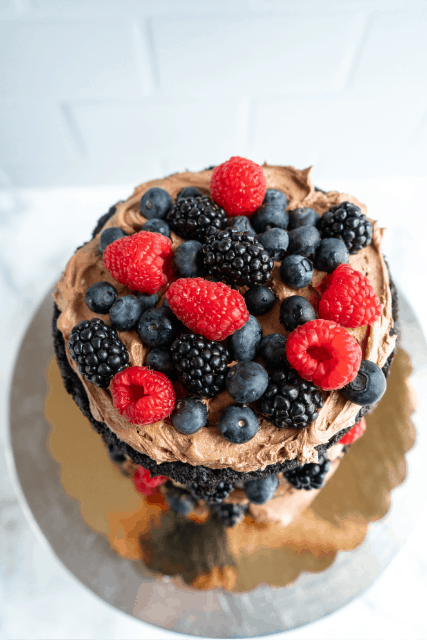 What makes a good chocolate naked cake?
There are a few key ingredients that make this chocolate cake the best you'll ever have:
1. Dark unsweetened cocoa powder: this creates an intense chocolate flavor and a rich texture.
2. Buttermilk: this acidic ingredient also helps tenderize gluten, giving this cake a softer texture and more body.
3. Oil (as opposed to butter), which keeps cakes incredibly moist. The texture of cakes made with oil is—in general—superior to the texture of cakes made with butter. Oil cakes tend to bake up loftier with a more even crumb and stay moist and tender far longer than cakes made with butter.
4. Coffee: the secret ingredient to this chocolate cake. Instead of bringing a java flavor to the cake, the coffee will enhance and add complexity to the chocolaty flavor, resulting in a richer cake
Baker's tip: To allow easy removal of each cake layer from the pan is to use parchment paper rounds. Grease the sides of the pan using baking spray or butter, then use parchment rounds on the bottom. That way your cake layers come out easily and evenly. Once each layer is removed from the pan, carefully remove the parchment paper from the bottom. You'll have a smooth layer every time!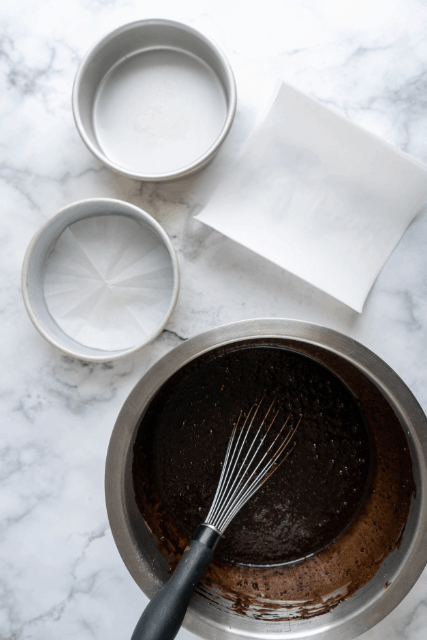 What is a naked cake?
You may notice that this cake looks a little barer than the typical cakes you'll see at the store. This is called a chocolate naked cake! Yep, you read that correctly. No fondant or buttercream swirls or colorful piped patterns. Christina Tosi of Momofuku Milk Bar started making naked cakes back in 2007 as an alternative to fully decorated wedding cakes, and then the naked cake was all the rage!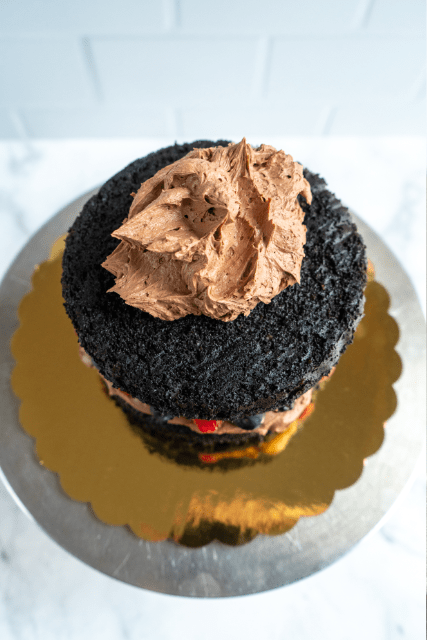 You'd see them all over: weddings, baby showers, parties of all kinds! They're an easy way to decorate a cake if you're not an advanced cake decorator. No more stressing about smoothing the buttercream on outside of your cakes. I love how you can see each layer and the gorgeous fruit that pops through on the outside. You can see what you're going to get and let me tell you, it's all delicious!
How do you make sure your cake layers are level ?
First things first. Once your cakes are cool ( after about 10-15 minutes) Remove them from the pan and level them.
The trickiest part of making a naked cake is making sure that each of your layers is level. For those that are not professional cake decorators, or even those that are, there's a handy cake cutting tool that makes it easy for you! You can find it on Amazon, and it makes leveling your cake layers a breeze! The adjustable blade lets you level off your cake layer to the height you need and makes stacking each layer so easy! Since you can see each layer from the outside on this dark chocolate naked cake, it's important that they're all level!
How do you assemble the chocolate naked cake?
Next, you can begin to assemble the chocolate naked cake. Take the first layer of cake and set it on a small plate or cardboard round. I used a pretty gold scalloped round that is a good option if you don't have a cake stand. Either one will work! Place a big spoonful of chocolate espresso buttercream on top of the first layer.
Using an offset spatula, spread the buttercream out to the edge of the cake layer. I like it when there's a little overflow on the edge because then you don't have to worry about making it look perfect. The buttercream will be thick enough that it will stay in place (it won't be dripping down the side) and we'll be sticking berries on the outside as well, so don't be afraid of making it look too perfect. Once there's an even layer of buttercream, place berries in one even layer on top. Stack on your next cake layer. Repeat the buttercream and berry process for this layer.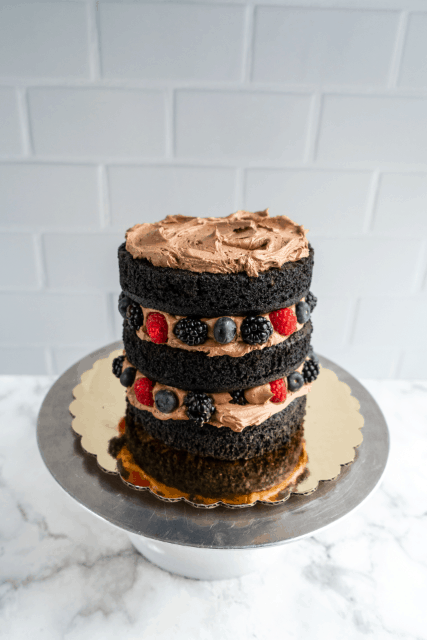 Finally, to make sure that the top layer is flat, we're going to flip this layer upside down. That means the side that was at the bottom of your cake pan will now be on top. Scoop on your final layer of buttercream, but while spreading this time, keep the frosting inside the outer edge by about 1/4″. Save the best berries for the top layer, because those will be showing the most! I like to put my blueberries on the bottom, then strategically place blackberries and raspberries on top of that. Finish your chocolate naked cake with a dusting of powdered sugar and enjoy!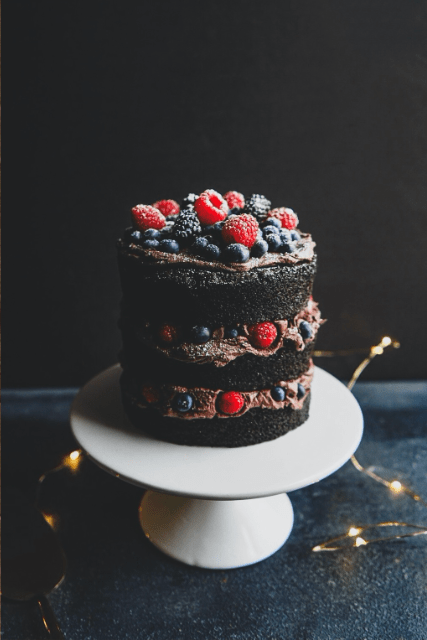 If you loved this post, be sure to check out my new year's eve confetti cupcakes!
Print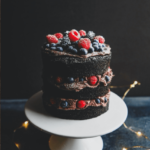 Dark Chocolate Naked Cake with Fluffy Chocolate Espresso Buttercream
Author:

Nicole Triebe

Prep Time:

15 minutes

Cook Time:

30 minutes

Total Time:

45 minutes

Yield:

6

" 3 layer cake

1

x
---
For the Cake:
2 cups

sugar

1 cup

freshly brewed coffee

1/2 cup

vegetable oil

1 cup

buttermilk

2

eggs

2 tsp

baking soda

2 tsp

baking powder

1 tsp

salt

1 3/4 cup

all purpose flour

3/4 cup

dark cocoa powder
For the Buttercream
1 cup

unsalted butter, softened

3 cups

powdered sugar

1/2 cup

dutch process cocoa powder

1 tsp

vanilla

1/4 cup

milk

2

tbl espresso, cooled, or

1 tsp

coffee extract
Mixed berries of your choice
---
Instructions
For the cake:
Combine your dry ingredients in a large bowl.  Add milk, oil and coffee and whisk to combine until all lumps are out.  Add eggs and whisk to combine.
Divide between 3 x 6″ round cake pans lined with parchment paper, sides greased with either baking spray or butter.
Bake for 30 minutes on 350 degrees or until a toothpick comes out clean.
To make the buttercream:
In a stand mixer, or with a hand mixer, combine softened butter, cocoa powder and powdered sugar and beat on high with a paddle attachment for 5 minutes.  Add vanilla and espresso and turn mixer to low and mix for another 30 seconds.
---
Want to pin this for later? Click on the image below!