The biggest night in Hollywood is almost here, and I'm sharing a couple of easy Oscar party ideas to throw your own viewing party worthy of a red carpet! 
Awards season is always a fun way to start off the new year, so why not celebrate with a party of your own at home?  I'm partnering with Solo Cup to show you some easy Oscar party ideas that will make you feel like you're getting the movie star treatment!   
What are some easy Oscar's party decor ideas?
When I think of the Oscars, I think of black and gold!  That iconic Oscar statue is the first thing that came to mind when I was planning this party.   I love the black and gold color combo, so I went with that theme throughout my party.  I found this super cute tissue paper tassel banner on Amazon for just $10!  It took a little bit of assembly but it was totally worth it after seeing it hanging on my buffet table! This is perfect to use for a 40th birthday party, too!  Hang on to it for later!
I had a bunch of black platters around my house that I used for the food (think slate, black marble, etc).  World Market always has slate platters for serving cheeses and other appetizers.  I found a few online here and here.  Gold or white platters would work as well!
Next up, my favorite part: the food!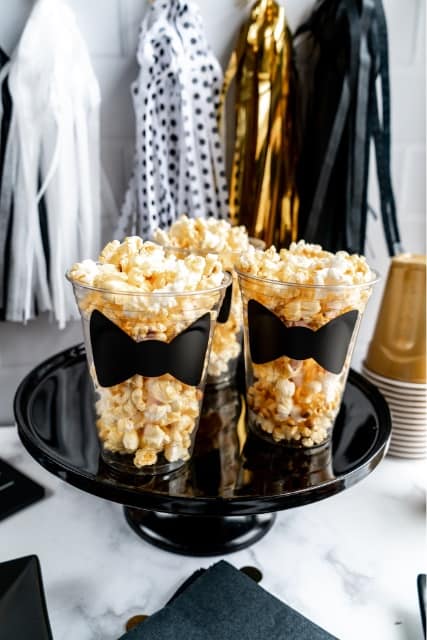 What should I serve at my Oscar's party?
I'm keeping things simple this year because life moves a little slower with a three-month-old!  I hosted some of Allison's staff the other night and took some shortcuts that would work at any party!
Meatballs: These are so fun to have on a serving platter with the forks as party picks!  Line them up in a row with a little additional marinara on top with a sprinkle of parmesan cheese.  Perfect for your guests to pick up easily!  If you don't have time to make your own, store-bought is fine!  I got a big bag of Italian meatballs from Costco that really hit the spot!  Put them in your slow cooker with a couple of jars of Rao's Marinara sauce (my go-to for when I don't have time to make my own!  This stuff is so good!) about 3 hours before the party starts on high.  You can also find Rao's marinara at Costco.
Cheese and crackers: If you want to go all out and serve an incredible charcuterie board for your Oscar party, I won't stop you!  I'm sure your guests won't mind it either!  If you need some tips, head here for all my tricks to making an epic charcuterie board! However, it's not needed!  Just some of your favorite meats and cheeses with some water crackers are all I'm serving this year.  To take it to another festive level since I'm not doing the full spread, I cut some of the cheese slices into stars for that Hollywood touch.  You can do it freehand or use star cookie cutters.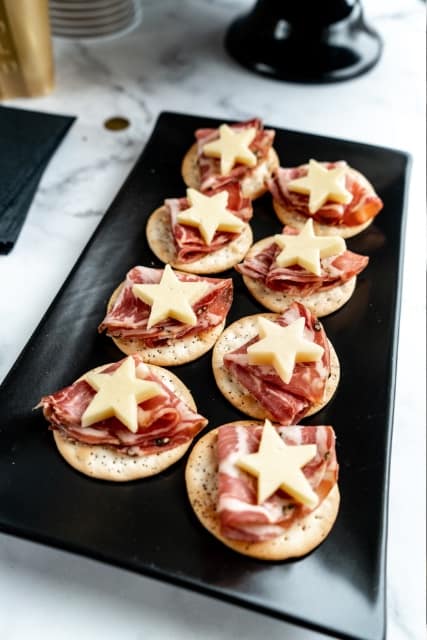 Popcorn:  No movie is complete without it! Make individual servings of the classic movie theater snack in Solo's Eco-Forward 18 oz cup for your guests.  I found these adorable bowtie stickers on Amazon that just gave the cups an extra fancy touch, perfect for any Oscar party! You can even switch up popcorn flavors by adding truffle oil, toss in white chocolate, or just add a little grated parmesan cheese! Super simple additions that make it that much more fun.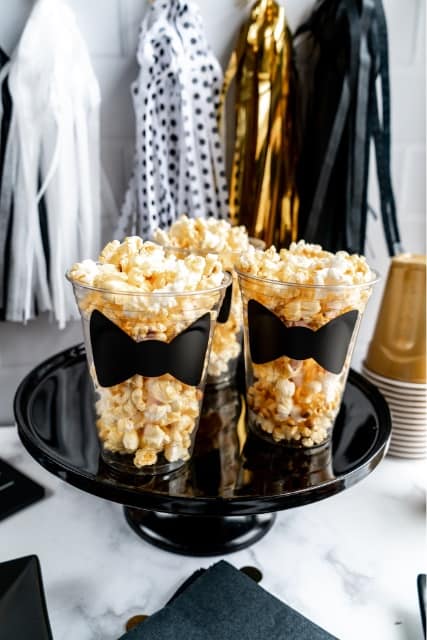 Candy Bar: The perfect sweet way to watch the final awards!  Fill either a 9 oz or 18 oz clear Solo cup to the brim with your favorite movie candies!  Line them up in a row for the cutest candy bar you'll ever see!  I chose peanut m&ms, some Reeses pieces, and some fun black and gold Sixlets I found at my local party supply store that went right along with my Oscar party theme.
Don't forget to cast your own vote!  PureWow has the 2020 list of nominees for easy printing for your Oscar party guests too!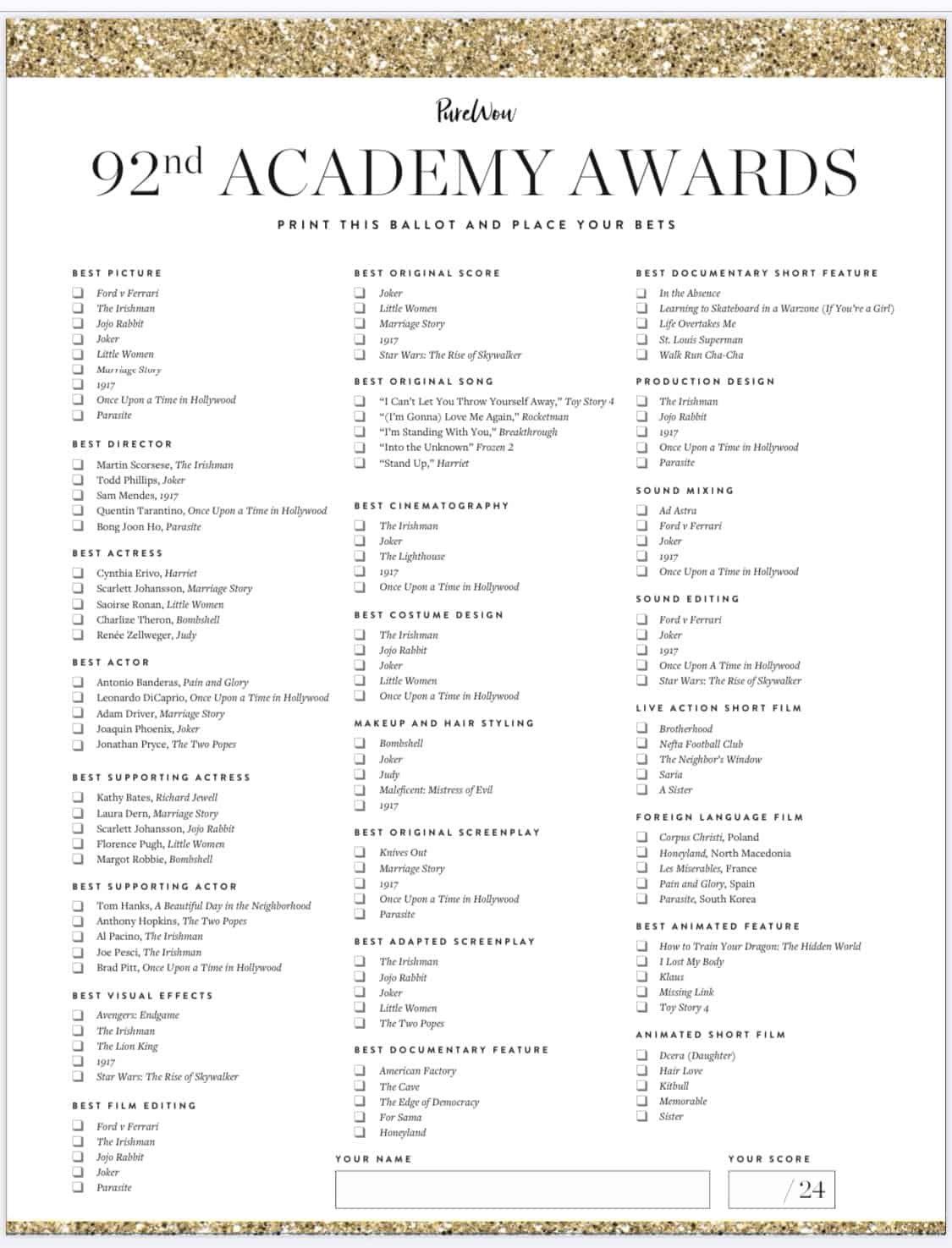 Happy Oscar party Night!
Want to pin this for later?  Click on the image below!