Everyone deserves a happily ever after, and this fairy tale party will give you one!  Follow my easy ideas to throw the sweetest birthday party ever! 
Since the birth of our baby, fairy tales have quickly become a regular part of our bedtime routine.  Our little one is starting to enjoy the tales of fantasy characters and magic more and more, and National Fairy Tale day is just around the corner! I'm partnering with Solo Cup to show you a couple of tricks on how to throw a simply magical fairy tale party!
What should I serve at a Fairy Tale Party?
I've never known kids to be big eaters, so just a couple of magical snacks are needed at your fairy tale party.  For the main course, pasta is always a hit with kids, and even better if the pasta shape is fun!  My Italian pesto pasta salad is always a crowd-pleaser and super easy to prepare, and the pasta is bowtie, so you can pass it off as "butterfly pasta!".  What a magical treat!  This dish is easy to make it in advance of the party as well! You can dish the pasta salad up individually in clear 9 oz solo cups so that the kids don't have to serve themselves.  Just take and go!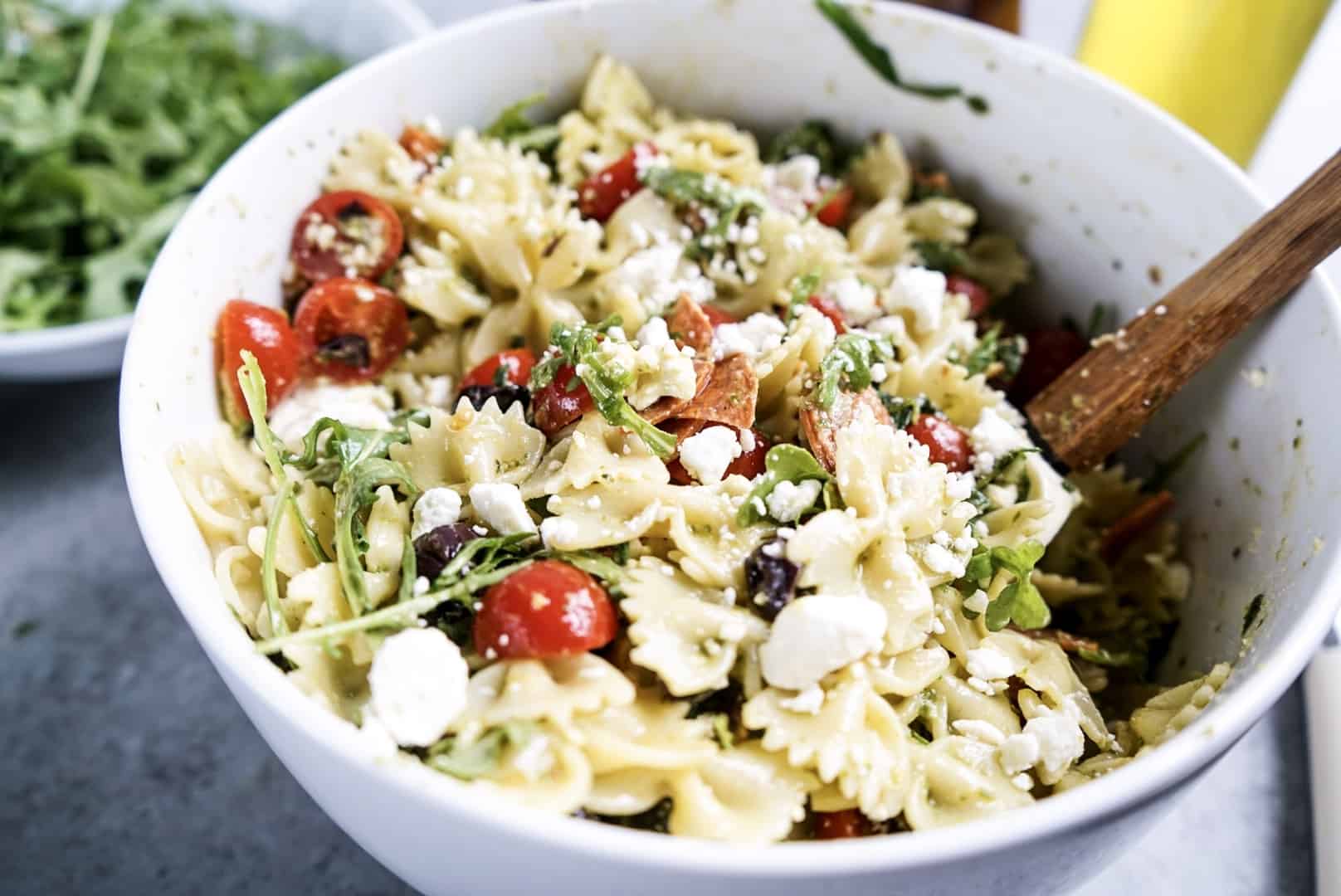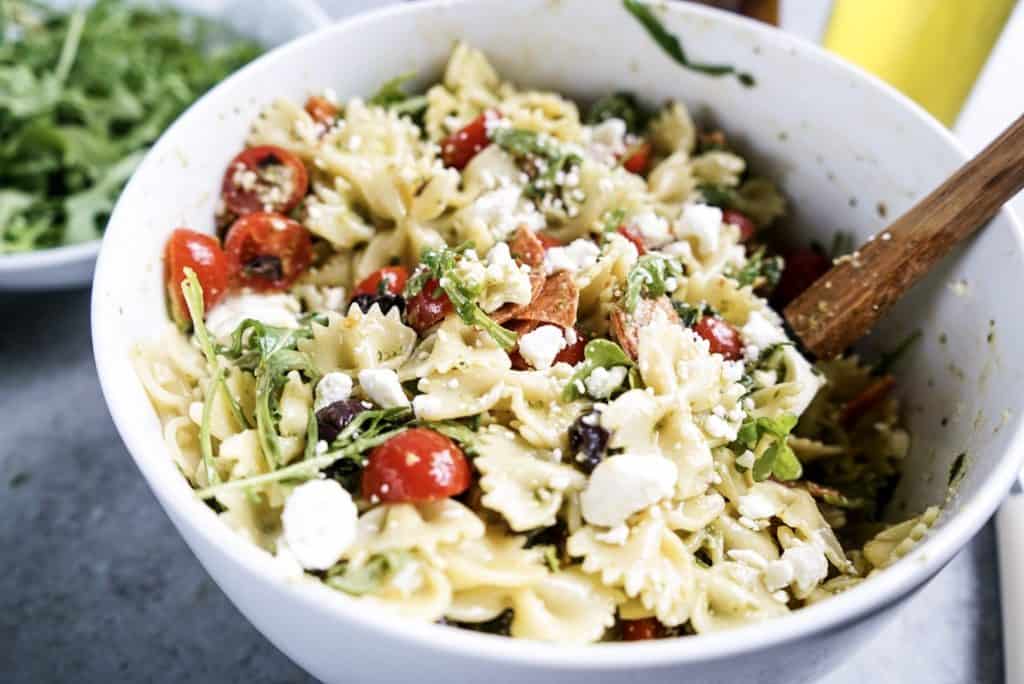 No fairy tale party is complete without the desserts! Cupcakes can easily be transformed into a toadstool mushroom, a woodland home to many creatures and fairies in many fairy tale stories.  All you need is cupcakes (these can be store-bought or homemade), red frosting, red sprinkles, and white chocolate chips.  You don't have to be an expert cupcake decorator to make these either! Simply frost each cupcake with the red frosting and pour out all of the red sprinkles in a small Solo bowl.  Gently press the top of the cupcake into the sprinkles and roll around in the bowl until the entire top of the cupcake is covered in red sprinkles.  This way any imperfections in the frosting are smoothed out! Then press on a few white chocolate chips (pointed side down) into the red frosting. Then you're done!  Place them on a cake stand or a wood slice for an extra special fairy tale feel.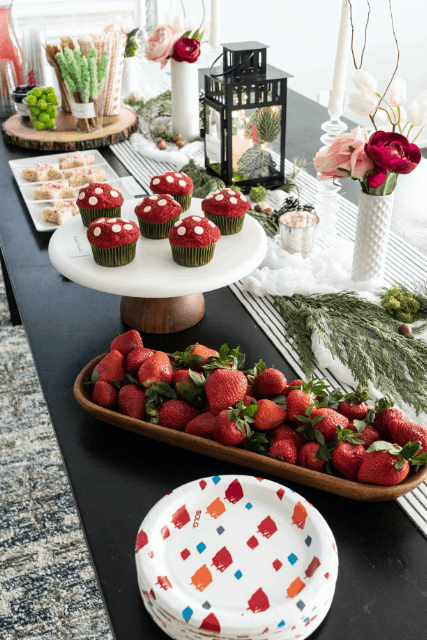 Rice Krispie treats can be transformed into magic fairy wands with the snap of your fingers! Perfect for any fairy tale party!  If you don't have time to go the homemade route, I found a Rice Krispie Treat sheet at my local party supply store that I cut stars out using a star cookie cutter.  Insert a lollypop stick and adorn with sprinkles!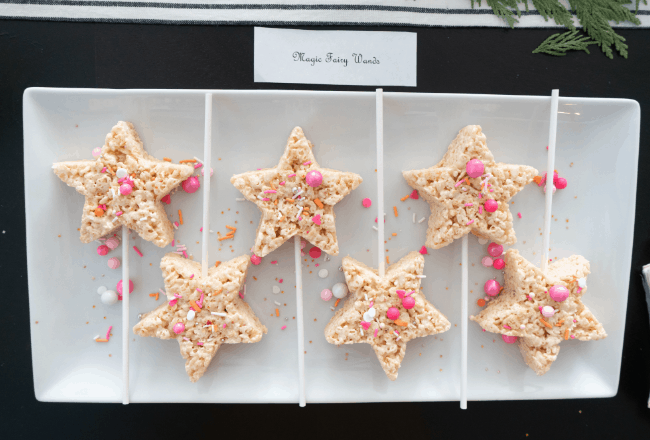 To complete my fairy tale party menu, I made some mossy branches by using pretzel rods, candy melts and shredded coconut dyed green.  Chocolate covered raisins, or "deer poop" can be a fun healthy treat for the kids, too!  Put each in a clear Solo cup and display on a wood slice.  Add some "forest berries" to complete your tablescape!  Lastly, I poured some raspberry Spindrift, also known as "Fairy Fizz" into a carafe and served this festive beverage in an Eco-forward Clear Solo cup.  I love the pink color that went right along with my theme!   Place some Solo plates at the end of the table so your guests can grab what they'd like to eat.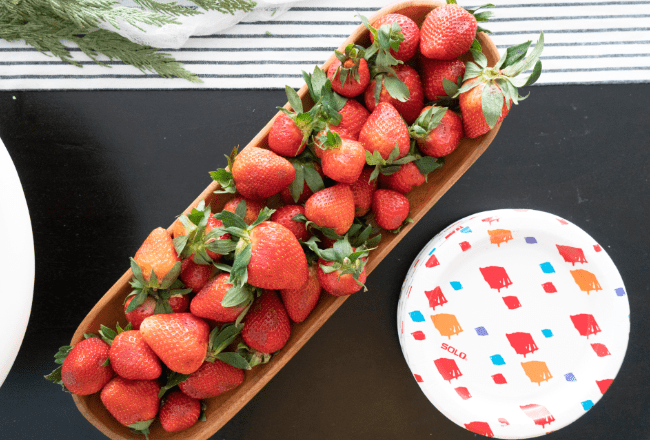 How should I decorate my Fairy Tale Party tablescape?
In keeping with the natural fairy tale theme, I added some greens to my striped table runner.  You can pick up a $3 green bouquet at your local grocery store, or if you want to go all out, use a moss table runner to complete the tablescape! I had some moss pieces leftover from a previous project so I scattered those around the table, as well as some pinecones and acorns.  It was simple and festive!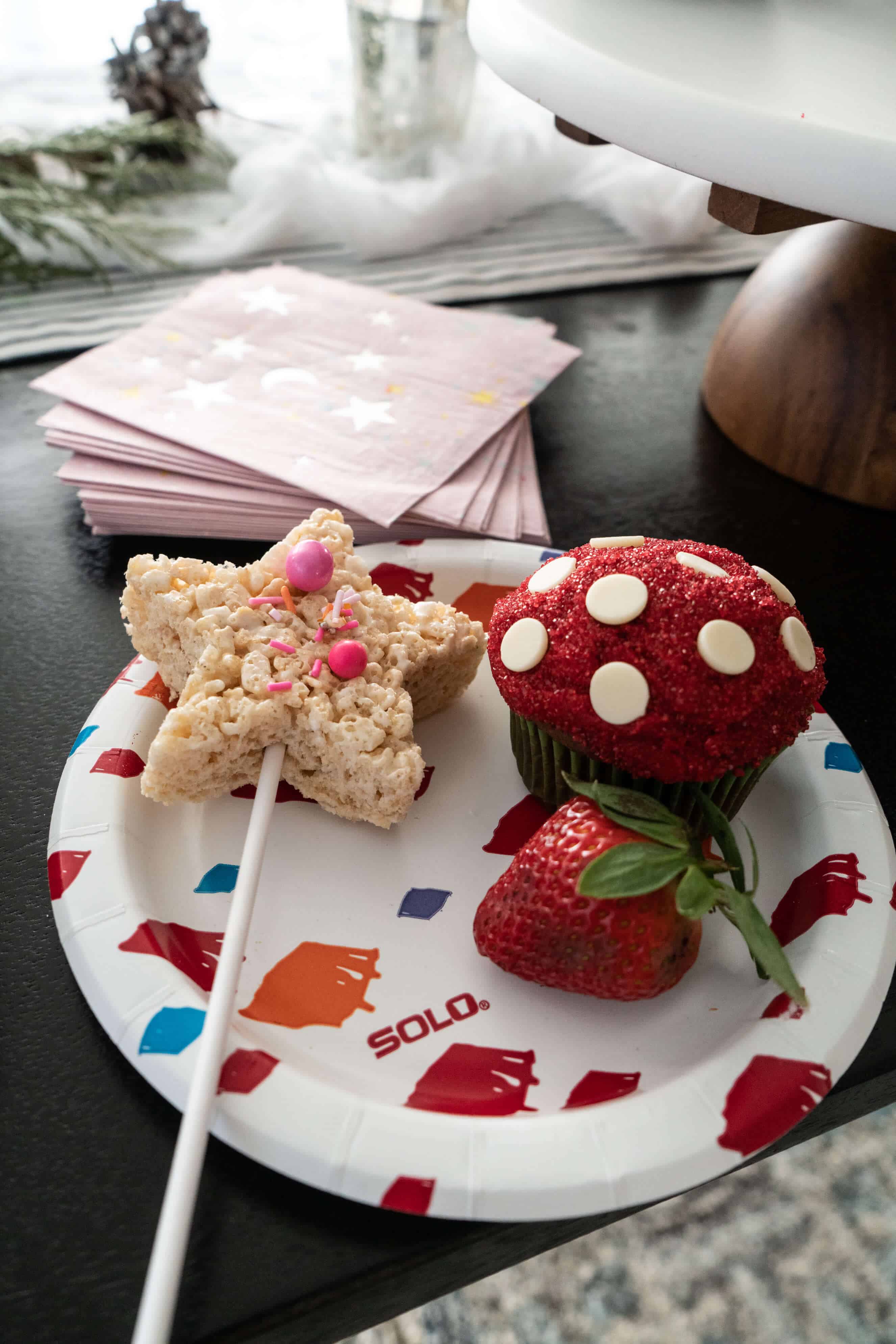 I hope these ideas gave you some magical inspiration to throw your own fairy tale party!  National Fairy Tale day is February 26th!  Let me know how you're celebrating in the comments!
Want to pin this for later?  Click on the image below!