Curried Cauliflower and Chickpea Salad with Lemon-Yogurt Dressing. This vegetarian recipe is a great side dish or entree for a crowd!
I recently celebrated my first quarantine birthday and I have to say, it wasn't all that bad! I got to have some time to myself (a rare occurrence for a new momma) and ordered some amazing take out from one of the best restaurants in town, Alinea! We ordered a couple of entrees and every side dish on their menu that night. The unanimous favorite of the night was a curried cauliflower and chickpea salad with the most deliciously creamy yogurt dressing. It was so simple and flavorful that I immediately went to the store to buy the ingredients to try and recreate it! I used my air fryer for both the chickpeas and cauliflower in this salad because I love the crispy texture it gives to this salad!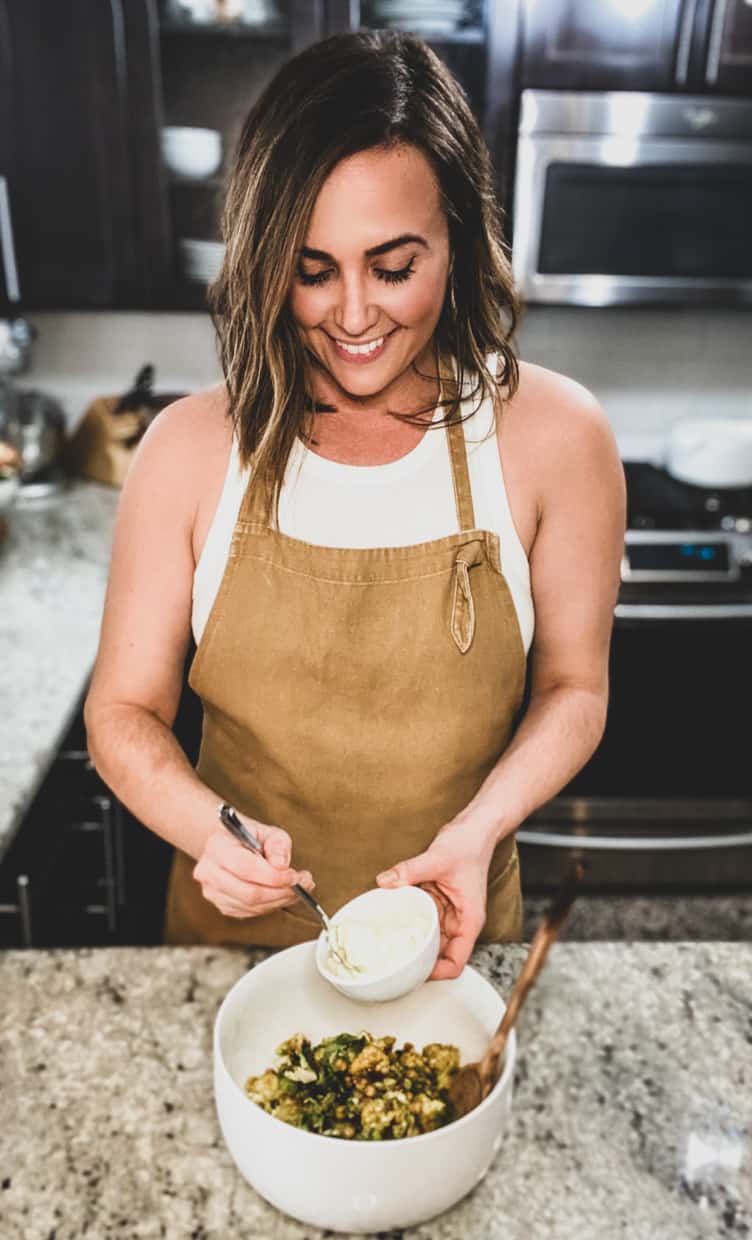 How do I air fry cauliflower?
I love to use my air fryer to cook cauliflower for this cauliflower and chickpea salad! It takes half the time and the result is perfection! I have one tip: Don't skip the olive oil! Even with the oil, the air fried cauliflower is leaps and bounds lighter than regular fried cauliflower. And without it, the veggies won't get nearly as nice and crispy. If you have a Ninja air fryer like I do, you can even do the chickpeas and cauliflower at the same time!
After seasoning and tossing the cauliflower, make sure to arrange the florets in a single layer in the air fryer basket or tray, leaving a bit of space between each one. If the cauliflower is too crowded, it will create steam as they cook, and they won't crisp up. Depending on the size of your air fryer, you may have to work in batches.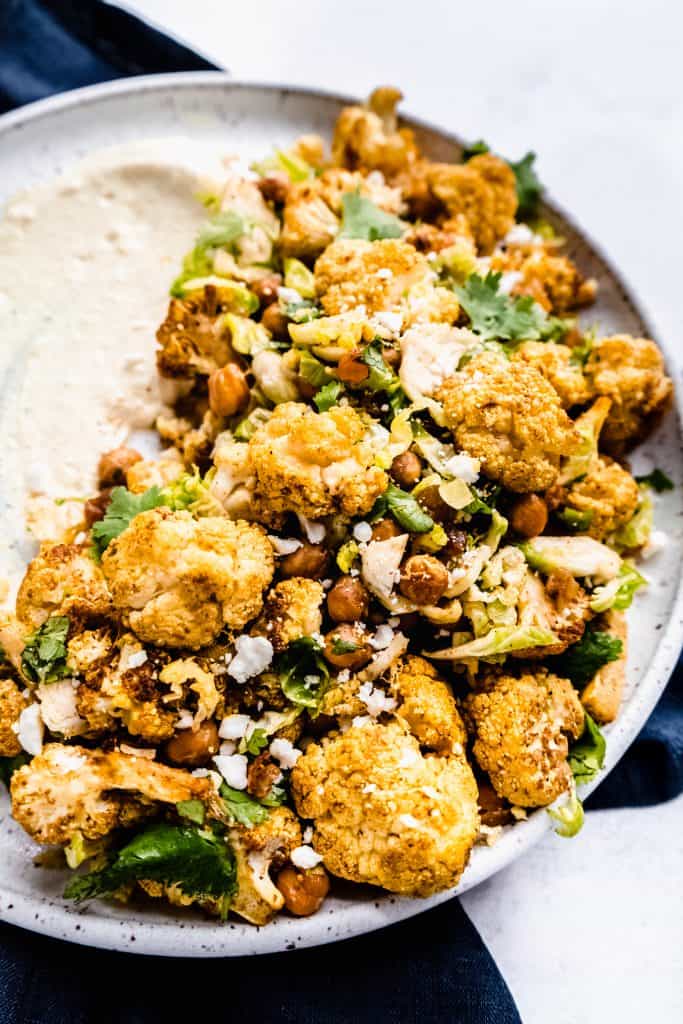 Why we love this curried cauliflower and chickpea salad
This tasty salad has it all: spice, crunch, and a beautiful creaminess from the lemony yogurt dressing! You can serve it as a light lunch or dinner, or enjoy it as a beautiful side dish. The chickpeas provide lots of vitamins, minerals, and fiber, which improves digestion, aiding weight management, and reducing the risk of several diseases. Additionally, chickpeas are high in protein and make an excellent replacement for meat in vegetarian and vegan diets!
If you loved this recipe, be sure to check out my vegetarian lobster rolls!
Print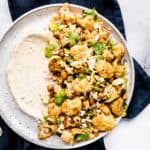 Curried Cauliflower and Chickpea Salad
Author:

Nicole Triebe

Prep Time:

5 minutes

Cook Time:

20 minutes

Total Time:

25 minutes

Yield:

4

1

x

Category:

Salad

Method:

Air Fryer

Cuisine:

American
---
For the air fried cauliflower:
1 head cauliflower, chopped into florets
2 tbl olive oil
1 tbl curry powder
For the air fried chickpeas:
1 15 oz can chickpeas or garbanzo beans, drained and dried 
1/2 tsp garlic powder
1/2 tsp paprika
1 tbl olive oil
For the salad:
1 cup golden raisins
1/2 cup chopped cilantro
1 1/2 cups shredded brussels sprouts
For the dressing:
Juice and zest from one lemon
1 cup greek yogurt
1 tsp curry powder
2 garlic cloves, minced
3 tablespoons olive oil 
1 tsp salt
---
Instructions
Preheat the air fryer to 400 F. 
Chop the cauliflower into florets and toss with olive oil and curry powder. Roast in the air fryer for 15-20 minutes, shaking the basket halfway through
Drain and dry the chickpeas.  Toss with olive oil, garlic powder and paprika and place in the air fryer for 12-15 minutes. 
Add all the dressing ingredients into a small bowl and whisk to combine.
Add all ingredients for the salad into a large bowl and toss to combine. 
Spread a spoonfull of dressing onto a plate and place salad on top.  Serve! 
---
Keywords: cauliflower; salad
Want to pin this for later? Click on the image below!