This creamy Tuscan chicken recipe is packed with tender artichoke hearts, sun dried tomatoes, and spinach in a creamy garlic cream sauce that the whole family will love!
Today's weather has all the fall feels and I'm loving it! Cooler weather makes me crave all sorts of comfort food, and this creamy Tuscan chicken recipe may be a new favorite! I could eat the sauce by itself for days!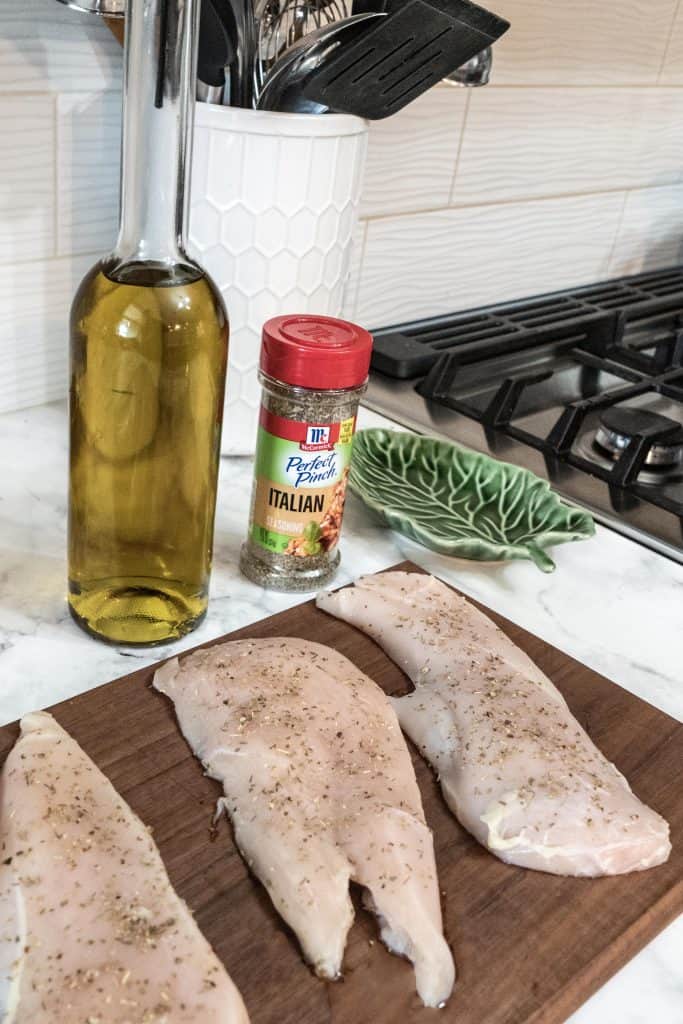 How do you make creamy Tuscan chicken?
This dish is similar to a lot of other chicken dishes that I've made, like the chicken piccata. To start, the chicken is seared on both sides. For this recipe, I'm not dredging the chicken in flour before searing. I season the chicken with a little of McCormick Perfect Pinch Italian seasoning and sear. I find that the flour doesn't incorporate as well using this method. Instead, we'll create a roux later that will thicken the sauce. that make this sauce to die for.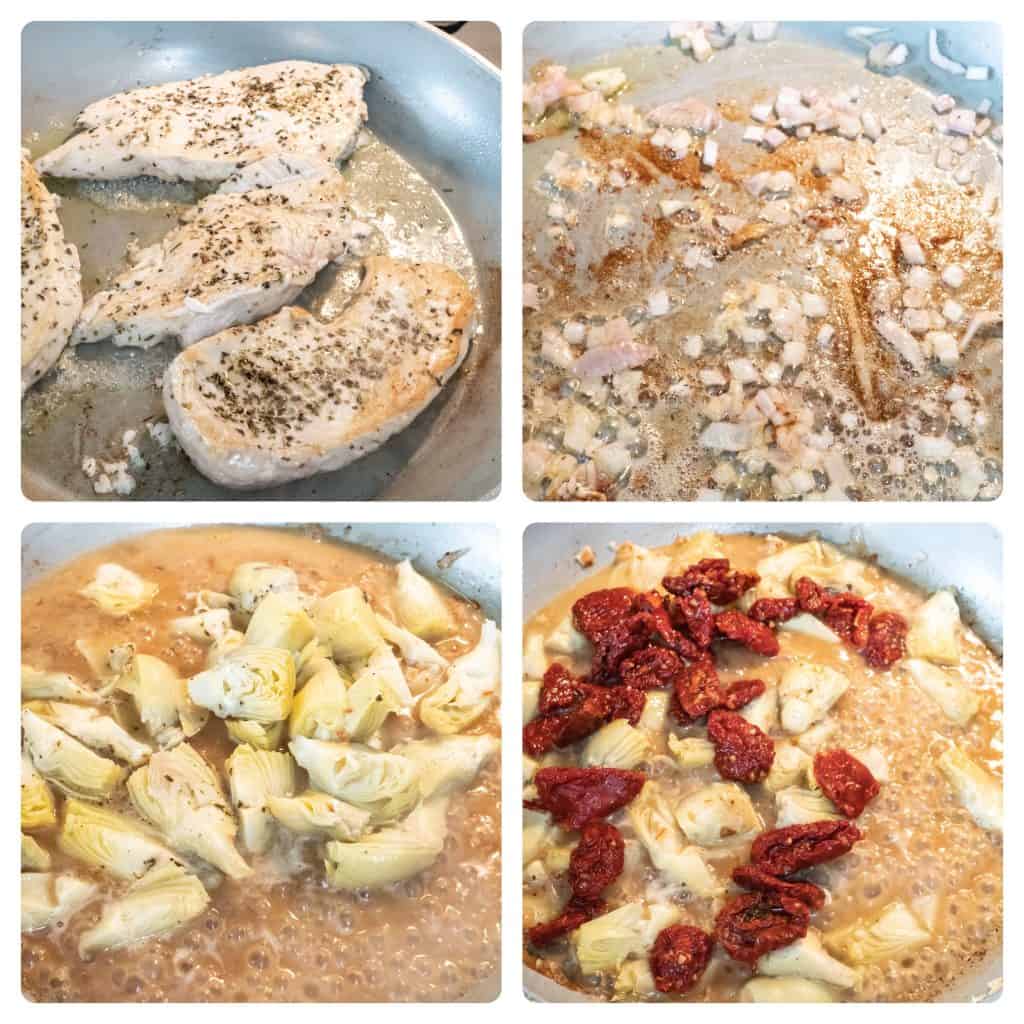 After the chicken is seared, remove it from the pan and set aside on a warming plate.
Add two tablespoons of butter and another 2 tablespoons of olive oil to the same pan that you cooked the chicken in. We want to incorporate all the brown bits and flavor of that chicken into the sauce. To the butter and oil, add the shallots and cook until almost translucent. Add the garlic and cook for about a minute, making sure not to burn.
Next is when you'll create a roux. A roux is a combination of equal parts flour and fat, the most common being butter (or meat drippings). When you make a roux, if you cook it long enough, the flour will brown adding great flavor to your sauce or dish. Add the flour and mix it well with the fat, adding more oil if needed. Cook for a minute until the flour has browned slightly, whisking to get rid of any lumps.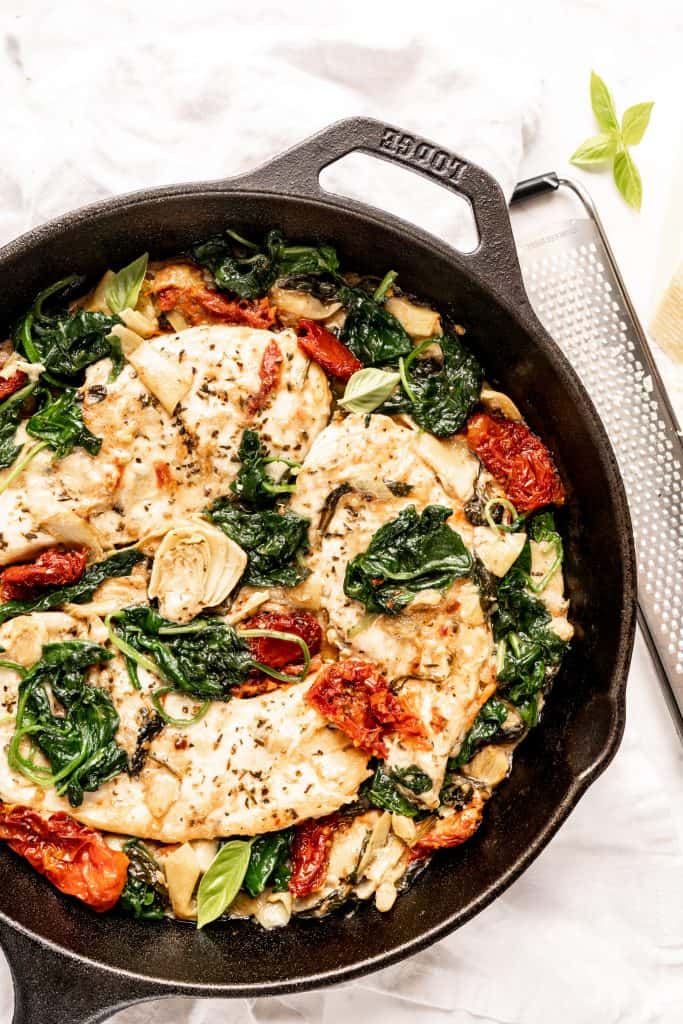 The you'll deglaze the pan with white wine. Deglazing is adding liquid to a hot pan, which allows all of the caramelized bits stuck to the bottom to release. By doing this, you'll let all the flavors incorpoate and it results in a super flavorful tuscan sauce.
After the pan is deglazed, you'll add the artichoke hearts and sundried tomatoes. Finally, the cream and parmesan cheese will be added to finish off the sauce. Add the chicken back to the pan, as well as any juices that have accumulated on the plate, and allow the chicken to finish cooking in the sauce.
What can you serve with this chicken dish?
You can serve this dish over the noodle of your choice, rice or sautéed veggies!
How can I reheat creamy Tuscan chicken?
This is one of those dishes I actually think tastes better the next day! I'm not sure if the flavors were able to marinate longer or something magical happens in my fridge, but when I had it for lunch the next day, it tasted even better! Reheating spinach artichoke chicken is easy, and it still tastes amazing the next day!
Add a couple of tablespoons of water and reheat in a microwave-safe glass container until chicken is warmed through, about 2 minutes. You can also warm it in a skillet, being careful not to heat for too long, as the chicken dries out easily.

Leave people wondering if they are secretly in a gourmet restaurant with this Creamy Tuscan Chicken. So quick and easy to make, ready on the table in less than 15 minutes, you will ever impress yourself!
Print
4 boneless skinless chicken breasts
2 tsp McCormick Perfect Pinch Italian Seasoning
1 cup chicken broth
1 cup heavy cream
1/4 cup grated parmesan cheese
1/2 cup white wine
1 tbl flour
1 small shallot, minced
3 cloves garlic, minced
salt and pepper
1 8.5oz jar sundried tomato halves, drained 
12 oz jar of marinated artichoke hearts, drained 
8 oz baby spinach
olive oil
Instructions
In a large skillet over medium-high heat, melt 2 tablespoons of butter with 3 tablespoons olive oil. When butter and oil start to sizzle, add the chicken and cook for 3 minutes. When chicken is browned, flip and cook other side for 3 minutes. Remove and transfer to warm plate.

Melt 2 more tablespoons butter and add another 2 tablespoons olive oil. Into the pan add the shallots and cook until almost translucent. Add the garlic and cook about a minute, making sure not to burn.  Add the flour and mix well with the fat, adding more if needed.  Cook for one minute.

Deglaze the pan with white wine, using a whisk, incorporate the liquid into the flour mix until there are no lumps.  Add chicken broth, drained artichoke hearts, and sundried tomatoes. 

Add the cream and cheese and stir to combine. Add spinach and cover pan with a lid allowing the spinach to wilt. 

Return all the chicken to the pan and simmer for 5 minutes. Add crushed red pepper if desired. 
Want to pin this for later? Click on the image below!