Roasted Tomato Soup is made with oven roasted heirloom tomatoes, garlic and caramelized onions to give you a rich, flavorful bowl! Pair it with grilled cheese for the ultimate comfort food meal!
Tomato soup is a classic that everyone loves! From the early days of childhood all the way to adult hood, there's nothing like pairing a big bowl of tomato soup with crusty bread or a gooey grilled cheese! Today I'm bringing a deeper richness to this classic by roasting the tomatoes! The caramelization that occurs in the oven when tomatoes are roasted is magical, and brings incredible flavor to this roasted tomato soup! Additionally, when tomatoes are roasted, they become more concentrated, and intense, because there's less liquid per bite.
How long do you roast tomatoes in the oven?
To prepare the tomatoes for roasting, give them a light wash, then cut the tomatoes into halves. Spread the tomatoes and garlic cloves on a baking tray. Drizzle with olive oil and season with salt, pepper and thyme. Roast for 20 to 30 minutes, or until they begin to caramelize.
How do you make roasted tomato soup?
Heat a large stock pot on the stove over medium heat.
Slice an onion and add to the pot with 3 tablespoons of olive oil. Cook until caramelized, about 10 minutes.
Add stock, bay leaf and butter. Add roasted tomatoes and garlic.
Bring to a boil, reduce heat and simmer for 15 to 20 minutes or until liquid has reduced by a third.
Remove the bay leaves and thyme and using an immersion blender, blend until smooth.
Return soup to low heat and add basil, grated parmesan, and salt and pepper to taste.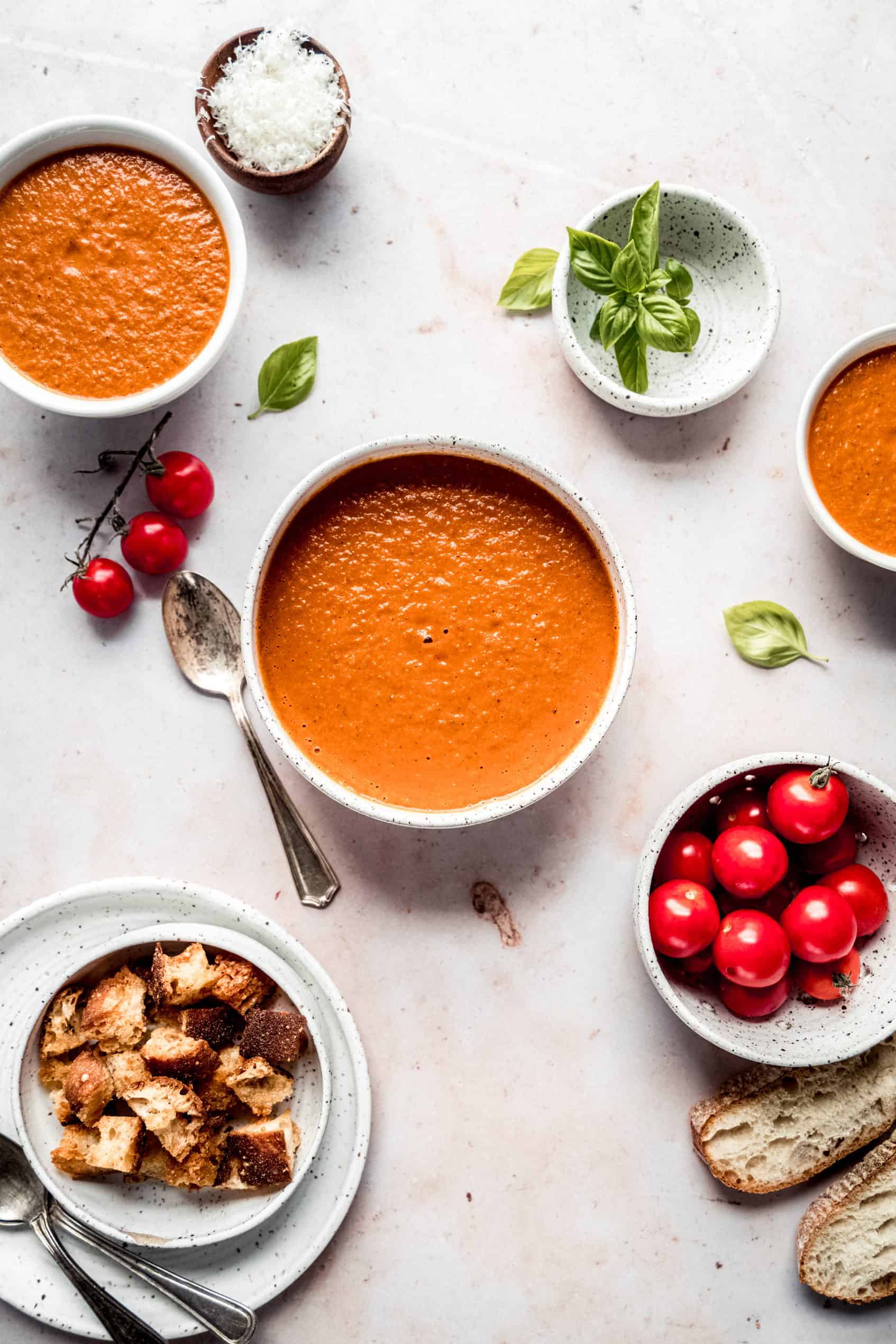 Tips for making the best tomato soup
Add fresh basil, not dried. Fresh herbs always perk up a soup
Use freshly grated parmesan cheese. Freshly grated parmesan is always better than the powdered stuff.
Add Croutons. My homemade garlic parmesan croutons are a yummy garnish for this roasted tomato soup.
Drizzle with an infused olive oil. Take a squirt bottle or put a pour spout on a bottle of olive oil and create a circle on the top of your soup for extra flavor and a beautiful garnish!

How can I freeze tomato soup?
If you make a big batch and have soup left over, roasted tomato soup is great for freezing. Fully cook and fully cool the roasted tomato soup. Freeze in a freezer container or bag and seal well. You can store it for up to three months in freezer. To reheat, thaw in the refrigerator or using the defrost setting in the microwave.
What should I serve with this soup?
Serve this roasted tomato soup along side these options for a great lunch:
Sweet Potato and Black Bean Burger
Poblano and Black Bean Quesadillas
Print
Roasted Tomato Soup
Author: Nicole Triebe
Prep Time:

10 minutes

Cook Time:

1 hour

Total Time:

1 hour 10 minutes

Yield:

4

–

6

1

x
Category:

Lunch

Method:

Roast

Cuisine:

American
2 pounds fresh tomatoes
1 tsp salt
1/2 tsp pepper
1 head garlic, roasted
1 medium yellow onions, sliced
Salt and freshly ground black pepper
3 cups chicken stock
2 bay leaves
2 tablespoons butter
1/4 cup chopped fresh basil leaves
1/4 cup grated parmesan
Instructions
Preheat oven to 450 F.  Lightly wash and slice heirloom tomatoes in half.  Place on baking sheet and drizzle with 1/2 cup olive oil.  Sprinkle with salt and pepper.  Roast in the oven for 20-30 minutes or until tomatoes begin to caramelize.  Remove from oven.
Slice onion and in a large stock pot on the stove over medium heat, cook onion with 3 tbl olive oil until onions caramelize. 
Want to pin this for later? Click on the image below!