This Kale and Pear Salad with Bacon vinaigrette is so easy to make, packed with flavor, and so delicious! It makes the perfect light lunch or appetizer!
Although National Salad month has come and gone, I'm still celebrating it all summer long! I love the combination of crunchy kale, creamy blue cheese, and juicy pear topped with crunchy bacon in this delicious salad. The bacon vinaigrette is light and coats the hearty kale leaves just perfectly.
What kind of Kale should I use for my kale and pear salad?
There are a few different types of kale you can choose from when making this kale and pear salad. I used curly kale because I love the texture, but here are a few other options:
Curly Kale: probably the first type that comes to mind when you think of kale, and the most common at the grocery store. It's curly edges give it that nice crispy texture, making it great for salads or sautéed dishes.
Red Kale: also known as "scarlet kale," is very similar to curly kale except for its appearance. Its leaves can range from a deep red to purple color but can be tossed into salads or seared in a quick sautée.
Tuscan Kale: Also known as Lacinato Kale or Dinosaur Kale, has a deeper color and is slightly thinner and more tender than curly kale. This makes Tuscan kale more versatile—it cooks more quickly and requires less massaging for use in raw preparations. It's perfect for salads or coleslaw, just remove the stems and go! Tuscan kale has a nice chewy texture that disappears when overcooked, so be sure to watch the stove carefully!
Baby Kale: A younger version of kale, usually found in a package of mixed greens for a salad. This gives a hint that you're better off using this to complement other greens in a salad.
Why do you need to massage kale?
You may notice that right off the stem, kale has a bitter bite to it. When you massage the kale for this kale and pear salad, it helps soften it up, and also release a bunch of bitter compounds that don't taste all that great. It also makes it easier to digest!
Giving it a quick three-minute massage will also release nutrients locked in those leaves like antioxidants and vitamin C! Breaking the cell walls by massaging, chopping, or blending (kale is great in smoothies!) will release these nutrients that heat alone can't do.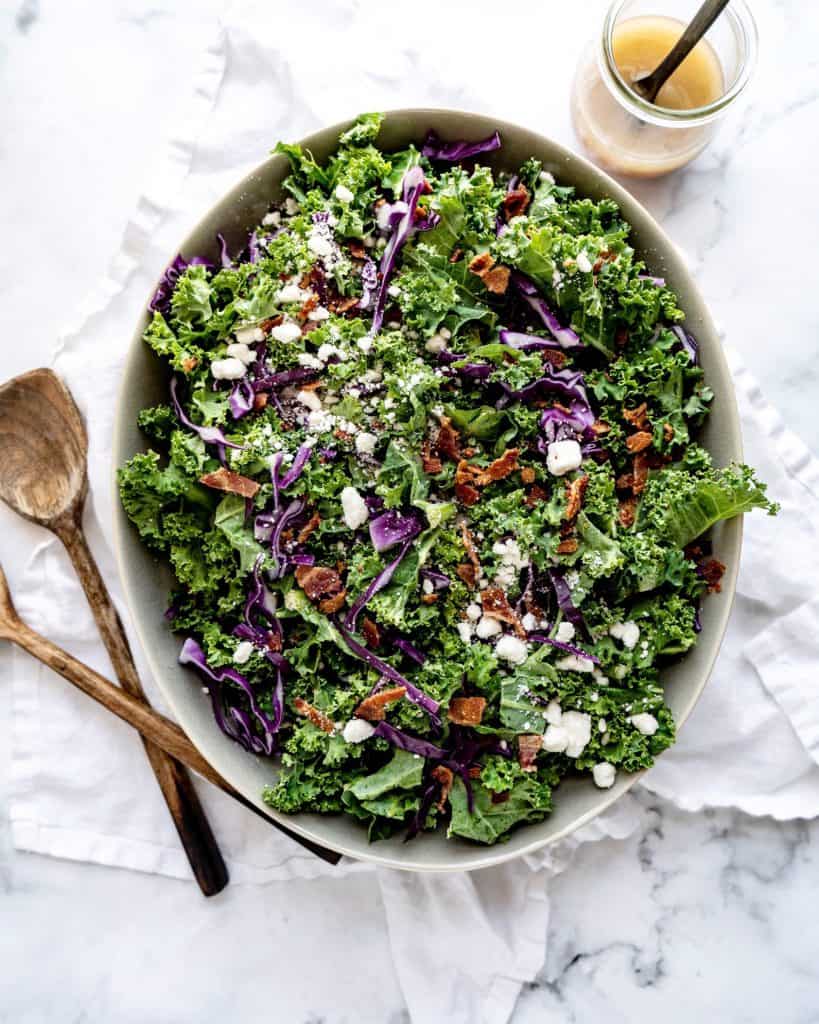 How do you massage kale?
The first step to making this kale and pear salad is removing the kale stems. You can simply slice them out using a knife or rip the leaves off with your hands. Cut the kale into ribbons and place it in a large bowl. You can massage kale by itself if you plan to add a dressing later. Or toss it in the dressing them massage after!
Massage the kale with your hands for about 2 minutes, until the kale just starts to wilt. The volume should decrease by about one third. You don't want to over massage, however, or your kale will look too limp and lifeless.
To see if you've massaged it enough, try a piece! You'll want to have a bit of crunch while not having to work too hard to chew it.
Still hungry? Check out my spicy cashew chicken!
Print
---
4 strips thickly sliced bacon, cut into 1/4-inch strips
1 tablespoon bacon fat
1 tbl extra-virgin olive oil
2 tablespoons red wine vinegar
1 tablespoon dijon mustard
1 tablespoon sugar
salt and pepper
4 cups kale, chopped and massaged
1 cup red cabbage, chopped
4 oz blue cheese crumbles
1 pear, sliced
---
Instructions
Cook the bacon on the stove until crispy.  Remove from pan and reserve bacon fat.
To make the vinaigrette dressing, combine bacon fat, olive oil, red wine vinegar, sugar, dijon mustard and salt and pepper in a bowl and whisk to combine.
Remove stems and slice kale into ribbons.  Massage for 3 minutes.  Combine with red cabbage. Sprinkle blue cheese and bacon over top.
Slice pear and place on top of salad.  Toss with vinaigrette dressing and sprinkle crispy bacon over top.  Serve! 
---
Want to pin this for later? Click on the image below!