This Bananas Foster Cake takes your favorite dessert and turns it into the most delicious layer cake! It's a dessert you'll be dreaming about!
Bananas Foster has been my favorite dessert for as long as I can remember. Something about those warm caramelized bananas and a hint of cinnamon served with cold creamy ice cream just makes me melt. Today I'm turning that classic dessert into a decadent layer cake! Layers of moist banana cake, bananas foster filling and fluffy vanilla buttercream… what more could you ask for in a cake? I'm partnering with Blue Chair Bay Rum to bring this dream to life!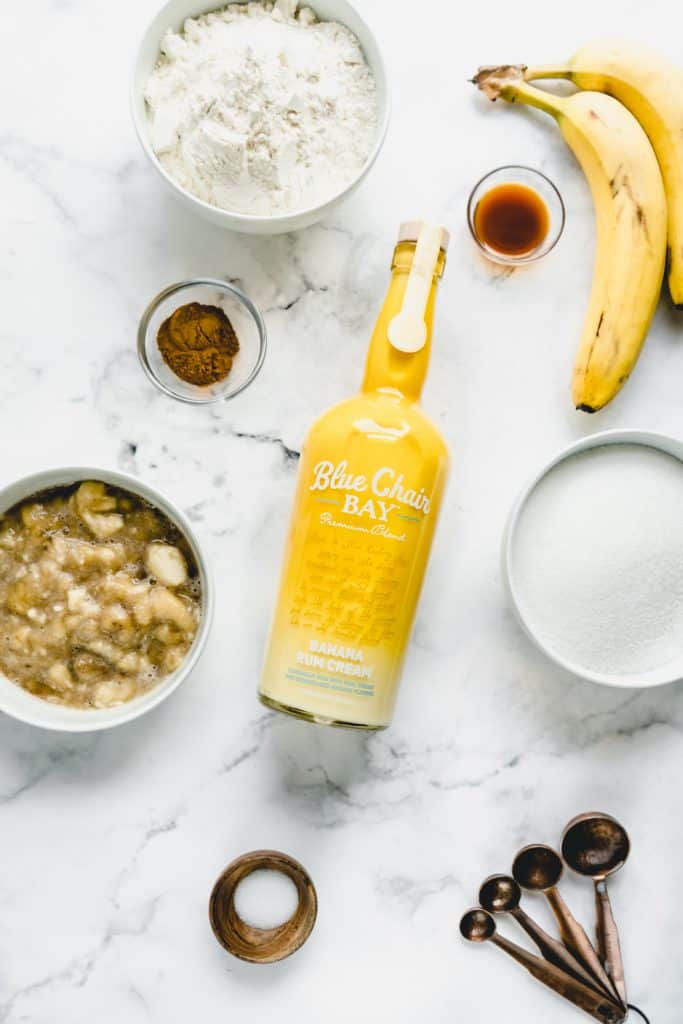 Who is Blue Chair Bay Rum?
This award-winning premium brand of rum is made with sugarcane molasses and all-natural ingredients! Owned by multi-platinum singer-songwriter Kenny Chesney, this rum was created in collaboration with one of the world's great master blenders, Mike Booth. It comes in the following bold Caribbean flavors: coconut spiced rum, banana rum, pineapple rum, white rum, spiced rum, coconut rum, vanilla rum, coconut spiced rum cream and key lime rum! Find your local carrier of Blue Chair Bay Rum here! Their Banana rum makes this cake over the top delicious! I used it in both the cake batter and the filling!
How do you make Bananas Foster Cake?
Make sure you're using ripe bananas: The best bananas for this bananas foster cake bread aren't yellow, they're least streaked with black and brown. The darker the bananas, the easier they are to mash and incorporate more smoothly into the batter, and the sweeter they are. This is because when bananas brown, more starch has converted to sugar.
Next, make sure your eggs are at room temperature. This helps your bananas foster cake bake evenly in the oven. If you forget to take the eggs out to warm to room temperature, just place them in a bowl of warm water for 5 minutes and you'll be all set!
Allow the cake layers to cool completely before layering and frosting. This is key to making a layer cake level and ensuring frosting won't be dripping all over the place.
Finally, create a dam of buttercream on the outside of each layer. This will prevent your bananas foster filling from spilling out the sides of the cake.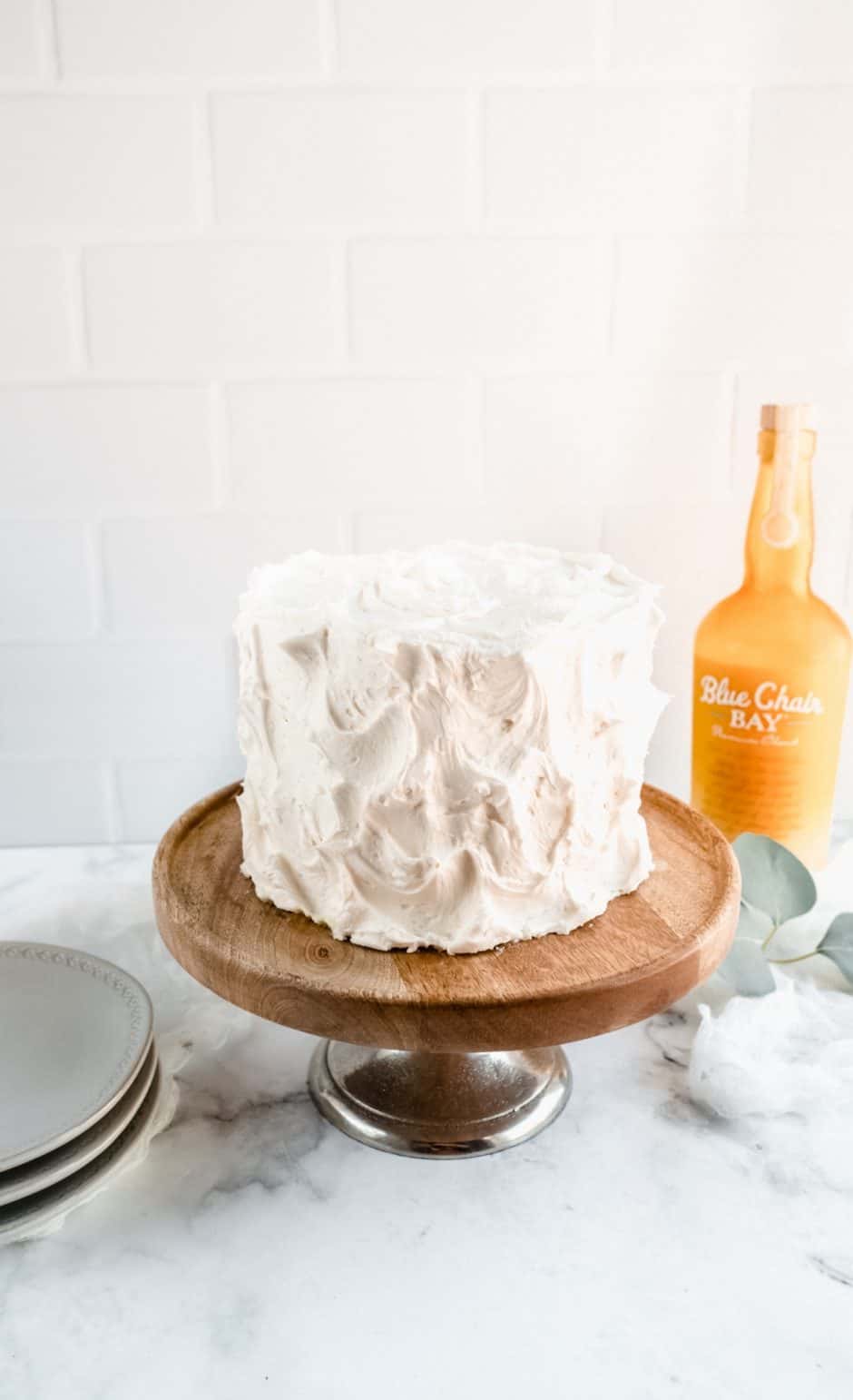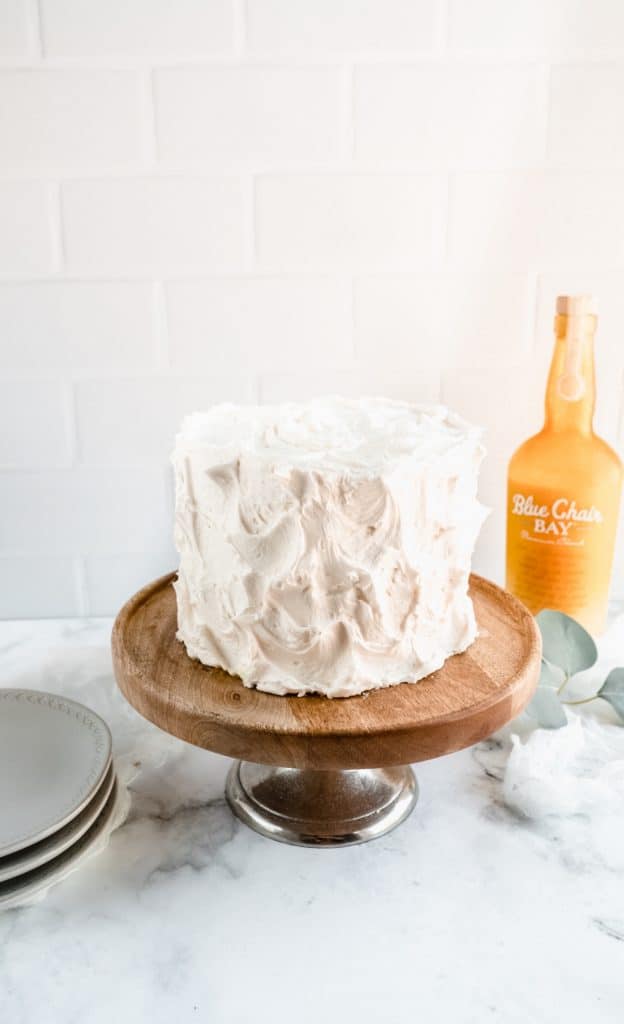 If you loved this recipe, be sure to check out my boozy key lime popsicles!
Print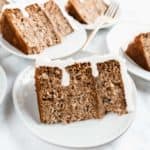 ---
For the cake:
1 cup ripe bananas, mashed (3 bananas)
2 tsp lemon juice
3 cups flour
1 1/2 tsp baking soda
1/2 tsp salt
3/4 vegetable oil
3 eggs
2 cups sugar
2 tsp vanilla
1 cup buttermilk
1/2 cup Blue Chair Bay Banana Rum
1/2 tsp cinnamon
For the filling:
4 bananas
1/2 stick butter
1/2 tsp cinnamon
1/4 cup brown sugar
1 tsp vanilla
2 tbl Blue Chair Bay Banana Rum 
For the frosting:
4 sticks butter
6 cups powdered sugar
2 tsp vanilla
2 tbl milk
---
Instructions
Preheat oven to 350°F
Grease and flour 3 x 6″ pans
In a small bowl, mix mashed banana with the lemon juice; set aside.
In a large bowl, combine oil, eggs, vanilla and sugar with a whisk.  Add bananas, milk and Blue Chair Bay Banana Rum. Add flour, baking soda and salt and mix with a hand mixer until just combined.
Pour batter into prepared pans and bake in preheated oven for 35 minutes or until toothpick inserted in center comes out clean.
Let layers cool completely.
While the cake is in the oven, make the filling.
Melt the butter in a heavy skillet over a medium-high heat. Add the bananas and saute for 2 minutes. Add cinnamon and brown sugar. Stir together and cook for a minute or two. Pour in the Blue Chair Bay Banana Rum cream and vanilla and stir to combine.  Set aside to cool.
Make the frosting by combining all ingredients in a stand mixer bowl.  Beat with a paddle attachment on high for 5 minutes.
Cut the tops off each cake layer to make even layers.  Put buttercream in a piping bag and create a dam of frosting around the first layer.  Put 1/2 of the filling inside the buttercream dam.  Place second banana cake layer on top and repeat.  Place last layer of cake upside down so that the side of the cake that was against the pan is on top.  Frost with buttercream as desired.
Want to pin this for later? Click on the image below!