This Thai Noodle Soup with Shrimp is super quick and so easy to make.  The red curry paste adds a little bit of heat and the splash of lime juice brightens it and brings everything together.
Thai has quickly become my favorite cuisine.  Ever since discovering how delicious Joy's Noodles Pad Thai was when we lived in Lakeview, my love has grown.  All the Thai dishes that I've had are full of complex and bold flavors. I can't get enough of creamy sweet coconut, fiery red curry paste, and a huge squeeze of tangy lime juice…. it's just the best combination of flavors. This thai noodle soup with shrimp is no exception.
There's something so comforting about a big bowl of soup.  Like a giant hug.  Winters in Chicago seem to last forever (i'm not even kidding), and now that I don't have to commute downtown for work anymore, I find myself hibernating.  Like a bear.  Put me in the house with a big bowl of soup and you probably won't see me for months at a time.
I could probably make this multiple times a week and not get sick of it.  Do you have foods like that? You could make them over and over and never tire of them?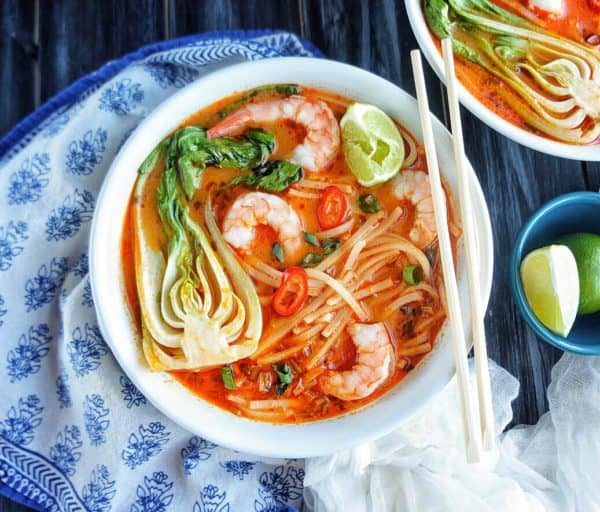 I added shrimp to this one because I had some on hand after my New Years Eve celebration, but you could add chicken if seafood isn't your thing.  Or any protein, really!  Garnish with some peanuts for a little crunch, extra cilantro and green onions to make this gorgeous bowl really pop.
Styling tips: Cut the the bok choy in half like below and let it braise really quickly in the soup.  When playing, lay it on top so it's beautifully displayed.  Garnish with slices of red chili peppers and make sure some shrimp are fully visible as well.  Squeeze a little wedge of lime on top and place it right in the bowl for some extra green.
Love this recipe? Try my asian meatballs with zucchini noodles or my spicy curry sweet potato noodle bowls
Print
Thai Noodle Soup with Shrimp
Author:

Nicole Triebe

Prep Time:

10 minutes

Cook Time:

30 minutes

Total Time:

40

Yield:

4 servings
---
2 tablespoons coconut oil
3 cloves garlic, minced
1 1/2 tablespoon fresh grated ginger
2 tablespoons Thai red curry paste
4 cups vegetable or chicken broth
1 (14-ounce) can coconut milk
1 cup water
1 tablespoon lime juice
8 ounces rice noodles
1 medium bok choy, trimmed and cut into 3-inch pieces, then cut sticks lengthwise
1 pound medium shrimp, peeled and deveined
Optional garnishes: Fresh cilantro, green onions, and red chilies
---
Instructions
Melt butter in a large stockpot or Dutch oven over medium high heat. Add shrimp, salt and pepper, to taste. Cook, stirring occasionally, until pink, about 2-3 minutes; set aside.In the same pot, Add garlic, bok choy, ginger and curry paste and sauté for 2 minutes to release the curry's aromas.
Stir in the broth, coconut milk and water. Bring to a boil.
Stir in the lime juice. Add the shrimp and rice noodles to the pot and allow them to sit for a few minutes until softened. Serve immediately, topped with optional garnishes.
---
Want to pin this for later? Click on the image below