This creamy Roasted Carrot and Rave® Apple Soup is hearty and packed with spicy ginger and turmeric. It's made with just a few simple ingredients, and so healthy for you!
**This post is sponsored by Stemilt World Famous Fruit. All opinions are my own**
This creamy roasted Carrot and apple soup is delicious year-round, but the warm spices and flavors make it perfect for fall! It's a great soup for beginners in the kitchen, too, because it's a simple blended soup! To add an extra layer of flavor, we're roasting the veggies, but otherwise, it's a quick simmer on the stove and blend! It's that easy!
What are Rave® Apples?
As I've mentioned in my past couple posts, I've been getting the most amazing shipments of veggies and fruits that have just made quarantine that much more tasty! My new obsession is Stemilt, which delivers the most delicious summer fruits right to your door! I got a big box of Rave® apples that I couldn't wait to dive into. They were perfectly juicy and crisp and my whole family loved them! We had a few left over and I had some carrots in my fridge, so I decided to get a head start on planning my holiday menu this year! After all, I am never sure when I'll have time being a new mom chasing a crawling baby around the house.
Stemilt and Rave® apples are currently running a rave-worthy campaign! Now more than ever, we need some positivity and good news to share! So, I wanted to pass the rave to my friends Seth and Ryan from Nude Dude Food! These gentlemen are deserving of some recognition because, during the pandemic, they've been donating their time and service in making the most delicious free sourdough bread and pizza! They accept donations, and a portion of their donation goes to different charities, including Green City Market, Black Lives Matter, and Bakers Against Racism! So they're definitely deserving of a rave from me! On one of my sourdough pick ups, they provided me with the most delicious spinach bisque, and it inspired me to make more soups like this Roasted Carrot and Apple Soup!
Be sure to visit Rave® apples on Instagram and give them a like! They're trying to become Instagram's first verified fruit, and they need your help!
How do I make Roasted Carrot and Apple Soup?
This roasted carrot and apple soup couldn't be easier to make!
The first step is roasting! When veggies are roasted, the dry heat of the oven caramelizes natural sugars and pulls out their sweetness. I simply seasoned the apples and carrots with salt and pepper and gave them a good drizzle of extra virgin olive oil. Then they went into the oven to roast for 20 minutes until they were tender and caramelized.
A few minutes before the veggies come out of the oven, you can heat olive oil in a dutch oven or large stockpot over medium heat. Add the onion and cook until translucent. Add garlic and cook for a minute before adding turmeric and ginger.
I'm adding turmeric to this soup for a few reasons. Turmeric is a super spice and has proven, strong anti-inflammatory properties that block the action of inflammatory molecules in the body. Studies show positive effects on people suffering from conditions such as rheumatoid arthritis and inflammatory bowel disease, amongst others!
Add the broth and veggies and let it come to a simmer. Cover and cook for 20 minutes. Remove from the heat and use an immersion blender to blend until smooth. If you don't have an immersion blender, use a regular blender but make sure it has a vent for steam.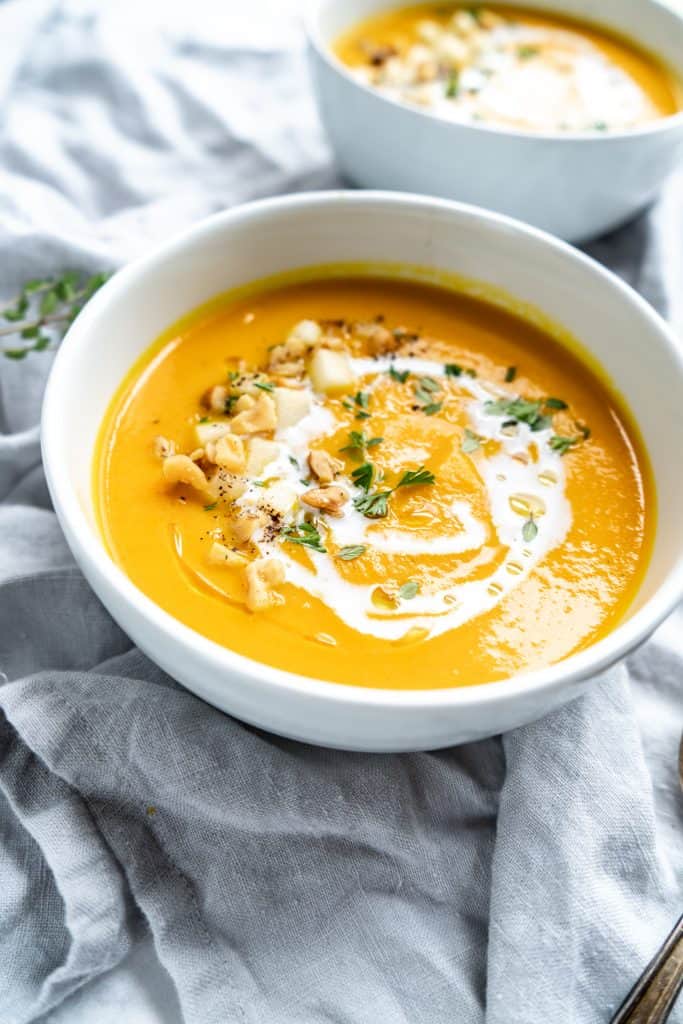 Print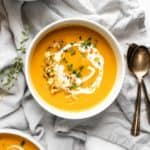 Roasted Carrot and Apple Soup
Author:

Nicole Triebe

Prep Time:

10 minutes

Cook Time:

40 minutes

Total Time:

50 minutes

Yield:

6

1

x
---
4 cups vegetable broth
4 Rave® apples, chopped (more for garnish optional)
1 lb carrots, chopped
1 onion, diced
2 sprigs thyme minced
1 tbl ginger
1 tsp turmeric
salt and pepper
Coconut milk, optional for garnish
---
Instructions
Preheat oven to 400 degrees F.
Peel and roughly chop Rave® apples and carrots.  Place on a baking sheet and drizzle with olive oil and add two or three sprigs of thyme.  Season with salt and pepper. Place in the oven and roast for 20 minutes.
A couple of minutes before the veggies come out of the oven, heat 2 tablespoons olive oil in a dutch oven or large stockpot on the stove over medium heat. Add onion and cook until translucent.  Add garlic and cook for 1 minute.
Add turmeric and ginger and cook until fragrant.  Add broth and carrots and Rave® apples and cover with a lid.  Let the soup come to a boil and reduce heat to simmer.  Cook for 20 minutes.
Blend soup with an immersion blender or blender with vent.
Ladle into soup bowls and garnish with coconut milk and more fresh thyme if desired.
---
Want to pin this for later? Click on the image below!