This creamy Instant Pot Broccoli Cheddar and Chicken soup tastes like it's from a restaurant, and can be made in under 30 minutes!
This fall and winter my kitchen has been Instant Pot central. Four out of seven dinners a week are made in my Instant Pot and it's been a game-changer as a new mom.
Previously, the slow cooker was my go-to as the "set it and forget it" dinner solution in the kitchen. However, since becoming a mom, the capacity in my brain that reminds me to make dinner at 8 am no longer exists. So the Instant Pot has become the "oops, I forgot it" dinner solution when I need a hot meal fast.
Soups made in the Instant Pot are one of my favorite things pretty much ever! I love the rich flavors that are created in the Instant pot that, on the stove, would take all day to do.
Is Instant Pot Broccoli Cheddar and Chicken Soup healthy?
Soup is a winter staple, and when it comes to picking favorites, this broccoli cheddar and chicken soup takes the cake! It's great for kids of kids because of its creamy texture and velvety cheesy texture and flavor and loved by mom and dad because it's secretly loaded with a ton of nutritious veggies. It's a great way to use up a leftover rotisserie chicken, too! I grab a rotisserie chicken from Costco every week and this is a great dish to add some extra protein to! One word that comes to mind when I think of this soup is YUM!
The vegetables are quickly pressure cooked in the Instant Pot and then the creamy and cheesy goodness is added into the same pot. It results in a soup that will knock your socks off! This Instant Pot broccoli cheddar and chicken soup is amazing served in bread bowls or served with some crusty bread.
How long does it take to cook soup in an Instant Pot?
One of the reasons I love cooking soup in an Instant Pot is because it reduces cooking time by up to 70%! Less cooking time means less energy consumed, too! In this Instant Pot Broccoli Cheddar and Chicken soup, the vegetables and broth are only cooked for a minute, plus the time it takes for the Instant Pot to come up to pressure. From there, it just takes minutes to stir in the milk and cheese. Dinner is ready in under 15 minutes!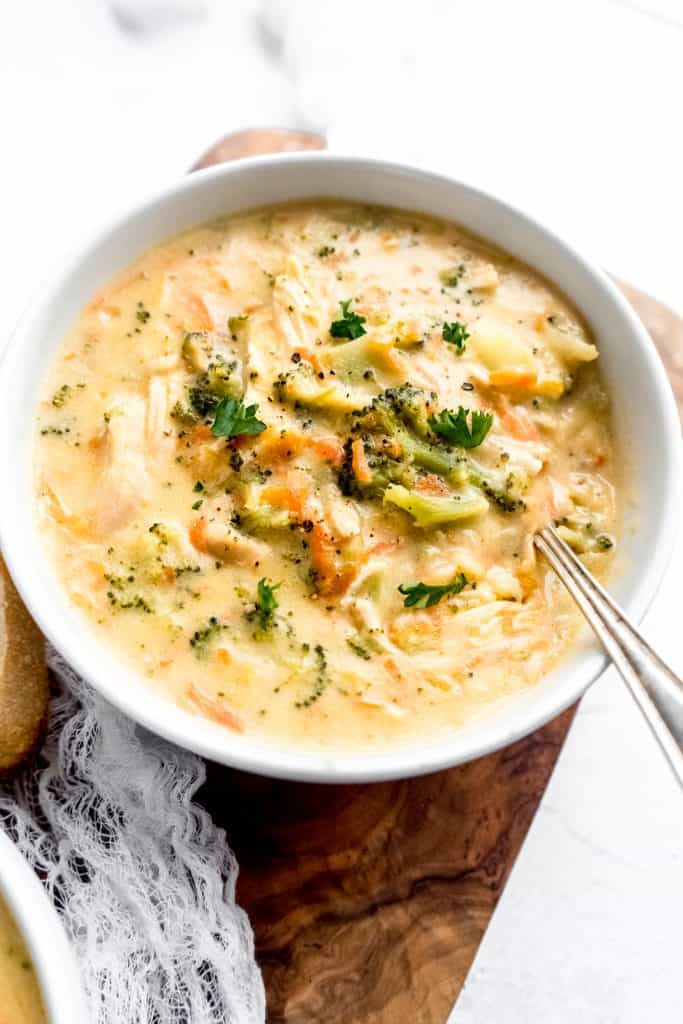 Can I use frozen broccoli instead?
Frozen broccoli is perfect for this soup! Use whatever you have in the fridge or freezer. No need to change the cooking time, either. Is the broccoli mixed with cauliflower? Throw that in too! Work with what you have!
What if I don't have an Instant Pot or pressure cooker?
I know not everyone wants to invest in every kitchen appliance, so this recipe can easily be made on the stovetop, too! Follow the recipe as directed, but instead of pressure cooking the veggies, just let them simmer in the broth until tender, about 20 minutes. Then, move on with adding the rest of the ingredients as the recipe calls for below.
Can I use frozen broccoli instead?
Yep! You can use whatever you have on hand. Frozen and fresh will both work the same in this recipe, and no need to change the cooking time. Score! And sometimes I use the frozen broccoli and cauliflower mix and it works just great too.
What should I serve with this broccoli cheddar and chicken soup?
Although this soup is hearty enough on its own, you may want to pair it with some crusty bread for dipping or serve with my kale and pear salad on the side to add more veggies to the meal!
Print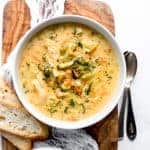 Instant Pot Broccoli Cheddar and Chicken Soup
Author:

Nicole Triebe

Prep Time:

10 minutes

Cook Time:

5 minutes

Total Time:

15 minutes

Yield:

8

1

x

Category:

Dinner

Method:

Instant Pot

Cuisine:

American
---
1 Tbsp butter

1/2 medium yellow onion, diced

3 carrots, shredded

4 cups coarsely chopped fresh broccoli florets

4 cups chicken broth (or 4 cups of water and 4 tsp of Better than Bouillon Chicken Base)

1/4 cup butter

1/4 cup flour

2 cups milk

1 (8 oz) block of sharp cheddar, grated

1/2 tsp salt

Freshly ground pepper, to taste

2 tablespoons corn starch
---
Instructions
Turn your Instant Pot on and press the saute function ("more") and melt the 1 Tbsp of butter. When the butter is melted add in the diced onion. Saute for 3 minutes until onions are translucent, or 3-4 minutes.
Add in the carrots, broccoli and chicken broth.
Cover the Instant Pot and lock the lid in place. Make sure valve is on "sealing." Set the manual button (or pressure cook button) to 1 minute.
While the pot heats up and reaches pressure melt your 1/4 cup of butter in a large stockpot. Slowly whisk in the flour to form a roux.  Set aside. Heat up the milk while the Instant pot time finishes. 
When the timer beeps indicating the time is up on your Instant Pot, do a quick release and remove the lid when you can.
 Turn the Instant Pot back to the saute function. Whisk one cup of the broth from the soup into the butter and flour mixture. Then add that whole mixture into the pot. Stir until the soup thickens.
Stir in the milk and half the cheese, until it melts. Stir in the rest of the cheese until completely melted. 
Stir in the salt and pepper.  Remove a ladle full of soup and place in a small bowl.  Mix in 2 Tbsp of cornstarch and whisk to create a slurry.  Add back into the pot and stir until the soup thickens.
Ladle into bowls and serve. Store leftovers in an airtight container in the fridge for up to a week.  This soup also freezes well.
---
Want to pin this for later? Click on the image below!