The ultimate easy appetizer is a charcuterie board, especially this one which is filled with a delicious combination of meats, cheeses, crackers and more!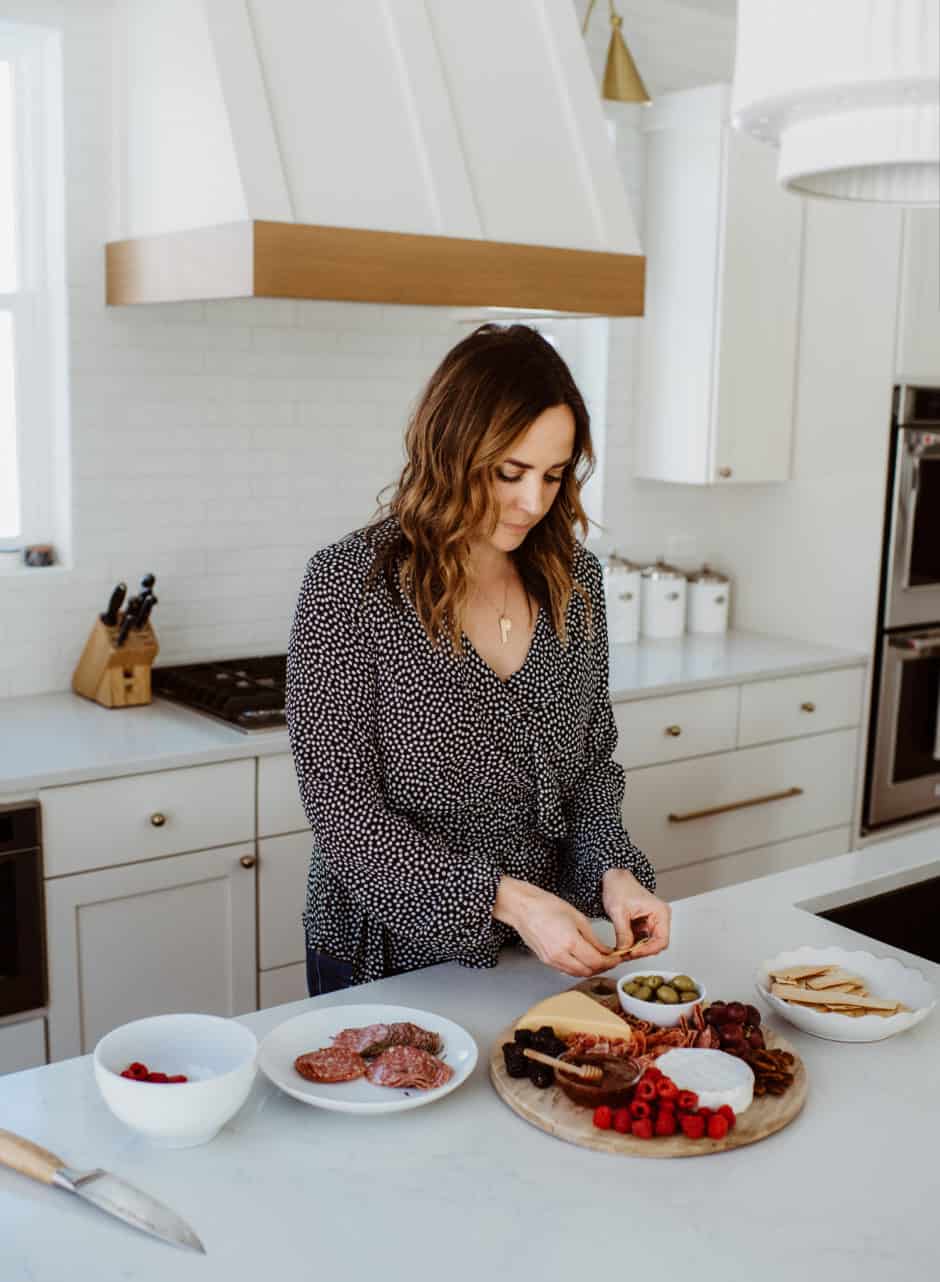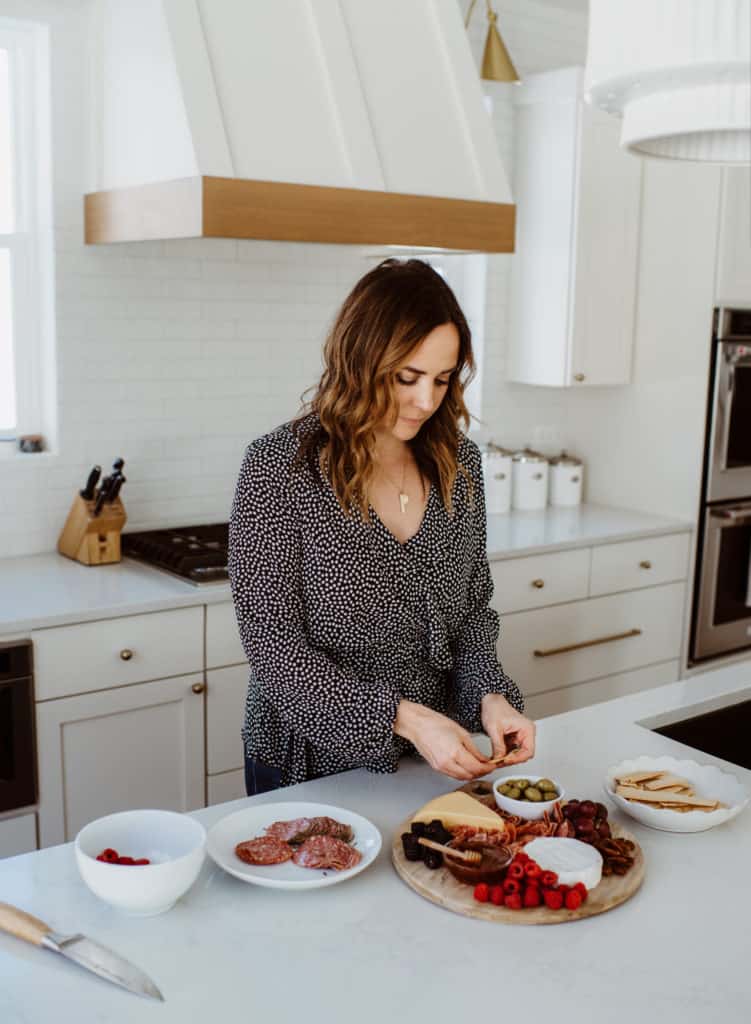 Charcuterie boards, sometimes referred to as charcuterie platters, are the ultimate easy appetizer! Especially this one, which is filled with delicious and carefully selected combinations of meats, cheeses, crackers and more! Charcuterie boards are the perfect no-cook appetizer platter for entertaining! There are many opportunities to gather throughout the year, and a charcuterie board is easy to customize and change with each season. My favorite thing to do when creating new charcuterie boards with each season is to take seasonal product from farmers markets and build the board around those ingredients.
How do you pronounce charcuterie?
If you're not familiar with the word, charcuterie (pronounced shar-kood-eree) describes any kind of cured meat and is typically associated with specialty and gourmet meats that are prepared using artisanal processes.
What is in a Charcuterie Board?
The term "charcuterie board" often refers to an assortment of meats that are paired with different accompaniments, such as toast, fruit, cheese, and sauces. If you want to offer charcuterie to your guests at your next gathering, there are a few basics to understand. First, identifying some of the most popular types of charcuterie, to what makes a really beautifully completed board.
I love charcuterie boards because they are crowd-pleasers, and are so stunning! As they say, you eat with your eyes first, so say good-bye to boring appetizers, and hello to mouth-watering meats and cheeses!
Best Meats for Charcuterie Boards
Pick an assortment of mild, medium and bold flavors when it comes to meats. For meats, I always include a hard salami, some salty prosciutto, and spicy soppressata to shake things up a bit.
Best Cheeses for Charcuterie Boards
Mix it up with some milder cheeses, and then throw in some bold flavors, as well as middle-of-the-road options. I always include Brie, strong gorgonzola, goat cheese, and then a standard and delicious aged cheddar.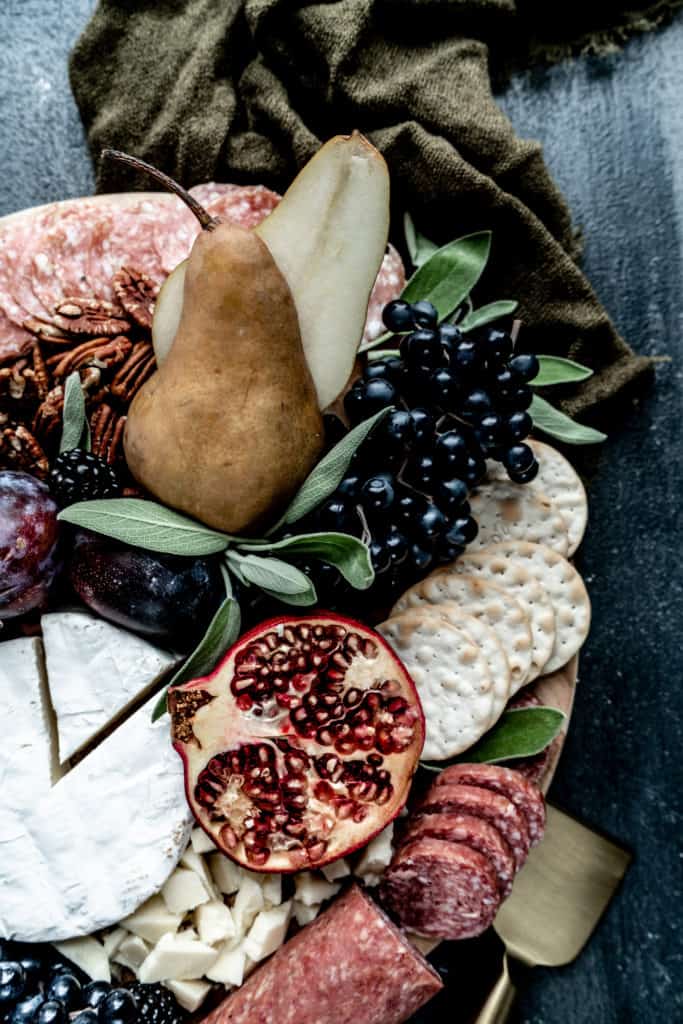 Adding Fruit
While the star of a charcuterie board should be the meat and cheeses, it is always a great idea to include fresh in-season fruit to add sweetness to the salty and change up the experience. If you want to get extra fancy, you can roast or grill fresh fruit. On this one, I included some dried apricots and grapes. I also love throwing in a couple of berries for garnish. Berries and fruit are a great way to add freshness and cut the richness of the meats and cheeses.
Dips for Charcuterie Boards
Include 1 or 2 jams or preserves for some added flavor and sweetness to balance out the dry and salty meat and cheese. Fig spread goes so well with many kinds of cheese and meats, so I always like to include it. I also like to include a pepper jam, this one was homemade from a friend of mine, but store-bought works great as well! I like to put them into white ramekins or small bowls for a more cohesive look, however the vessels you choose can add a big statement to any board! So get creative! I love these beautiful olive wood bowls for a fun option on a marble platter!
You may also include any of your favorite spreads, such as stone-ground mustard, hummus, or white bean dip, like this roasted garlic lupini dip! These spreads are great for smearing on a cracker and layering with meat and cheese.
Crackers & bread:
While your guests can get along perfectly well without crackers or sliced baguette, these items can be great for pairing a variety of ingredients for providing stability to the bite. When choosing crackers, be sure to pick ones that won't compete with the flavors of the cheese, but will compliment it! A simple cracker, like these water crackers, don't have a lot of herbs or salt added. so they won't detract from the flavor of the meats and cheeses. If you're creating a fall themed board, I like to add crackers like these pumpkin cranberry crisps, or fig and rosemary crisps.
Other Ingredients
I love anything pickled. They're a perfect complement to your meats and cheeses. Pickled vegetables, such as gherkins or pickles, olives, pickled jalapenos or pepperoncinis are great on charcuterie boards. They pair so easily with everything on the board and add a little tang. Add these in a small white ramekin as well!
Wine pairings
When appropriate, include alcohol to your charcuterie experience. Wine and beer pair excellently with meat and cheese and can enhance the flavor experience. Generally speaking, you want to pair bold-flavored meat and cheese with bold-flavored alcohol. For instance, goat cheese, smoked salmon and prosciutto pairs well with white wine, while salami, cheddar, and blue cheese go great with red wine. Champagne goes well with brie, so pop that bubbly!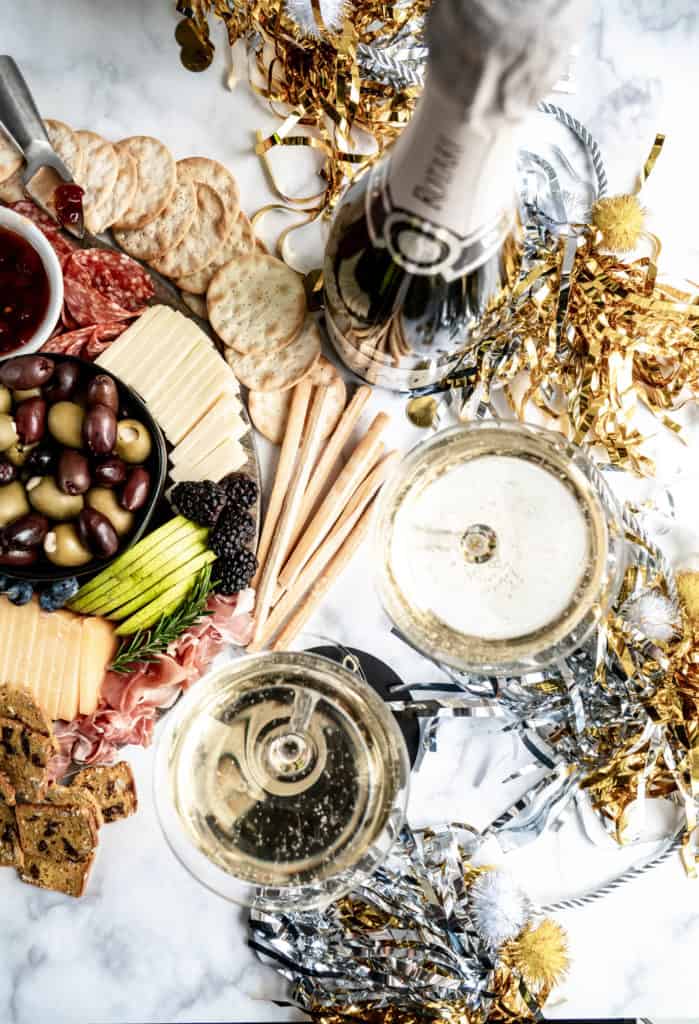 How much cheese and meat should I buy?
If the meat and cheese tray will be one of several appetizers, plan for 1 to 2 ounces of meat and 1 ounce of cheese per person. If it will be the only dish, expect to serve 2 to 3 ounces of meat and 2 ounces of cheese per person.
How to arrange a charcuterie board
When putting all of these delicious elements, you'll want to remember these tips: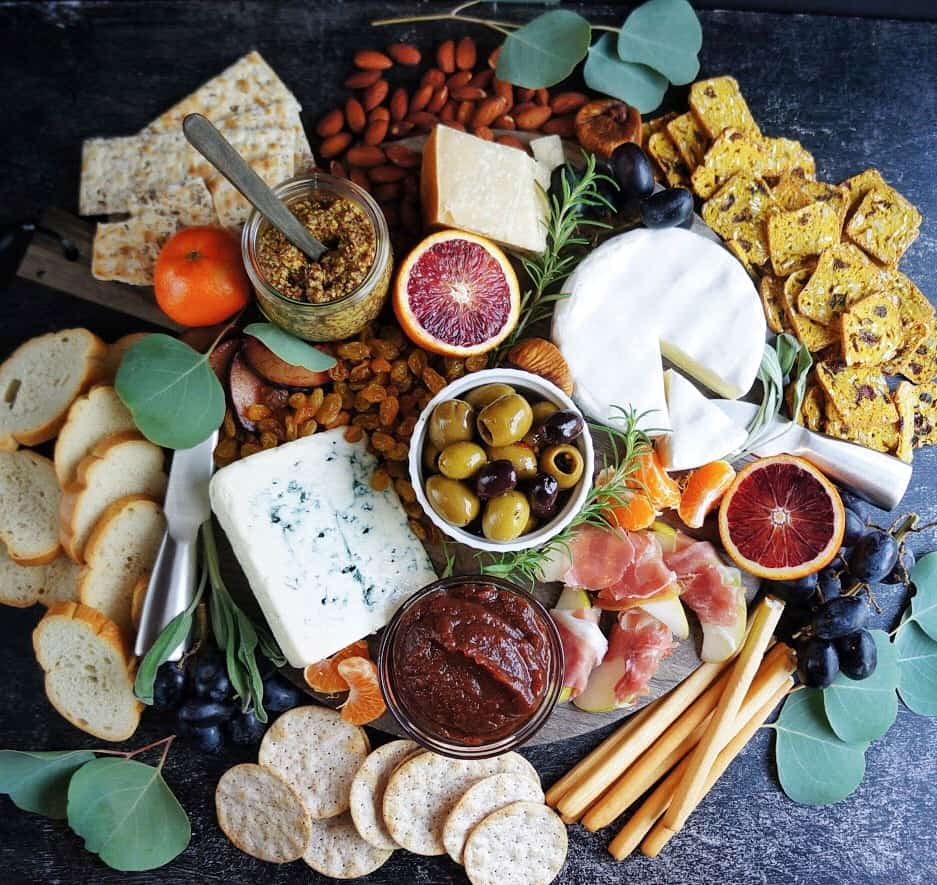 Start with bowls or larger cheeses.
Your charcuterie board may include a variety of spreads, preserves, mustards, or dips. Starting with the bowls acts as an anchor for the rest of the ingredients. Use a variety of sizes to create some interest for your guests. If your board doesn't have bowls, start with larger cheese, like a wheel of brie. The rest of the ingredients will be built around these items to create an aesthetically pleasing experience for your eyes.
Arrange everything so it compliments each other.
I love to alternate meat, cheese, and fruit. Additionally, alternate colors if you can. Break up the white cheese sections with darker fruits or a flavored cracker! I also love to fill in the spaces with spiced nuts, which are great to pair with both cheese and cold cuts. And we can't forget the crackers! I stick the crackers in-between spaces on the platter.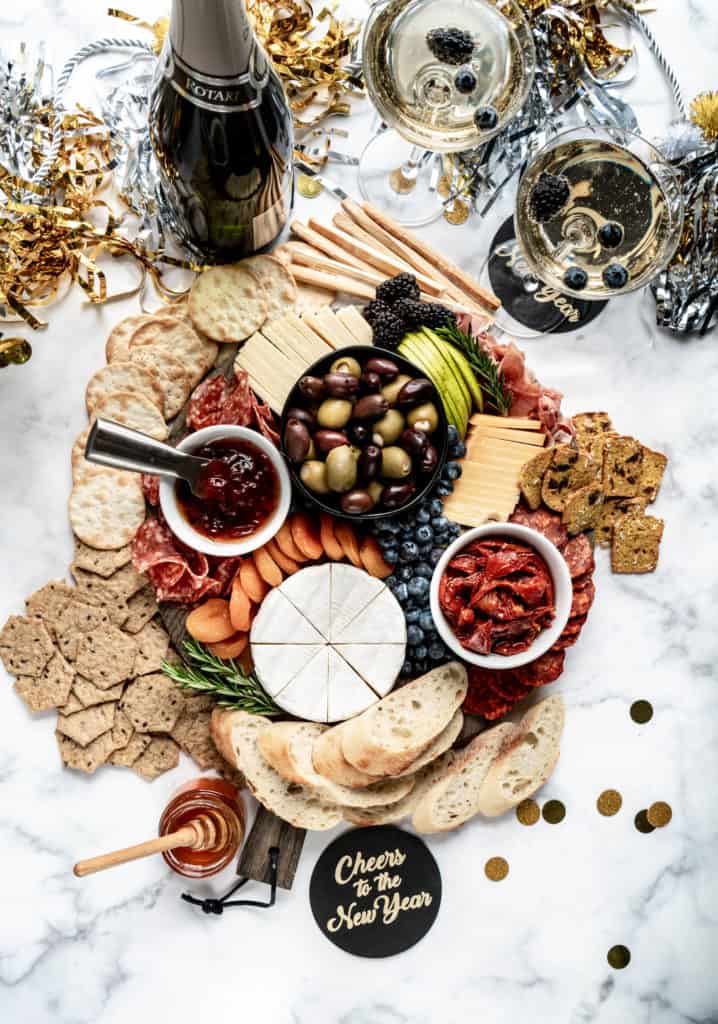 How should I present the meat?
To create a gorgeous presentation of meats, if they're round, fold in half and then half again, and place the open end up on the board. If you're including prosciutto on your board, pull the thin slices apart and allow them to fall on top of each other like a curly ribbon
Should I cut the cheese?
If you're including large rounds of cheese in addition to the smaller squares that often come in packs from the grocery store, I like to cut the rounds into wedges for easy access for your guests. Keep them placed together so that the cheese doesn't dry out too much. That allows your guests to easily grab a slice and it still looks gorgeous. Include party toothpicks near the board for easy access.
Don't be afraid of overflow!
I like a little spilling off the board. In this case, more is more. You want your board to be the star of the show, so the more dramatic, the better!
What kind of platter should I use?
If you're entertaining a crowd, a large round platter is the best option. I used a round platter from Crate and Barrel which is sold out, but you can find similar ones here, here and here. Another popular pick is this large wood cutting board. If you're making a small cheeseboard for date night, a small square or rectangular board is a great option. This also works if you have other appetizers you're serving at a party, and a smaller charcuterie board.
Make sure to include some cheese knives so that your guests can cut the larger chunks as they choose. Use the wide knife to divide soft cheeses such as brie, the narrow plane knife to portion wedges of semi-hard cheeses such as Gouda, and the pronged knife to easily pierce hard cheeses such as parmesan. You can also include chalkboard cheese labels to mark each kind of cheese so there's no guesswork!
If you loved this post, be sure to check out how to make a football charcuterie board and a fall cheese board!
You can also FOLLOW ME on INSTAGRAM, PINTEREST, and FACEBOOK for more great recipes! 
Print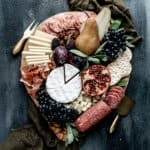 Fall Charcuterie Board
Author:

Nicole Triebe

Prep Time:

10 minutes

Total Time:

10 minutes

Yield:

10

–

1

5

1

x

Category:

Appetizer

Method:

Raw

Cuisine:

American
---
1 wheel of brie
1 block of Aged Cheddar
1 block of gruyere
1 Bosc Pear
Genoa Salami
 Tartufo salami
Concord Grapes
Pomegranate 
Plums
Prosciutto
Almonds or Spiced Nuts
Fresh Sage or rosemary for garnish
---
Instructions
Start the board by placing the wheel of brie a little below the center and to the left.  Start by slicing one wedge and leave a cheese knife on the side so that your guests can slice more.
Next Place the sliced pear in the upper right middle.  
To the upper left of the brie, slice the gruyere and place the slices standing up on the left side of the circle board.  
Next to the gruyere, lay down slices of genoa salami.  You can either lay them flat or fold them twice like I described in my post. 
In the lower right hand corner of the board, lay the Tartufo salami with a few slices already cut.
Under the sliced gruyere, gently pile the prosciutto on the board by letting the strip fall on top of itself like a ribbon.  Continue to do this until the space is filled.
In the spaces left, fill in with chunks of aged cheddar, grapes, and spiced nuts.  
Garnish with fresh sage and rosemary popping out between the different elements on the board.