Looking for a delicious dish to bring to the next game? This Chicken Caesar Pasta Salad will be a touchdown at your next tailgate!
Love the game day tailgate and all the mouthwatering food involved? You've come to the right place! I'm partnering with Solo Cup to show you a tasty tailgating side dish that's a breeze to prepare, and will be a hit with both teams!
What kind of pasta should I use for Chicken Caesar Pasta Salad?
I'm using Farfalle for this chicken caesar pasta salad because the shape is adorable, but some alternative options are: penne, cavatappi, and Rotini are all great pasta shapes for this dish. You want to choose a dried pasta (not fresh), and make sure it can hold up when it's tossed with the caesar dressing and other ingredients in the dish.   Best choices are short pasta shapes with plenty of nooks and crannies.  Their size makes them easy to serve and eat, and their grooves and nooks provide plenty of spaces to hold dressing, cheeses, and other scrumptious ingredients.
How do you make Chicken Caesar Pasta Salad?
This tailgate side dish couldn't be easier to make! I'm using a leftover rotisserie chicken, a pre-packaged Caesar salad from my local grocery store and some of my favorite bottled Caesar dressing, so this should be a snap! Let's start from the beginning:
First things first: Boil the pasta. Easy enough, right? When testing the pasta for doneness, make sure that it's truly al dente.  This will ensure that it will hold up when all of the other ingredients are added.  The last thing your guests want is mushy noodles!  After the pasta is drained, run it under cold water to make sure all carry over cooking has stopped.  Once completely cooled, you'll move on to the next step.
Next add the rest of the ingredients! Couldn't be easier.  Put the cooled pasta into a big serving bowl.  Cut up a leftover rotisserie chicken, a handful of sliced grape tomatoes and add it all to a big bowl.  Toss with your favorite Caesar dressing.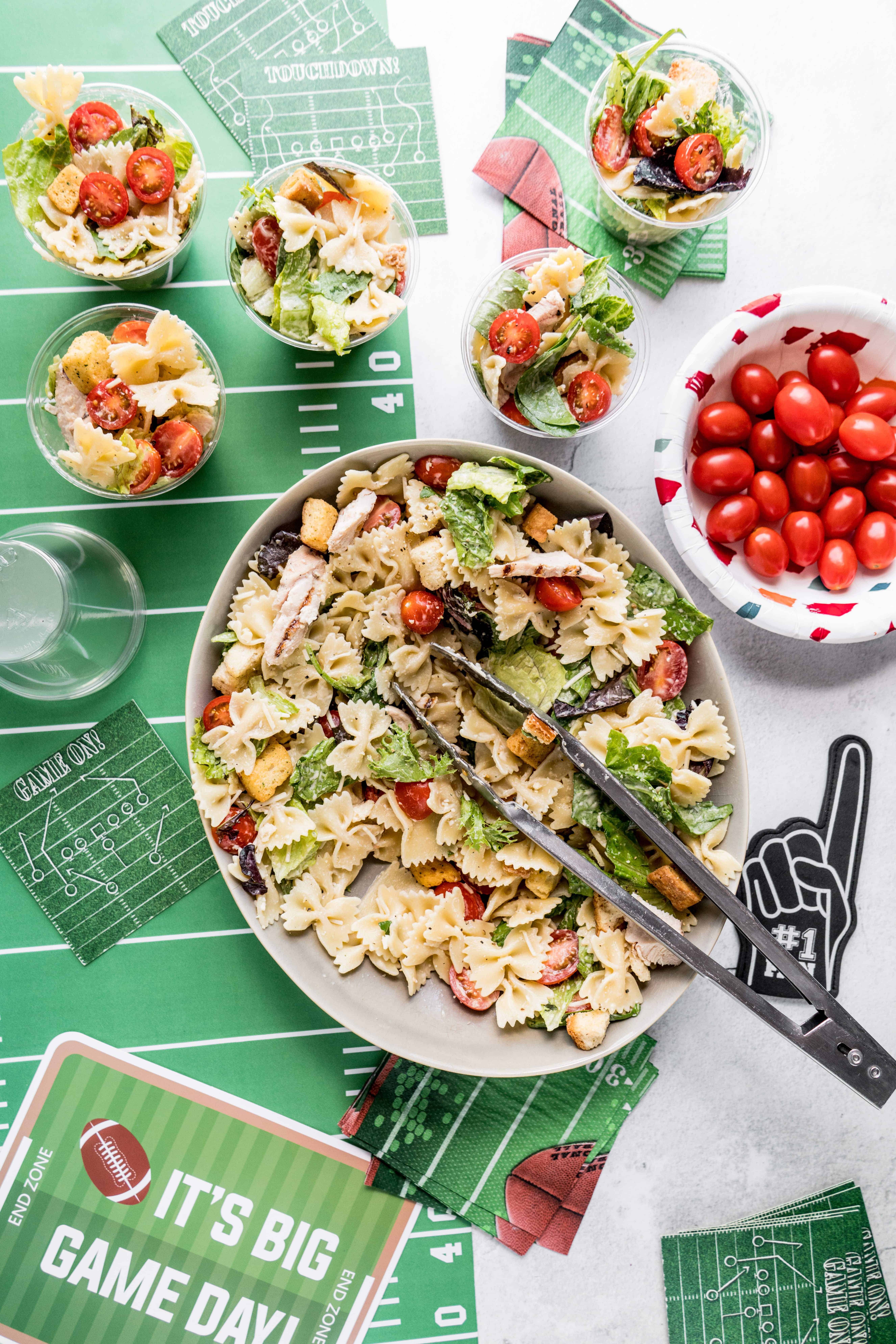 How much pasta salad will I need to feed my guests?
I always have to stop and some some math when I am prepping food for a party.  My rule of thumb is to first take the number of guests and round up.  For pasta salad, you should estimate that each guest will eat 5 ounces of pasta salad.  If you're having 20 people over, multiple 20 by 5 oz to get 100 oz, then divide by 16 (for 16 oz per pound).  That equals 6.25. I would round this up to either 6.5 or 7 pounds of pasta salad.  I am a huge fan of leftovers so 7 is my magic number.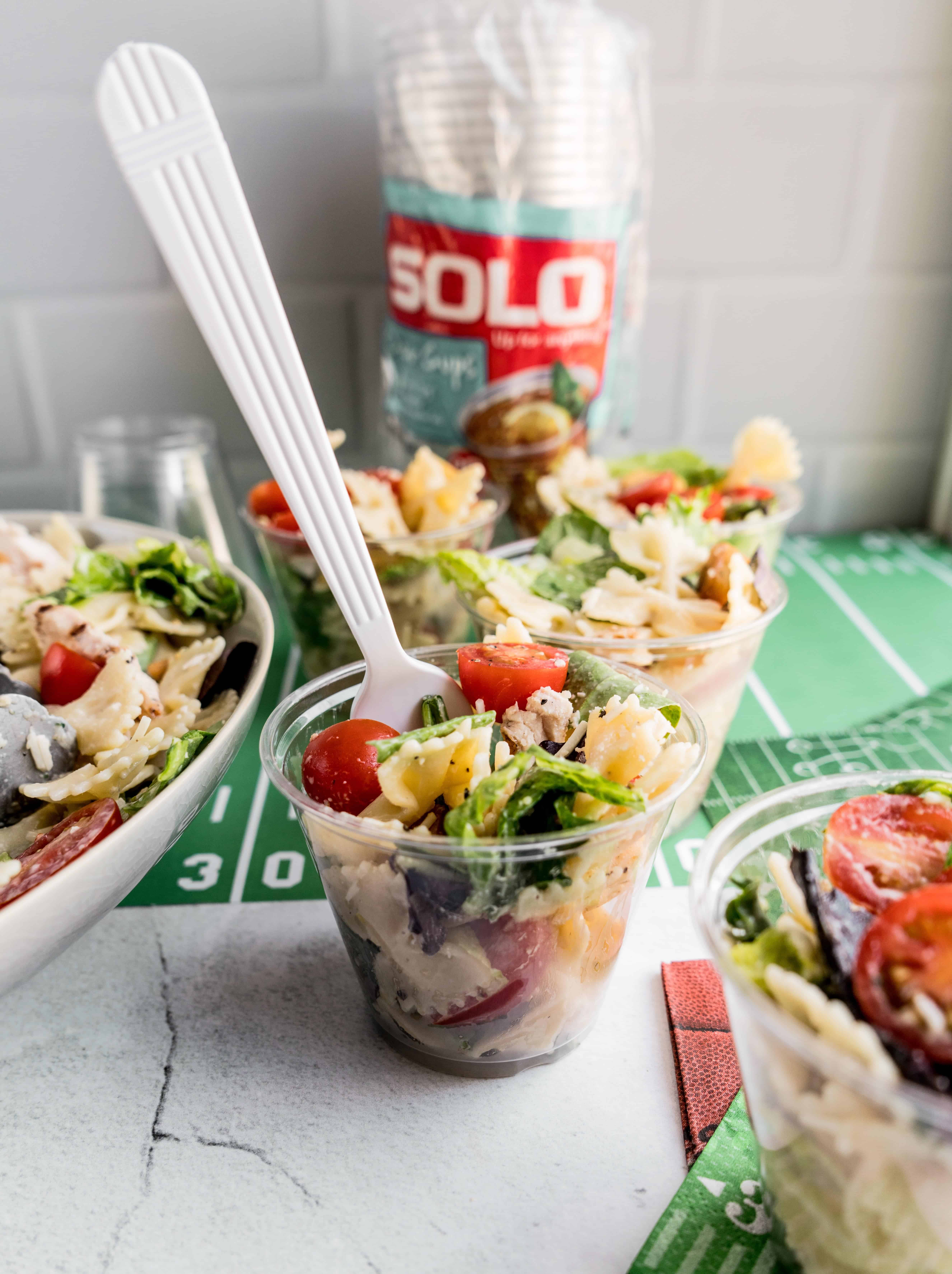 How should I serve the pasta salad to my guests? 
If you're anything like me, and most tailgates I like to walk around, mingle with other football fans, (and let's be honest), check out what dishes they brought!   That means my food has to come with me!  Keeping that in mind, the serving vessel for my chicken caesar pasta salad has to be portable and easy  thinking about serving vessels at any tailgate party, you want to remember that most guests won't be seated. That's why Solo's 9 oz clear plastic cup is the perfect vessel for my chicken caesar pasta salad!  It's a great size for a single serving, and perfect for a game watcher on the go! Stick a fork in each individual cup and your guests will be happy!
Now grab a cocktail (don't forget your Solo cup!) and let's get tailgating!
Still hungry? Check out my pulled pork nachos!
Print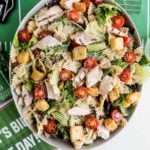 Chicken Caesar Pasta Salad
Author:

Nicole Triebe

Prep Time:

5 minutes

Cook Time:

10 minutes

Total Time:

15 minutes
---
8

oz.

uncooked pasta, such as rotini or penne

10 oz

Pre-packaged Caesar Salad

1/2 cup

grated parmesan

Shredded rotisserie chicken or chopped chicken breasts

Croutons (optional)

Parmesan cheese, for serving

10.5 oz

package grape tomatoes, sliced in half

2/3 cup

Caesar dressing
---
Instructions
Cook pasta until al dente, according to package.
Let pasta cool
Combine pasta and the rest of the ingredients in serving bowl and toss to combine.
---
Want to pin this for later? Click on the image below!