These Champagne Floats are a festive way to celebrate a holiday or special gathering! Combine ice cream with some bubbly for a special dessert cocktail!
Champagne floats are the new mimosas! I'm partnering with PureCircle Ice Cream today to show you how to put a frosty twist on this classic drink.  They're the sweetest way to celebrate a special occasion. Not to mention, they are just gorgeous!
By just using three ingredients, you can make a delicious boozy treat for all your guests.  I've recently discovered PureCircle Ice Cream and I can't get enough!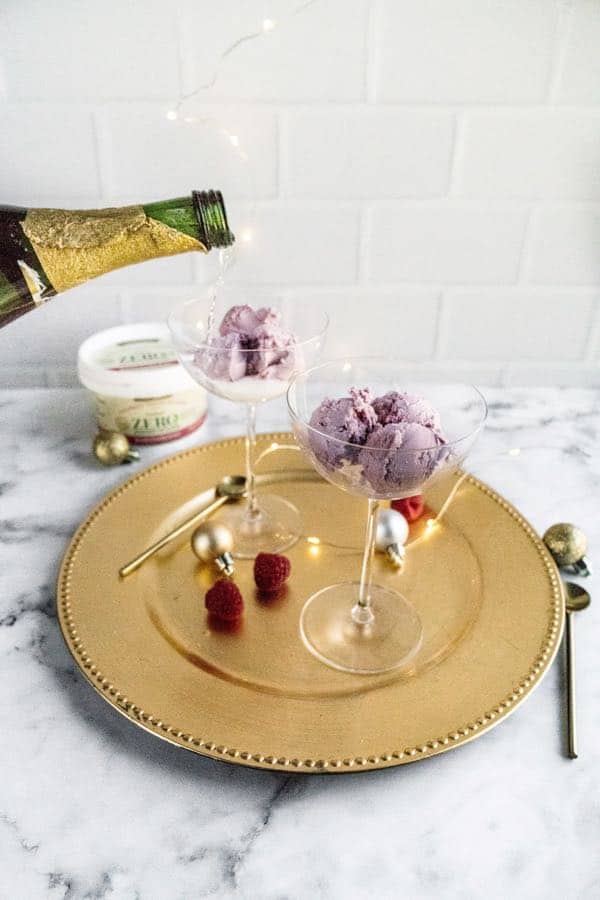 Who is Pure Circle Ice Cream?
PureCircle's delicious gourmet ice cream has zero added sugars and is sweetened with PureCircle's next generation stevia leaf ingredients. The stevia leaf sweeteners have zero calories, sugar-like taste profile and are all non-GMO!
Just over the summer they launched five delicious flavors
of their gourmet ice cream: vanilla, chocolate, salted caramel, coffee and my favorite, the rabanaberry flavor! They're all sweetened with PureCircle's next generation, non-GMO stevia leaf ingredients.  Rabanaberry's unique combination of Raspberries, bananas, and blueberries was the perfect addition to some bubbly to make a mouthwatering vegan dessert cocktail!
The combination of PureCircle's Rabanaberry ice cream not only makes these drinks so festively delicious, but it will also win over those people who usually pass on the bubbly!  So let's grab those bottles and get pouring!
What is stevia?
The stevia plant is a member of the sunflower family!  Stevia grows in Paraguay and Brazil, where people have used leaves from the stevia bush to sweeten food for hundreds of years.  Today, stevia is largely used as a sugar substitute.  Stevia has no calories, and it is 200 times sweeter than sugar in the same concentration.
How can I purchase Pure Circle Ice Cream?
PureCircle's ice cream trucks are now in Chicago for a limited time!  Head over to their purchase page to find out more info!  You can also follow Pure Circle on social media at @purecircleicecream!
How Do I make a champagne float?
Making these boozy floats couldn't be easier! Just follow these steps for a delicious ice cream treat!
I love this frozen twist on a classic mimosa.  These champagne floats are the perfect fruity way to end a fall gathering with friends, or celebrate a special occasion with family!
Still thirsty? Be sure to check out my Bailey & S'more's Ice Cream Float
If you loved this recipe, please rate it with 5 stars in the comments below!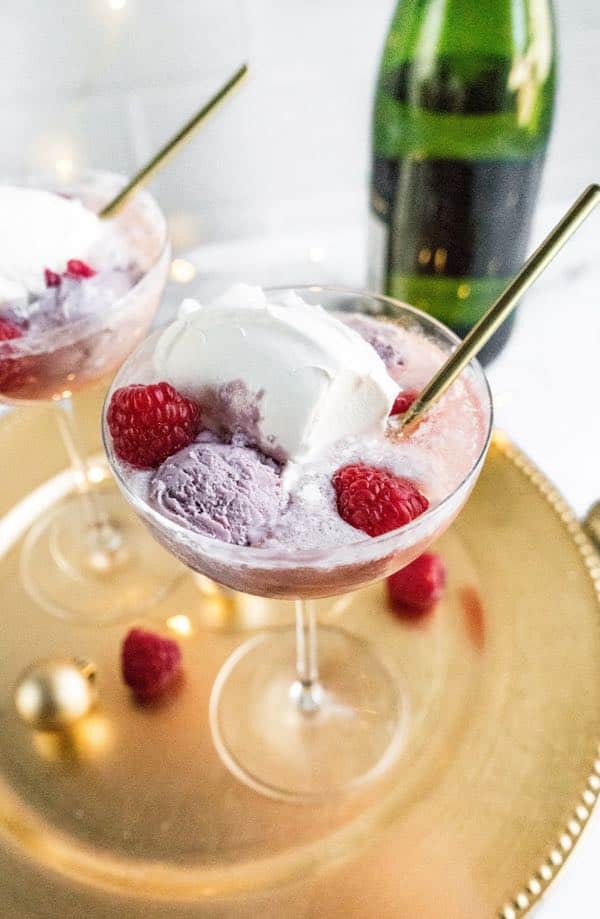 Print
Champagne Floats
Author:

Nicole Triebe

Prep Time:

5 minutes

Total Time:

5 minutes

Yield:

1

1

x
Want to pin this for later? Click on the image below!