Satisfy your french fry cravings with half the guilt! My air fryer greek french fries are crispy and delicious, without using a ton of oil!
If you've been following me for a while, you know about my love for Greek food.  While honeymooning in the Greek Islands, my wife and I fell in love with their culture, beautiful scenery and the insanely delicious food! One of my favorites was the simplicity of their french fries.  By just using a couple ingredients, you can make a simply satisfying side dish for any meal!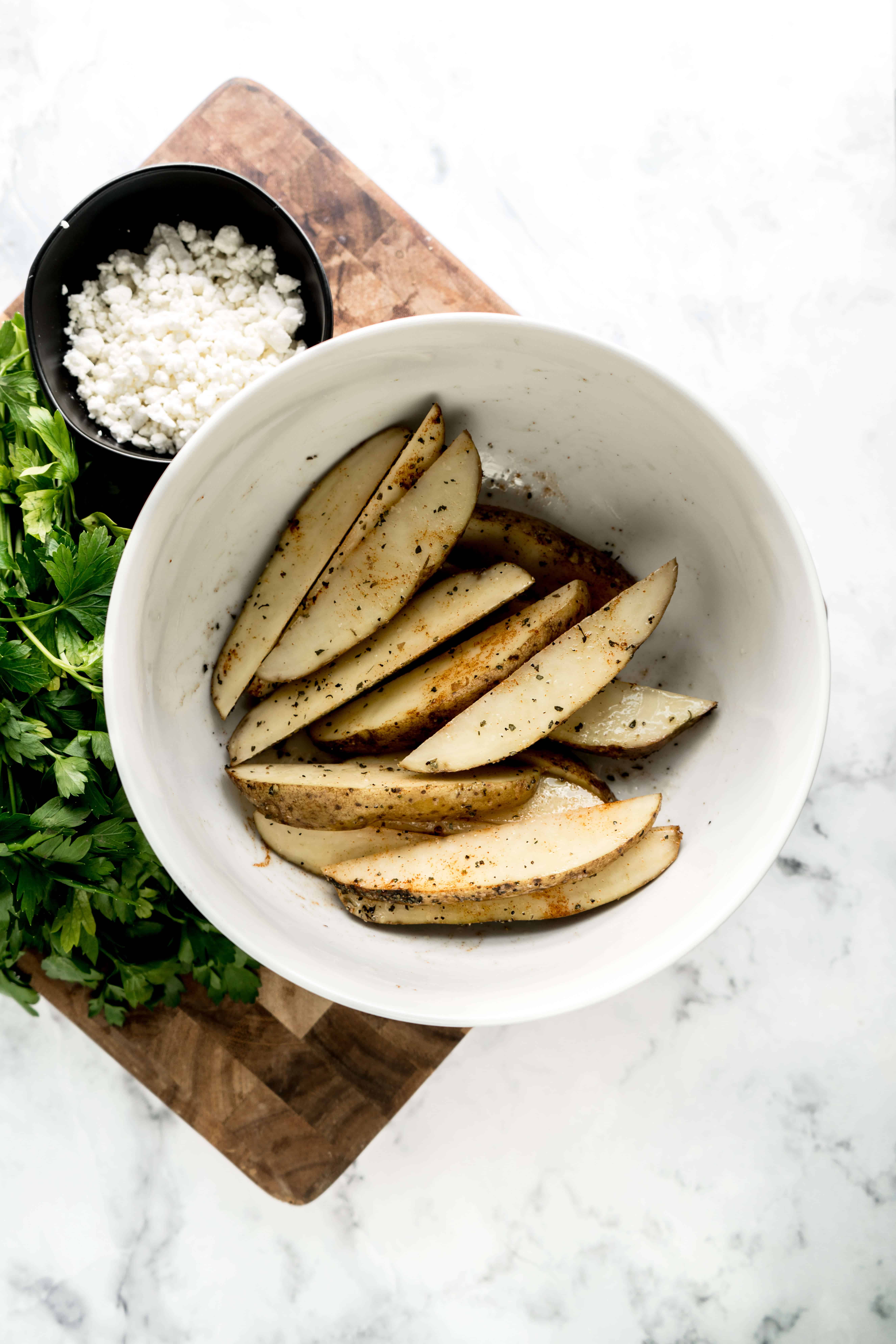 Why are air fryer french fries healthier?
If you're not familiar with what an Air Fryer is, this new kitchen appliance uses circulating hot air to cook food similar to a small convection oven.  Compared to using a deep-fryer, the air fryer reduces the amount of fat and calories in your food. It has cut my cooking time in half and made foods that would normally be loaded in calories so much healthier! 
That means long as you don't eat the whole basket of air fryer greek french fries,  they're so much healthier than oil-fried potatoes! Typically, a few cups of oil is used for frying french fries.  With air fryer french fries, just two tablespoons is used! That's a huge difference in fat and calories. If you want to make even more of a cut in a calories, you can using a coconut or avocado oil spray!
How do I make air fryer greek french fries?
Start by washing and cutting a medium size potatoes into french fry sizes. I sliced the potato in half length-wise, cut in half again length-wise, then again.  They'll look like long wedges.  Try to keep them as evenly sized as possible to ensure even cooking.
In a large bowl, toss the wedges with olive oil, salt, pepper, oregano, and paprika.  Usually I'd add some garlic powder to my potatoes, but today we're serving these air fryer greek french fries with a spicy garlic yogurt dipping sauce!
When putting the wedges in the air fryer, make sure that they're spread evenly in the basket.  If there are layers of potato wedges in the air fryer, make sure you shake the basket half way through cooking.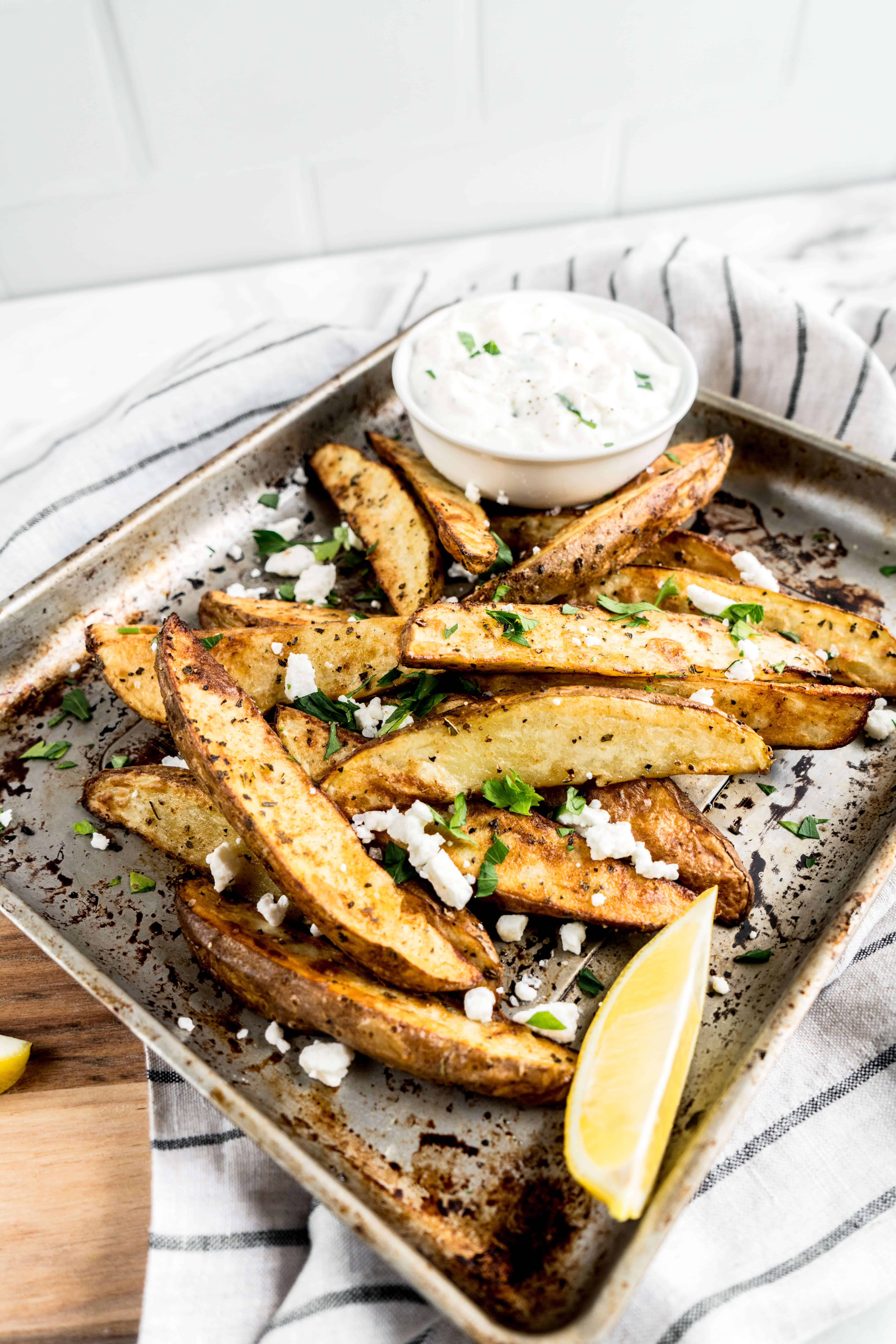 While the fries are cooking, mix up your dipping sauce!
Combine the following in a small bowl:
1 cup greek yogurt
Juice from 1 lemon
4 garlic cloves
4 tbl olive oil
1/2 tsp salt
1/2 tsp pepper
1/4 cup crumbled feta
Whisk to combine and set aside.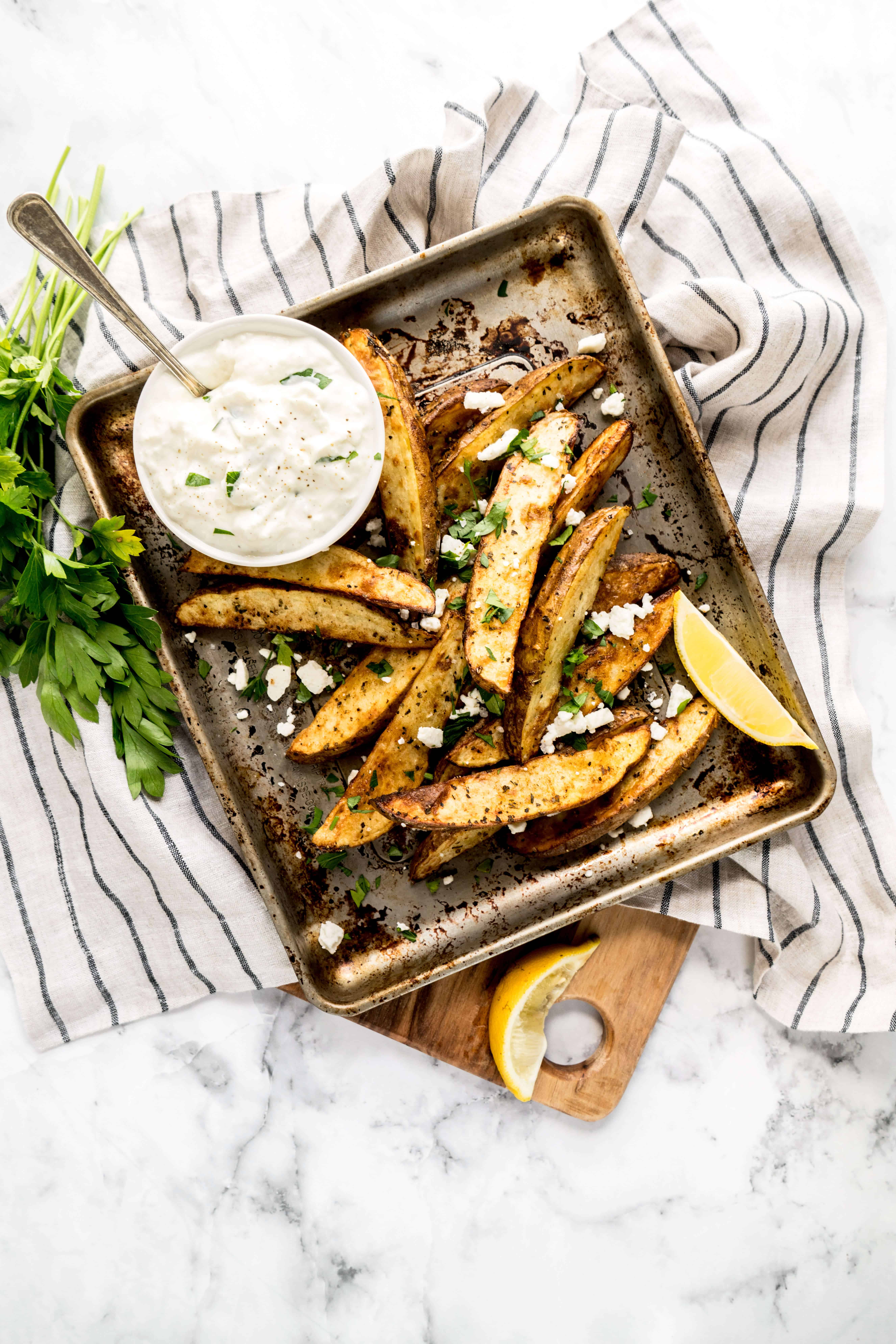 Once the cooking time is up, remove from the air fryer and place on your serving platter.  Squeeze a half lemon over the fries (you can use more or less depending on your taste).  Top with crumbled feta, dried oregano and freshly chopped parsley.  Serve with a slice of lemon and the spicy yogurt dipping sauce!
Still hungry? Check out my whipped feta dip with sundried tomato!
Loved this recipe? Be sure to rate it with 5 stars in the comments below! 
Print
Air Fryer Greek French Fries
Author:

Nicole Triebe

Prep Time:

5 minutes

Cook Time:

13 minutes

Total Time:

18 minutes
---
For fries
1

pound

fresh potatoes

, cut into wedges

1

tbl olive oil

1 tsp

paprika

1 tsp

oregano
Kosher salt, to taste

ground black pepper

, to taste
For dipping sauce
1 cup greek yogurt
Juice from 1 lemon
4 garlic cloves
4 tbl olive oil
1/2 tsp salt
1/2 tsp pepper
1/4 cup crumbled feta
---
Instructions
Combine the ingredients for the dipping sauce in a small bowl. Whisk to combine and set aside.

Wash and cut potatoes into french fry sizes. Try to keep them as evenly sized as possible for even cooking.

In a large bowl, toss potatoes with olive oil, salt, pepper, paprika, and oregano to coat
Place the potatoes in air fryer basket and spread them evenly over the basket.

Air fry potatoes at 400°F for 10 minutes. Open air fryer and gently shake and turn the potatoes. Try not to break them. Cook for an additional 3 minutes for crispy potatoes.

Remove from air fryer and place on serving platter. Squeeze 1/2 lemon over top and add crumbled feta, additional oregano and fresh chopped parsley. Serve with dipping sauce
---
Want to pin this for later? Click on the image below