Air fryer sweet potato fries are crispy, mouthwatering and so addicting! Pair them with your favorite dipping sauce for the perfect side dish!
This post may contain affiliate links
The past month has been all about comfort food for me. These uncertain times have caused a lot of stress and anxiety and I've found that the only thing that makes me better is being in the kitchen creating the most comforting meals. My favorite thing to make in my air fryer recently is potatoes! The potatoes come out of the air fryer perfectly and crispy while still moist and fluffy in the center. French fries come out perfect every time! These crispy air fryer sweet potatoes are my new obsession!
Why we love these air fryer sweet potato fries
These air fryer sweet potato fries are made using less oil, so they're also a healthy alternative to regular french fries! The air fryer cooks the sweet potatoes fries by using the circulation of hot air to cook the fries rather than deep frying. The fries are cooked more efficiently because a fan is used to circulate hot air around the food. With just a few simple ingredients, you can have homemade sweet potato in minutes!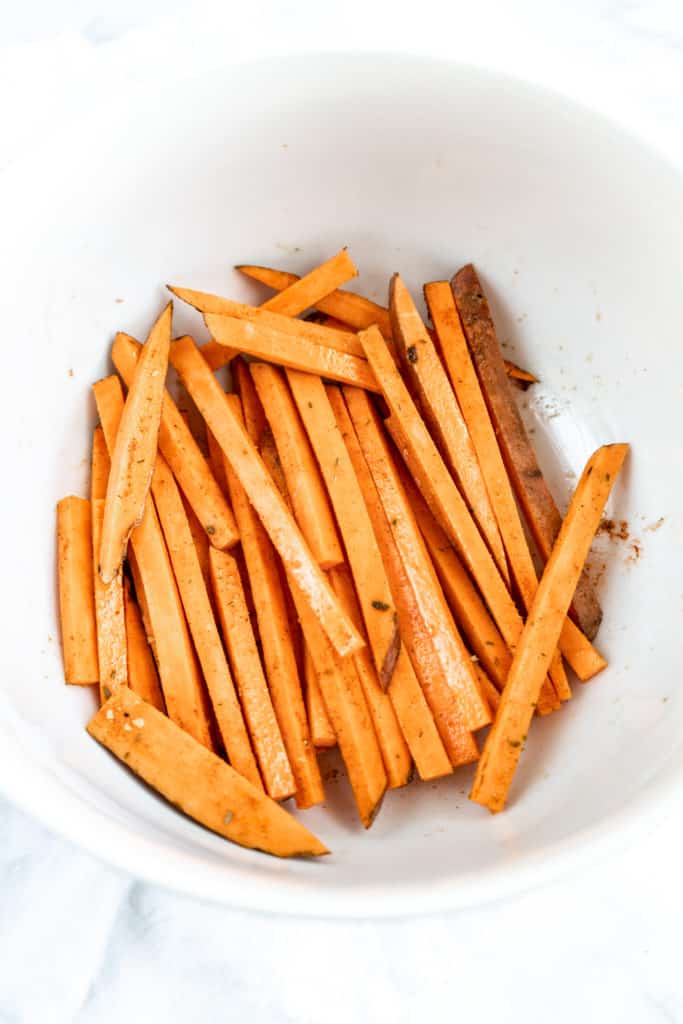 How do I make sweet potato fries in the air fryer?
The key to making sure your sweet potato fries come out of the air fryer cooked perfectly crispy and evenly starts with the cut! You want to make sure each fry is the same width and generally the same size. I cut mine a quarter-inch thick, so if you like a thicker sweet potato fry, your cooking time will be slightly longer.
You can choose to leave the skin on or off, it's all about preference.
Spices are key in producing delicious air fryer sweet potato fries. I chose a savory route this time, but sweet sweet potato fries would be equally delicious!
I combined salt, pepper, paprika, and garlic powder in a small bowl. I tossed the cut sweet potatoes with 2 tablespoons of olive oil (you can also use avocado oil) and the herbs until they were evenly coated.
If you want to go the sweet route, some great spices that go with sweet potatoes are: cinnamon, coconut, ginger, nutmeg, rosemary, thyme, allspice, cinnamon, and clove. If you have a great sweet flavor combo you loved, tell me in the comments below!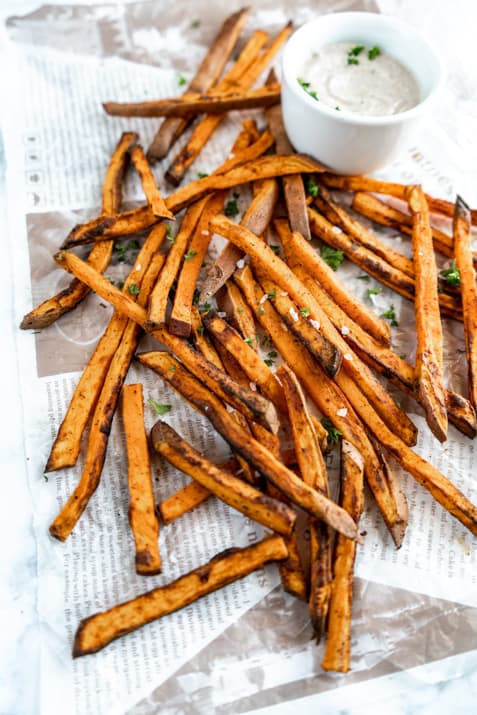 Why should I preheat the air fryer?
Before cooking these air fryer fries, you need to preheat the air fryer for 3 minutes to 400 degrees F. While it's actually not necessary to preheat all air fryers, most do recommend it. Even if your air fryer doesn't recommend preheating, I think it's a crucial step to ensure accurate cooking at the temperature you select. Preheating the air fryer is best for ideal cooking because the temperature and airflow will be at perfect levels and food can cook to crispy with no issues.

Set the timer for 8 minutes and shake the basket at the half way point.
Serve with your favorite dipping sauce!! If I'm feeling fancy, I love pairing these with my truffle aioli or the some classic ketchup is great too! You can also serve them alongside your favorite sandwich!
Tips for making the best air fryer sweet potato fries
Cut them thin. Using a sharp knife and a cutting board, cut the sweet potatoes thin. The thinner the cut, the crispier they'll be!
Arrange the fries in a single layer in the air fryer. It allows the air to circulate all the way around the fries, resulting in perfectly crispy sweet potato fries!
Shake the basket! To get the best results, shake the air fryer basket a few times during the cooking process to ensure even cooking.
How to reheat leftover french fries
Put Leftover fries in the air-fryer basket.
Set temperature to 400°F time to 3 mins and air fry.
Shake at 2 mins to ensure even heating. When cooking time is up check if it's warmed through. Air fryer for one more minute if needed.
Looking for more air fryer recipes?
Love this delicious air-fryer sweet potato fries recipe?
Need another recipe for healthy fries? Check out my Air Fryer Zucchini fries! Crispy on the outside, tender on the inside, air fryer zucchini fries are a healthy version of your favorite finger food!
This air fried salmon bowl is a delicious and healthy dinner option for a busy weeknight!
Can't get enough sweet potatoes? My sweet potato crostini with bacon walnut crumble is a yummy appetizer everyone will love!
Thank you for reading! If you make this recipe, please come back and leave a star rating and review!
Print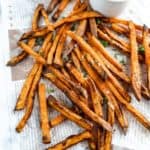 Crispy Air Fryer Sweet Potato Fries
Author:

Nicole Triebe

Prep Time:

10 minutes

Cook Time:

8 minutes

Total Time:

18 minutes

Yield:

2

1

x

Category:

Sides

Method:

Air Fryer

Cuisine:

American
---
2

sweet potatoes into even 1/4 inch thick fries⠀⠀⠀

2

tbl olive oil

1/4 tsp

garlic powder

1/4 tsp

paprika

1/4 tsp

salt ⠀⠀⠀⠀⠀⠀⠀
---
Instructions
• Peel and cut 2 sweet potatoes into even 1/4 inch thick fries.⠀⠀⠀⠀⠀⠀⠀⠀⠀
• Mix 2 tbl olive oil, 1/4 tsp garlic powder, 1/4 tsp paprika and 1/4 tsp salt and toss the sweet potato fries to thoroughly coat.⠀⠀⠀⠀⠀⠀⠀⠀⠀
• Preheat air fryer to 400F ⠀⠀⠀⠀⠀⠀⠀⠀⠀
• Cook in batches (one layer, and don't crowd the basket) for 8 mins, flipping the fries half way through the cooking time.⠀⠀⠀⠀⠀⠀⠀⠀⠀
• Serve with your favorite dipping sauce! 
---
Want to pin this for later? Click on the image below!