Crispy on the outside, tender on the inside, air fryer zucchini fries are a healthy version of your favorite finger food!
We're halfway through your kid's summer break and just about to enter peak summer squash season! These zucchini fries are the newest veggie you can cook in your air fryer!
What is Zucchini?
Zucchini is one of the most popular types of summer squash, and although you can usually find it year-round, it's peak season is June through late August! Green zucchini has soft, thin, edible skin. It has a mild, white flesh. and can be eaten raw or uncooked!
In the most recent years, zucchini has been used in place of pasta, mixed into baked goods, and so much more!
It's the perfect veggie to sneak into meals when your kids are picky eaters! These air fryer zucchini fries are perfect for the little ones who sneak their veggies to the family pup!
How do you make air fryer zucchini fries?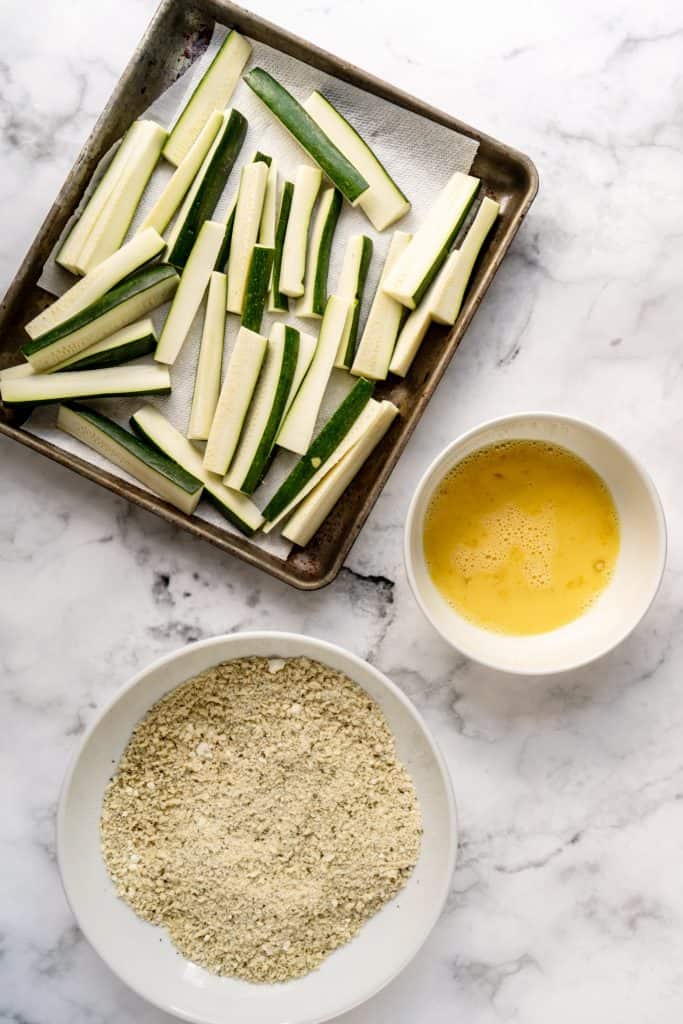 This tasty snack is so easy to make, even the kids can help! Here are a few tips to making them extra delicious:
Dry out your zucchini. Zucchinis are 95% water, so they key to getting the breading to stick is drying your zucchini fries on a paper towel before breading. If they're too wet, the egg wash won't stick to the zucchini fries. 
Assemble the breading station: The classic breading station has three spots: Zucchini, egg wash and breading. Start with the raw zucchini fries at one end, the egg wash, then the breading. If you want to be super-efficient, place the air fryer basket at the end so when you're done, you can pop it right in!
Keep your hands in separated. To keep the mess to a minimum, use one hand for dipping the zucchini in the egg, and one hand for coating the zucchini in the breadcrumbs. If you use the same hand for both, you'll end up with wet cheese and clumpy zucchini fries.
Space the fries out in the basket. In order for your air fryer to do it's job in making super crispy zucchini fries, there needs to be space for the air to circulate on all sides. That means if you crowd the basket, there won't be space for the air to circulate, and you won't get those crispy fries everyone loves. There doesn't have to be a ton of space, just enough for the air to get through.
Get 'em while they're hot! As mentioned above, zucchini are made up of mostly water, so the longer they sit, the softer they'll get. So wait until they're cool enough to handle, and dig in!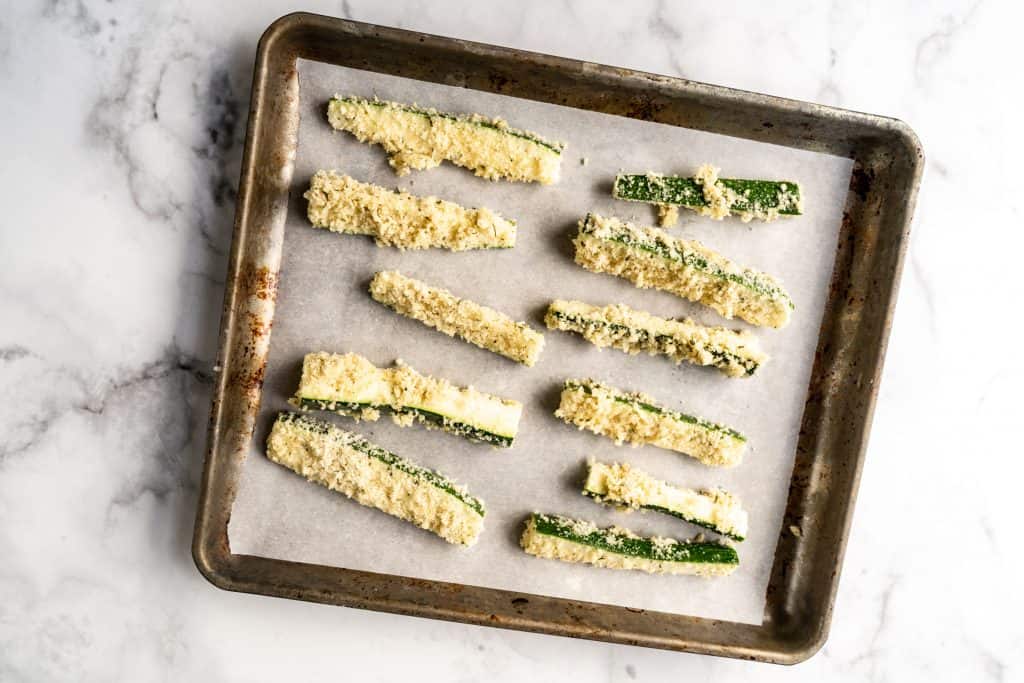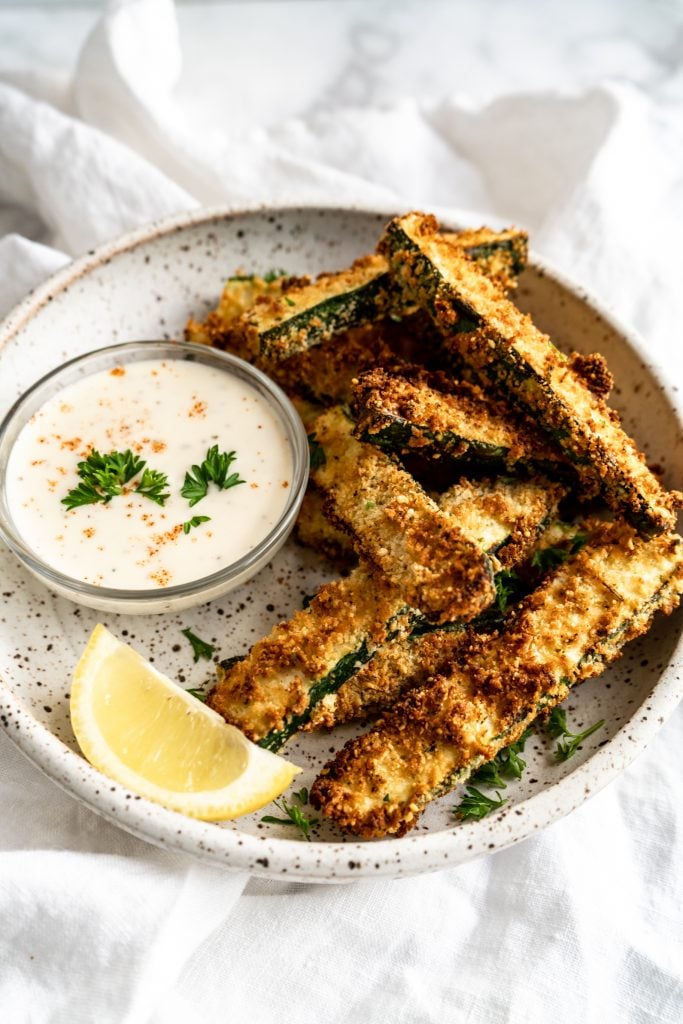 Still hungry? Check out my air fried white fish with spinach and tomatoes!
Print
---
2 medium zucchini
2 eggs, beaten
1/2 cup grated Parmesan cheese
1/2 cup Italian seasoned panko breadcrumbs
1 tsp garlic powder
---
Instructions
Slice the zucchini in half, then half again, then into quarters, totaling 16 slices per zucchini.
Crack and beat the eggs in a small bowl
Add the parmesan, garlic powder and panko breadcrumbs to another bowl.
Dip a slice of zucchini in the egg wash and transfer to the parmesan. Use your other hand to coat the zucchini in the cheese and transfer to the air fryer basket. Repeat this process until all zucchini are coated, making sure there's space between each zucchini fry in the basket.
Spray the fries generously with cooking spray.
Cook for 8 minutes at 400 degrees.  Serve immediately
---
Want to pin this for later? Click on the image below!