An easy and flavorful Thai dish that's perfect for the weeknights! This Coconut Lime Chicken is dairy-free and oh so delicious!
Thai food is one of my favorites to cook and eat! It's so comforting and full of delicious and unique flavors. This coconut lime chicken is just one of those dishes that makes you feel so warm and cozy. The ultimate comfort food!
What is coconut milk?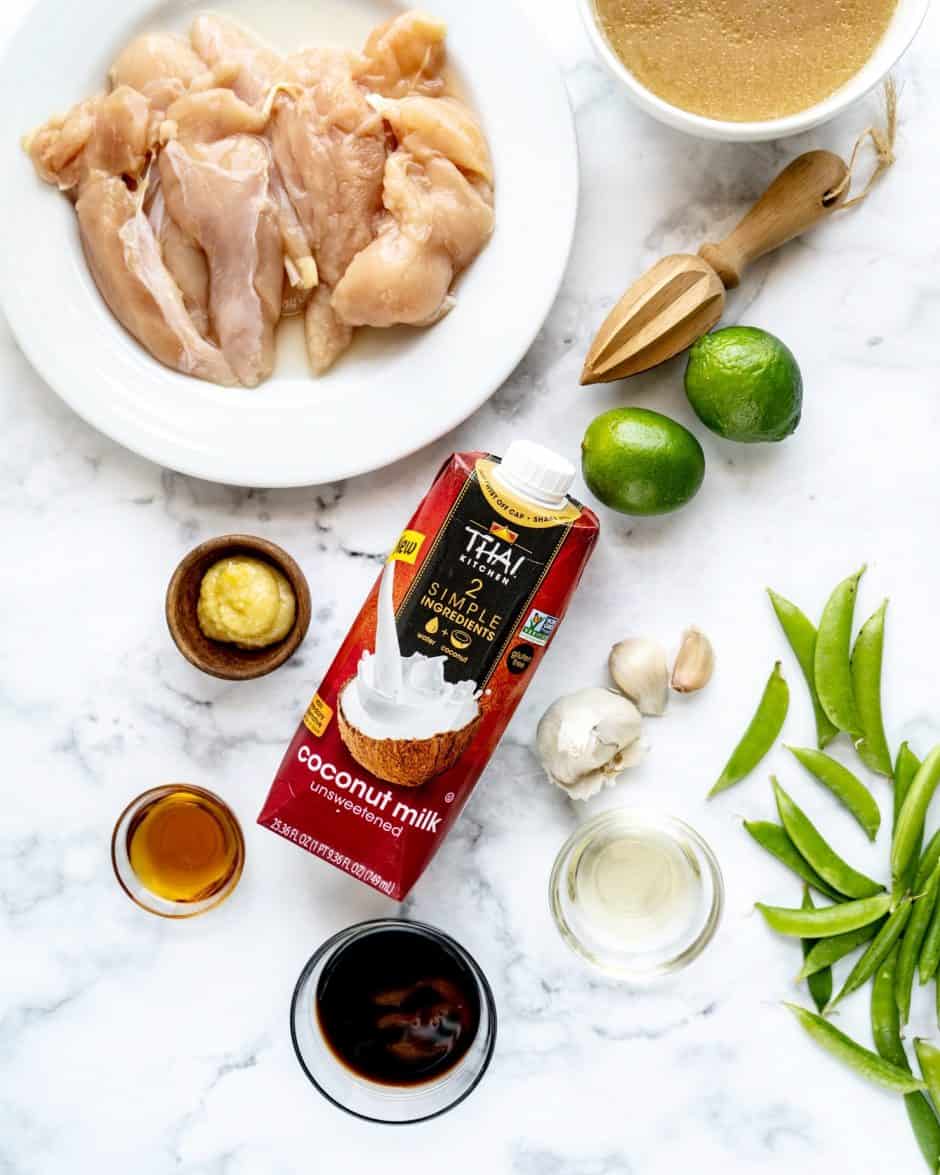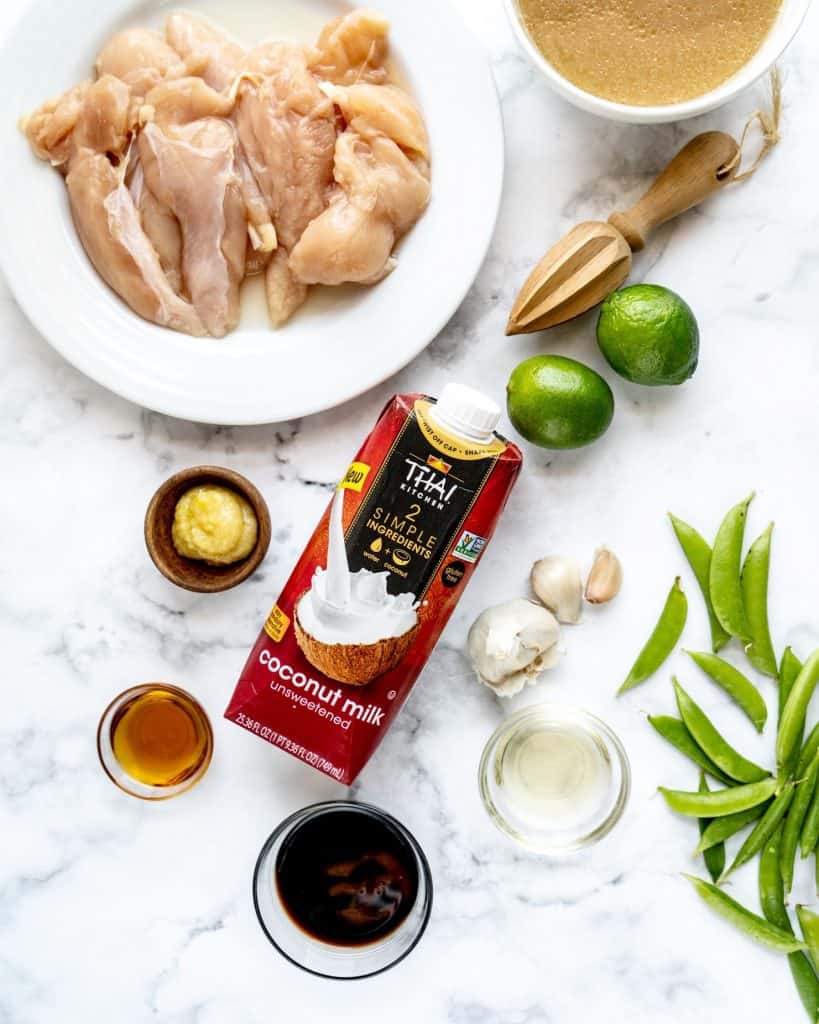 Coconut milk comes from the white flesh of mature brown coconuts. It is thick and creamy and is often used in place of cream in Thai and other Asian dishes! It's also popular in Hawaii, India, and certain South American and Caribbean countries. Unlike coconut water, coconut milk does not occur naturally. Instead, the solid coconut flesh is mixed with water to make coconut milk, which is about 50% water. Coconut milk is also fortified with vitamin B12 and vitamin D.
Coconut milk can be added to smoothies, seafood dishes, desserts, and so much more!
How do you make coconut lime chicken?
This dish is a one-pot meal! All you need is a large skillet on the stove.
The key to any skillet chicken recipe is to make sure the pan is really hot before adding the chicken to the pan. You want to hear a nice sizzle when the chicken hits the skillet. This way, you know you're going to get a really good browning on it. When when you get good coloring on your chicken, you'll get delicious bits of flavor from the chicken in the pan to scrape up while your sauce cooks. Once the chicken has browned on both sides, add a little olive oil to the pan and add the garlic and ginger.
Cook the garlic and ginger until fragrant, and then add your liquids. I'm deglazing the pan with chicken stock and then adding my coconut milk to get that creaminess in the dish. Deglazing is simply the act of adding liquid to a hot pan. This allows all of the browned bits of chicken that are stuck to the bottom of the pan to release into the sauce. Let this simmer until the chicken has cooked through and the sauce has reduced a bit.

What should I serve with coconut lime chicken?
This chicken dish can be served alone or with some sides! I served this creamy dish with some coconut rice mixed with cilantro made in my instant pot, but here are some other options:
Cauliflower rice
Zucchini Noodles
Brown Rice
Rice Noodles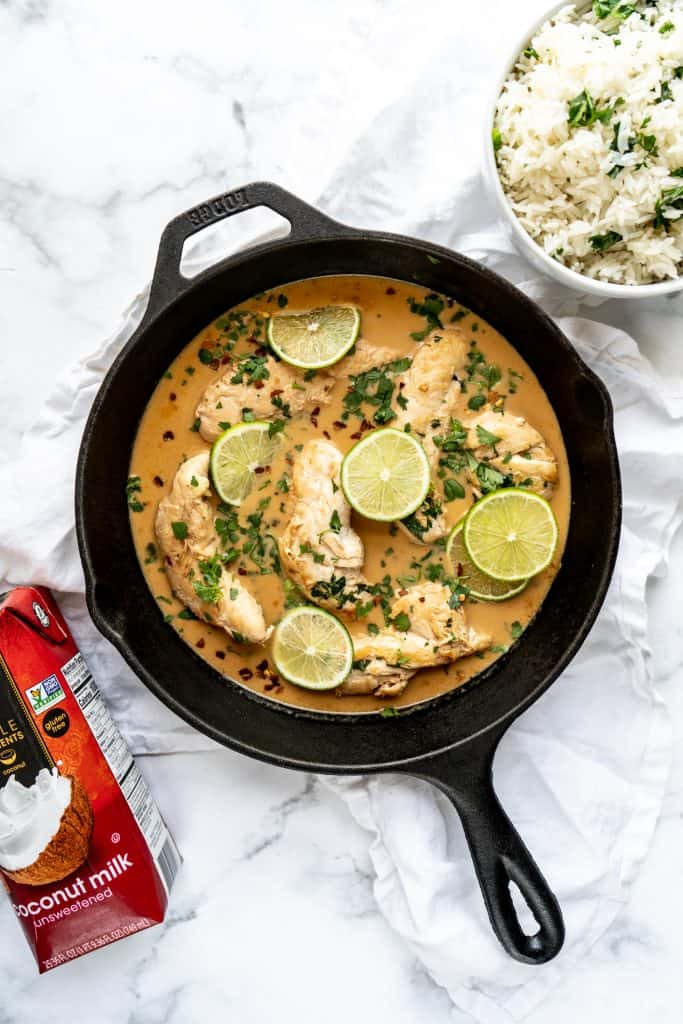 Can you reheat this dish?
This dish is perfect for meal prep and next-day leftovers! When reheating, add a couple of tablespoons of water and reheat in the microwave for 2 minutes, or on the stovetop until warm.
Still hungry? Check out my Asian turkey meatballs with spicy peanut sauce or my crispy air fryer Asian brussels sprouts!
Print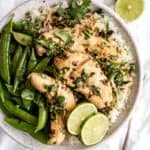 Cilantro Lime Chicken
Author:

Nicole Triebe

Prep Time:

10 minutes

Cook Time:

10 minutes

Total Time:

20 minutes

Yield:

4

1

x
---
3/4 cup full-fat Thai Kitchen coconut milk
1 cup chicken broth 
1/2 teaspoon salt
1/4 cup lime juice
Zest from one lime
pinch of red pepper flakes
2 tablespoons reduced-sodium soy sauce
1 tbl hoisin sauce
1 tablespoon minced fresh ginger
3 garlic cloves, minced
1 tablespoon rice vinegar
1 1/2 pounds boneless skinless chicken tenderloins
1 tbl sesame oil
3 tablespoon minced fresh cilantro, plus extra for garnish
1 cup sugar snap peas (optional)
1 cup cooked jasmine rice
Sriracha, 1 tsp 
---
Instructions
Mince garlic, cilantro and set aside.  Juice limes and set aside.
Heat a large skillet over medium heat and add sesame and olive oil.
Once hot, add the chicken to the pan.  Cook, without disturbing for 3-4 minutes, until a nice brown crust has formed. Flip and cook another 3-4 minutes on the other side, until the chicken is mostly cooked through.
Remove chicken from the skillet and set aside. Lower the heat to medium.
Add more oil if needed and add the garlic and ginger to the pan. Cook, stirring constantly, for 1-2 minutes. 
Add soy sauce, hoisin sauce, salt, rice vinegar  chicken broth, coconut milk, lime juice pan. Stir to mix, scraping up any browned bits remaining in the pan from the chicken.
Add the chicken breasts back to the skillet with the sauce, and add cilantro and Sriracha if desired. Cover and turn heat down to low. Simmer for 5 minutes, or until the chicken is fully cooked.
Serve with sugar snap peas, rice or cauliflower rice. Spoon some sauce over everything for serving. Sprinkle with cilantro and garnish with lime slices if desired.
---
Want to pin this for later? Click on the image below!