This Watermelon Piña Colada is a refreshing cocktail with all the best flavors of the tropics! An easy rum cocktail that is always the hit of the party!
Summer is officially here, and with it comes a need for frosty, refreshing cocktails! What better drink to serve than one that will magically transport you off to an exotic island! This watermelon twist on a classic piña colada will be a drink you'll be wanting all summer long! I'm partnering today with Blue Chair Bay Rum to make this delicious frozen adult beverage.
Where did the Pina Colada originate?
Piña Colada originates from Puerto Rico! Back in 1978, this pineapple coconut drink was named Puerto Rico's national cocktail. In Spanish, its name means "strained pineapple," referring to the freshly pressed and strained pineapple used in preparing the drink! It's made with 4 simple ingredients — frozen watermelon, pineapple, rum, and coconut milk.  It only takes a couple of minutes to blend up, and it is guaranteed to give you those delicious, beachy, sunny vacation vibes wherever you are!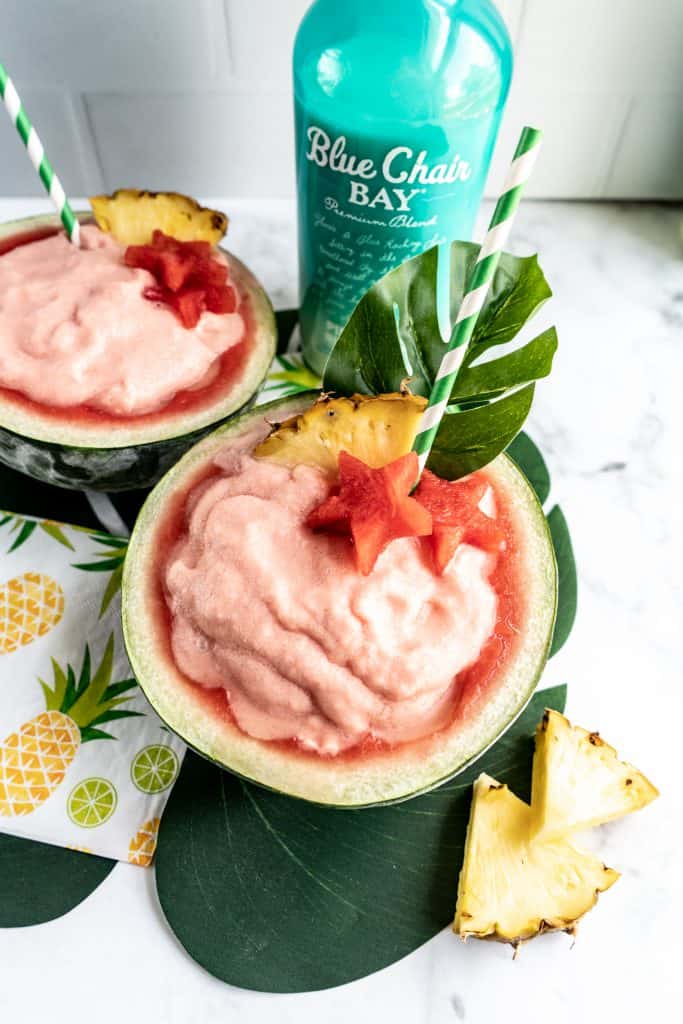 Who is Blue Chair Bay Rum?
This award-winning premium brand of rum is made with sugarcane molasses and all-natural ingredients! Owned by multi-platinum singer-songwriter Kenny Chesney, this rum was created in collaboration with one of the world's great master blenders, Mike Booth. It comes in the following bold Caribbean flavors: coconut spiced rum, banana rum, pineapple rum, white rum, spiced rum, coconut rum, vanilla rum, coconut spiced rum cream and key lime rum! Find your local carrier of Blue Chair Bay Rum here!
Today we're using their Pineapple rum to make this delicious Watermelon Piña Colada!
How do you make a Watermelon Pina Colada?
This summer cocktail starts with freezing some watermelon! Freezing the watermelon creates the frosty beverage without watering it down with ice cubes! I'm also freezing the watermelon rinds for a fun way to drink the Watermelon Piña Colada when they're blended! We're also using fresh pineapple so you know it's going to be packed with all those yummy tropical flavors! If you don't have fresh pineapple, frozen will work but if you're using canned, the flavors won't be quite the same. To see how easy it is, check out my step by step process below!
Print
---
3/4 cup Pineapple Blue Chair Bay Rum Cream
5 Cups frozen watermelon
1 Cup fresh pineapple
1 tablespoon lime juice
The cream from one can of Coconut Milk
---
Instructions
Slice and freeze watermelon and watermelon rinds overnight.
Combine Blue Chair Bay Pineapple Rum, lime juice, pineapple, coconut cream in a blender and blend until smooth.  Add frozen watermelon and blend.  You may have to do the watermelon in two batches.  
Pour into frozen watermelon rinds, garnish and serve! 
---
If you need a snack to go with these cocktails, check out my Whipped Feta Dip with Sundried Tomato!
Want to pin this for later? Click on the image below!