The fluffiest, creamiest, mashed potatoes you'll ever have. These creamy goat cheese mashed potatoes will be the star of the side dishes this year!
Regardless of the size of your Thanksgiving table this year, the meal won't be the same without potatoes. Who's with me?? We have roasted, sweet, or mashed potatoes, and I'm on team mashed all the way! To me, the ultimate side is a big helping of creamy mashed potatoes with a big pat of butter on top! I'm here to tell you a couple of tips on how to make the creamiest, fluffiest mashed potatoes this year.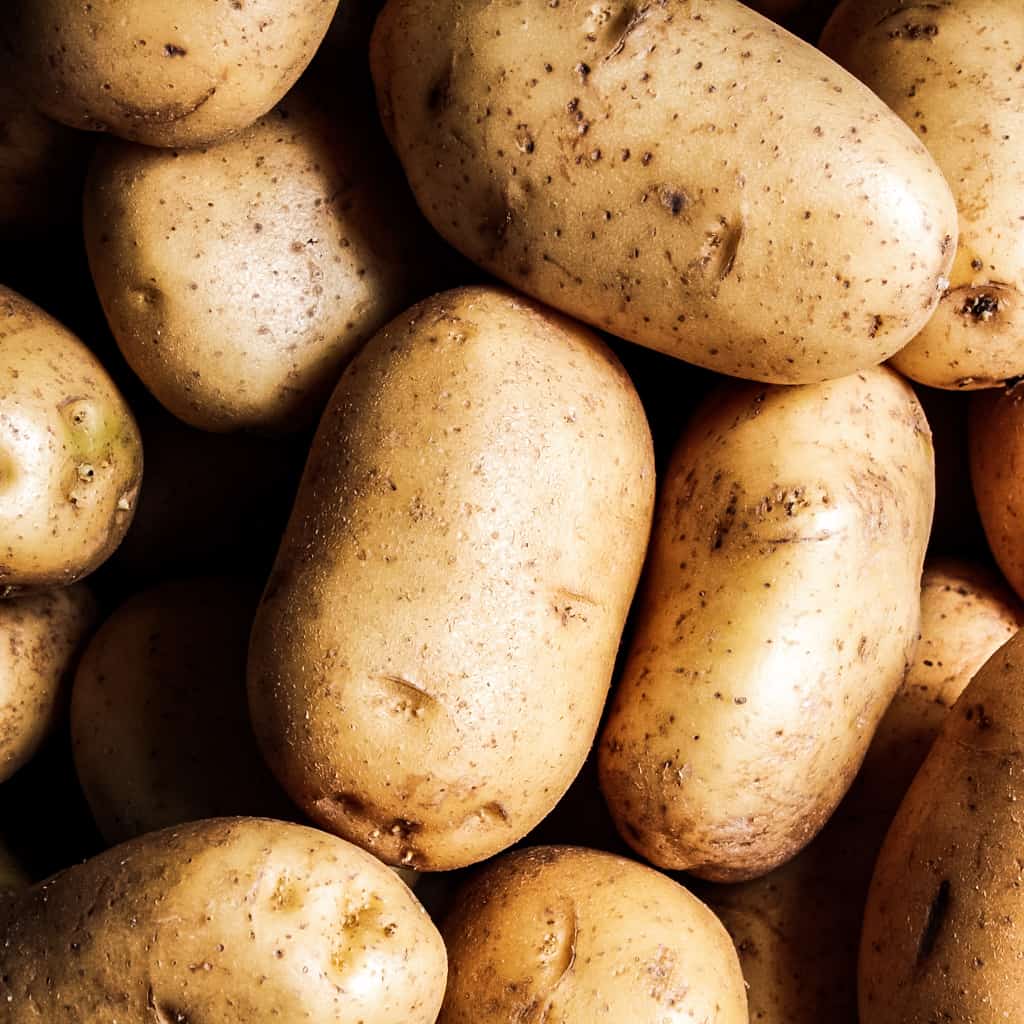 What kind of potatoes are best for mashing?
With so many types of potato to choose from, it's easy to become overwhelmed when choosing which potatoes for those creamy mashed potatoes on your Thanksgiving table. Here's a quick guide to help you out:
Yukon gold potatoes: This is my top choice for the creamiest goat cheese mashed potatoes. These yellow potatoes have a nice dense texture and are less starchy than russet potatoes. Yukon potatoes will soak up all that melted butter and cream makes mashed potatoes so delicious, making them a great choice.
Russet potatoes: otherwise known as Idaho potatoes, Russets are what people typically picture when someone says "potato." They're brown and have a bit of a rough-skin When cooked, it fluffs up beautifully thanks to a high amount of starch in its flesh. They're also super absorbent, making them the perfect potato to use for a mash with lots of butter, cream, and salt.
Sweet potatoes: Hence the name, sweet potatoes are much sweeter than other potatoes. They're also larger, heavier, and a bit more starchy. Sweet potatoes come in a few different types: Japanese, Garnet, Jewel and Covington. The colors of the flesh differ from type to type, ranging from purple to yellow, orange to beige.
How to make Creamy Goat Cheese Mashed potatoes
There are a few tips that are key to making the creamiest goat cheese mashed potatoes:
Cut the potatoes into even chunks: If you cut your potatoes into large, equally sized chunks, they'll cook evenly. This rule also goes for roasting veggies too!
Salt the water: Salting the water that the potatoes cook in allows it to boil to a hotter temperature. This in turn cooks the potato's starch more thoroughly, resulting in a more creamy texture.
Once the potatoes are drained, return to the hot pan to allow any water to evaporate: No one likes watery mashed potatoes, so dry your spuds after simmering by putting them back into the hot pot on low heat and stirring for a few minutes. You'll know they're dry when the edges of the potatoes turn white.
Using the wrong tool to mash: The best tool to achieve fluffy, creamy mashed potatoes is a food mill or ricer. If you don't have one of these, use a hand mixer to mash those spuds. Whatever you do, don't use a food processor. A food processor blade will cut the spuds, releasing too much starch, and the potatoes will end up gummy and glue-y.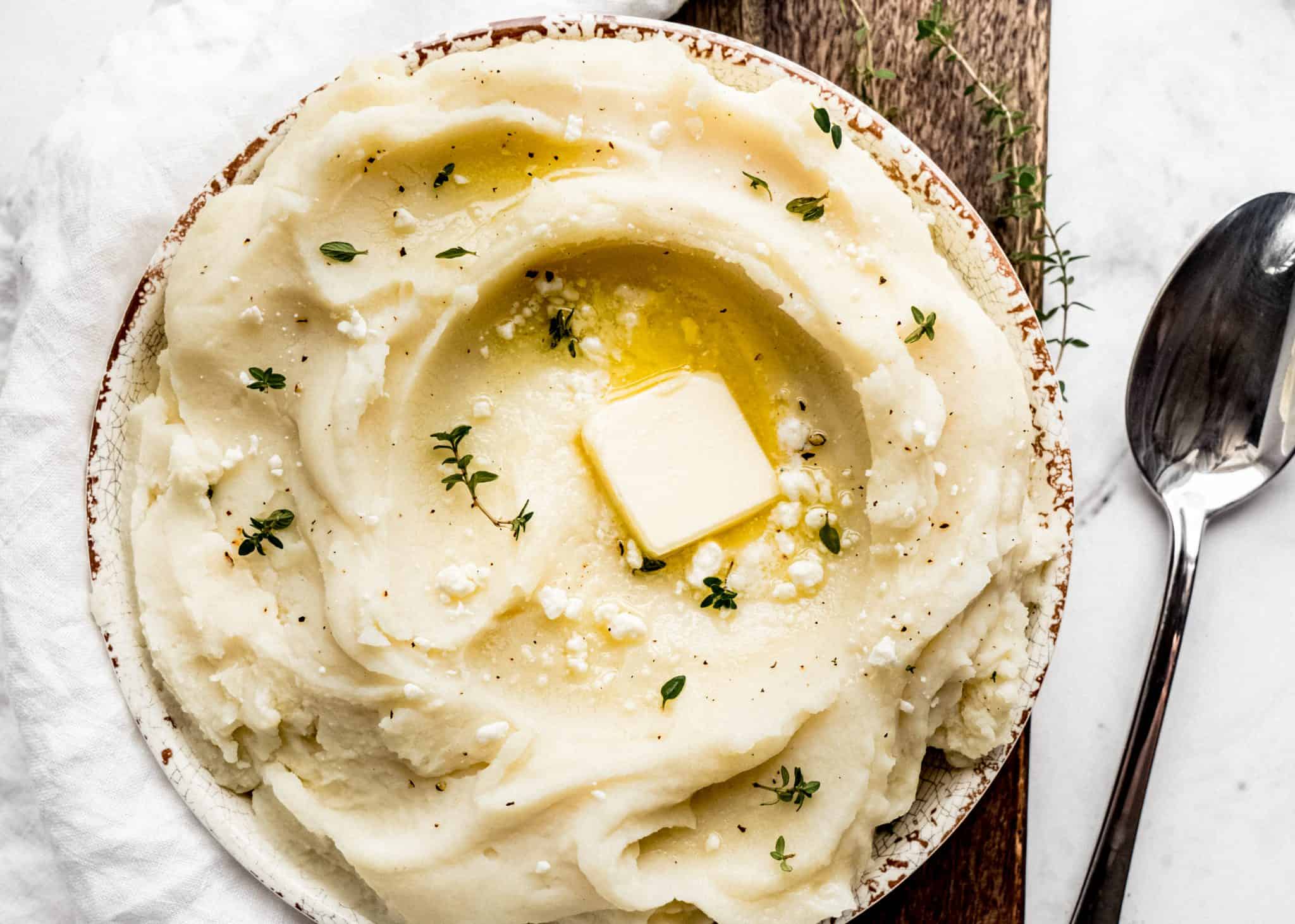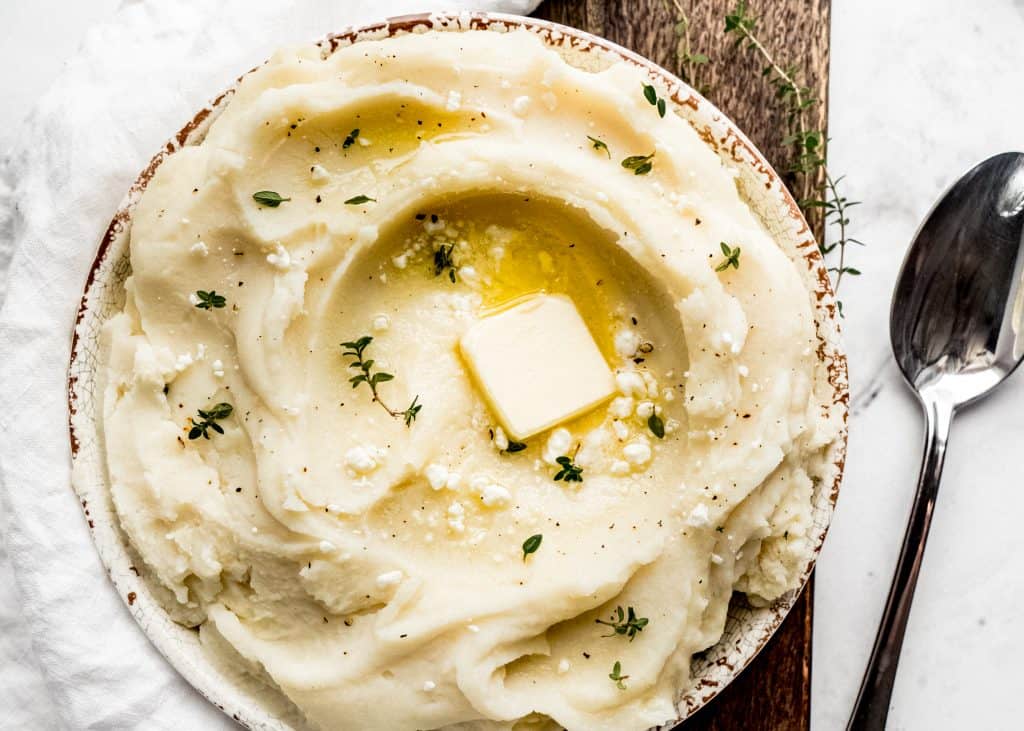 Still hungry?? Check out my roasted brussels sprouts with goat cheese!
Print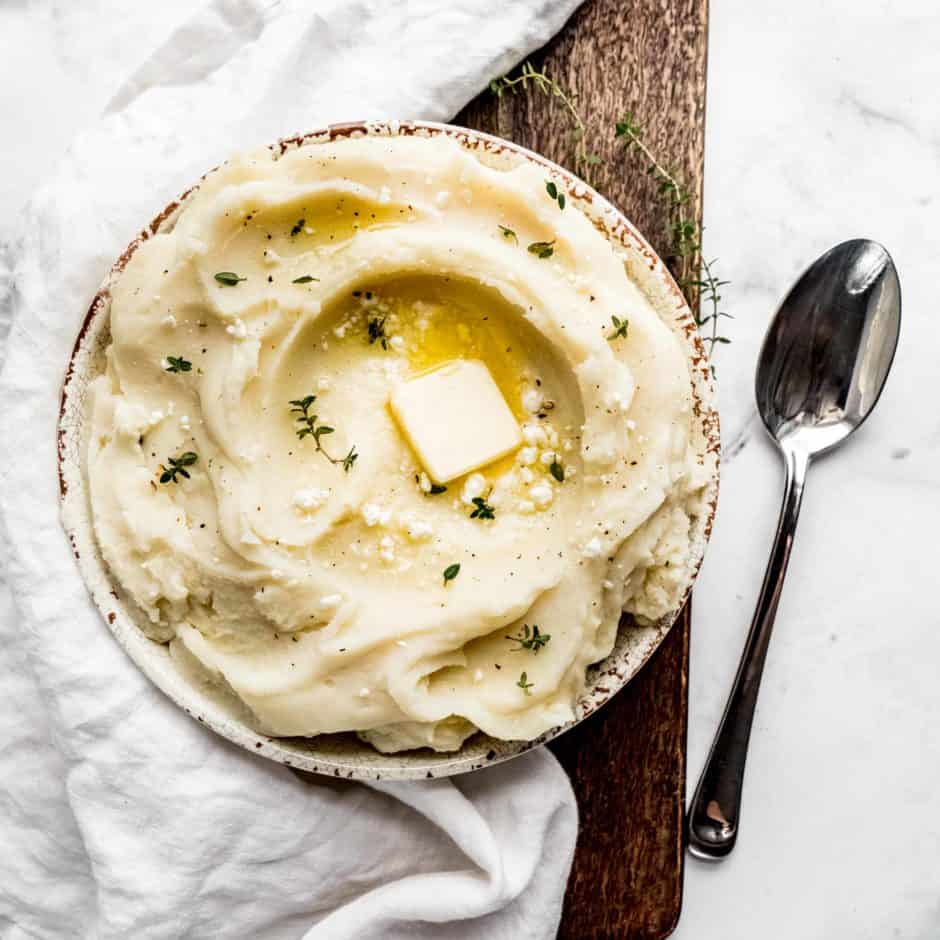 Creamy Goat Cheese Mashed Potatoes
---
3 lbs Yukon gold potatoes, peeled and cut into 2" pieces
1/3 cup unsalted butter, room temp and cut into pieces
1/2 cup heavy cream, warmed
1/3 cup goat cheese, room temperature
1 tablespoon fresh thyme, finely chopped
1 tsp garlic powder
salt and pepper, to taste
---
Instructions
Place potato chunks in a large pot of cold, salted water. Over medium heat, bring the water to a boil over medium-high heat, and then reduce heat to a simmer.  Cook until potatoes are easily piercable with a fork, about 10 to 15 minutes.  Drain, and return cooked potatoes to the pot over low heat.  Cook until the edges of the potato turn white. 
Using a potato masher, handheld mixer, or ricer, mash and stir for 1 to 2 minutes, until potatoes are smooth and any remaining moisture has evaporated. Remove from heat.
Meanwhile, heat cream in a small saucepan over medium heat.   
Add butter to potatoes and stir, then slowly add the hot cream and goat cheese to potatoes.
Stir until smooth. Add thyme and season with salt and pepper, to taste. Add more cream or butter as needed to achieve the desired consistency. Garnish with fresh thyme and goat cheese crumbles and serve immediately.
---
Want to pin this for later? Click on the image below!