This Gingerbread Coquito cocktail is a festive and delicious way to toast the holiday season! It tastes like Christmas in a glass!
What are your holidays looking like this year? We had originally planned to spend the holidays with family but as Covid numbers are back on the rise, things are looking more and more like it will just be the three of us at home this year. That means extra cocktails because there's nowhere to go! So get your blender out and let's get started!
What is the difference between eggnog and coquito?
Some people refer to Coquito as Puerto Rican eggnog. However, there are a few key differences. Coquito typically doesn't have sugar added because there is enough sweetness in the condensed milk and the cream of coconut that are in this drink. Eggnog has raw eggs, but this gingerbread coquito recipe doesn't have any eggs!
There are some coquito recipes out there call for egg yolks, but that was added later because of the influence of the classic American Christmas eggnog. You can make it how you'd like! If you chose the no egg route, it extends the shelf life. Coquito without eggs should last in your refrigerator for 4 – 6 months.
There's one thing for sure. Once you have coquito, you'll never go back to American Eggnog!
Who is Blue Chair Bay Rum?
This award-winning premium brand of rum is made with sugarcane molasses and all-natural ingredients! Owned by multi-platinum singer-songwriter Kenny Chesney, this rum was created in collaboration with one of the world's great master blenders, Mike Booth. It comes in the following bold Caribbean flavors: coconut spiced rum, banana rum, pineapple rum, white rum, spiced rum, coconut rum, vanilla rum, coconut spiced rum cream, and key lime rum! Find your local carrier of Blue Chair Bay Rum here! The flavors of their Vanilla rum mix perfectly with the spices in this Gingerbread Coquito and will make you feel warm all over!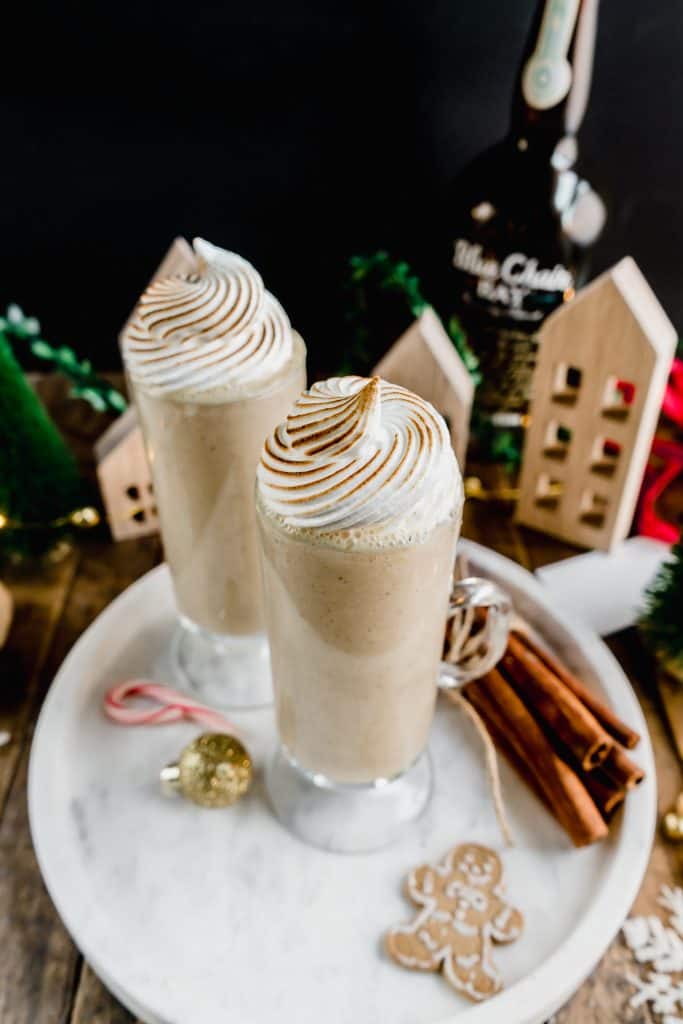 Can you make Gingerbread Coquito ahead of time?
You can make this Puerto Rican Coquito recipe and store it for up to a month in the fridge! That makes it the perfect cocktail for a small gathering at home. You can make it a day or two before and have it ready for guests as they walk in the door without breaking a sweat! It's the ultimate drink for entertaining during the holidays.
How do you make gingerbread coquito?
This recipe is as simple as combining the ingredients in a blender and pressing go! Pour into a glass and garnish with some cinnamon and enjoy! Can't get any easier than that! I was feeling extra festive so I topped mine with some toasted Italian meringue.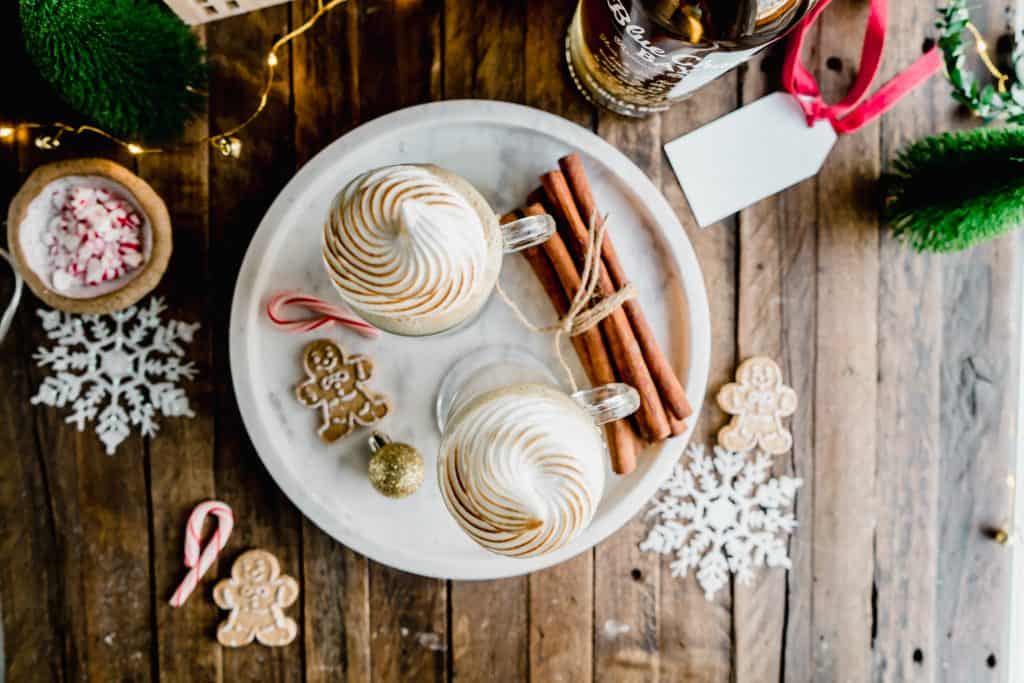 I hope you enjoyed this recipe! If you need a snack, be sure to check out my pfeffernusse holiday cookies!
Print
---
1 1/2 cups Vanilla Blue Chair Bay Rum
1 (14 oz) can sweetened condensed milk
1 (15 oz) can Cream of Coconut
1 (13.5 oz) can coconut milk
4 oz evaporated milk
1/2 tsp nutmeg
1/2 tsp allspice
1/2 tsp cinnamon
1 tbl molasses
---
Instructions
Combine all ingredients in a blender and blend to combine.  Pour into a glass and garnish with cinnamon! 
---
Want to pin this for later? Click on the image below!