I can't wait to tell you all about this decadent smoked salmon pasta with lemon cream sauce, but first things first.  I'm starting year 35 off with a huge bang.  Are you ready for this?!?  ……
I've gone full time with Windy City Dinner Fairy!  I'm not sure if you were even aware I had a day job, but for the last four years, I've been an insurance underwriter.  Before that, a paralegal.  Windy City Dinner Fairy has always been a side hustle.  I never in my wildest dreams thought that I could ever be successful enough to make it to full time.  Luckily, I have an incredibly supportive wife, and after a little bit of a crazy year (what with all the health issues, brain surgery, etc) I decided that I needed to stop and prioritize some things.  And after some serious thinking, and a "business brunch" with the boss (otherwise known as Allison), we decided that I would start out year 35 as my own boss.
Holy crap.
I can hardly believe it.  It's so scary and so exciting all at the same time, and I can't thank all of my loyal followers and readers for all of your support through the last six years.  I wouldn't have been able to do this without you.
To celebrate, I popped some bubbly (duh) and made this insane smoked salmon pasta dish to pair it with.  Holy yum.  So much goodness in here. We're talking capers, dill, rich smoked salmon and lemony goodness.  I am a sucker for anything lemon and I could put capers in EVERYTHING!
I don't know a lot about wine pairings, but I'm always willing to learn.  And let's be honest, when class is THIS delicious, I'll take a lesson any time!
Taittinger makes the most delicious rosé, and who can resist that beautiful color?!? I wanted something that cut through the rich layers of the salmon and allowed those unique flavors to shine.  This rosé was just the wine to do that.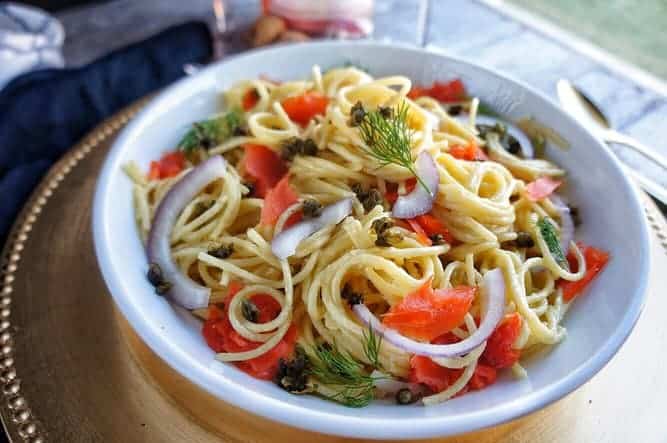 Print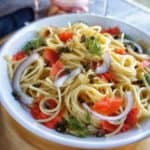 Smoked Salmon Spaghetti with Lemon Cream Sauce
Author:

Nicole Triebe

Prep Time:

10 minutes

Cook Time:

20 minutes

Total Time:

30 minutes
---
Serves 2
What you need:
1/8 cup capers
Olive oil for frying
8 oz linguine or spaghetti
1 tbl butter
3 tbl olive oil
1 small shallot, diced
2 cloves garlic, minced
1/3 cup of dry white wine
1/4 cup cream
1 tbl lemon juice
1 tbl lemon zest
Red onion, sliced thinly
Fresh dill
4 oz smoked salmon, torn into pieces
Salt and pepper
Red pepper flakes
---
Instructions
To make the crispy capers, heat a pan with just enough olive oil to cover the bottom. Once the oil is hot,
toss in your capers and for 2 to 3 minutes, until they split and are crispy.
Boil a large pot of salted water on the stove for pasta. Cook 8-10 minutes or until al dente. Set aside 1 cup of the pasta water for later.
While the water is boiling, in a large sauté pan, heat 1 tbl butter and 2 tbl olive oil and add the shallot and garlic. Cook for a 2 minutes, making sure not to burn. Add white wine, lemon juice and zest. Add cream and red pepper flakes and let simmer until it's reduced, about 8 minutes. Add pasta and toss to coat. Add the pasta water to the pan to create a thin sauce to coat all the noodles. Turn off the heat and toss in smoked salmon. Garnish with crispy capers, sliced red onion and dill.
---
Notes
Pair with Taittinger Cuvee Prestige Rose for the perfect meal. The bright acidity of the Rose will cuts through the rich, oily layers of the fish allowing unique preparation styles, spices, and seasonings to shine through the palate structure.
Want to pin this for later? Click on the image below!