Curious about lupini beans and how to use them? I'll tell you all about these little white beans and just how delicious they are.  This roasted garlic lupini bean recipe is the perfect side for your next gathering.
If you've followed my blog for a while now, you know that Allison and I honeymooned in Greece.  I remember it like it was yesterday.  Allison still asks me weekly when we can go back, so I find myself making Mediterranean food at least once a week.  The flavors there were so fresh and flavorful, I could eat the same dish for every meal and never get sick of it.
I loved pairing fresh veggies with their incredible mediterranean dips.  I wouldn't even feel guilty about finishing the entire bowl myself!  I came up with this lupini bean recipe to try and recreate the delicious meals we had on our incredible trip.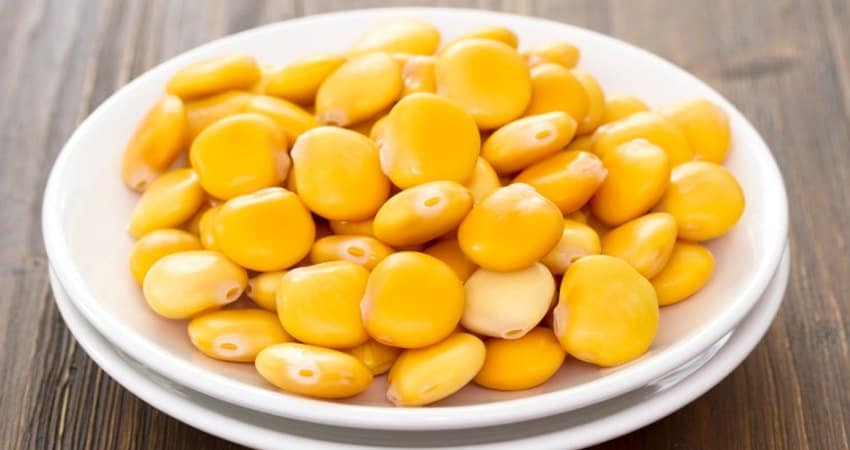 What are lupini beans? 
These little white beans are part of the pea family, and very popular in Italy, especially at Christmastime.  They have a different taste or texture of any other bean I've ever had.  Lupini beans are extremely bitter before being prepared, and must be soaked overnight, cooked the next day, then rinsed several times a day for the next 5 or 6 days.
Are lupini beans the same as fava beans?
Although both of these beans belong to the pea family, they are very different.  Lupini Beans look like large flat fava beans or a slightly-uneven coins.  Lupini Beans are yellowish-brown in colour, with a small hole at one end.  Lupini beans take much more than normal time for cooking and need prolonged soaking in cold water followed by salty water marinade and lots and lot of drains before they're cooked. Once they're free from the bitterness, they taste amazing! This lupini bean recipe is the perfect way to enjoy these little beans.
Ways to use lupini beans
You can just eat lupini beans as a healthy snack, antipasto or also after a meal, as they do in Italy.  After the beans have been soaked properly in salty water, lupini beans go well with olive oil, garlic, and parsley. Italians serve them with olives at Christmas. The beans are good for hot and cold salads.  Let me know what your favorite lupini bean recipe is!
What are the nutritional benefits of lupini beans?
It's hard to believe that these tiny little beans have so many health benefits, but they do! They contain a ton of protein, so people actually often use them as an appetite suppressant.  Eating a handful of them makes you full for long periods of time.  In addition to that, lupini beans help with gut health, and have a high fiber content, so they assist in lowering the bad cholesterol levels, in turn helping in improving your cardiovascular health.
Where can I buy lupini beans?
To make your own lupini bean recipe, you can find them at many local stores like Walmart sell jarred lupini beans, but you can also buy them online from Google Express or Amazon.
Since i'm always trying to recreate authentic Mediterranean meals that remind us of our honeymoon, the first thing I make is hummus. This Lupini bean recipe is a slight variation of the traditional hummus, but it's just as delicious!!
Now to the good stuff.  Let's make this dip!
How to make the lupini bean dip: 
To roast the garlic, slice off the top a head of garlic to expose some of the cloves inside. Place the heads on a piece of foil. Drizzle with olive oil and wrap in the foil. Roast until cloves at 400 degrees until they are lightly browned and tender, about 30 minutes.  Let them cool.
In a food processor, squeeze the meat from half the garlic cloves into a food processor. Add the lupini tahini, lemon juice and zest, salt and pepper, parsley, and process to a paste. It will be really thick, so slowly add water to reach the consistency you like. Blend it for at least 5 minutes. Process the hummus continuously until it becomes very smooth, and scrape down the sides of the bowl as needed to break up any of those large chunks.
Add salt and pepper to taste.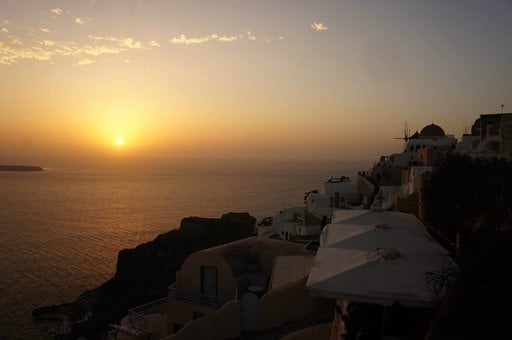 Hope this lupini bean recipe transports you right to the Mediterranean sea!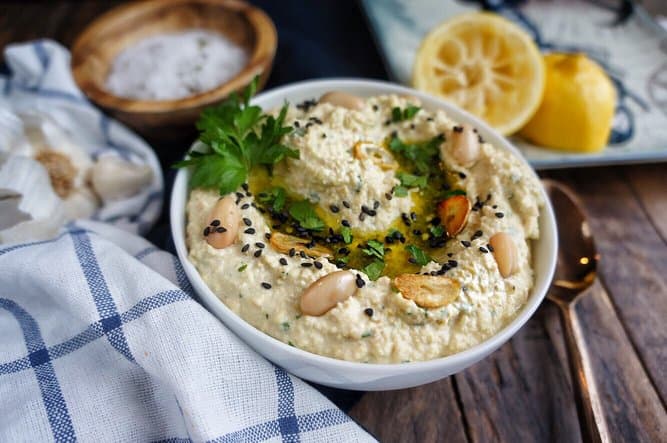 Loved this recipe? Check out my Tomato Bruschetta with homemade pesto or my meatball gyros with tzatziki 
Print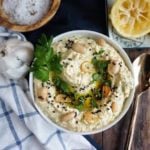 Roasted Garlic Lupini Bean Dip
---
Half head of roasted garlic
350 g Brami Garlic and Herb lupini beans
3 tablespoons tahini
Juice of a small lemon
2 tsp lemon zest
1 teaspoon sea salt
1/2 teaspoon pepper
Water, to thin
1 TBL fresh Italian parsley, chopped
---
Instructions
To roast the garlic oil, add the cloves and oil to a small baking dish and roast at 390 F˚ until the cloves are soft, about 20 minutes. Let cool.
To make the hummus, squeeze the meat from half the garlic cloves into a food processor. Add the lupini tahini, lemon juice and zest, salt and pepper, parsley, and process to a paste. It will be really thick, so slowly add water to reach the consistency you like. Add salt and pepper to taste.
Garnish with additional olive oil and parsley. Serve with fresh veggies or pita.
---
Want to pin this for later? Click on the image below!