Meatball Gyros with Garlic Tzatziki Sauce. Serve these with simple cucumber tomato salad and creamy tzatziki sauce for a perfect lunch!
Even though our Greek honeymoon was just over four years ago, I still remember it like it was yesterday.  My wife still asks when we can go back, and my love for the food certainly hasn't stopped! There was just something so wonderful and fresh about all the ingredients used in each dish, there wasn't one bad thing I could say about everything we dined on.  We had a lot of lamb, which we're not used to eating, and I never got sick of it!
Since the weather is warming up here, I thought it was a great time to use those fresh tomatoes and cucumbers to make some meatball gyros with garlic tzatziki sauce! These are super easy to make and with the best fresh ingredients, you'll feel like you're right back in Greece!
Have you guys been to Greece? If you haven't, you NEED to go.  Everyone always asks what my favorite island was, and I can't pick one.  There's a tie between Athens and Santorini.  Athens is filled with the most incredible history.  I didn't even love history in school, but when we were there, I just absorbed all the information like a sponge! Think we should start paying for kids to take trips to see history in person??
Santorini was so stunning.  We went there first and stayed in the most incredible hotel with a private jacuzzi on the balcony.  The staff was the most friendly we've ever encountered and it was just the best experience. If you go, stay in Oia and be sure to take the sunset catamaran ride!
Super flavorful meatballs served with warm pita, simple cucumber tomato salad, and creamy tzatziki sauce. These gyros are a family favorite that can be whipped up on a busy night in no time!
These are a slight variation from a traditional Gyro with the substitution of meatballs, but I think you'll love it! Serve these Meatball Gyros with Garlic Tzatziki Sauce with simple cucumber tomato salad for a perfect lunch!
If you love this recipe, be sure to check out my turkey meatballs with marinara or my souvlaki with herb quinoa
Print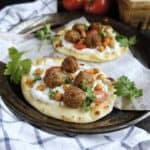 Meatball Gyros with Garlic Tzatziki
Author:

Nicole Triebe

Prep Time:

20 minutes

Cook Time:

1 hour

Total Time:

1 hour 20 minutes

Yield:

4 servings
---
Tzatziki Sauce
1/2 English cucumber, peeled
2 cups plain Greek yogurt
5 cloves garlic, pressed through a microplane
1/3 cup chopped dill, fresh
Juice of half a fresh lemon
1/2 tsp salt, or to taste
1/8 tsp black pepper
Meatballs:
1 red onion, diced fine
1/2 lb ground beef
1/2 lb ground lamb
2 garlic cloves, minced.
1 cup grated parmesan cheese
1/4 cup fresh parsley, finely chopped.
6 large mint leaves, finely chopped
To assemble the Gyros
Pita bread
Fresh tomatoes
Crispy Chickpeas
Feta Cheese
Fresh parsley for garnish
---
Instructions
Start by making roasted chickpeas.
Preheat oven to 450 degrees F (230 degrees C).
Blot chickpeas with a paper towel to dry them. In a bowl, toss chickpeas with olive oil, and season to taste with salt, garlic salt, and cayenne pepper, if using. Spread on a baking sheet, and bake for 30 to 40 minutes, until browned and crunchy.
Decrease the the oven temperature to 350 degrees
Add all Meatball ingredients in a large bowl and use your hands to mix well for a few minutes until the mixture is well combined.
Measure out heaped tablespoons and dollop onto a work surface – should make around 32 – 35. Then roll into balls
Place balls in a shallow baking dish and fill bottom of the pan with water until it reaches the middle of the meatballs.
Bake at 350F for 20 minutes or until the internal temperature reaches 165F.
Assemble the gyros by topping fresh pitas with the tzatziki sauce, meatballs, fresh tomatoes, feta and roasted chickpeas. Garnish with fresh parsley
---