The countdown is on: the premier of the 8th and final season of your favorite fantasy drama is just days away, and I have the perfect snacks for an epic viewing party! Let's get ready for the Taste of Thrones! 
Any season premier viewing party isn't complete without snacks, am I right?  And they MUST be on theme.  Lucky for you, I'm teaming up with Solo Cup to show you some easy appetizers you can throw together before your friends come over for a night filled with Cersei, Daenerys and the rest of your favorite cast of characters!  With a few easy tips and tricks you can throw your own epic viewing party.
To start off the party right, you can make this Dragon Egg cheese ball! Using my favorite cheeseball recipe, shape into a large egg in the middle of a Solo 10″ paper plate.  Place sliced almonds in rows (starting at the top of the cheese egg and moving down) and surround it with crackers.  Even the mother of the dragons would be proud of this plate!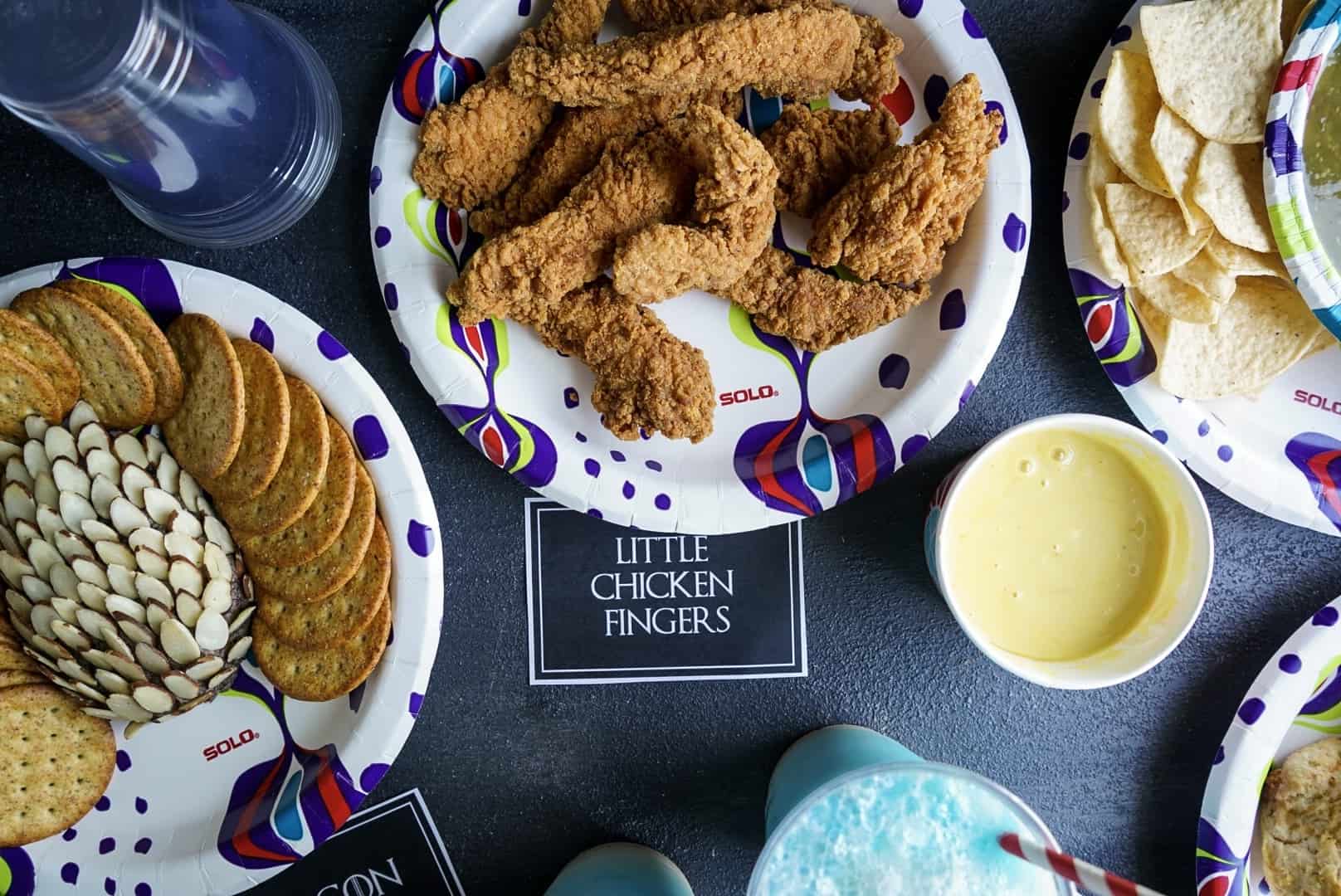 Inspired by the honeyed chicken served during the feast at Winterfell, these little chicken fingers served with homemade honey mustard sauce will satisfy even the hungriest dragon! I am a lover of all sauces, and this one is at the top of my list.  It's a perfect compliment to any crispy little chicken finger, too!
To make the homemade honey mustard sauce, combine the following in a Solo paper snack bowl:
3/4 cup real mayo
1 tbl yellow mustard
3 tbl honey
Whisk it up and serve it with your favorite chicken fingers!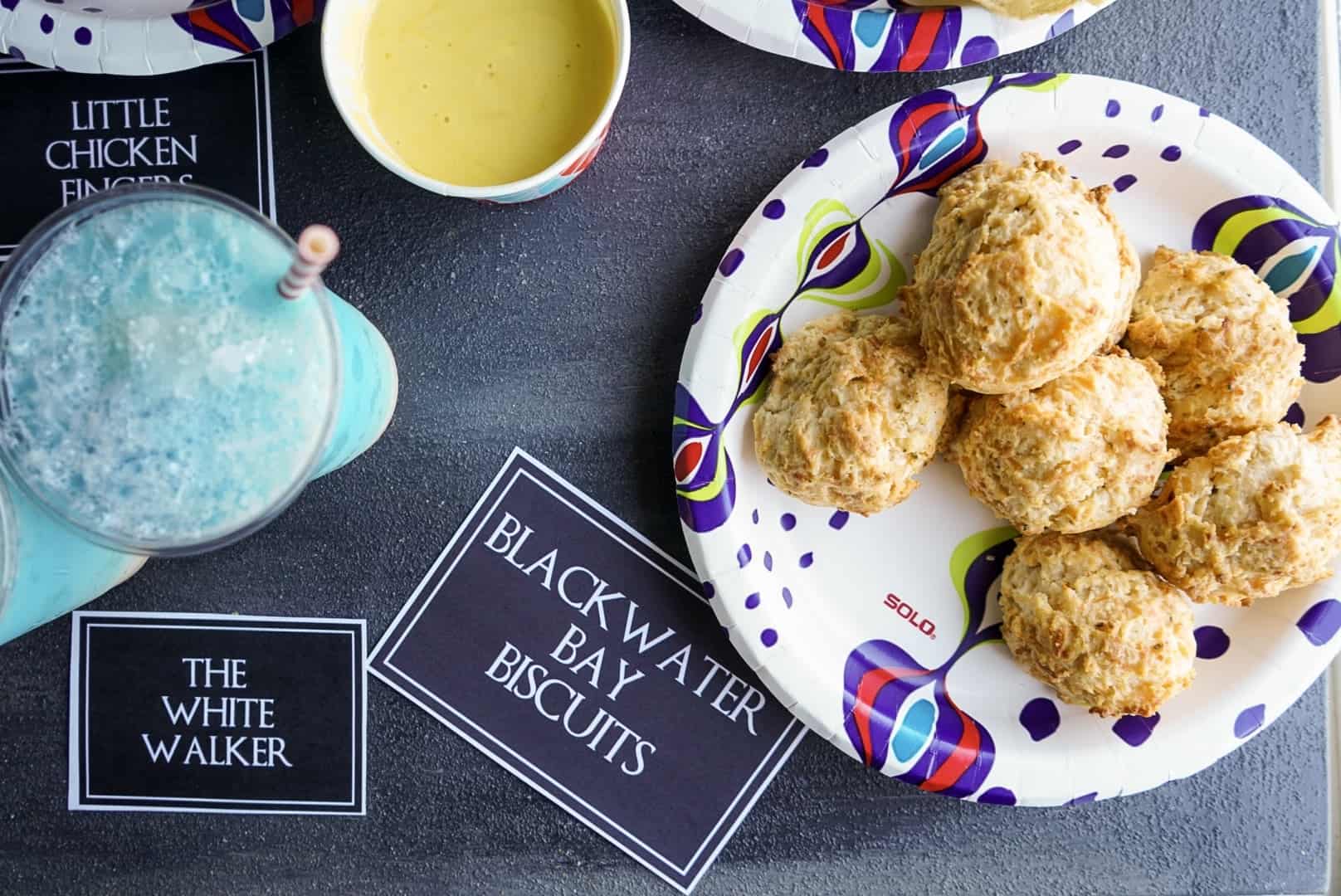 To pair with those mouth watering chicken fingers, my Copycat Red Lobster Cheddar Biscuits make perfect Blackwater Bay Biscuits! They're the best in all of the Seven Kingdoms!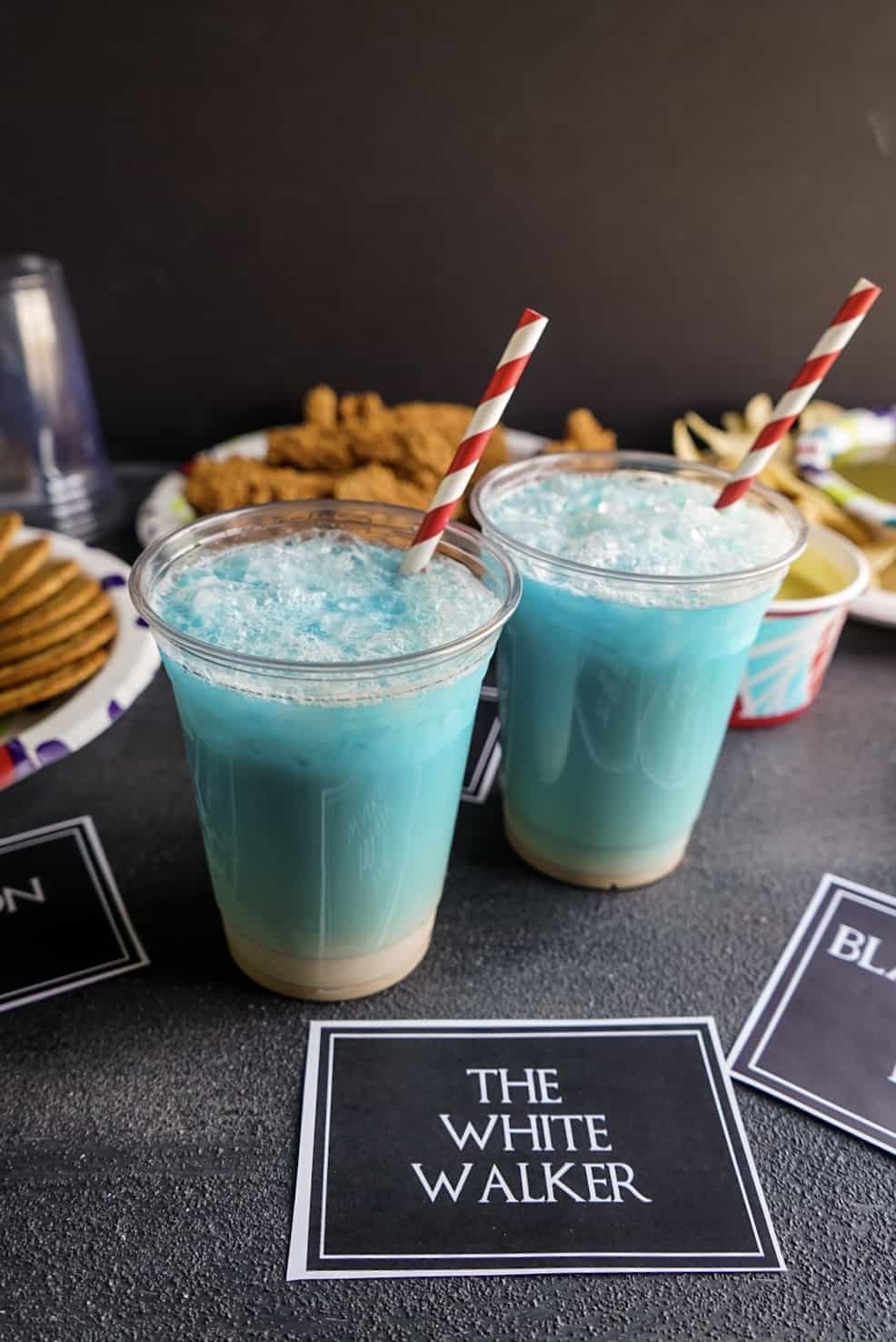 Finally, this White Walker cocktail makes the whole party complete! Use Solo's Clear Eco-Forward Plastic cup to show the gorgeous blue color and layers to this cocktail.
What you need:
White chocolate Liqueur
Vanilla Cream soda
Blue Curacao
Fill the cup with crushed ice.  Pour White chocolate liqueur half way up the cup.  Fill the rest of the cup with Vanilla cream soda, and top with a splash of Blue Curacao.  The drink will have a beautiful layered effect!
Now find a seat, and dig in! Happy viewing!