Is your herb garden overflowing?  Add those greens into your favorite summer cocktail for a refreshing twist! Start your weekend off right with this Raspberry Lemon and herb smash cocktail! 
I'm currently sitting on my patio on a gorgeous day in Chicago and wondering if it's too early to have a cocktail.  I remember when I was working in the corporate world, the underwriters would always leave the office early on Fridays during the summer for broker events and happy hours.  Chicago summers are some of the best around, and we would take full advantage of the warm weather and an open patio when the timing was right.
Now that I work for myself, those sunny days are spent working on my deck all afternoon, staring at my overflowing herb garden and dreaming about which dish or drink I'm going to make next.  This year I have the following planted in my pot of herbs:
Thyme
Basil
Garlic chives
Parsley
Sage
Lavender
These are freshly planted and doing well, so I'm excited to have them at my disposal all summer.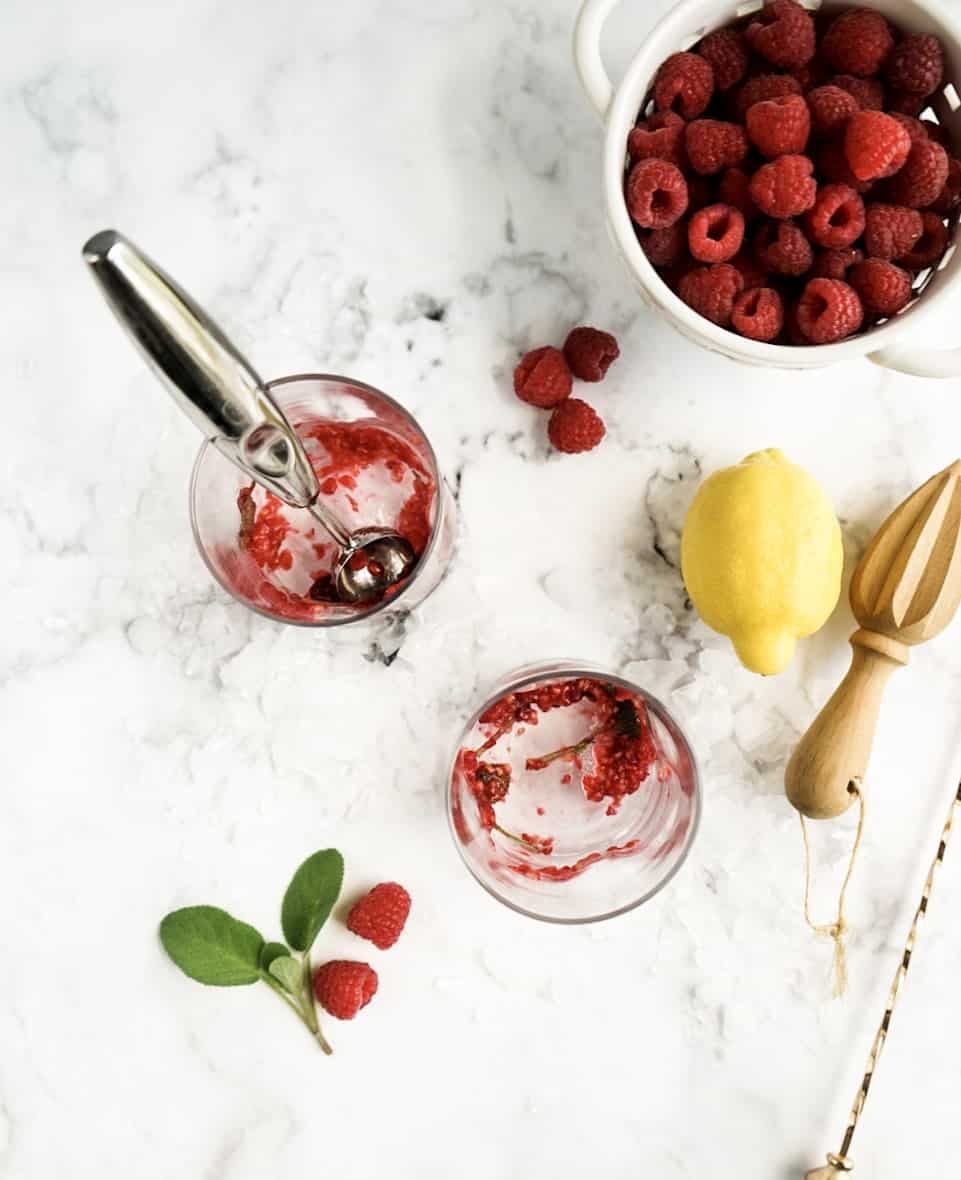 I've recently started infusing water with all kinds of citrus and herbs, so I wanted to come up with a delicious cocktail along those same lines.  A Raspberry Lemon + Herb Smash Cocktail was just what my tastebuds were craving!
What is a smash cocktail?
A smash cocktail's definition is a loose one.  There must be a few things:
A spirit
A sweetener
An herb
Seasonal fruit
Ice
Water/Seltzer
Mint is a classic herb choice, but I wanted to give my drink a more earthy twist this time.  I chose to put a couple sage leaves at the bottom of my glass to muddle with those sweet raspberries.  Sage contains small amounts of magnesium, zinc, copper and vitamins A, C and E so I feel a little bit better about consuming this libation on a sunny afternoon.
What is muddling?
To muddle for cocktails is to press the ingredients against the side of the glass with a muddler.  Muddling helps to release the flavors of the fresh ingredients so that they bind better with the spirit in your cocktail.
What if I don't have a muddler?
Don't sweat it! If you don't have a full set of tools for cocktail making at home, all you need to do is find something that's great at smashing food.  Muddlers are essentially shaped wooden or plastic dowels with a flat end.  So if you have a thick wooden spoon or wood meat pounder, this is a perfectly acceptable substitute.  I actually used a melon baller because it had enough of a surface area to create that same smashing action and it worked just fine! Get creative! If nothing else works, Amazon also has some really inexpensive muddlers if you want to add it to your kitchen arsenal.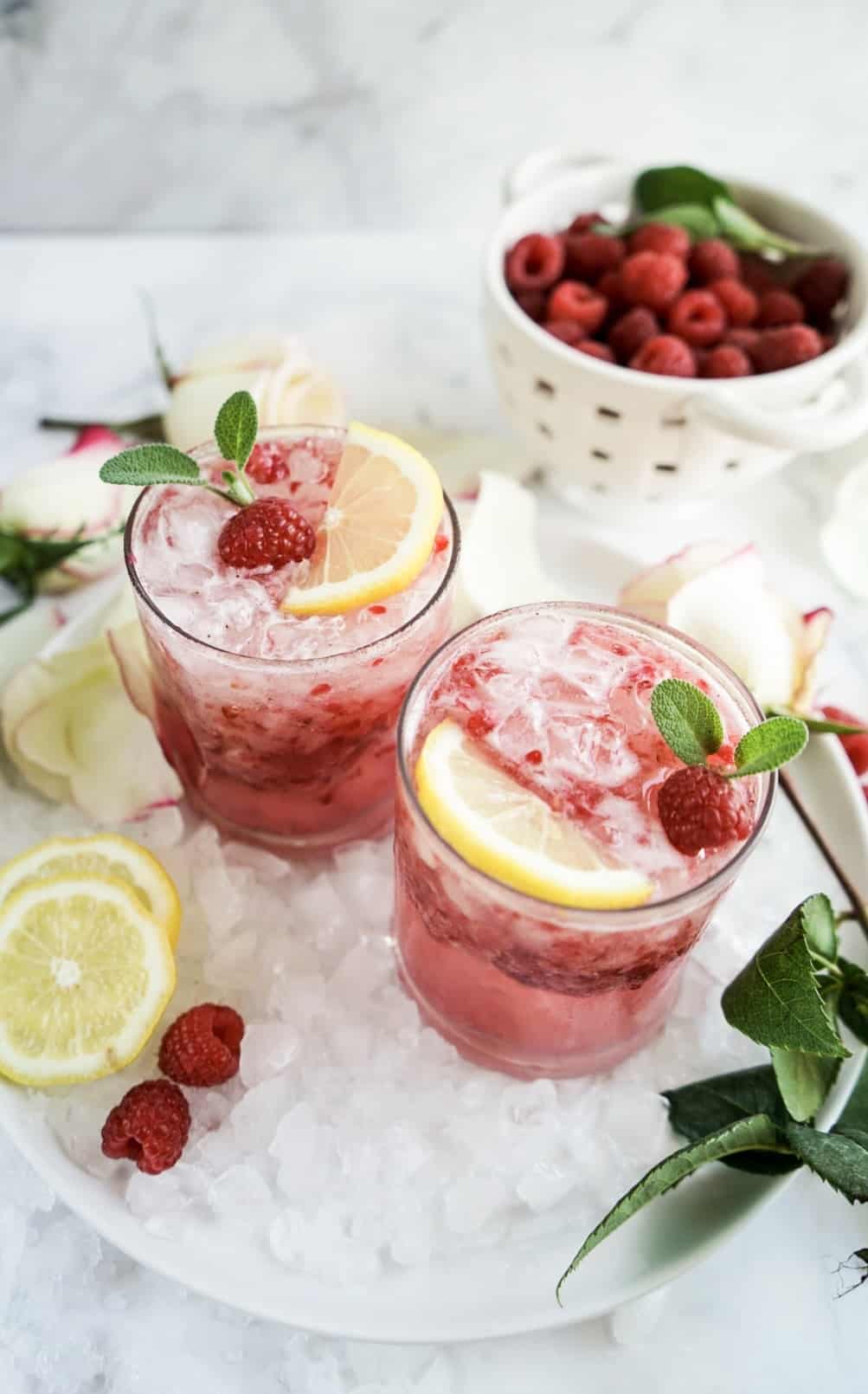 Aside from Raspberry Lemon + Herb Smash, so many different herbs can work in a smash cocktail.  Here are some delicious herb and fruit combos:
Basil: goes well with strawberry, watermelon, peaches and oranges
Mint: blackberries; raspberries; strawberries
Thyme: plums, peaches, honey + lemon

How do you make a smash cocktail?
Combine your raspberries (or fruit of choice) and herbs at the bottom of a glass or cocktail shaker
Muddle until fruit is completely broken up and mushy
Add simple syrup, spirit of choice, and ice and shake
You may choose to water your smash down a little or add a spritz of seltzer
Garnish and enjoy!
What are your favorite smash flavor combinations? Let me know in the comments below!
Loved this post? Be sure to check out my strawberry lime margaritas!
Loving this background?  Head over to Best Ever Backdrops to snag your own!  Use my code WINDYC10 for 10% off your order!
Print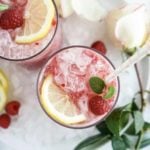 Raspberry Lemon + Herb Smash
Author:

Nicole Triebe

Prep Time:

5 minutes

Total Time:

5 minutes

Yield:

1

1

x
---
8

raspberries

4

–

6

herb leaves of your choice

2 oz

simple syrup

1/2

lemon, juiced
soda water

1 oz

vodka
Ice
---
Instructions
Combine raspberries and herbs at the bottom of a cocktail shaker. Muddle until fruit is broken up. Add simple syrup, vodka and ice and shake to combine. Pour into glass and top with soda water if desired. Garnish and serve!
---
Want to pin this for later? Click on the image below!