The absolute BEST Steak Fajitas you'll ever eat! Marinated for hours in lime juice, garlic, and spices — so good you'll never need another recipe again!
Can you believe it's already May?!?  This year has just flown by!  Cinco de Mayo is this weekend, and a delicious festive menu is everything. We love all Mexican food at the Dinner Fairy house, and fajitas are on my menu year round!  I wanted to share this super easy steak fajita recipe so you could fire up the grill and make some this weekend!
What is a fajita?
Fajitas are a dish of Mexican origin consisting of strips of spiced beef or chicken, chopped vegetables, and grated cheese, wrapped in a soft tortilla and often served with sour cream.
Traditionally, skirt steak is the traditional cut of meat used for fajitas. It used to be cheap, but now it's a little more on the expensive side; so often people choose to use  flank steak, which costs less. Either are a good choice for this dish!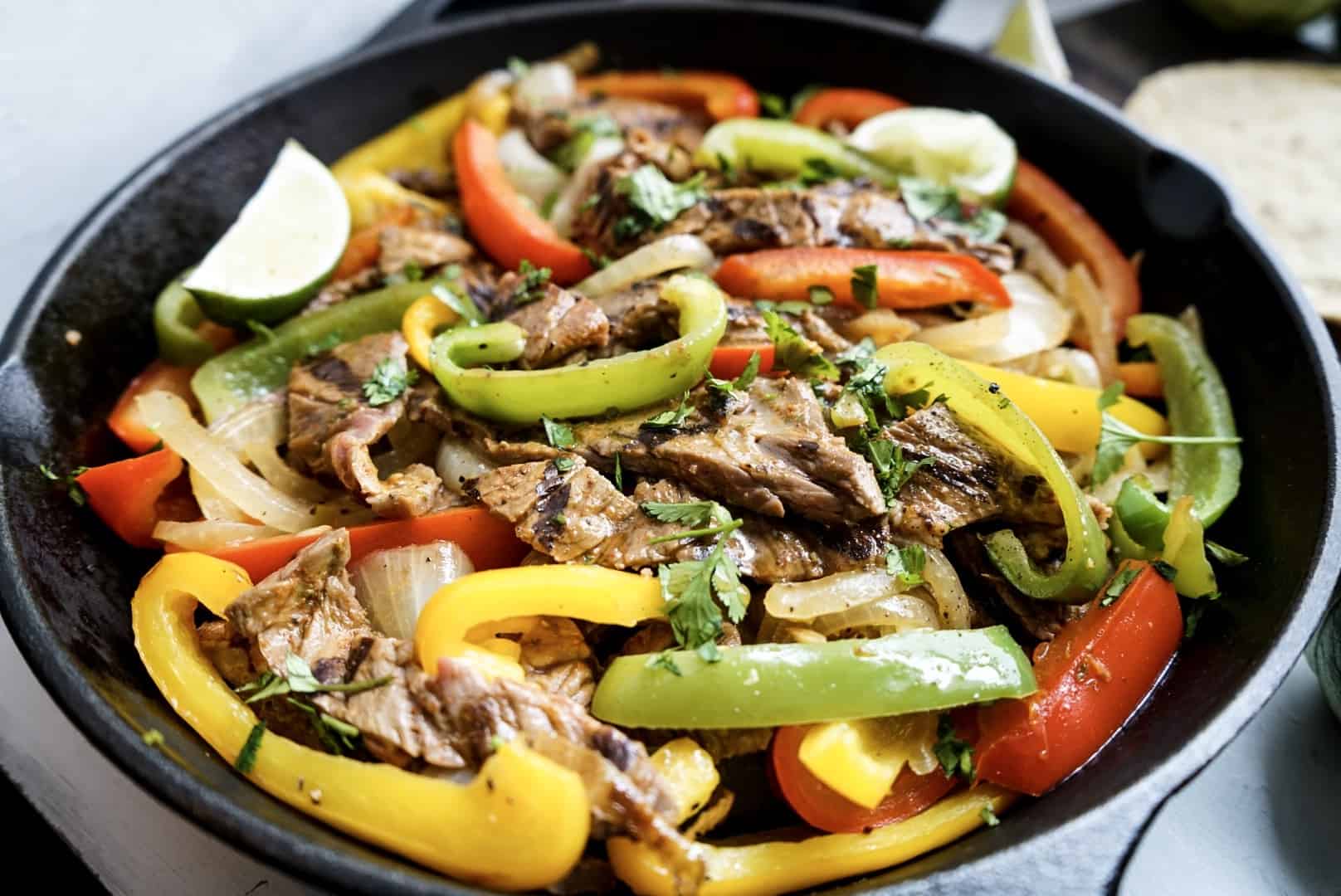 You'll start by creating a custom steak fajita rub with spices you probably already have in your spice cabinet.  I'm partnering with GoodSalt USA to show you how easy it is to create your own custom fajita steak rub that will bring out all those delicious flavors in your meat.
Why should I use a steak rub?
A rub coats the food to be cooked, adding flavor and sealing in the juices. This process doesn't tenderize, so the cuts of meat used should be tender ones that cook quickly, making spice rubs perfect for the grill or broiler.
How is GoodSalt different than regular salt?
GoodSalt is a low sodium iodized salt that tastes just like regular salt. The sodium content in GoodSalt is replaced by essential minerals such as Potassium, Magnesium, Lysine and Iodine. This unique combination of minerals helps to protect users from LVH salt damage, maintain cardiac rhythm and lowers blood pressure!  It's even scientifically proven to be more effective than taking medicine for high blood pressure. ​ If you're looking to switch to a healthier lifestyle, check out GoodSalt!  It was the perfect addition to my steak rub for these mouthwatering steak fajitas.
What should I put in my steak rub?
1 tablespoon cornstarch
2 teaspoons chili powder
1 teaspoon GoodSalt
1 teaspoon paprika
1 teaspoon brown sugar
1/2 teaspoon onion powder
1/2 teaspoon garlic powder
1/4 teaspoon cayenne pepper
1/2 teaspoon ground cumin
Stir cornstarch, chili powder, salt, paprika, sugar, onion powder, garlic powder, cayenne pepper, and cumin together in a small bowl.
How much rub will you need for the steak?
You'll need approximately 1/4 cup of rub for each steak, so if you're making fajitas for a big group, be sure to keep that in mind.
How long before cooking should you rub the steak?
If you've got the time, salt your meat for at least 40 minutes and up to overnight before cooking. If you haven't got 40 minutes, it's better to season immediately before cooking. First, start by scoring the steak with a crosshatch pattern.  Then you can rub the steak with your seasoning mix. Watch the video below to see how!
After your steak is marinated, you can add some char on tortillas by placing them directly on the grill or an open flame on your stove top.  Let them sit for a couple seconds before flipping! If you follow me on
Instagram
, I have a video saved to my food styling tip highlights.  If char isn't your thing, you can warm them up in the oven!
Can I store my extra fajita steak rub?
Yes! Anything that hasn't touched the steak can be stored for later.  Store in airtight containers in a cool dark location to prevent flavor and aroma loss.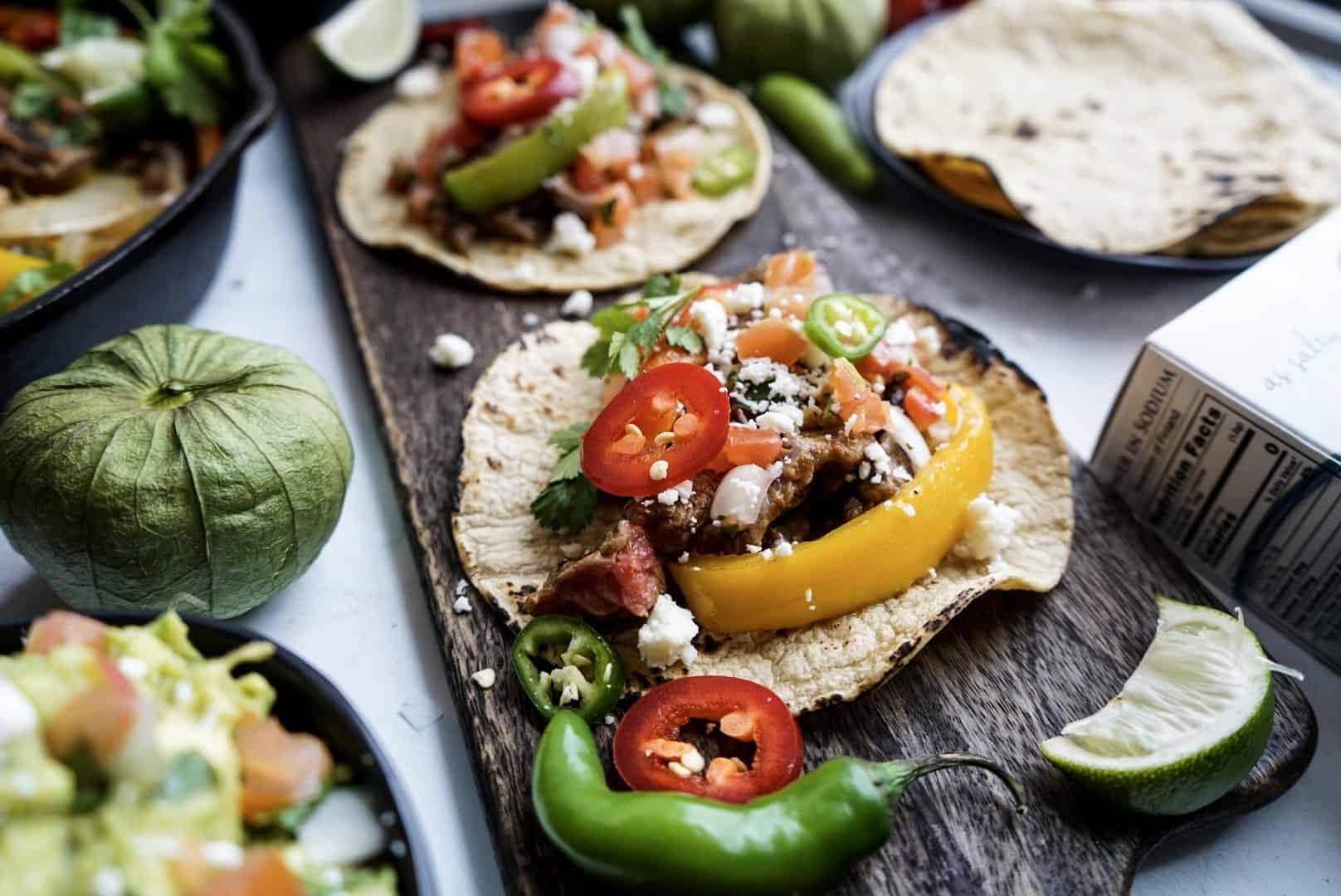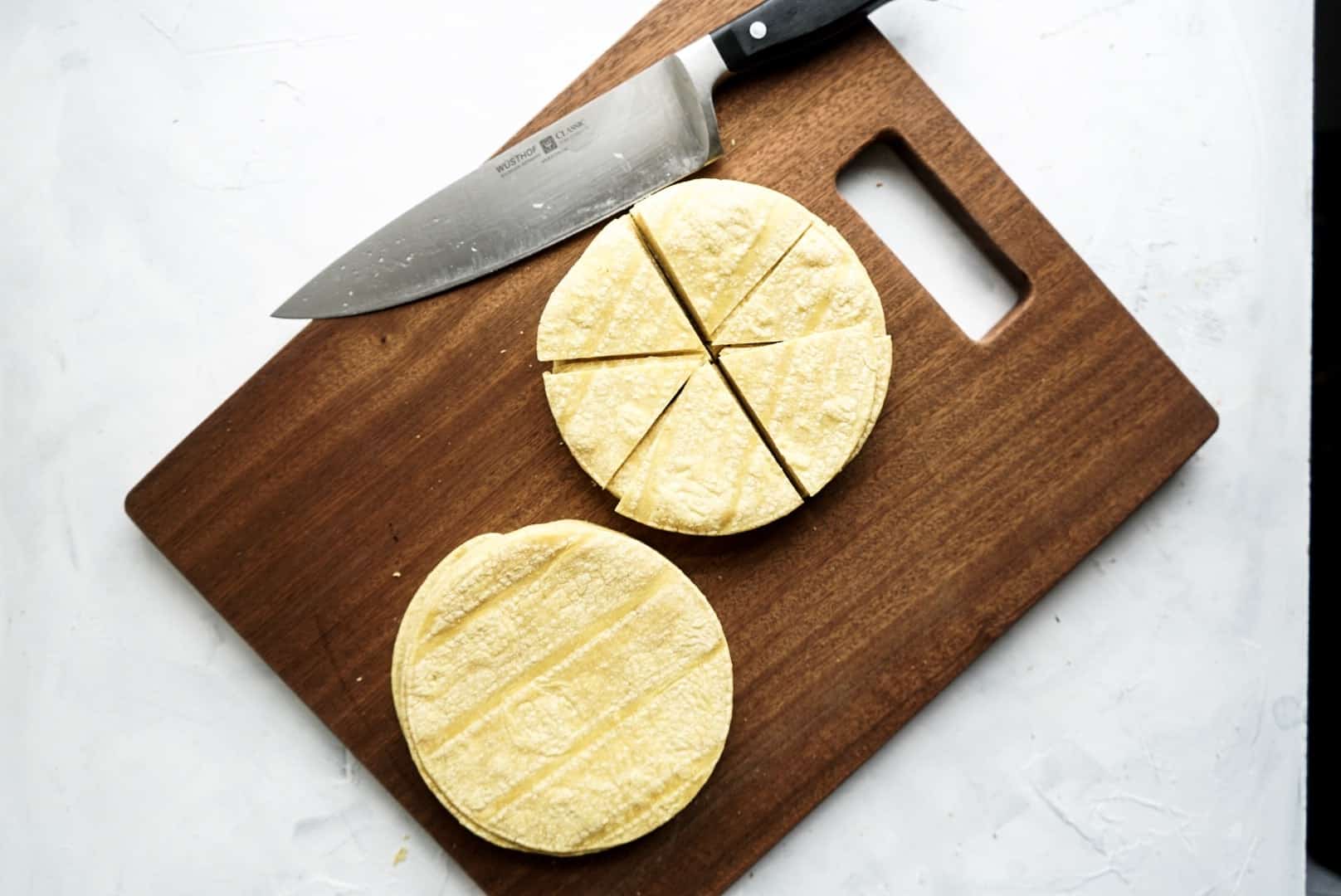 I made some homemade tortilla chips by slicing corn tortillas into triangles, frying quickly in some canola oil on the stove and seasoning with
GoodSalt
! Once you go homemade tortilla chips, you'll never go back! You can purchase your own GoodSalt on
Amazon
!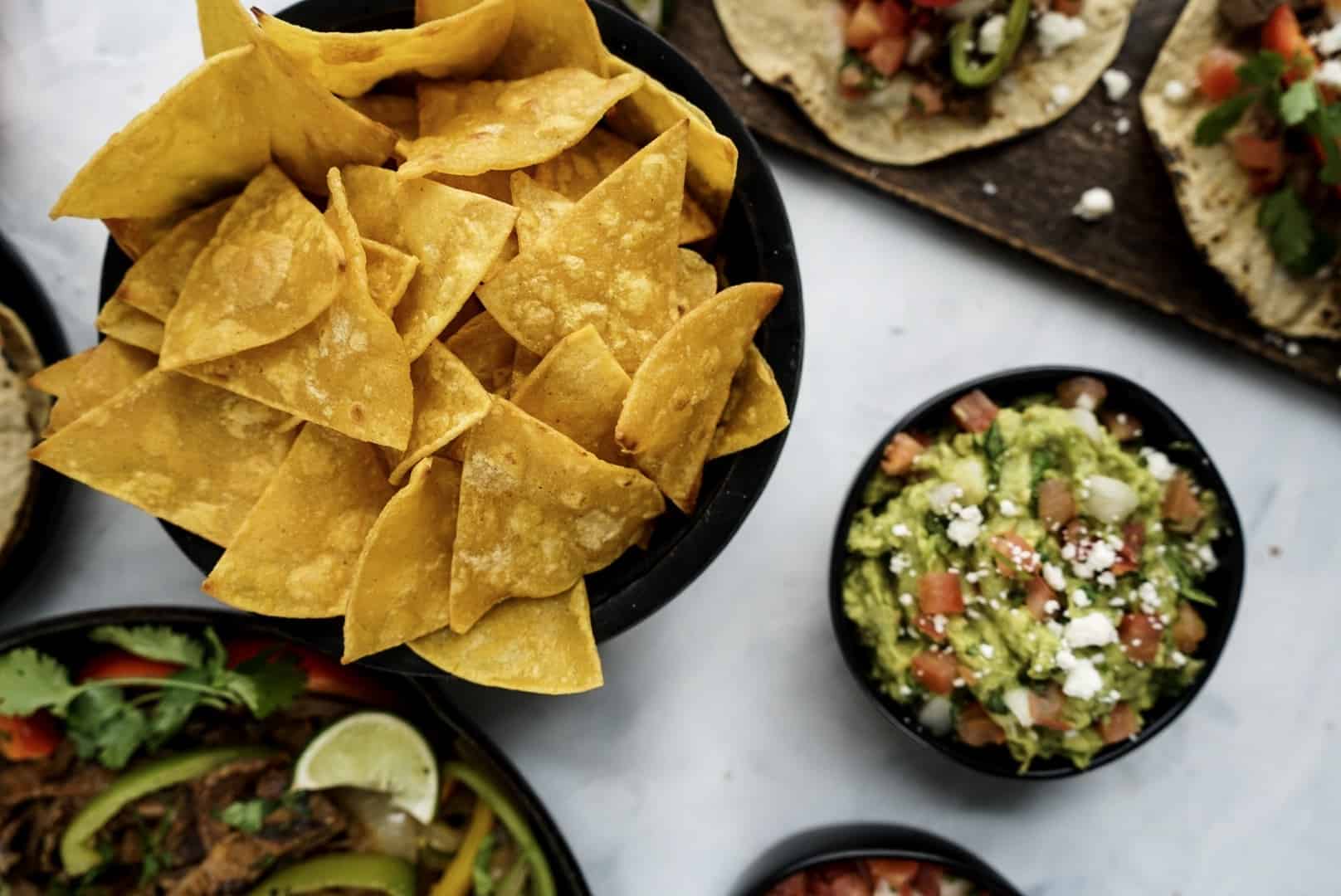 Print
Steak Fajitas
Author:

Nicole Triebe

Prep Time:

15 minutes

Total Time:

15 minutes

Yield:

4

1

x
---
For the rub:
1 tablespoon

cornstarch

2 teaspoons

chili powder

1 teaspoon

GoodSalt

1 teaspoon

paprika

1 teaspoon

brown sugar

1/2 teaspoon

onion powder

1/2 teaspoon

garlic powder

1/4 teaspoon

cayenne pepper

1/2 teaspoon

ground cumin
For the Marinade
2

limes, zested and juiced

1/4 cup

olive oil

6

cloves garlic, minced
For the Fajitas
Red, green and yellow bell peppers, sliced

1

large yellow onion, sliced
Tortillas
Cojita cheese (optional)
Guacamole (optional)
Pico de gallo (optional)
---
Instructions
Combine cornstarch, chili powder, GoodSalt, paprika, brown sugar, onion powder, garlic powder, cayenne pepper and ground cumin in a bowl and set aside.
Score steak with cross hatches and rub spices on the meat. Place in a sealable plastic bag and add olive oil, lime juice and zest, and garlic. Remove air from bag and seal and make sure marinade covers all of the steak. Lay flat and set in fridge for 2 hours to overnight.
In a large cast iron pan or griddle over high heat, add 1 tbl olive oil and let heat up for 1 minute. Add steak and sear for 3 minutes per side for medium rare. Remove from pan to plate or cutting board and let rest for 5 minutes.
While the steak is resting, saute bell peppers and onions in same skillet. Add more oil to the pan if needed. Cook for 5-6 minutes or until slightly softened.
Slice the steak into thin slices against the grain. Serve with warm tortillas and optional garnishes.
---
**This post is sponsored by GoodSalt but all opinions are my own.  For individuals with serious health problems, please consult your doctor or attending physician on the suitability of GoodSalt for your medical condition.
Want to pin this for later?  Click on the image below!