Full of winter flavors, this winter squash and farrow salad with a pomegranate vinaigrette is a must for your holiday menu! 
This salad might look fancy, but it's so easy to put together.  If you're craving some greens to get you through the next few months, or are finalizing your holiday menu, this salad is for you!
What is Farro?
Though commonly mistaken for spelt, farro is nutrient-packed grain has been traced back to early Mesopotamia (almost 20,000 years ago!) It has been a staple in Europe for many years, and it's now gaining popularity in the United States.  It's an inexpensive whole grain full of nutrients, with a chewy texture, which makes it a perfect addition to this winter salad.  It's an easy ingredient to add to any salad to make it a little more nutritious and filling!
How do you cook Farro?
Similar to grains like rice and quinoa, farro is simple to cook. Farro should be soaked for at least 30 minutes or overnight before cooking.
After soaking, bring 2 1/2 or three cups of water to a boil.
Add one cup of dry farro, cover, and let simmer for 10-15 minutes.
If the farro hasn't been soaked, simmer for 20 to 30 minutes.
If you're crunched for time and have an Instantpot, no soaking is necessary! Add 1 1/2 cups farro with 2 1/4 cups water and a dash of salt to Instantpot, cook on high pressure for 7 minutes.  Let it naturally release for 7 minutes, drain the excess fluid and serve immediately.
What should I include in my Winter Squash + Farro Salad?
When making salads, I always try to include seasonal ingredients.  For mid-December, pomegranates are in season so I knew I wanted to incorporate the ruby-red pomegranate arils.  Butternut squash was a perfect complement to the sweetness of the pomegranate. It has a  nutty taste similar to that of a pumpkin. The golden color adds a gorgeous pop to the salad as well.  To throw in another level of flavor, I roasted the squash with some cinnamon and nutmeg.  I love the winter spices it adds to this Winter Squash and Farro Salad.
Winter squash  I threw in some goat cheese and candied pecans for good measure.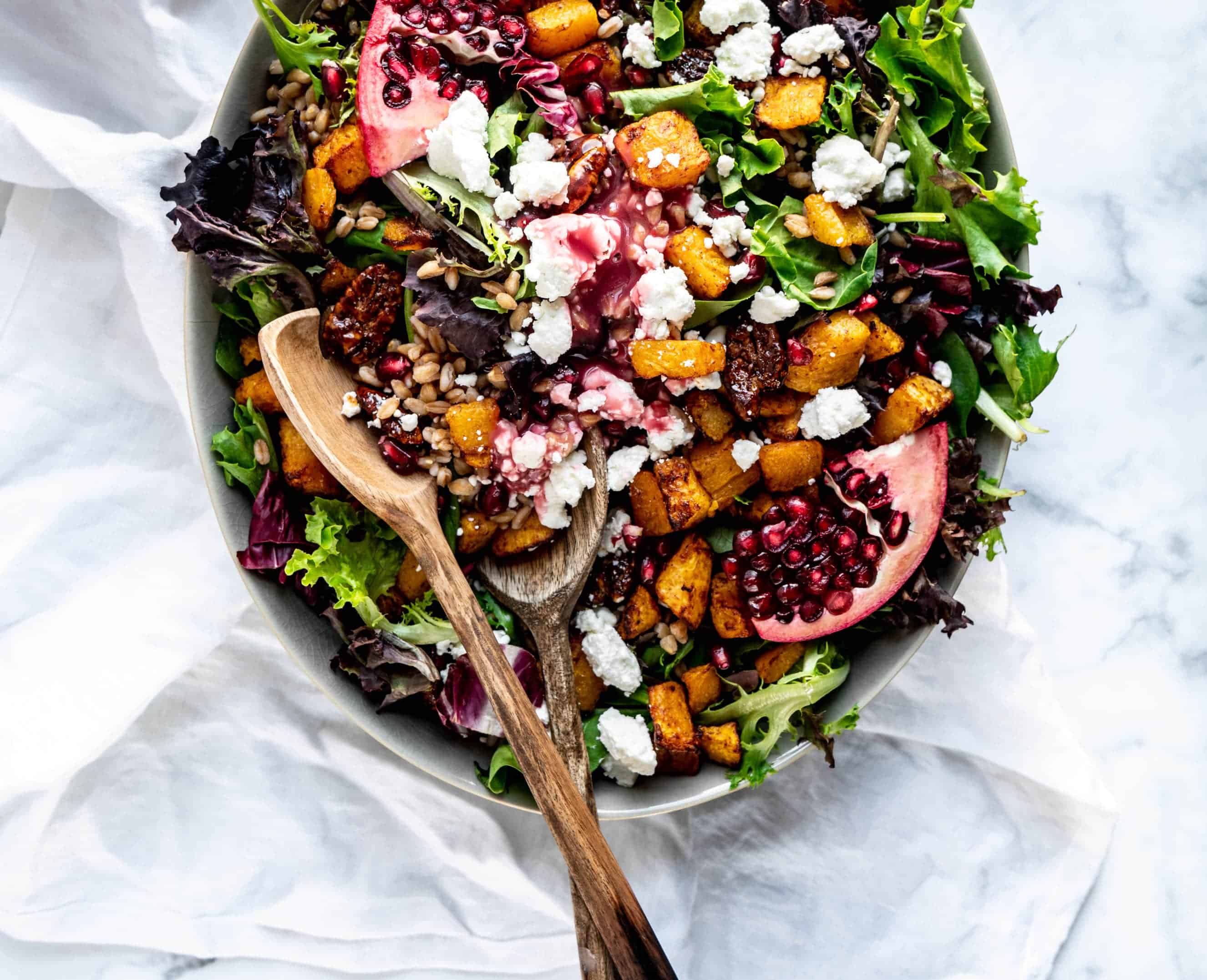 What kind of salad dressing should I serve with my Winter Squash and Farro Salad?
I'm keeping the dressing light and bright today for this Winter Squash and Farro Salad since it includes the Winter squash and goat cheese and going with a pomegranate vinaigrette!  It's so simple to make and you'll never buy store-bought again!
Combine the following in a blender:
1 cup pomegranate seeds
½ cup olive oil
¼ cup pure maple syrup
1 TBS lemon juice
1 TBS white balsamic vinegar
1 tsp dijon mustard
pinch of sea salt
Blend to combine.  Pour over Winter Squash and Farro Salad right before serving.  Enjoy!
Still hungry?  Check out my Fall Harvest Salad!
Print
Winter Squash and Farrow Salad
Author:

Nicole Triebe

Prep Time:

10 minutes

Cook Time:

10 minutes

Total Time:

20 minutes
---
1 cup

butternut squash, roasted with cinnamon and nutmeg

6 cups

mixed greens

6 oz

goat cheese, crumbled

1 cup

candied pecans
Arils from

1

pomegranate

1 cup

farro, cooked
For the dressing:
1 cup

pomegranate seeds

½ cup

olive oil

¼ cup

pure maple syrup

1

TBS lemon juice

1

TBS white balsamic vinegar

1 tsp

dijon mustard
pinch of sea salt
Blend to combine. Pour over salad right before serving. Enjoy!
---
Instructions
1. Preheat the oven 400 degrees F. Line a baking sheet with parchment paper. Cube butternut squash, toss with olive oil and season with salt, cinnamon and nutmeg. Add the cubed butternut squash to the baking sheet. Bake for 15-20 minutes or until easily pierced with a fork. Remove from the oven and allow to cool.
2. Add the greens to a large bowl. Add the cooked farrow, butternut squash, pomegranate arils, candied pecans, and goat cheese. Toss gently with tongs.
3. To make the vinaigrette, combine all the ingredients in a blender and blend until smooth. Drizzle the dressing over the salad right before serving.
---
Want to pin this for later?  Click on the image below!