With a rich chocolate filling and crunchy chocolate granola crust, this double chocolate vegan tart is the perfect combination of salty and sweet to satisfy your biggest chocolate craving!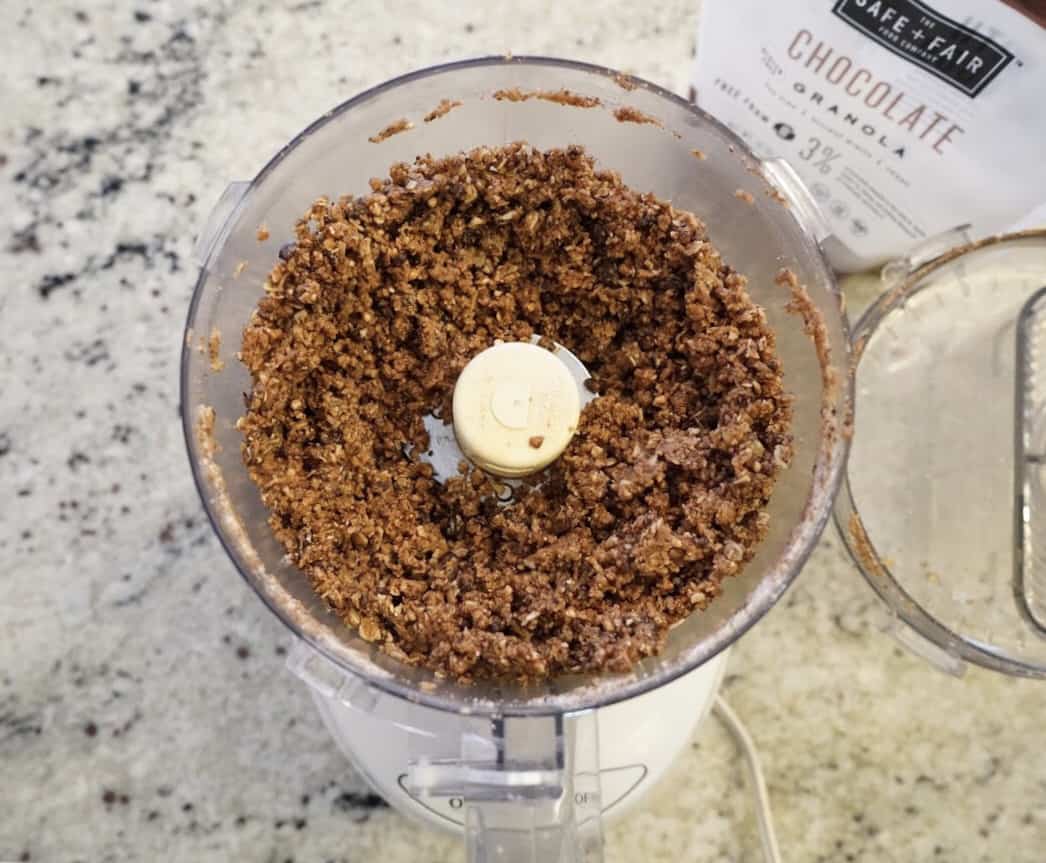 If you've been following me the last few weeks, you know that I recently partnered with an amazing company called Safe + Fair.  I got to meet the entire team last week and fell in love with all of their products!  This allergy-friendly company makes granolas, chips, baking mixes, and cookies, and the company donates 3% of proceeds to the Sean N. Parker Center for Allergy and Asthma Research at Stanford University!  Click here for free shipping on your first purchase of Safe + Fair products!
I opened up my bag of chocolate granola and knew immediately that it would be a perfect addition to any dessert.  With Valentine's Day coming up, I wanted to make something sweet for MY Valentine.  She's a sucker for anything chocolate, so this was a no-brainer.  This vegan double chocolate tart is something I knew she'd fall in love with.
I spend a lot of my time making layer cakes adorned with fondant characters and layers of buttercream.   So on my days off, I want to go back to the basics.  That means classic French pastries like this vegan double chocolate tart.
What's the difference between a pie and a tart?
Allison asked me this question the other day, so I thought I'd clarify for those who don't know.  A pie is a sweet or savory dish with a crust and a filling.  A tart is a sweet or savory dish with shallow sides and only a bottom crust.
This is an already impressive-looking tart, but you can make it even more stunning by adding sweet garnishes on top of the silky ganache filling like fresh strawberries or raspberries.  I took a heart cutter and shaped strawberry slices for a romantic touch for the upcoming holiday.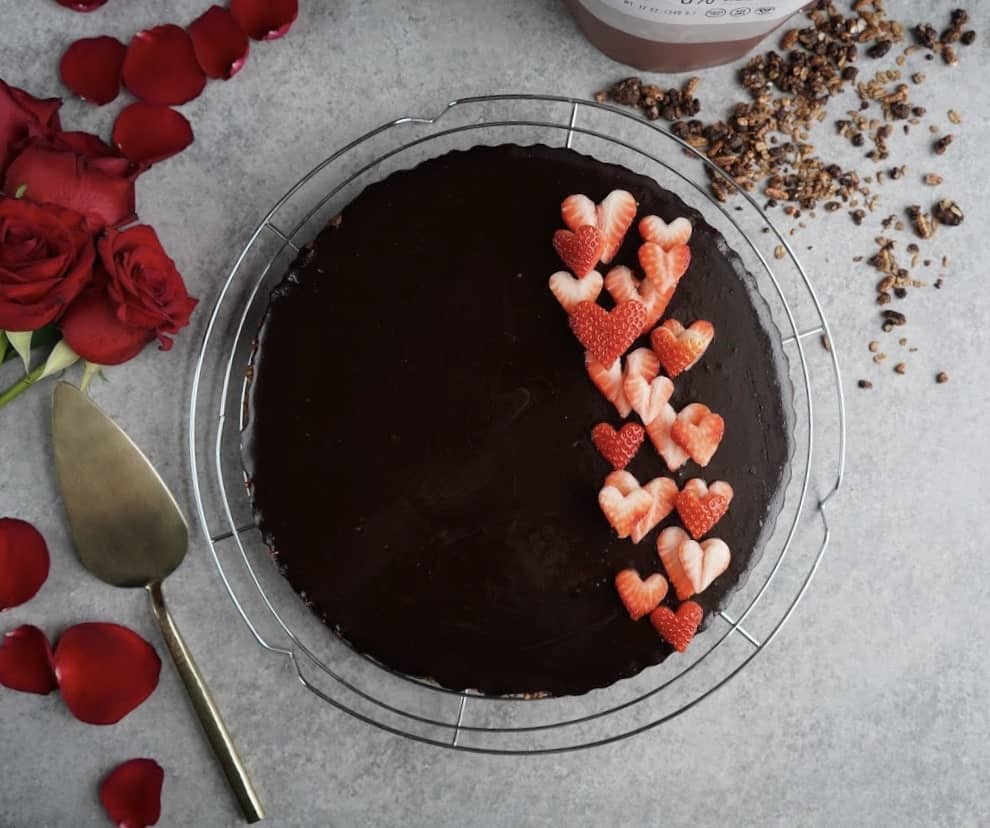 I loved the twist that the granola crust put on such a classic dessert.  Hope you love it too!
How do you make the tart crust?
Pulse the granola, flour, vegetable oil, agave, cocoa, salt, and cinnamon in a food processor until oats are coarsely ground, and mixture looks like wet sand.
Firmly press into bottom and up the sides of tart pan. Then put it in the oven to bake until crust smells toasty.  Remove it from the oven and let it cool before pouring in the chocolate ganache.
How do I slice my double chocolate vegan tart?
Once the tart is filled and has cooled for at least an hour, use a hot knife to cut each slice.  I like to run my knife under hot water for 30 seconds and wipe off the water before cutting.  It ensures a clean cut each time.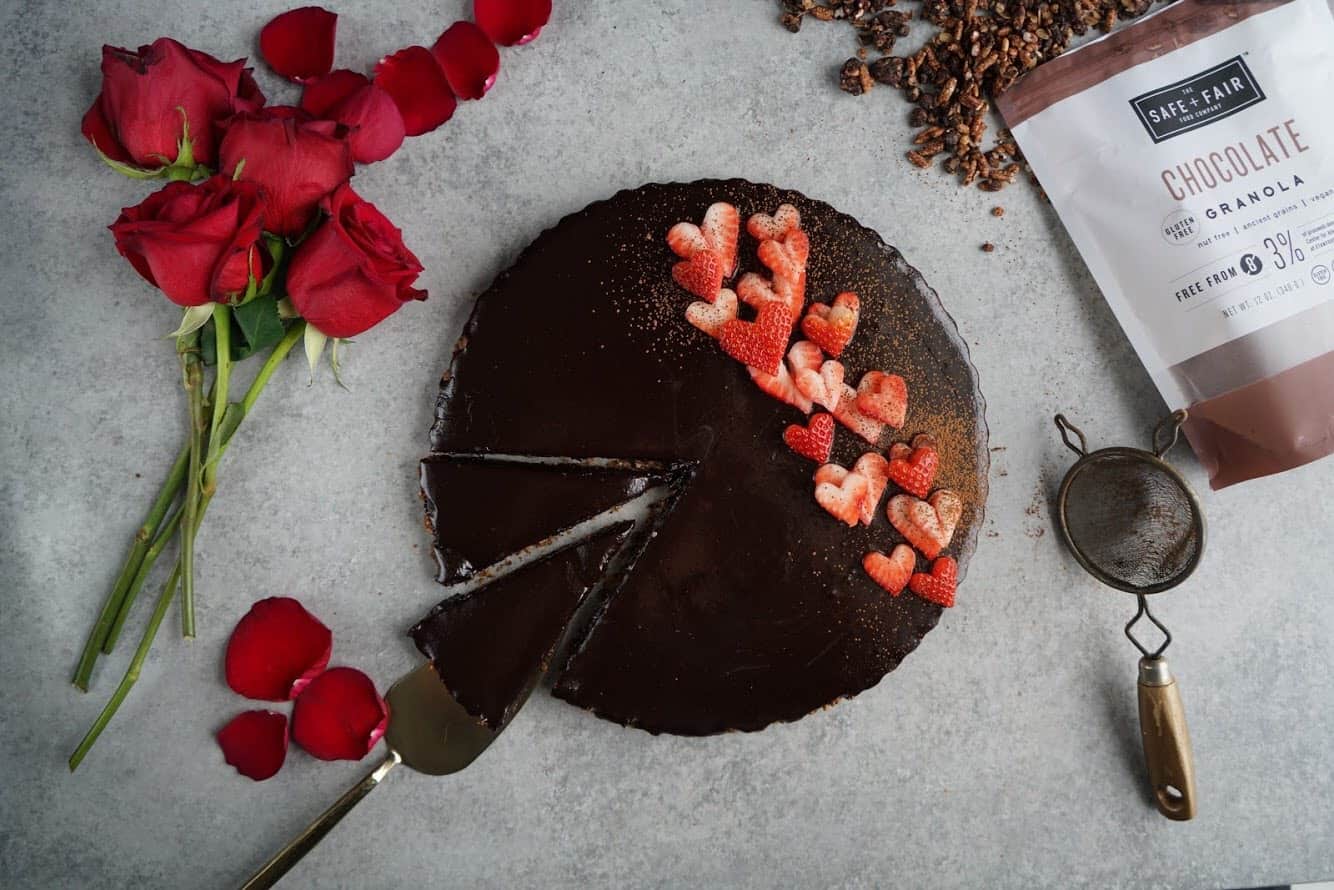 If you'd like, you can also dust a little cocoa powder over the top for more texture on top.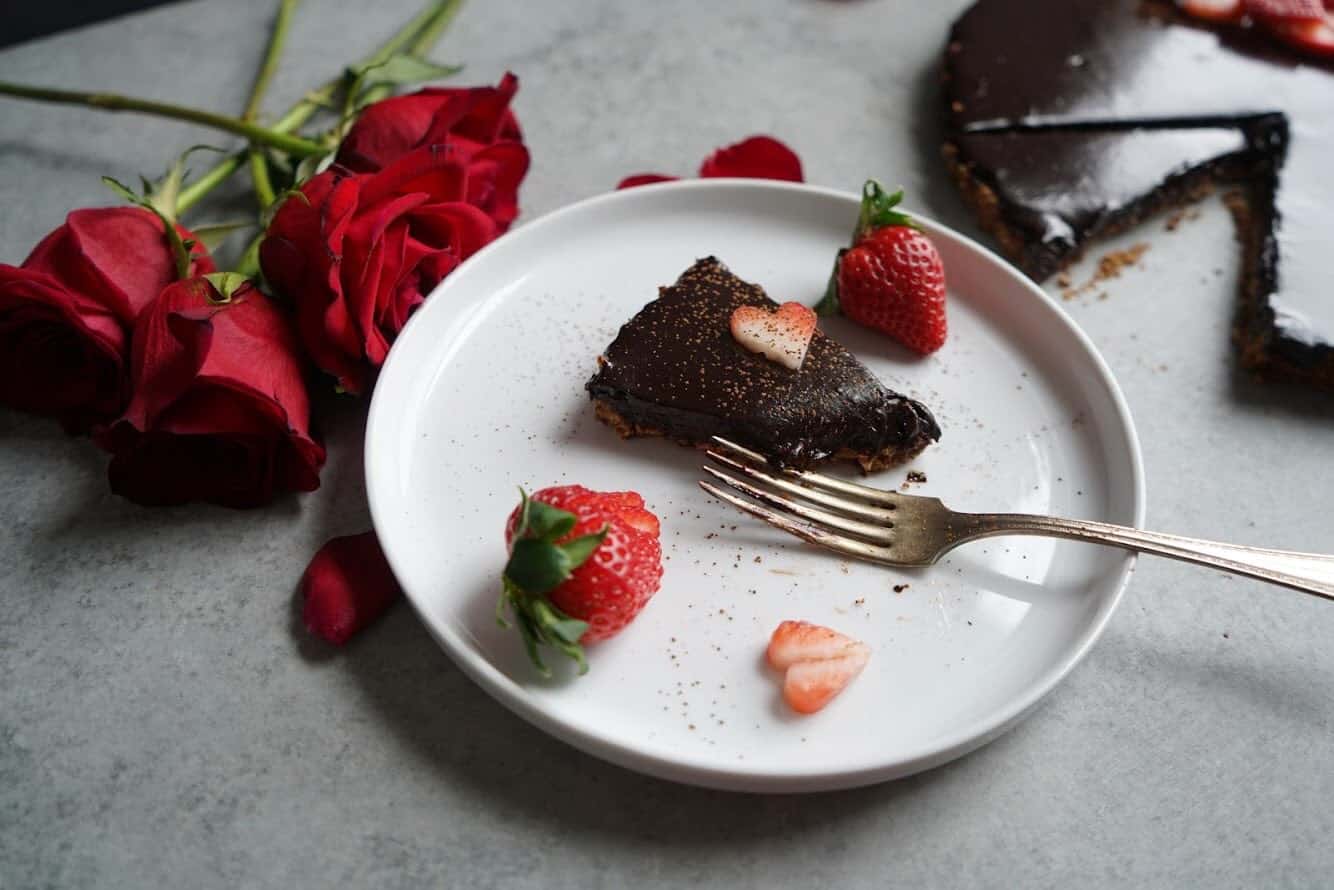 If you loved this recipe, be sure to check out my fluffy vegan blueberry crumble muffins!
Print
Double Chocolate Vegan Tart
Author:

Nicole Triebe

Prep Time:

25 minutes

Total Time:

1 hour 25 minutes
---
1 1/2 cups

Safe + Fair chocolate granola

1 tsp

cinnamon

¾ cup gluten free flour

⅓ cup vegetable oil

¼ cup agave nectar

2 tablespoons unsweetened cocoa powder

¾ teaspoon kosher salt

½ teaspoon ground cinnamon
For the Filling:
½ teaspoon instant espresso powder

1 cup unsweetened cocoa powder

7 ounces vegan dark chocolate, melted, slightly cooled

⅔ cup light agave syrup

2 teaspoons vanilla extract

⅔ cup vegetable oil

¼ teaspoon salt
---
Instructions
Preheat oven to 350˚. Pulse granola, flour, vegetable oil, agave, cocoa, salt, and cinnamon in a food processor until oats are coarsely ground and mixture looks like wet sand.
Firmly press into bottom and up the sides of tart pan. Bake until crust smells toasty, about 20–25 minutes. Transfer to a wire rack; let cool.
Dissolve espresso powder in ¾ cup very hot water in a food processor. Add cocoa and let sit 5 minutes. Add melted chocolate, agave syrup, vanilla, ⅔ cup vegetable oil, and ¼ tsp. salt and process until mixture is very smooth and thick, about 30 seconds.
Scrape filling into cooled tart shell and smooth top.  Tap tart lightly against counter to pop any air bubbles in filling, using a toothpick to pop any bubbles that don't disappear with tapping.  Tap to fill holes.
Chill in the refrigerator until the filling is set, at least 1 hour.
---
Want to pin this for later? Click on the image below!