If cheese and meat are the way to your loved one's heart, this Valentine's Day Charcuterie board has their name on it! This romantic grazing board has the best combination of salty and sweet for a perfect night in!
Valentine's Day holds a special place in my heart because it's my anniversary! Instead of going out and braving the cold Chicago winters on Valentine's Day, I prefer to stay in, open a bottle of wine and enjoy a delicious charcuterie board! Especially this one, which is filled carefully selected combinations of meats, cheeses, and a little chocolate! Charcuterie boards are the perfect way to celebrate and an easy no-cook appetizer platter! Here's how to create a perfect Valentine's Day Charcuterie board for two:
What is in a Valentine's Day Charcuterie Board?
Because this beautiful board is just made for two, we don't need to go crazy when choosing cheeses and meats. Pick two to three of your favorite cheeses (2 to 4 ounces of meat and 2 ounce of cheese). Add pops of red and pink with berries, jams and meats, and a little crunch with crackers and nuts.
Best Meats for Charcuterie Boards
Pick an assortment of mild, medium and bold flavors when it comes to meats. For meats, I always include a hard salami, some salty prosciutto, and spicy soppressata to shake things up a bit.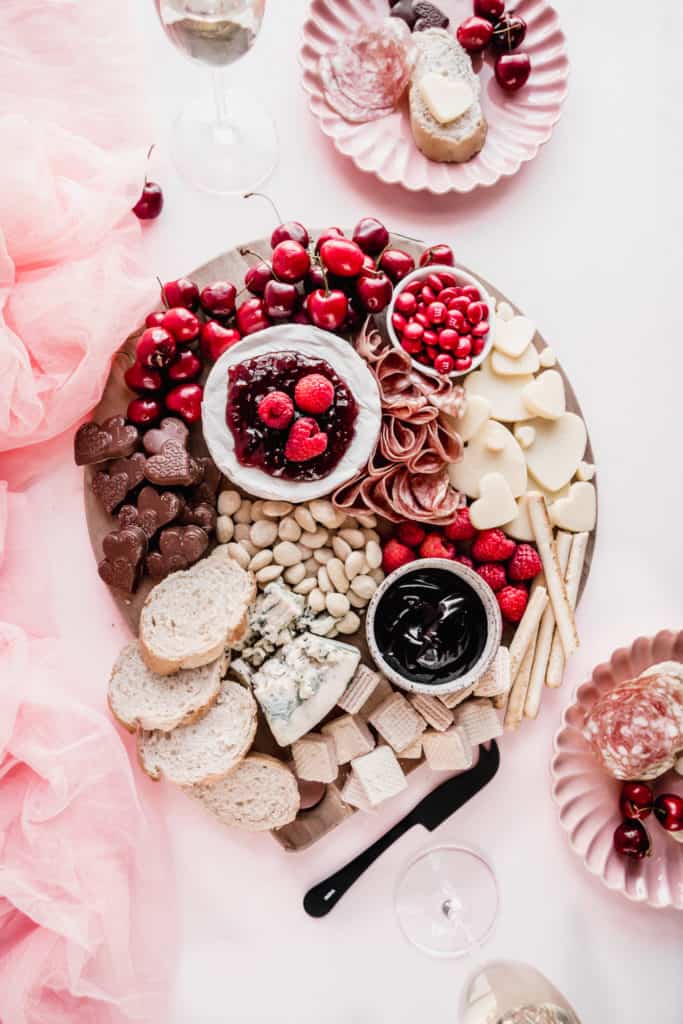 Best Cheeses for Charcuterie Boards
Mix it up with some milder cheeses, and then throw in some bold flavors, as well as middle-of-the-road options. I always include Brie, strong gorgonzola, and a standard and delicious aged cheddar.
Adding Fresh Fruit
Add pops of red and pink with fruit on this Valentine's Day Charcuterie board! Berries and fruit are a great way to add a sweet component and freshness to cut the richness of the meats and cheeses, I added some plump raspberries to the board for a pop of red and I loved the the gorgeous color of these cherries, so they were included as well.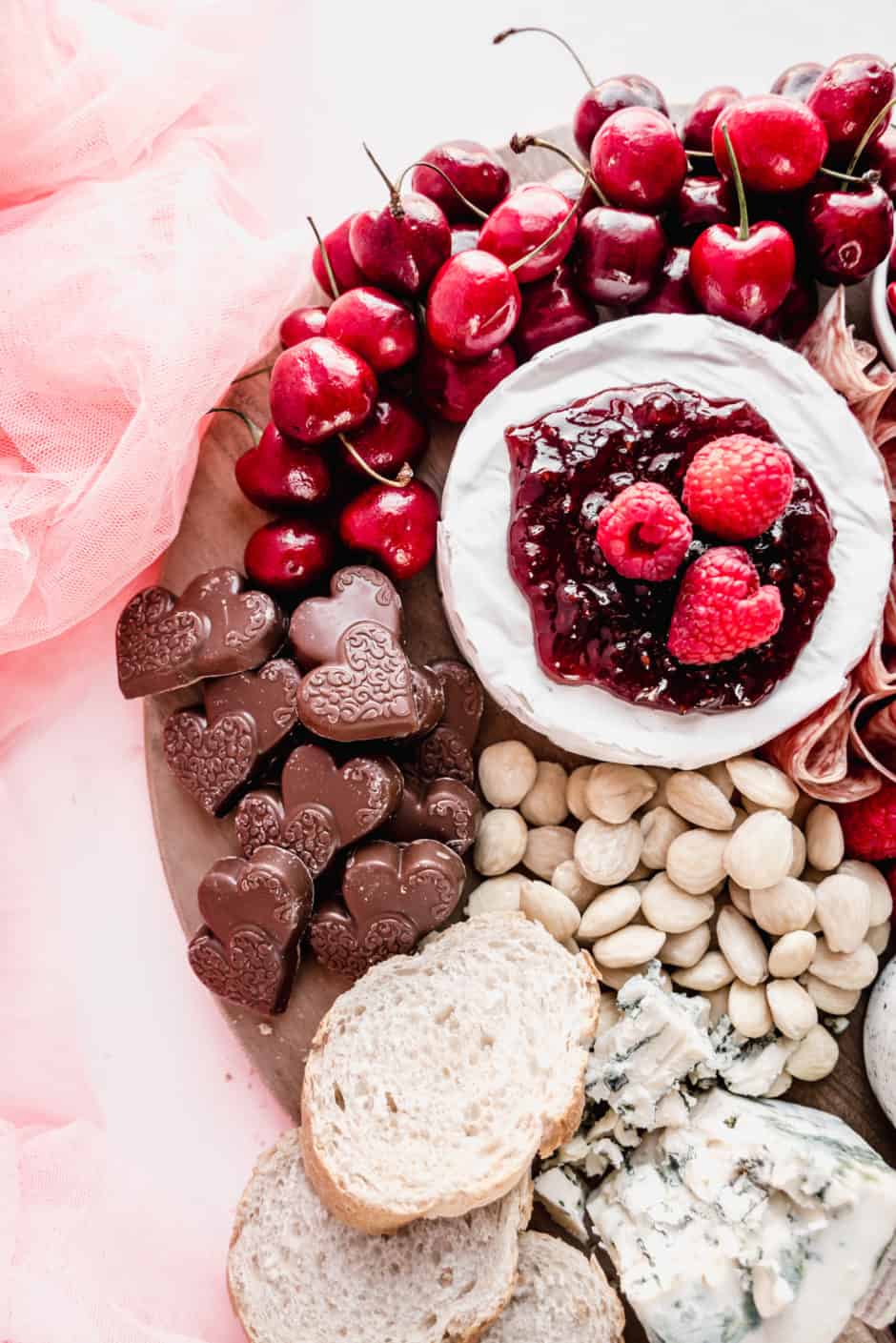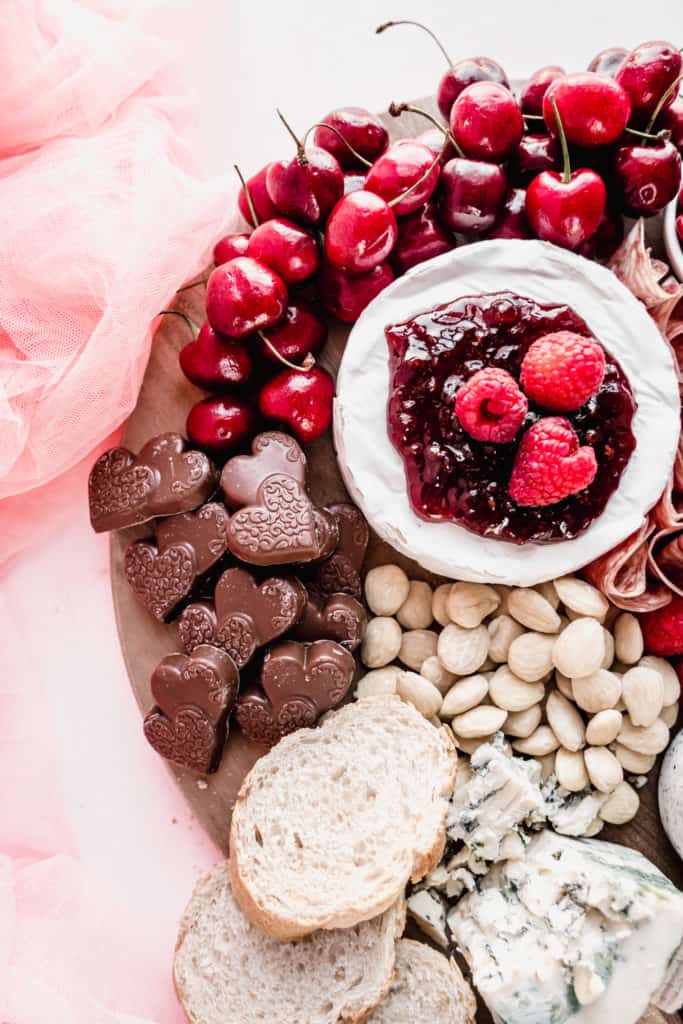 Dips for Charcuterie Boards
Include jams or preserves for some added flavor and sweetness to balance out the dry and salty meat and cheese. Raspberry or strawberry jam will pair well with the brie on this Valentine's Day charcuterie and add a nice pop of red. To break up the large white wheel of brie, I added some raspberry jam on top, as well as some fresh raspberries. If you're adding other jams to the board, place them in small bowls or white ramekins for a more cohesive look. However, the vessels you choose can add a big statement to any board! These beautiful heart ramekins would be perfect addition to this board for sweet or savory dips.
Crackers & crunch:
Crackers or a sliced baguette are great for pairing a variety of ingredients while providing stability to the bite. When choosing crackers, be sure to pick ones that won't compete with the flavors of the cheese, but will compliment it! A simple cracker, like these water crackers, don't have a lot of herbs or salt added. so they won't detract from the flavor of the meats and cheeses. Marcona almonds were added in the empty spaces between meats and cheeses for an added crunch.
Sweet items
Because we're celebrating Valentine's Day with this charcuterie board, it was the perfect opportunity to add in some dark or white chocolate elements! These chocolate hearts from Ghirardelli were the cutest and went so perfectly with this platter. These strawberry wafer cookies added a fun pink crunch element, and classic red M&Ms were added in a small white bowl. Finally, a chocolate dipping sauce was added for the cookies and fruit on the board. Some other fun ideas include conversation hearts, xo gummies, or other heart shaped sweet treats.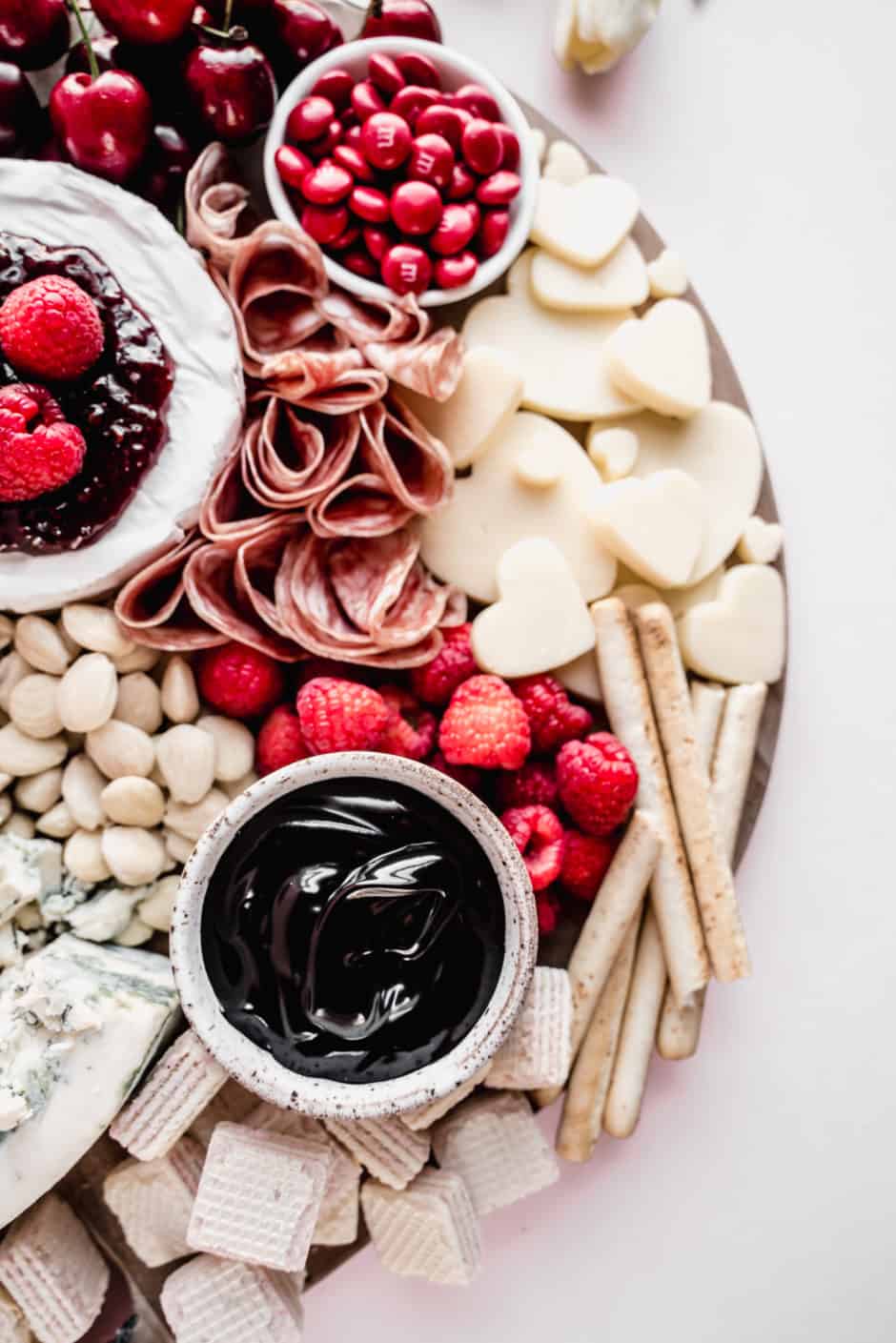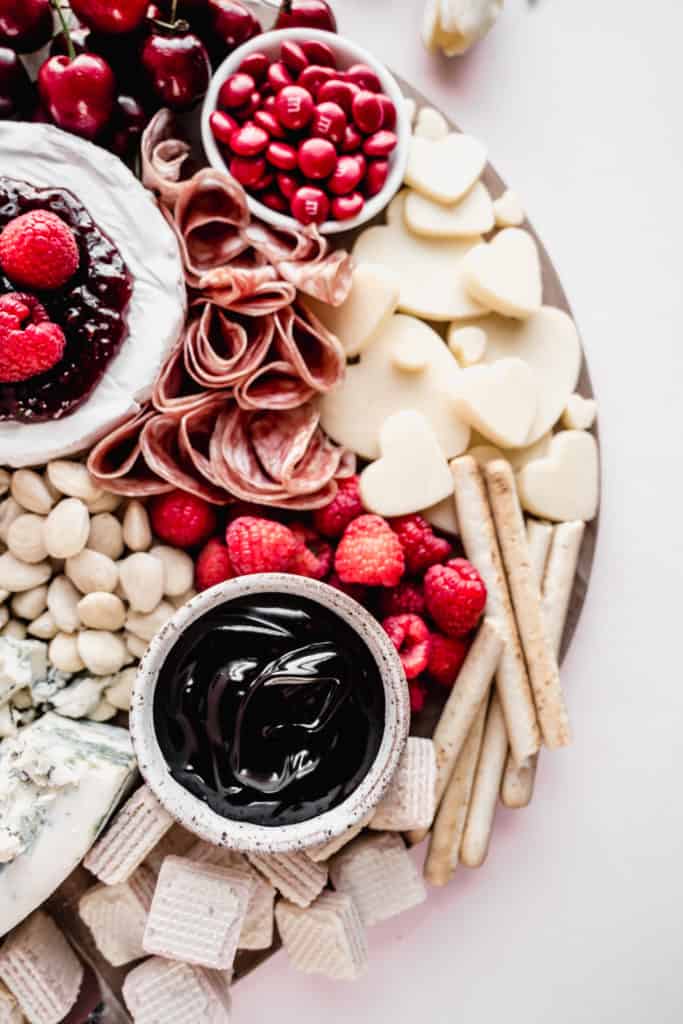 Wine pairings
When appropriate, include alcohol to your valentine's board experience. Wine and beer pair excellently, and are a delicious accompaniment with meat and cheese. It can also enhance the flavor experience. Generally speaking, you want to pair bold-flavored meat and cheese with bold-flavored alcohol. For instance, goat cheese, smoked salmon and prosciutto pairs well with white wine, while salami, cheddar, and blue cheese go great with red wine. Champagne goes well with brie, so pop that bubbly!
How to arrange a charcuterie board
When putting all of these delicious elements, you'll want to remember these tips:
Start with bowls or larger cheeses.
Your charcuterie board may include a variety of spreads, preserves, mustards, or dips. Starting with the bowls acts as an anchor for the rest of the ingredients. Use a variety of sizes to create some interest for your guests. If your board doesn't have bowls, start with larger cheese, like a wheel of brie. The rest of the ingredients will be built around these items to create an aesthetically pleasing experience for your eyes.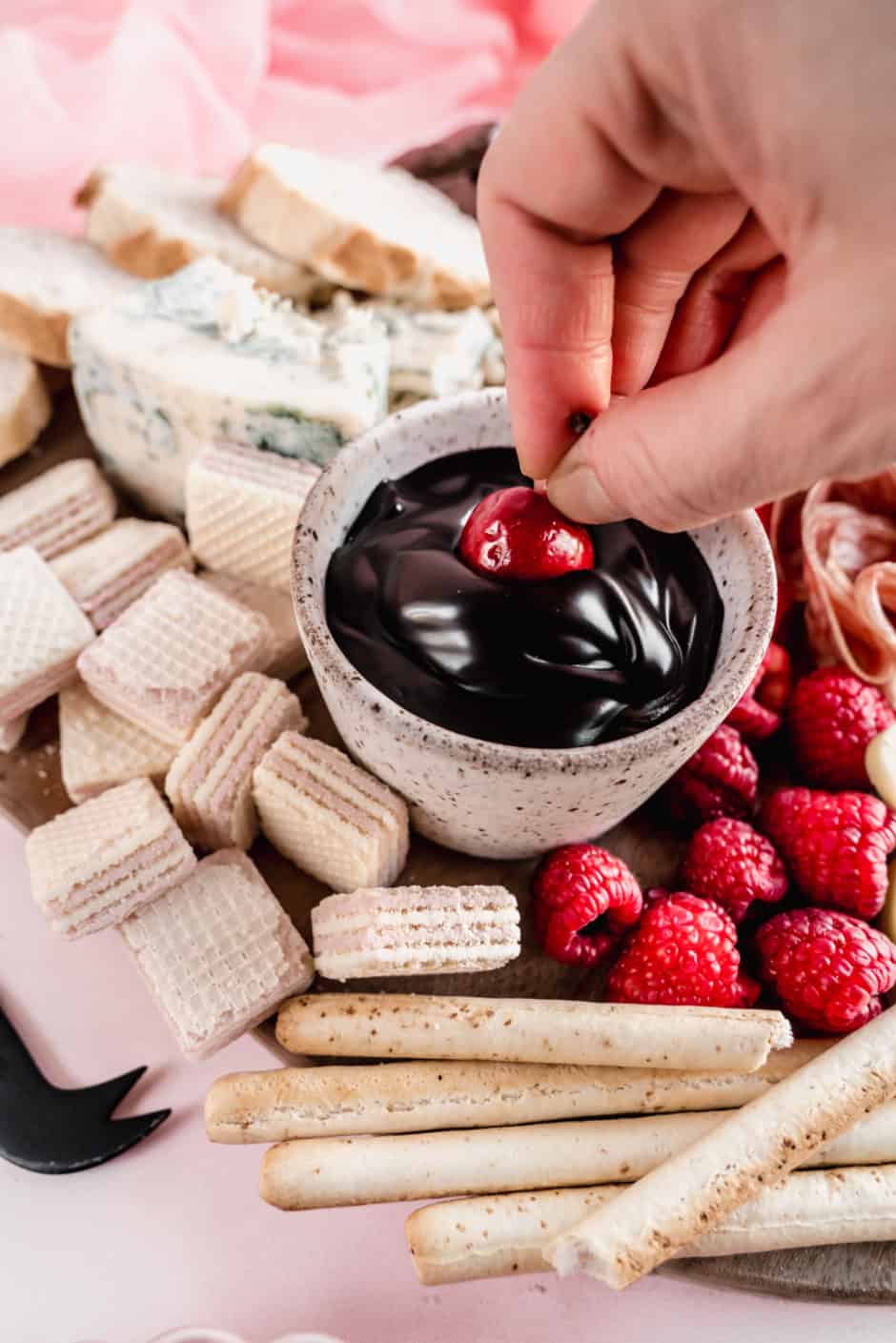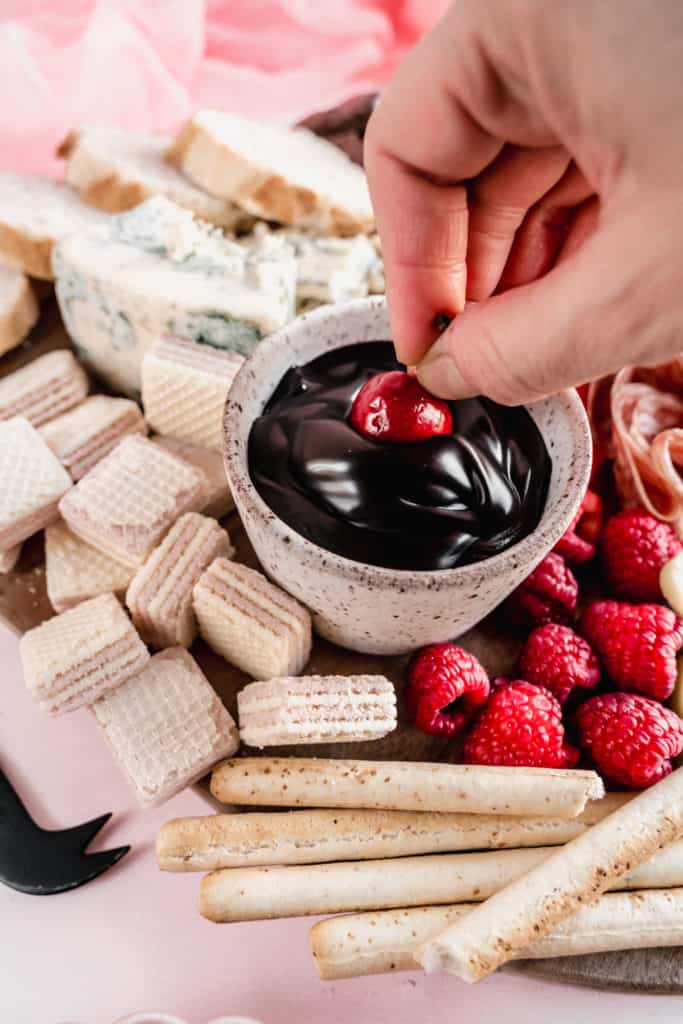 Arrange everything so it compliments each other.
I love to alternate meat, cheese, and fruit. Additionally, alternate colors if you can. Break up the white cheese sections with red fruits or meat. I also love to fill in the spaces with nuts, which are great to pair with both cheese and cold cuts. And we can't forget the crackers! I stick the crackers in-between spaces on the platter.
How should I present the meat?
To create a gorgeous presentation of meats, if they're round, fold in half and then half again, and place the open end up on the board. If you're including prosciutto on your board, pull the thin slices apart and allow them to fall on top of each other like a curly ribbon
Should I cut the cheese?
If you're including large rounds of cheese in addition to the smaller squares that often come in packs from the grocery store, I like to cut the rounds into wedges for easy access for your guests. We're incorporating heart shapes all over this board, so slices of aged cheddar were cut into hearts using these small heart cutters to add an extra festive touch. You could also use a small heart shaped cookie cutter.
Don't be afraid of overflow!
I like a little spilling off the board. In this case, more is more. You want your board to be the star of the show, so the more dramatic, the better!
What kind of platter should I use?
I used a wooden board from Crate and Barrel which is sold out, but you can find similar ones here, here and here. Another popular pick is this large wood cutting board. If you're making a small cheeseboard for date night, a small square or rectangular board is a great option. This heart board or this marble heart platter are perfect for Valentine's Day!
Make sure to include some cheese knives so that your guests can cut the larger chunks as they choose. Use the wide knife to divide soft cheeses such as brie, the narrow plane knife to portion wedges of semi-hard cheeses such as Gouda, and the pronged knife to easily pierce hard cheeses such as parmesan. You can also include chalkboard cheese labels to mark each kind of cheese so there's no guesswork!
This Valentine's day charcuterie board was a lot of fun to create! If you loved this post, be sure to check out my other charcuterie boards here! Wishing you a happy valentine's day!
Want to pin this for later? Click on the image below