Homemade veal meatballs smothered in a fresh marinara sauce topped with melted mozzarella cheese all on toasted garlic bread! These tasty Meatball Sub Sandwiches are a hit with kids and adults alike! 
I'm thrilled to be partnering with ReVeal and Beef Checkoff for this sponsored post. All opinions are mine alone. #vealrecipe #discoverveal #beefcheckoff
The culture surrounding raising veal calves has been a taboo subject for as long as I can remember.  I was recently invited to visit a few different farms around the United States to debunk some of the common misconceptions surrounding raising veal calves.  I'm here today to tell you that veal calves are humanely raised, and is actually a sustainable aspect of the dairy industry.  Veal is the key ingredient to making these incredibly tasty meatball sub sandwiches!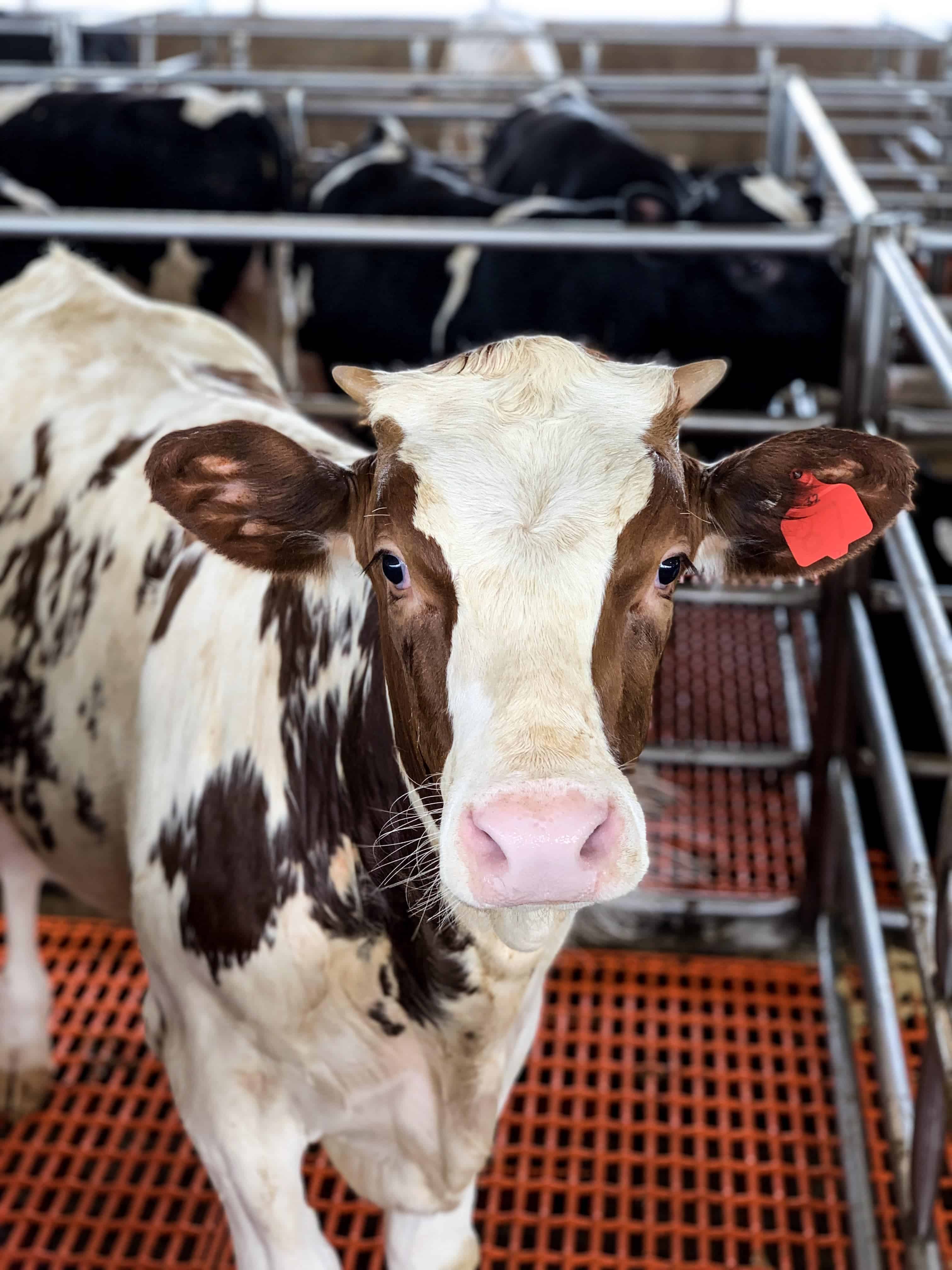 I had a wonderful time meeting the hard working, ethical, and honest farmers in the states of Pennsylvania and Indiana. Our group also had the opportunity to meet a large animal nutritionist (an animal scientist), farmers, leaders in the agriculture industry, a large animal vet, and some of the families that raise American veal.  I learned that it was an honor to run the family farm.  Some of the Amish farms we saw were family run.  To be able to work together as a family in the Amish community and run a self sustaining farm is one of the highest status symbols.  Each farmer we met took so much pride in their farm and treated the animals like family.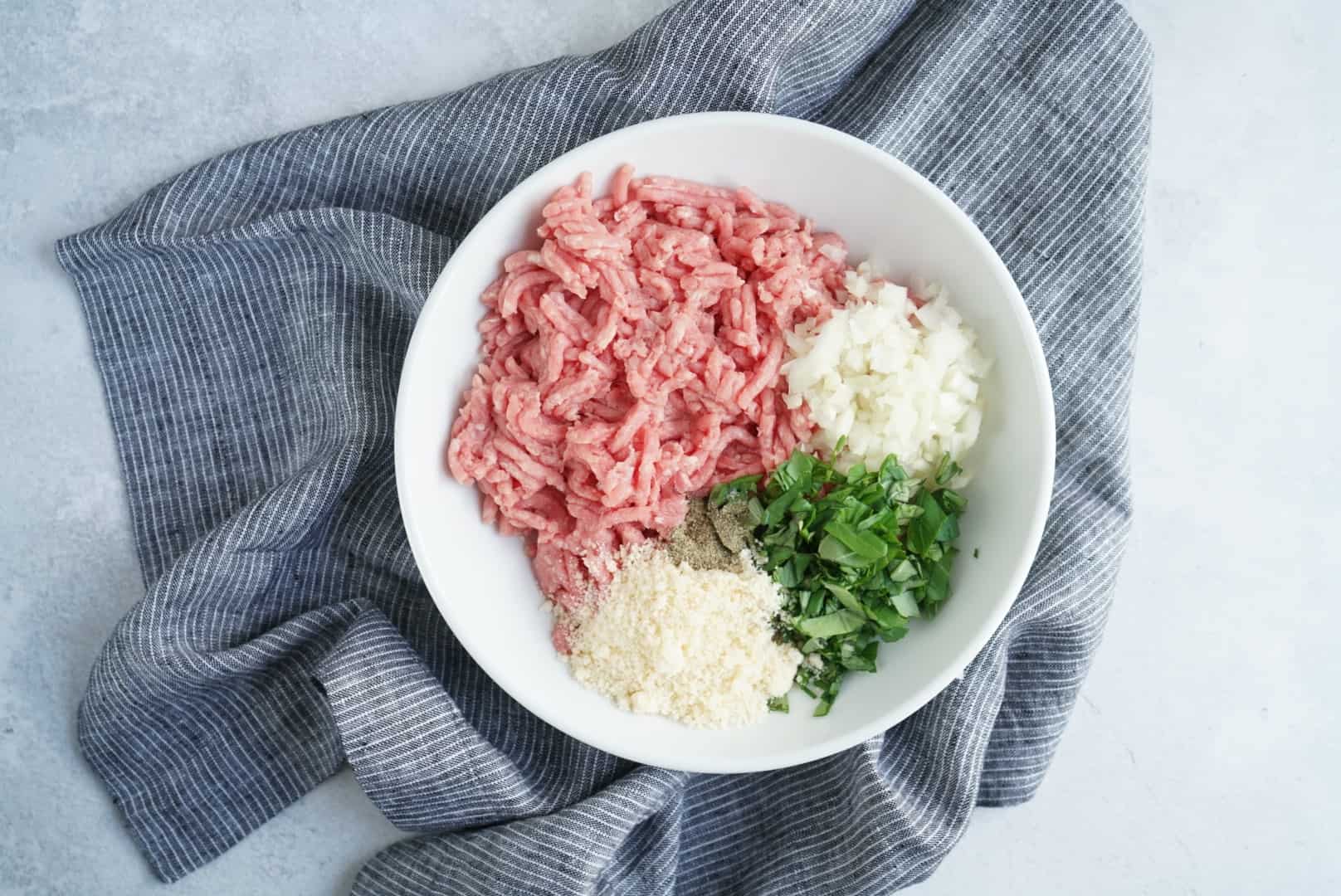 What does the veal calf diet consist of?
Veal calves are fed a primarily milk diet when they arrive at the farm.  Then they move on to a combination of grain and milk (20% grain, depending on the farmer), which gives this ground veal the light pink color, instead of the dark red hue that beef has.  Typical feed includes whole grains like corn, barley and soybeans.  They're rolled just slightly so it's easy for the calf to break down, but still have enough fiber to help maintain a good rate of passage (prevents constipation).  There's also a pellet included in the feed that has combo of protein sources and vitamins and minerals.
Hormones are never used in veal calves.  It's actually illegal!  If a veal calf becomes sick, they're fed antibiotics, but FDA sets a withdrawal period for all antibiotics.  So that means the calf has to be off any antibiotics for at least 10 days before they're harvested.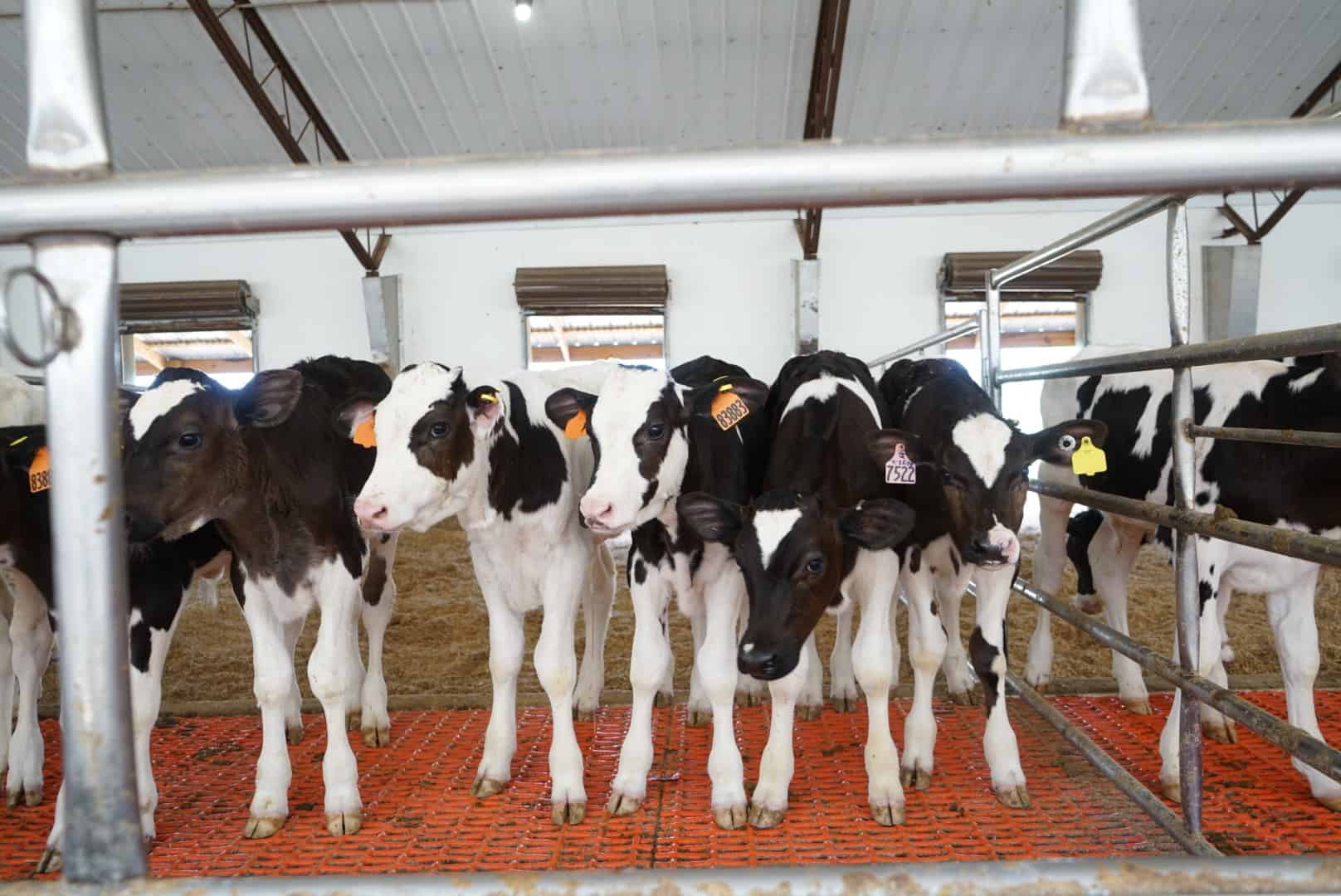 How big are veal calves when they're harvested?
I also learned that the typical veal calf is raised until they reach approximately 500 pounds.  Veal calves are harvested at  about 20-24 weeks old.   Calves are born from dairy cows, and they're raised to produce a lean, high quality protein.  Compared to other proteins that humans eat, the lifespan of a veal calf is much longer!
If you'd like to learn more about what goes on at a veal farm, you can start here! I was so glad I went on this trip to learn the truth about veal farming so I could share it with you all.
What can I do to prevent my meatballs from becoming tough?
There are a couple tips to follow when making tender meatballs for these these tasty meatball sub sandwiches!  Some meatballs become tough because the protein in meats makes it shrink when cooked.  To prevent this toughness, I'm using an egg and binders (or breadcrumbs) to help with keeping these meatballs tender and moist.  I found that the veal was a perfect choice for these tasty meatball sub sandwiches because of their 
subtle flavor! It allowed all the Italian spices to really shine through.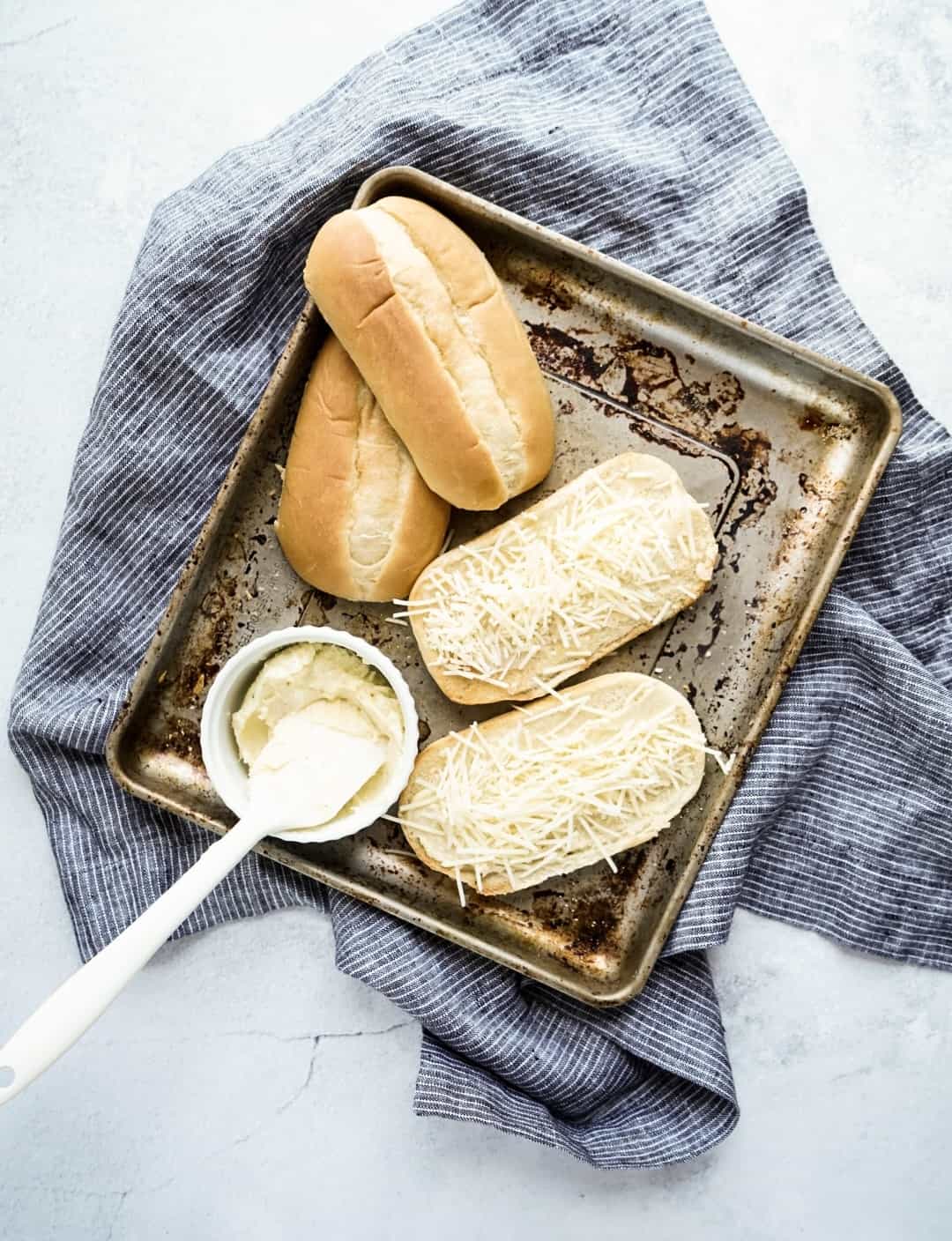 How do I assemble the tasty meatball sub sandwiches?
Start with a fluffy hoagie bun and toast it lightly.  Brush it with some garlic butter topped with asiago cheese and toast it until the cheese melts.
Remove from the oven and top with fresh arugula, two veal meatballs and two slices of mozzarella cheese.  Return to the oven and bake until cheese has melted.
Remove from the oven again and top with grated parmesan cheese and some fresh basil if desired.
Serve with a side of warmed marinara for an extra saucy and tasty meatball sub sandwich!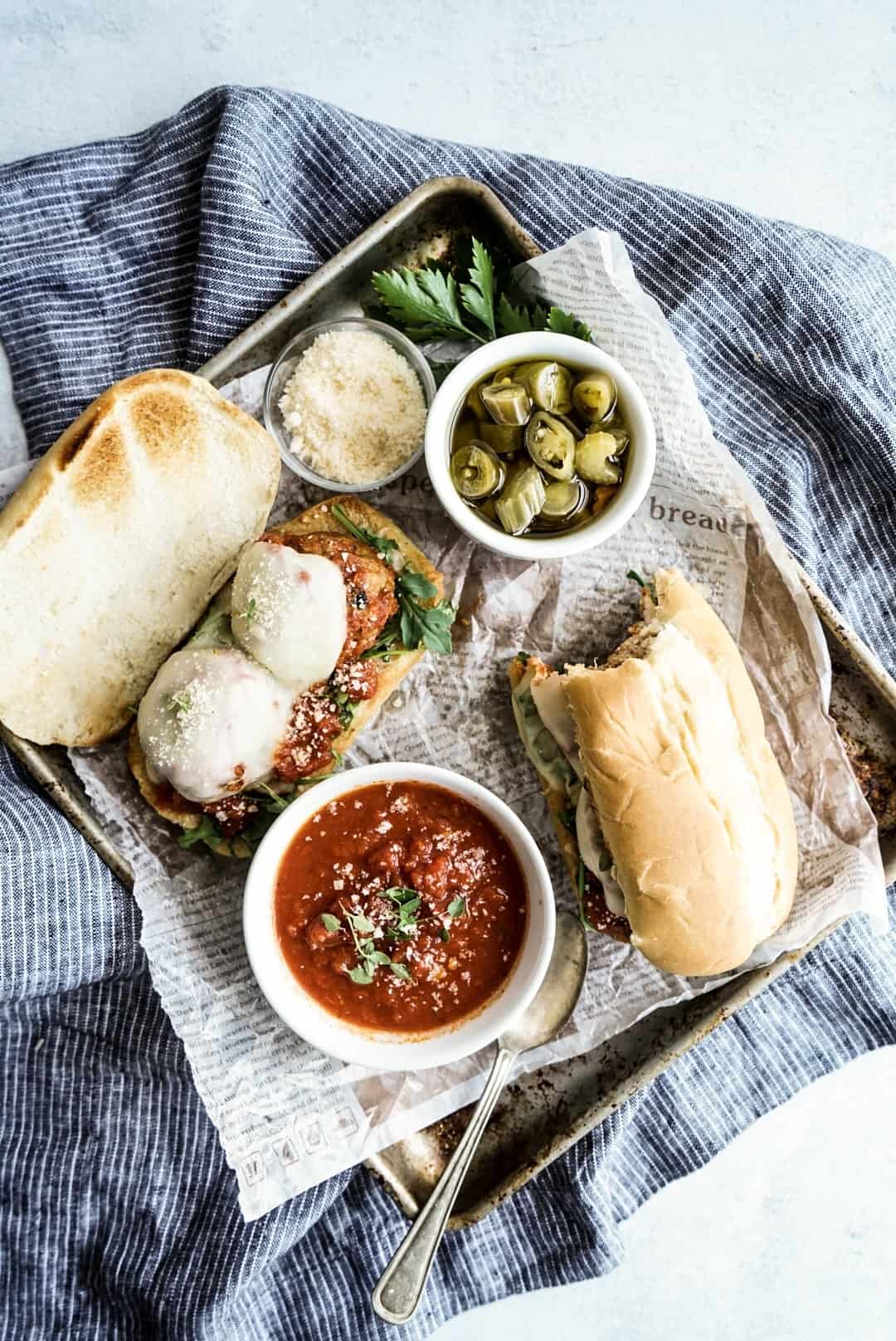 If you loved this recipe, be sure to check out my easy Italian pesto pasta salad! 
RATE THIS RECIPE!
If you loved my tasty meatball sandwiches, please rate it in the comments below!
Print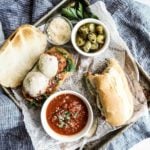 Tasty Meatball Sub Sandwiches
Author:

Nicole Triebe

Prep Time:

10 minutes

Cook Time:

30 minutes

Total Time:

40 minutes
---
1

LB ground veal

1 cup

Italian breadcrumbs

1

egg, beaten

1/4 cup

chopped onion

3

tbl fresh basil, chopped

1/2 tsp

salt

1/2 tsp

pepper

2

garlic cloves, minced

1/4 cup

grated parmesan cheese
For the sandwiches
3 cups

marinara sauce, warmed
Mozzarella cheese slices
Shredded asiago cheese
Fresh basil
Hoagie buns
---
Instructions
Pre-heat oven to 350°F. Combine ground veal, bread crumbs, egg, onion, basil, salt, garlic and pepper, mixing lightly until mixture is moist and combined.

Using an ice-cream scoop with release, scoop out meatballs and shape with hands.  Place in a shallow baking dish and fill dish with water until the water reaches half way up the meatball.

Bake in 350°F oven 20 minutes or until centers are no longer pink.

Remove from the oven and assemble sandwiches.
---
Want to pin this for later? Click on the image below!