Homemade Sweet Potato Falafel that's brown and crisp on the outside, and moist and soft on the inside. This recipe is so easy to make at home! It's perfect served in a Pita wrap with vegetables, crispy chickpeas, and creamy hummus!
I have been incorporating more plant-based and vegetarian products in my diet for a while now, and sweet potato falafel sounded so good to me! These are great as a stand-alone snack, or perfect in a salad or pita!
What is falafel?
Falafel is traditionally a deep-fried ball or patty made from chickpea or fava bean mixture, but you can still find other variations. Today we're making them with sweet potato and quinoa! Since these sweet potato falafels aren't made with chickpeas, they're technically considered paleo!
How do you make sweet potato falafel?
To make this sweet potato falafel, you start with cooked and cooled quinoa and raw sweet potato. The quinoa adds moisture and tons of protein! Quinoa is one of the best plant-based sources of protein there is – as well as being rich in antioxidants!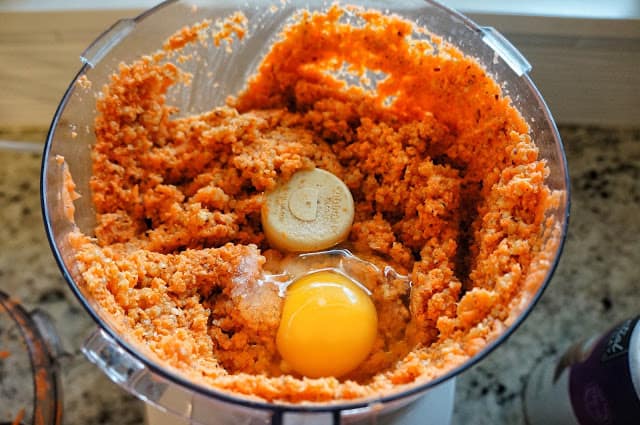 Next combine the sweet potato, quinoa, egg, nuts, herbs and spices to a food processor and pulse to combine. Make sure the mix is uniform in texture before shaping into balls and cooking.
Frying is the most common way to cook falafel. Simply heat a few inches of oil in a heavy pan until the temperature reaches 365 degree F. If you don't have an instant read thermometer, you can test the temperature of the oil by dropping a tiny bit of the falafel mix into the pot. It should start to sizzle immediately and color. If it doesn't, the oil isn't hot enough!
Using a slotted spoon or a fork, gently place them into the oil and fry on each side for around 3-4 minutes, till golden brown in color. Remove from the oil and place on a piece of paper towel to drain off any excess cooking oil.
Can you bake falafel?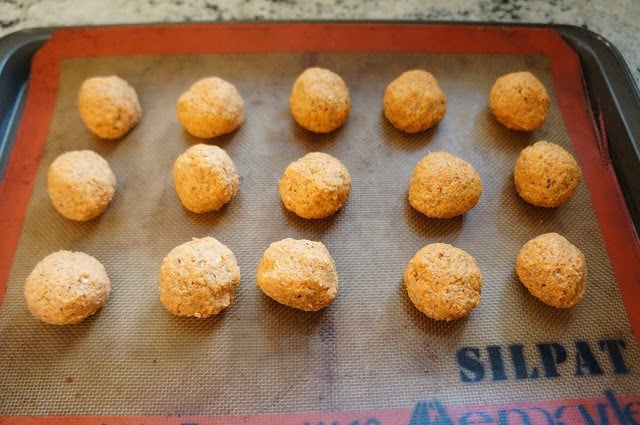 Although falafel is traditionally fried, if you prefer a healthier version, you can bake them in the oven!
As an alternative to frying, these falafel can be baked for 10-12 minutes, flipped and baked for another 10-12 minutes or until falafel are golden and cooked through.
These sweet potato falafels are usually topped with a creamy tahini sauce and served in a pita, but can also be served over a salad or alone as a snack.
What should I put in my falafel wrap?
The possibilities are endless when it comes to toppings and extras on this sweet potato falafel wrap! Start with fluffy pita bread and get layering! Here are some ideas to get you started:
Hummus (my favorite is Trader Joe's Mediterranean hummus)
Arugula or Microgreens
Roasted broccoli
Pickled red onions
Crumbled feta cheese
A squeeze of lemon juice and the sandwich is ready to wrap!
What should I serve with a falafel wrap?
These sides are a great compliment to this yummy wrap
Crispy Air fryer sweet potato fries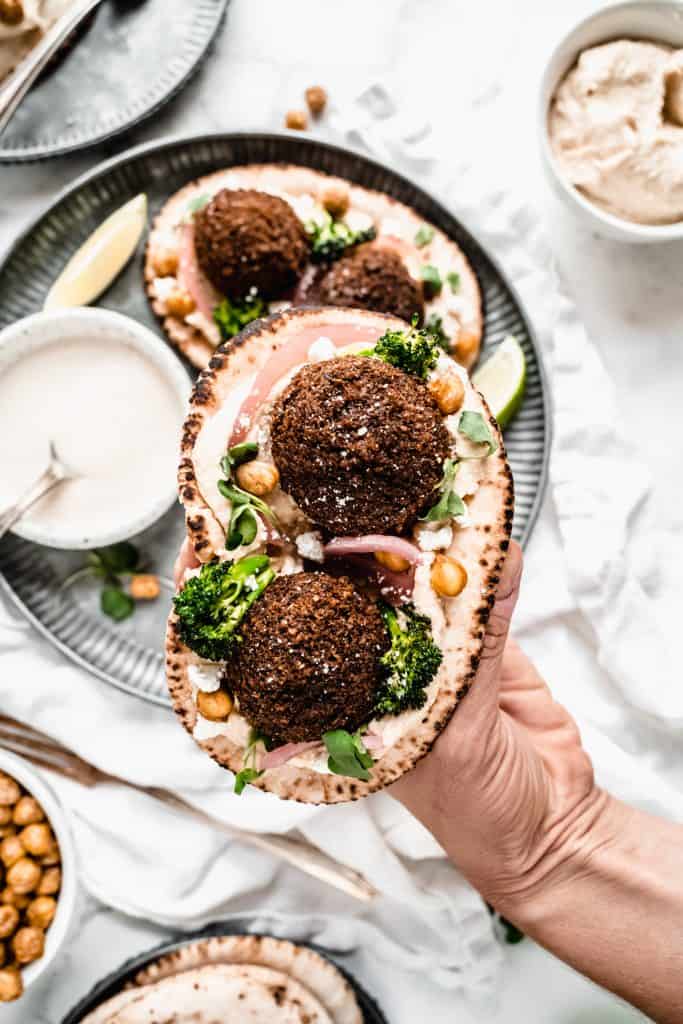 Print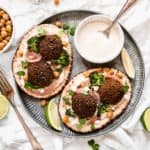 Sweet Potato Falafel Wrap
Author:

Nicole Triebe

Prep Time:

5 minutes

Cook Time:

6 minutes

Total Time:

11 minutes

Category:

Lunch

Method:

Deep Fry

Cuisine:

Mediterranean
---
For the falafel:
1 raw sweet potato, peeled and cut up into small pieces
1 cup cooked and cooled quinoa
1 egg
1/2 cup nuts
1 tsp salt
1 tsp pepper
A handful cilantro, chopped
Oil for frying
For the wrap:
Hummus
Crispy Chickpeas
Arugula or microgreens
Pickled red onion
Crumbled feta
Cucumber
Roasted broccoli
---
Instructions
Put your first 7 ingredients in a food processor and pulse to combine.  Using a cookie scoop. scoop out mixture to form rounds.  Place in the fridge for 30 minutes to firm up.
In a deep saucepan, heat 2-3 inches of cooking oil until it reaches 365 degrees.  Fry the falafels in batches of 5-6 at a time till golden brown on all sides. 
Remove from the oil and place on paper towel. 
Spread hummus over pita, and place two falafel on each.  Top with pickled onion, roasted broccoli, crispy chick peas, microgreens and crumbled feta.  Squeeze lemon juice over top if desired.
---
Keywords: falafel; wrap; pita; vegetarian
Want to pin this for later? Click on the image below!