This tasty Sweet Potato Black Bean Burger recipe is sure to be your new favorite! Pair it with a healthy side for the perfect lunch or dinner!
Plant-based meals are making their way into our diet more and more these days. They're getting more tasty too! These sweet potato black bean burgers have become a hit in our household for so many reasons! They're easy to make, and packed with so many nutrients! It's perfect for sneaking veggies into baby dinner fairy's diet, too!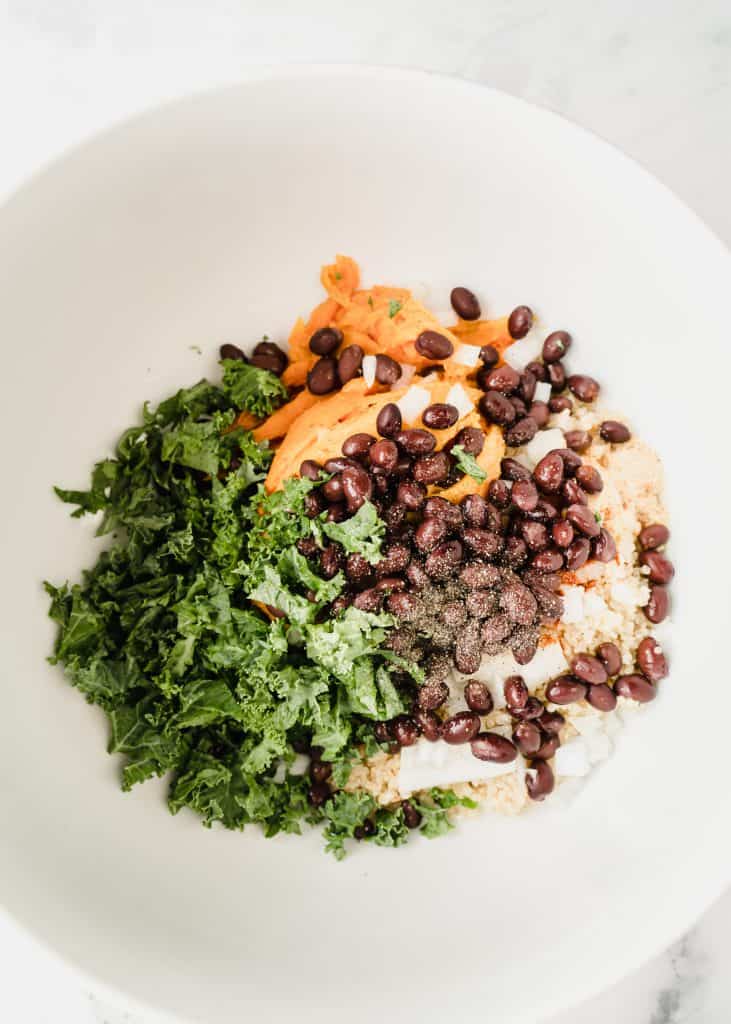 How do you make sweet potato black bean burgers?
All of the ingredients you need for this sweet potato black bean burger are likely your pantry staples! Here's what you need:
Sweet Potatoes. Sweet potatoes are the main ingredient in these burgers. Peel and cube them before cooking, or better yet, cook it whole in your instant pot to make it quick and easy! Make a few small pricks in the sweet potato and fill the pot with 1-2 inches of water. Place the trivet on top and add the sweet potato. Place the lid on and turn the vent to sealing position. To gauge how long you'll need to cook it in the instant pot, use this guide for potato size:

small (2 inches or less in width): 15 minutes + 10 minutes of natural pressure release
medium (2-3 inches in width): 30 minutes + 10 minutes of natural pressure release
large (3-4 inches in width): 60 minutes * + 10 minutes of natural pressure release

Black Beans. Drain and rinse canned black beans. I like to mash half of them with a fork, and leave the rest whole for great texture!
Quinoa. You may use white, red, or tri-color quinoa. Just make sure you give the quinoa a really good rinse before cooking to get rid of the bitterness, and cook with broth for extra flavorful quinoa.
Flaxseed. Add the flaxseed to a bowl along with 1/4 cup of water and let this sit for 5-10 minutes while preparing the rest of the ingredients. The flax is super important for creating a gel that will hold the burgers together, and adds lots of healthy omega-3's and fiber as well!
Seasonings. Salt, pepper and a little cumin bring out the best flavors in this sweet potato black bean burger!
Parmesan cheese. This adds flavor and helps bind all the ingredients!
Onion. Sweet onion is my first choice, but red, white or a yellow onion can also be used.
Kale. Optional but great if you want to sneak some greens into your kids diet! Chop it up small and mix it right in!
Mix all of the ingredients in a large bowl and form your patties.
Next divide the burger mixture. I like to use a cookie scoop with release and weigh them on a digital food scale to make sure each patty is the same size. Put some saran wrap on the scale to keep it clean and if you lift up the edges of the saran wrap you can help form the patties this way!
Bake the sweet potato black bean burgers at Bake at 400 degrees F for 20 minutes. After 20 minutes, spray the side facing up with cooking spray or spray oil. Very carefully flip and continue baking 15-20 minutes longer or until both sides are browned.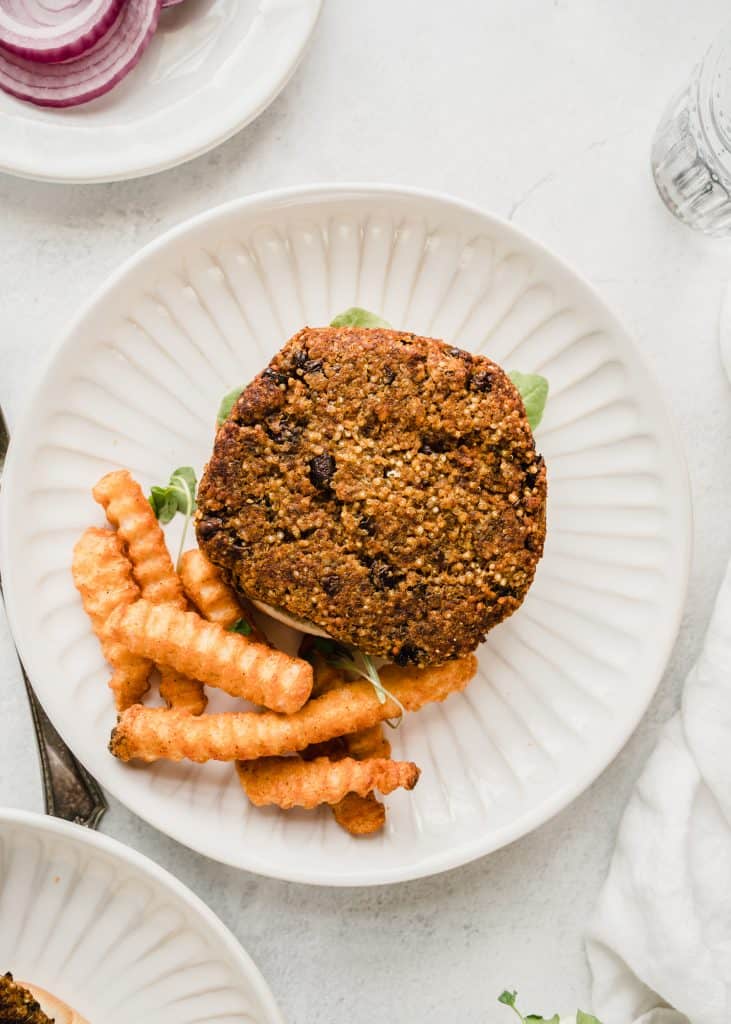 What should I serve with these burgers?
These burgers go great with a sundried tomato aioli! The recpe is below.
Additionally, here are some healthy sides to pair with your burger:
Curried Cauliflower and Chickpea Salad
Print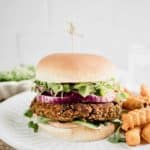 Sweet Potato Black Bean Burger
Author:

Nicole Triebe

Prep Time:

10 minutes

Cook Time:

1 hour

Total Time:

1 hour 10 minutes

Yield:

4

1

x

Category:

Dinner

Method:

Baked

Cuisine:

American
---
1/2 cup black beans, half mashed
1 cup cooked sweet potato
1/2 cup cooked quinoa
1/4 cup sweet onion, minced
1 tbl flax seed, plus 3 tbl water
1/4 cup parmesan cheese
1 tsp cumin
1/2 tsp paprika
1/4 tsp garlic powder
Salt and pepper to taste
Sundried tomato Aioli:
1 clove garlic, minced
1/2 tsp paprka
pinch salt
1 cup mayo
1 tbl red wine vinegar
1 tsp sundried tomato paste
1/4 tsp ground chipotle peppers
Buns
Microgreens
Red Onion
Avocado
---
Instructions
Preheat oven to 400 degrees F. Line a baking sheet with foil. Cut the sweet potatoes
Cut the sweet potatoes in half. Drizzle with olive oil and sprinkle with a pinch of salt and black pepper. Place the potatoes face down and bake about 30 minutes, or until they can easily be pierced with a fork. 
While the potatoes are cooking, cook your quinoa.  
Bring 2 cups of vegetable broth and quinoa to a simmer. Reduce heat to a low simmer, cover, and allow to cook for about 15-20 minutes or until you can fluff the quinoa with a fork. When done, set aside.
Add black beans to a large bowl and mash half of them; leave some whole for texture. Add the sweet potato and lightly mash. Finally, add the quinoa, onion, flaxseed mixture, parmesan cheese and spices. Mix until well incorporated.
Taste and adjust seasonings as needed. If the mixture feels too wet and isn't good to work with, add more quinoa or parmesan. The mixture should be moist, but easy to shape and mold.
Lightly grease a baking sheet or line with parchment paper.
Lay out saran wrap and using a large scoop with release,  scoop 1 1/2 scoops of the burger mixture into the saran wrap.   Use a digital scale to make sure the burgers are approximately the same size.
Fold the saran wrap up over the patty and shape the burger.  Then, carefully flip it over into the baking sheet. Repeat this until you're out of burger mix.
Bake the burgers for approx. 30 minutes. After the 30 minute mark, carefully flip them over and bake them for another 10 minutes. The longer you bake them, the firmer and drier the patties will get. They should be done around the 40 minute mark.
While the burgers are cooking, combine ingredients for sundried tomato aioli in a dish and whisk to combine.
Remove from the oven and serve with buns with sundried tomato aioli and desired toppings.  Enjoy! 
---
Keywords: sweet potato; burger; vegetarian; lunch; dinner